Pattale: The perfect destination for Everest sight-seeing
Having already hosted two famous ultra trail races, this famous tourist hub in the Everest region is set to welcome visitors.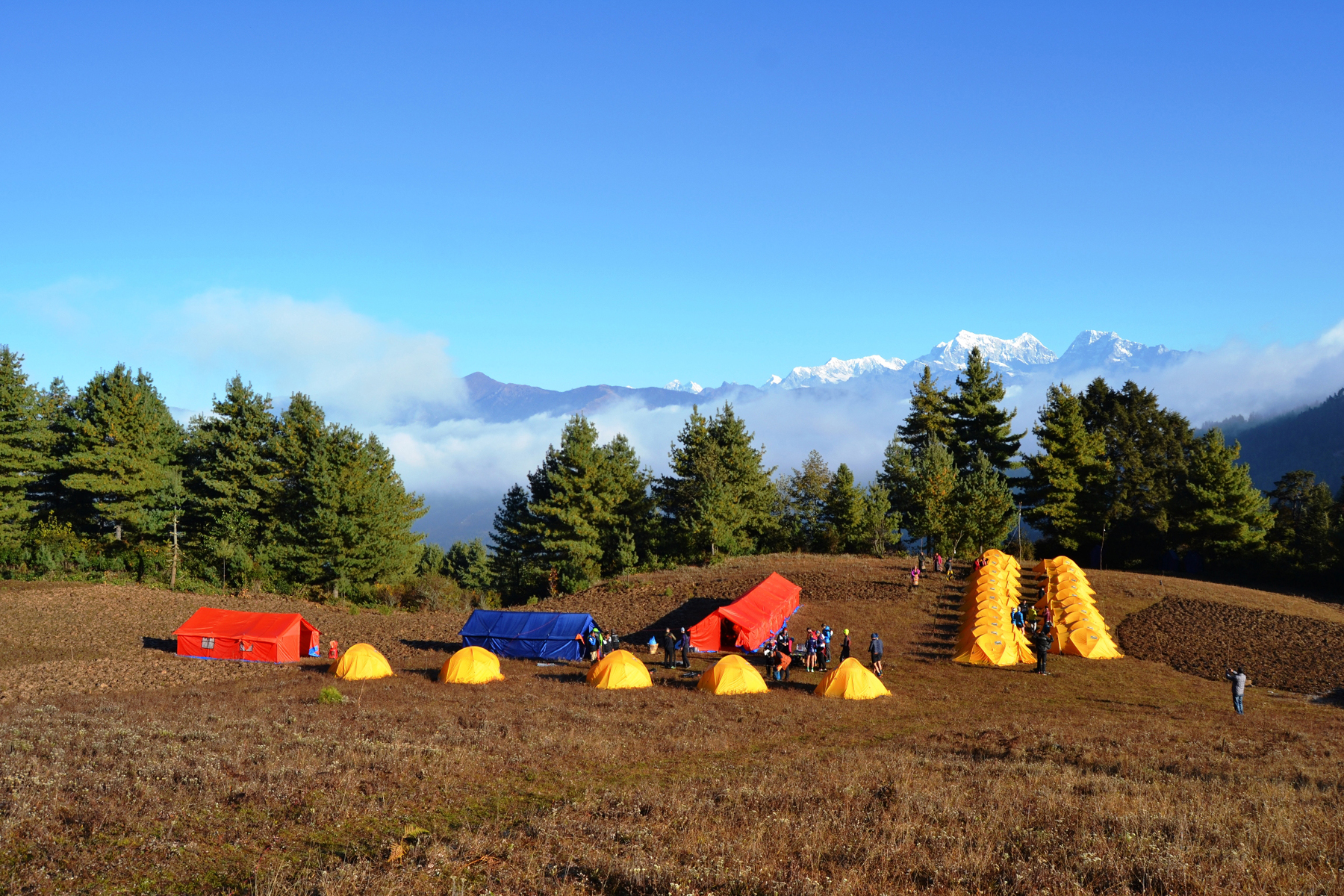 Trekkers pitch their tents in an open field in Jantardhap. Numbur mountain stands tall in the background. Kumbaraj Rai/TKP
Published at : November 29, 2019
Updated at : November 29, 2019 20:43
Basanta Maharjan's first visit to Pattale was by happenstance. It was four years ago when he was in Salleri, in Solukhumbu, for official work that he first visited Pattale; the purpose was nothing more than having a good time. The Bhaktapur native was instantly bewitched, he recalls. Ever since, he has been revisiting Pattale every year. The place has something unusually beautiful about it, he says.

"Pattale offers the best view of the Everest and the ambience is simply incomparable," Maharjan said. "There is no other place quite like this." Anybody who visits Solukhumbu should visit Pattale, according to Karma Sherpa, who runs a hotel in Pattale. "It is the perfect destination for those who can't trek to Pikey danda and want to see Everest in front of their eyes."
Pattale is a settlement that borders Okhaldhunga and Solukhumbu in Solu Dudhkunda Municipality. It is situated at an altitude of 2,800m from the sea level. The hills outlining Pattale takes a red hue in April, thanks to Rhododendron flowers, and white during the winter, thanks to incessant snowfall.
With the increment in the number of visitors over the years, Pattale is soon getting adorned with giant sculptures of Lord Shiva and Buddha.
"Besides its natural beauty, we have decided to give Pattale a religious look as well," said Namgyal Jangbu Sherpa, mayor of Solu Dudhkunda Municipality. "Our focus is on developing essential infrastructure for tourists. A trekking route is in the pipeline as well."
It has not been long since Pattale began to see tourists throng, so the municipality hasn't kept a record of the number of visitors yet, but it will soon, informs Sherpa. Pattale opened its doors to visitors after the Okhaldhunga to Solukhumbu road was blacktopped.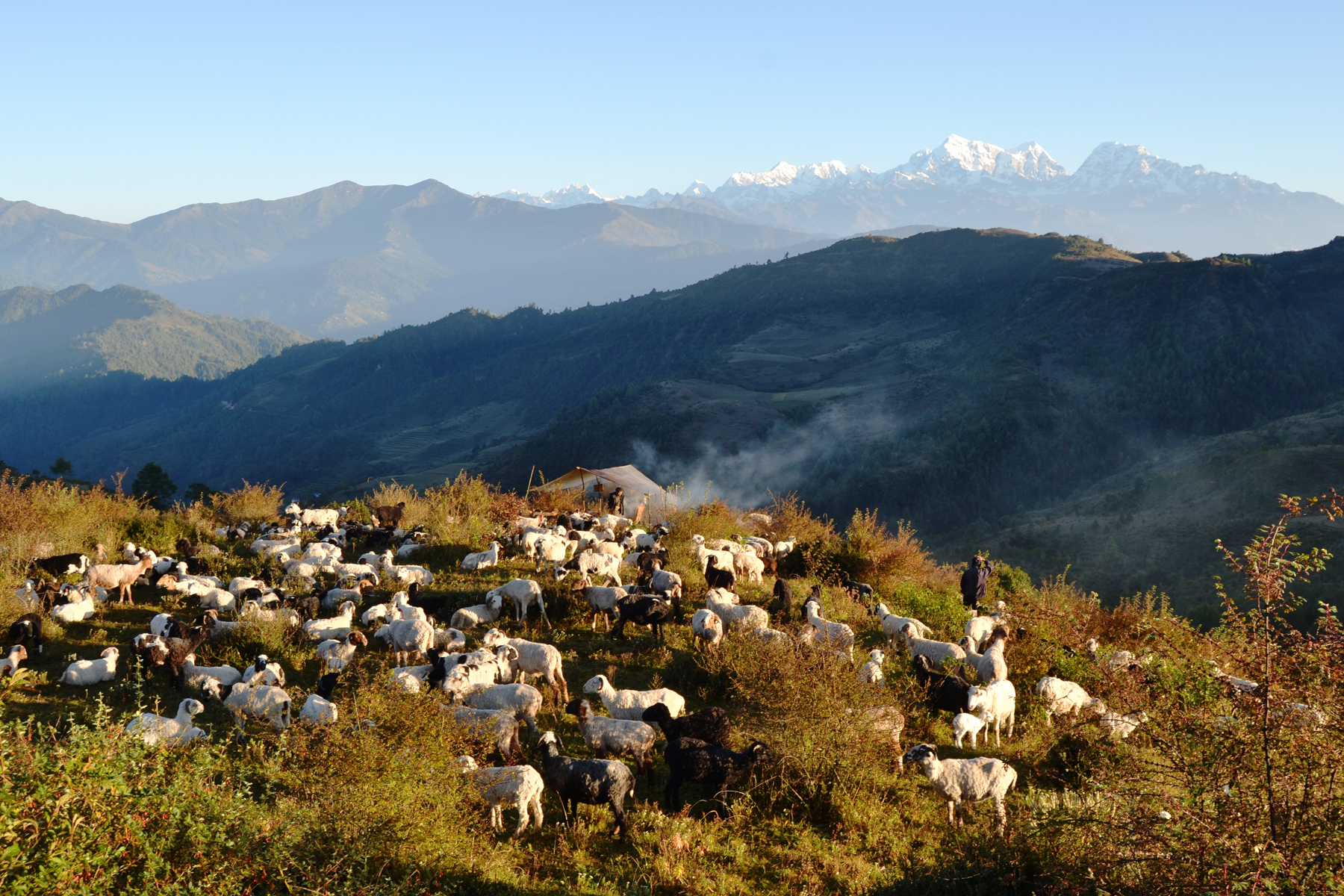 Sheep left to graze by shepherds in the forest surrounding Pattale. Kumbaraj Rai/TKP
In October and November, Pattale played host to two famous ultra trail race competitions—Everest Trail Race, which has a 170km long racing route, and the 310km Solukhumbu Trail Race, which many claim is the longest ultra trail race in the world. Locals and tourism entrepreneurs expect this will mean a rise in the number of guests.
"Ultra trail races help spread the word about Pattale's glory, so we opened one starting from here," said Kami Sherpa, who is the executive director of Annapurna Treks and Expedition, the organisers of Everest Trail Race. "In terms of natural beauty and geography, our country is no less than Switzerland," Sherpa added, matter-of-factly.
Four kilometres close to Pattale is a village called Thade, in Okhaldhunga. A settlement of Magars and Sherpas, the village is popular for its homestay services. Many visitors stay here for the night before they move towards Pattale the next morning. As soon as the first sun rays strike the snowed landscape, Pattale opens its arms with mountain vistas flanking it on all sides.
Thade Homestay has been in service for just three months, but the turnover has been exciting, said chair of the homestay operation committee Paras Magar. Currently, seven houses are designed for homestay that can host up to 50 guests a night. "In these three months, the guests have been mostly domestic tourists, but we are soon planning on ways to attract foreigners," Magar said. Homestay services in Thade are popular not just for the accommodation they provide but also for the food they serve—potato dhindo, popularly called Rilduk; bread made out of buckwheat; and sisno (nettle leaves) curry, among others. Many domestic tourists relish the organic "bung" potatoes available here. One can also buy hand-made baskets made by the Magar community.
Pattale is the best and nearest destination to go for Everest sight-seeing from the Capital. It's also the most affordable. One can just take a bus from Koteshwore in Kathmandu and travel about 220km distance for about 8 hours to reach Okhaldhunga's district headquarters. Pattale lies about 25 kilometres from Okhaldhunga. Between Okhaldhunga and Pattale is Jantardhap, the border point to Solukhumbu. One can take a jeep from here since the road is muddy. It's a given that the area gets very cold during winter, so one is recommended to take warm clothes along.
For a wholesome trip to Pattale, one has to allocate at least three days. The first day, should you start early, you'll reach Thade, and as recommended, you can stay in one of the homestays there. If you take a bus at six in the morning, you'll reach Thade at about 3pm. Thade comes alive at night when the locals perform cultural shows.
The following morning, one can either roam around Thade or see some of its popular attractions or head straight to Pattale, which is just four kilometres away, so you can either take a jeep or opt for a trek yourself.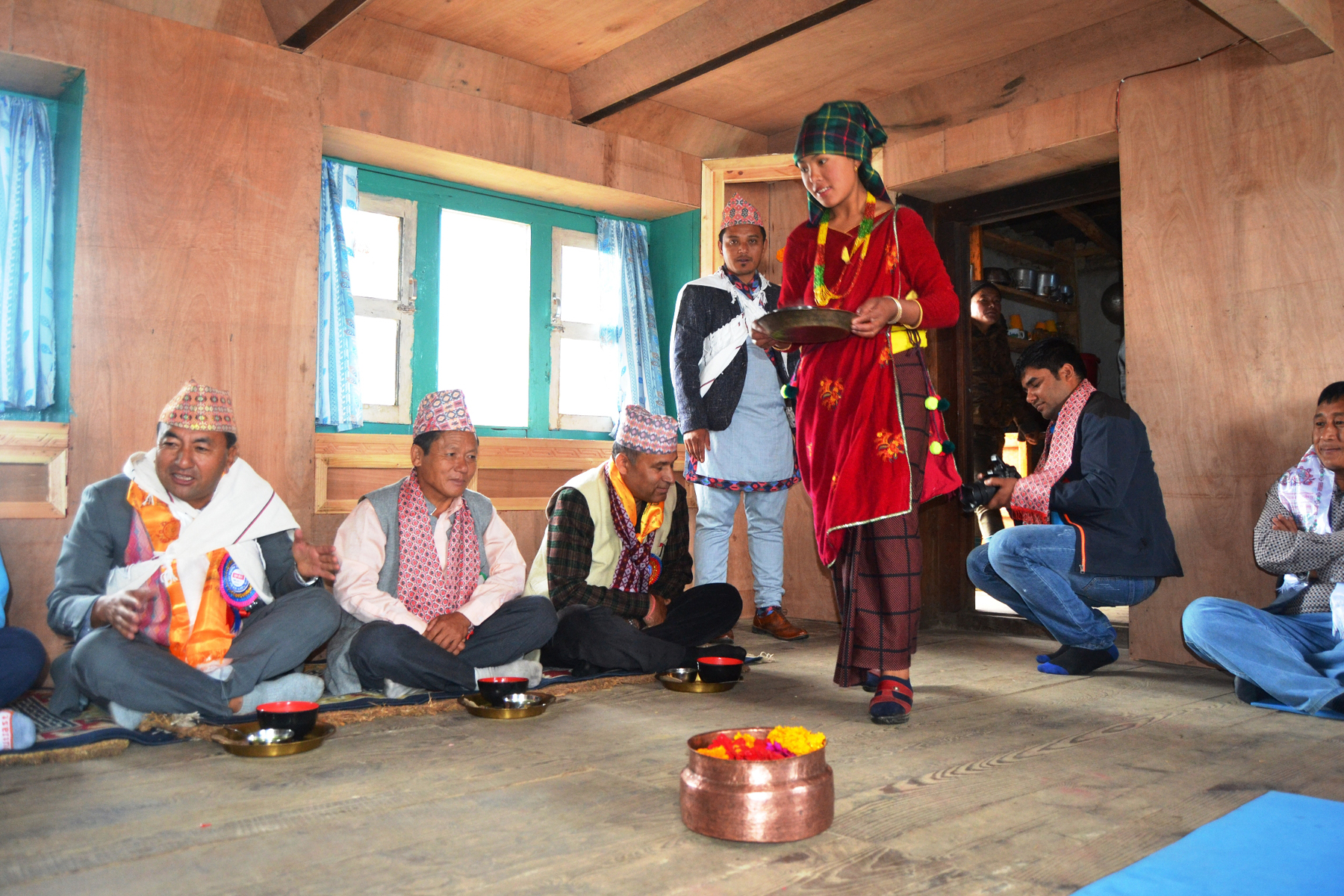 Guests sit down for a meal at Magar Hospitality in Thade. Kumbaraj Rai/TKP
If you're a religious person, you can pay a visit to Changesthan Devi temple nearby Jantardhap, on the way to Pattale.
The way the hosts welcome their guests is the same in Thade and Pattale. They first offer a special kind of tea, called Su Chiya, which has a slightly salty taste and is prepared with barley flour and yak ghee. The locals believe this concoction to be good for health. Then, if you wish, you can also ask for a glass of local raksi made of apple.
For the best view of the Everest, reach Pattale as early as possible to capture the best view. The first fresh rays of the sun paint the mountains golden. The view looks great at dusk as well. Pattale is well-equipped with internet and electricity. Hotels and lodges that can host upto 300 guests a night are in abundance.
Between Thade and Pattale, one can visit places such as Laureshwore Baba Mandir, Changesthan and numerous forests around. The forests get covered with rhododendron flowers in spring and make a habitat for danfe birds. Local species of apple trees are also found in the forests. While during winter, there are several areas where one can ski.
It is this variety of experiences one gets in Pattale that had Maharjan in thrall. "Pattale is where nature meets culture, offering the best mix," he said, promising himself another visit to Pattale soon.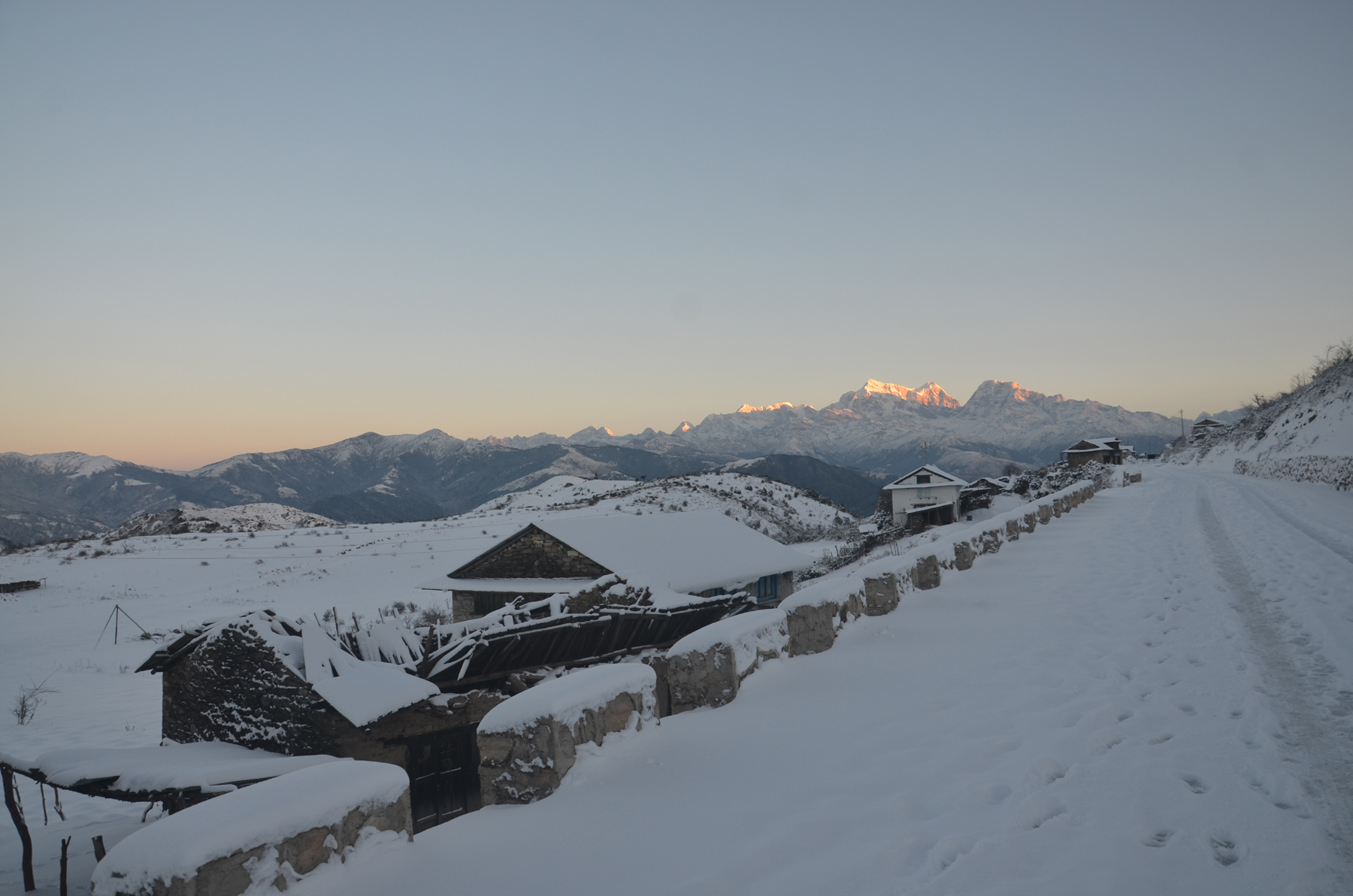 Early morning sunrays touch the Numbur mountain peak as seen from Jantardhap. Kumbaraj Rai/TKP
How to get there: Take a bus via Kathmandu to Banepa to Okhaldhunga to Thade. Hop on a jeep from Thade to Pattale covering a total of 245km.
Where to stay: There are several lodges in Pattale and homestays in Thade.
What to eat: Su chiya, raksi made of apple, Rilduk—potato dhido, bread made of buckwheat, and sisno (nettle leaves) curry.
Budget: Rs 10,000 per person for a three-day trip.
Detours: Visit Laureshwore Baba Mandir and Changesthan that lie between Thade and Pattale.
---