Things you can do when you're in Bhairahawa
Bhairahawa offers a broad spectrum of languages, cultures, food and lifestyle. A perfect treat for a wide-eyed flaneur.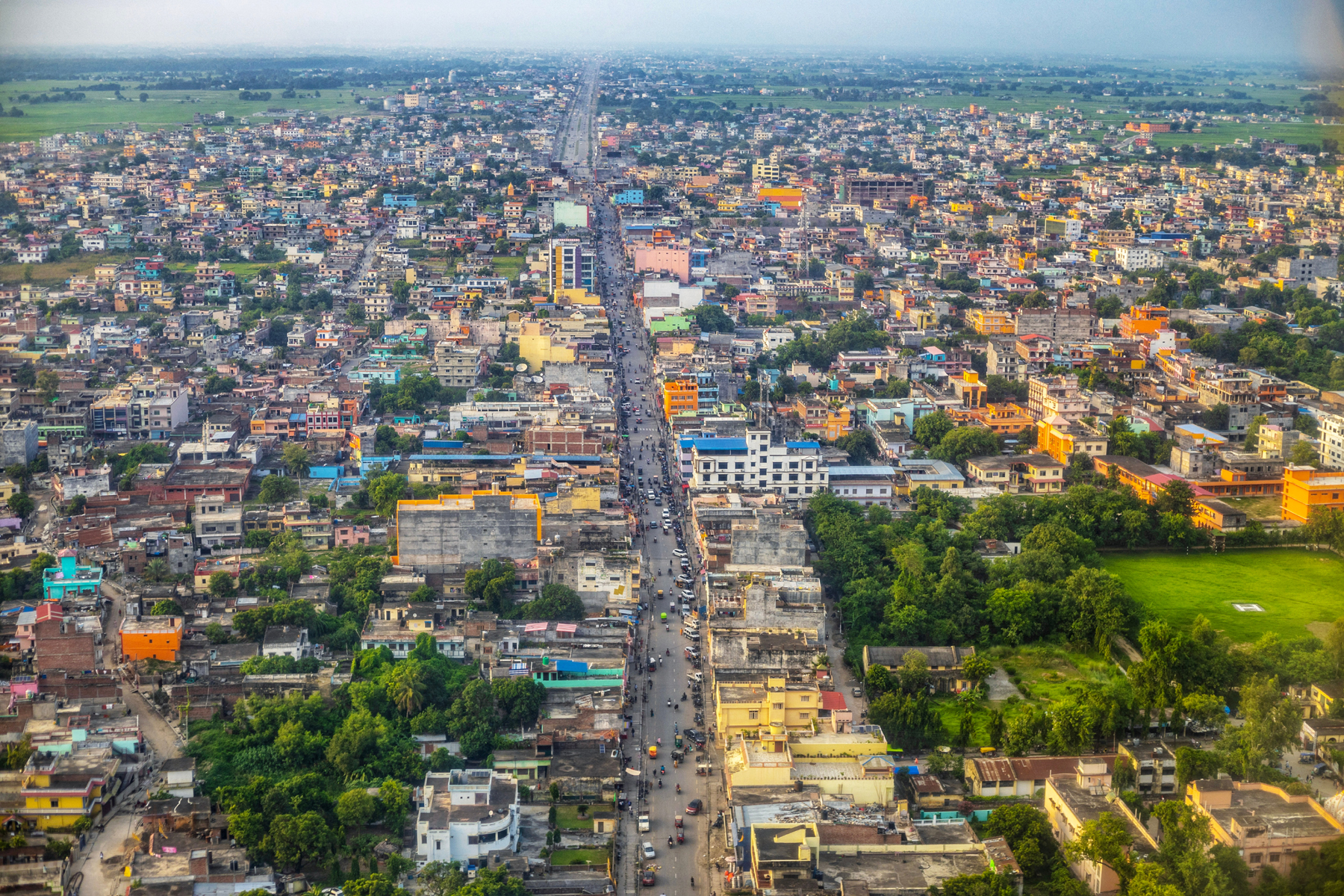 An aerial view of Bhairahawa. It is the gateway to Lumbini, the birth place of Gautam Buddha. Shutterstock
Published at : October 25, 2019
Updated at : October 26, 2019 15:50
Bhairahawa is a gateway to one of Nepal's most prized heritage sites, Lumbini, and the Nepal-India border from Belahiya. Visitors often find themselves at loose ends about just what to do in this city or its vicinity while the city awaits the completion of Gautam Buddha International Airport. The air connect is expected to see a mushrooming of exciting places catering to tourists. The construction of infrastructures that are in full swing at the moment is also expected to bring in more tourists and with them a promise of tourism activities bringing the city alive. But even now, Bhairahawa has enough activities and detours that could make for a good trip. Here we list some of the activities and detours that you can engage in and visit while you're in this city.

Visit Belahiya-Sonauli border
For Bhairahawa locals, the Belahiya-Sonauli border is like a walk in the park. But for tourists, this can be an enriching experience. As a Nepali citizen, going to India is very simple—go to the nearest border and walk to the other side. For international tourists, an Indian visa should suffice if you are looking to visit India through Nepal via land. Sonauli is a small crowded bazaar featuring local shops of all kinds. If you're looking for ethnic women's wear for a reasonable price, Sonauli is the place for you. The overall aesthetics can be overwhelming but Sonauli gives an excellent glimpse of the local lifestyle of the people of both India and Nepal living in the border area.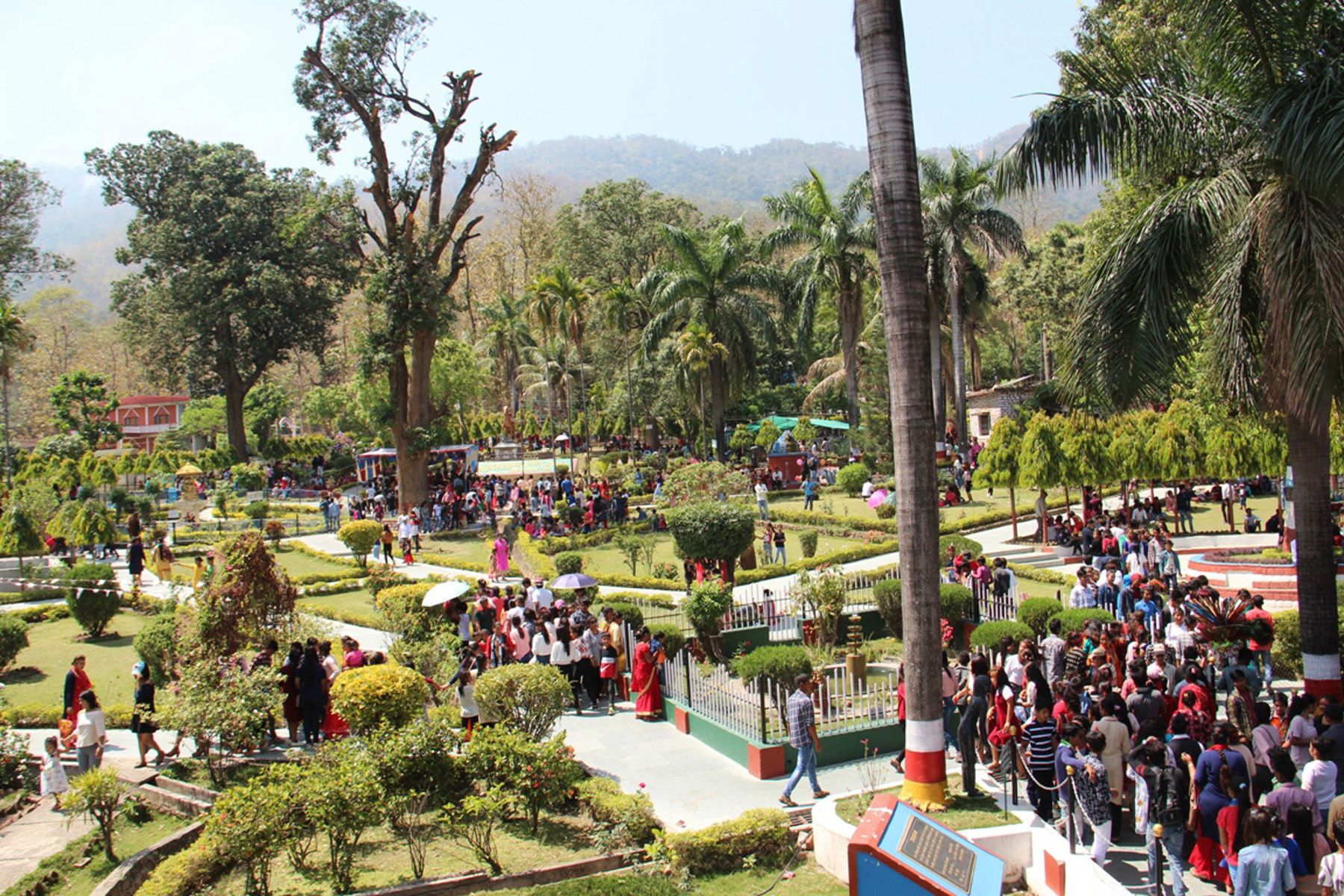 Visitors at Fulbari in Butwal. Ghanashyam Khadka/TKP
Although it may make more sense to visit the park while in Butwal, a forty-five minutes bus ride from Bhairahawa will get you to the park. Fulbari—also known as Manimukunda Sen park—features the remains of the Palpali king Manimukunda's winter palace. After visiting Lumbini and witnessing the historical ruins of stupas next to Mayadevi temple, Fulbari can be another exciting adventure for a history enthusiast. The rest of the area has been turned into a park. From here, you can make your way to the Ostrich Farm in Gangoliya before going back to Bhairahawa.
Ostrich Farm in Gangoliya
The farm is located in Gangoliya, a quick 30-minute drive from Bhairahawa city. As the name implies, the farm has thousands of ostriches and emus in 8.81 acres in the Tilottama Municipality. Entry to the farm costs Rs 100 with a discount of Rs 50 for students. The farm gates are open from 7 am to 6 pm for visitors wishing to get a glimpse of the tall birds. There is an restaurant next to the farm serving ostrich momo, sekuwa, choila and khana set if you would like to treat your tastebuds.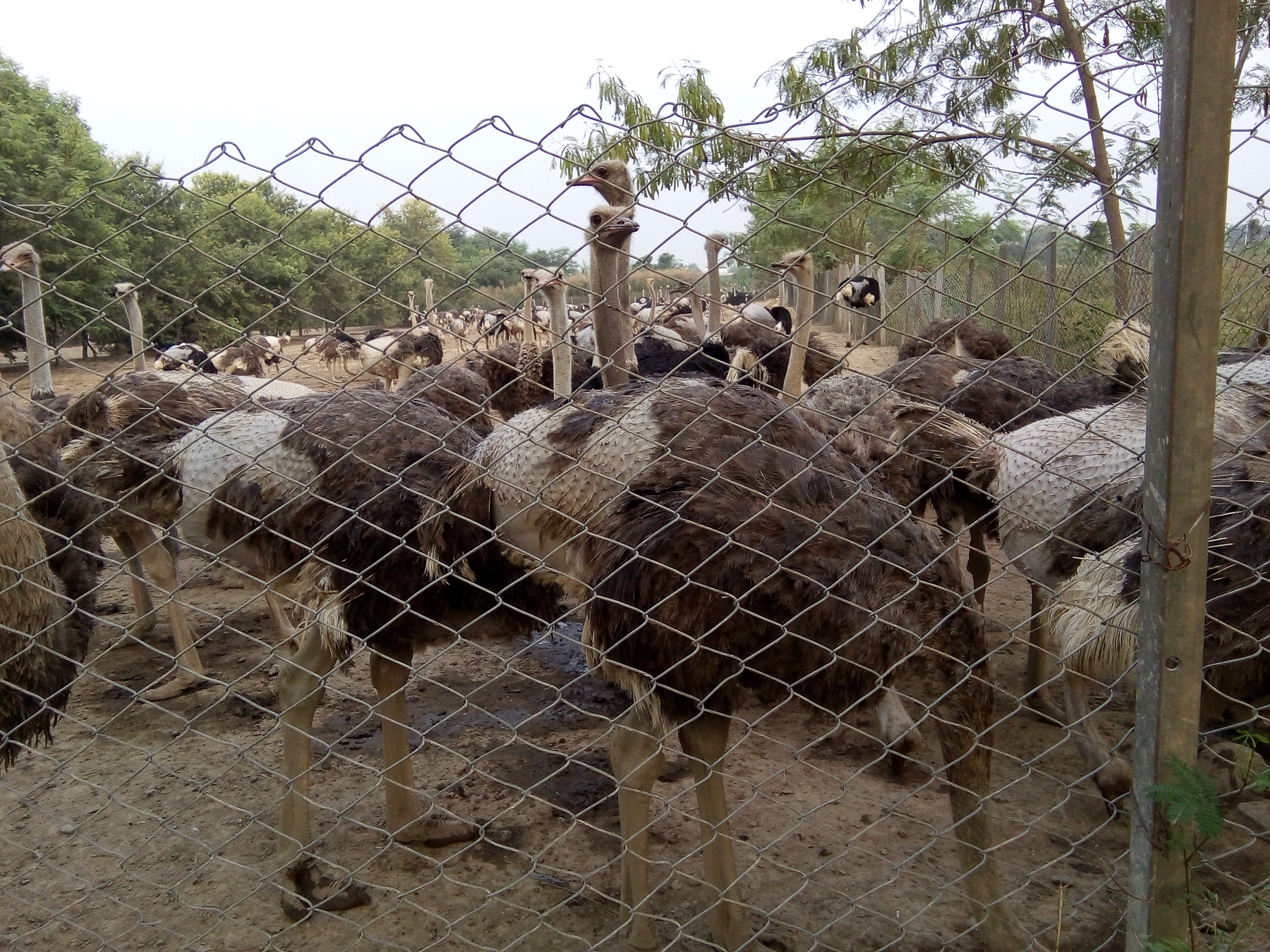 The farm is located in Gangoliya, a quick 30-minute drive from Bhairahawa city. Madhav Dhungana/TKP
Most people think of pedas when they think of Bhairahawa. Bhairahawa is home to the famous pedas from Pawan Misthan Bhandar, a vegetarian restaurant that specialises in traditional desserts. Pawan Misthan Bhandar has a variety of options when it comes to food but the locals still crave for the taste of authentic pedas it was famous for decades ago. The place has revamped itself, but the pedas and my personal favourite—dudh malai—still carry the same unforgettable taste.
But if you are more into the café vibe with music playing in the background, Black Forest is the place for you. Right next to Pawan, Black Forest is a small café that is always filled with people. After a hot day exploring Rupandehi in the sun, a cool frappé will bring you back to life, although the cream in your drink will be unusually thick. Black Forest serves everything from bakery items to momos and is possibly the best place in Bhairahawa for waffles.
Famously known as the birthplace of Buddha, Lumbini is almost 25 kilometres from Bhairahawa. It takes about an hour to reach Lumbini on a local bus from Buddha Chowk.
The Bhairahawa-Lumbini road is under construction, so the road is not pleasant to travel on a public bus which is why visitors often hire a car for a day-long two-way trip. You can rent a bicycle from one of the gates or use an e-rickshaw to get around the area. The 1.95-hectare area features the Mayadevi Temple, World Peace Pagoda and monasteries built by Buddhist communities from all around the world.
Lumbini has several hotels, resorts and lodges with more accommodations under construction for tourists who would like to stay away from the busy streets of Bhairahawa for the night.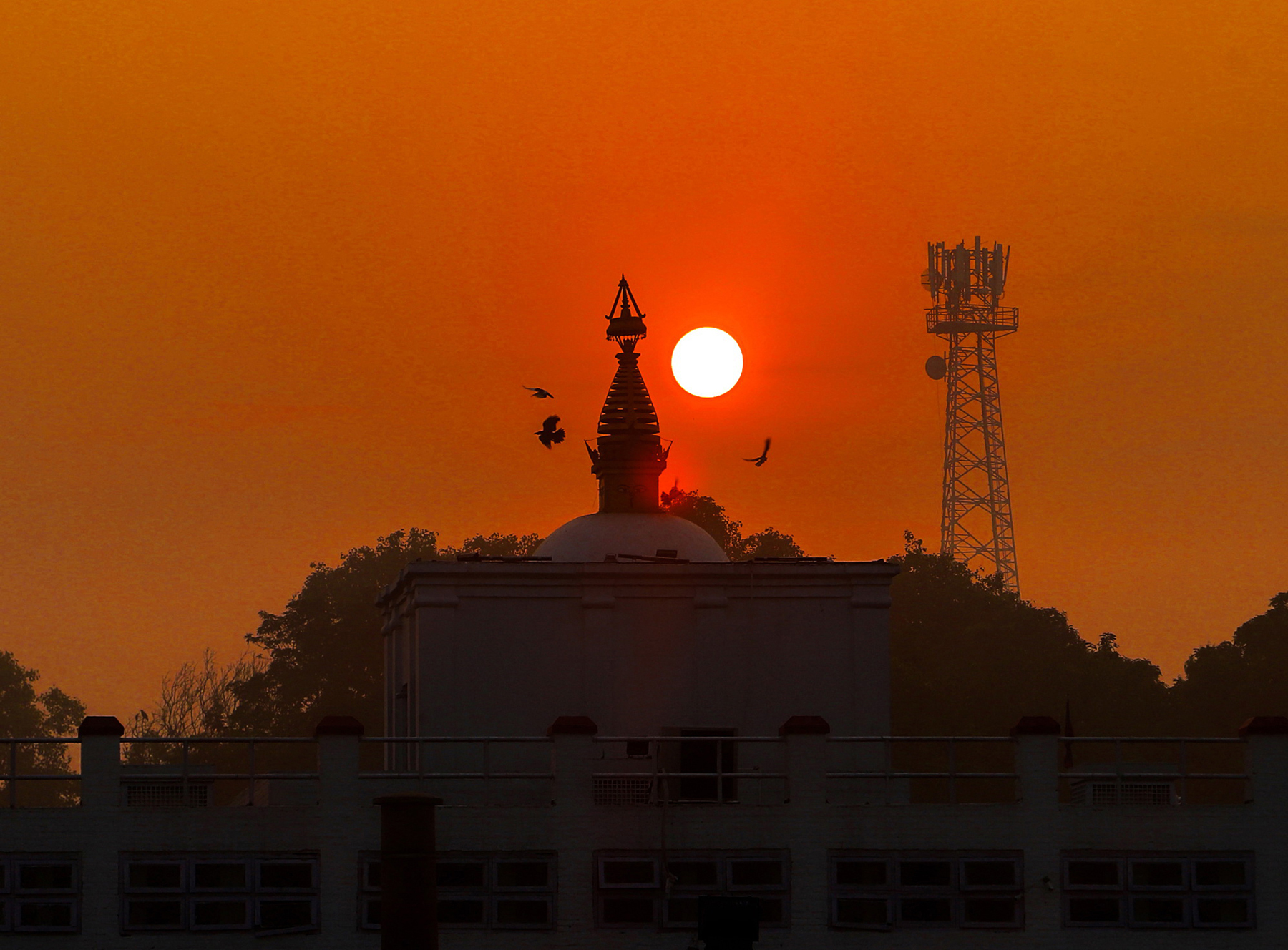 Mayadevi Temple in Lumbini stands tall against the rising sun. Manoj Poudel/TKP
Bhairahawa does not welcome a lot of tourists as of now, so the place is pretty much about locals who go about their lives in a routine. One of the interesting things I observed while in Bhairahawa is the swarm of Bhairahawa locals on top of the overhead bridge right before sunset. The newly-constructed overhead bridges are an excellent spot to cool off the heat if you want to witness the fiery orange and cotton-candy pink sky as the sun rolls quietly down the faraway horizons.
The Haat bazaar that runs every Sunday and Thursday features a variety of goods including fresh vegetables, fish, sweets and clothes. Visiting the haat bazaar can be an excellent opportunity for you to get in touch with locals and observe the broad spectrum of languages, cultures and food Bhairahawa has to offer.
Getting there: A 30-minute flight from Kathmandu or a day-long bus ride that starts from Kalanki bus park will get you straight to Bhairahawa.
Detours: Make your way towards Palpa on a microbus. Or take a bus from Sonauli towards Nautanwa where you can catch a train to Gorakhpur.
What to eat: Pedas from Pawan Misthan Bhandar.
Budget: Rs 2,000 per person for a day's visit.
Don't miss: The bi-weekly haat bazaars.
---