Muktinath, an old nun, and a lesson in being present in the moment
Living in the present in the foothills of Thorong La, at one of the world's highest temples.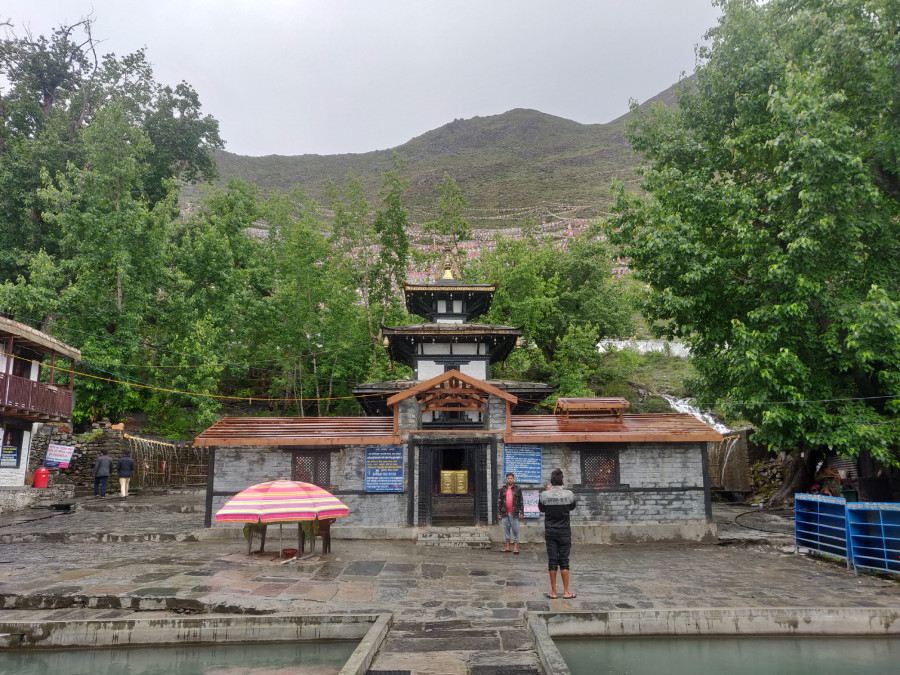 Tsering Ngodup Lama/TKP
bookmark
Published at : October 18, 2019
Updated at : October 18, 2019 09:14
Muktinath
Sitting in the last row of a rusty jeep packed with weary travellers, carrying them from Lo Manthang to Chusang, I started writing a mental note of things to do in Kagbeni, my destination for the night. First on the list was a hot shower. I had spent the previous six days in some of the most remote villages in Upper Mustang where hot showers did exist but cost a substantial amount of money, which I didn't have much. The second thing on that list was a quick pilgrimage to Muktinath, roughly 14 kms from Kagbeni. Muktinath had long been on my travel bucket list, and I was glad to be finally ticking it off.
A nudge to my knee broke my chain of thought. The nudger was a young man from Rolpa heading back to his village. In my conversations with him, I learned he was heading back to his village after working as a labourer in Lo Manthang for four months. "It's going to be a long journey, three to four days," he told me. "Lo Manthang is an expensive place to live and work. I get paid Rs1,100 a day, and after my mandatory two-quarters of Khukuri Rum every evening, I save very little." He had nudged me to ask if I would like to have some of his khaini. I declined, but thanked him.
By the time we reached Chusang, it was mid-afternoon. It had been a bumpy and dusty ride. As the passengers disembarked the jeep and started walking towards the awaiting bus headed to Jomsom, I noticed all of us had a thin sheet of light brown dust covering our clothes, our shoes, and our hair. After the six-hour jeep ride, we now looked like the landscape—dusty and ragged.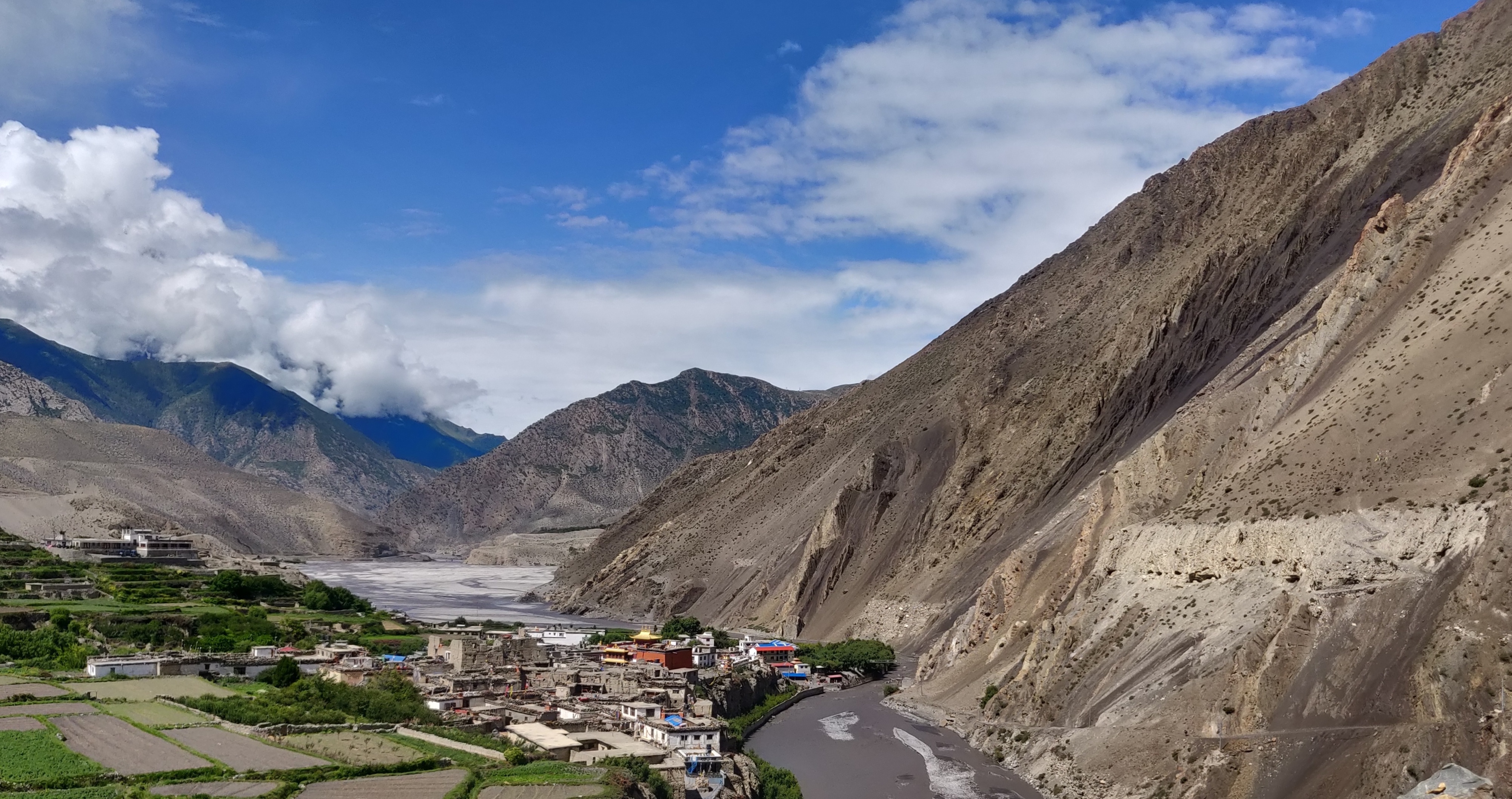 Tsering Ngodup Lama/TKP
At the bus's ticket counter, a drunk man started hurling abuses at us travellers. He looked as if he were in his 70s. One of the locals told me the man was much younger. "Alcohol ages you," he added. Too tired from the journey, nobody bothered with the man's abuse, which seemed to anger him more and encourage him to get nastier with his word.
From Chusang, Kagbeni is just a little over 20 minutes away. The landscape gets a bit greener, with tiny shin-length bushes dotting the hills—but still no sign of trees. As the bus arrived at Kagbeni, I heaved a sigh of relief. I bade farewell to my friend from Rolpa and wished him a pleasant journey ahead. I had been instructed by a friend to stay at Lhasa Hotel. "The rooms are clean, and the hot shower is reliable," he had told me.
After a long, hot, shower, I climbed my way onto the main road leading to Muktinath. I wished I could have ridden a motorcycle to Muktinath, but after learning a motorcycle would cost me Rs3,000 to hire, I went with a more economical option, by getting a ride on one of the jeeps that often ply to the road to the sacred spot. After standing at the side of the windswept road for nearly 30 minutes, a jeep arrived. It was a brand new Bolero with a pimped out stereo blaring Dohori tracks, interspersed with cheeky Bollywood numbers. The passengers made for a strange mix. In the front seat was a tantric sadhu from Ireland. He was barefoot, and for clothes, he had draped himself in black knee-length cloth. In the second row was a couple from Gujarat and two women from Baglung. The two women and the driver flirted throughout the journey. For Rs150, the driver dropped me to Muktinath. When I told the driver I was returning to Kagbeni after visiting Muktinath, he said I was unlikely to get any vehicle. "It's already late, and it's also the off-season. Chances of getting vehicles to Kagbeni are slim. But you can still hike to Kagbeni. It won't take you more than two hours," he told me.
From the jeep stop, Muktinath, also known as Chumig Gyatsa to Buddhists, is nearly 30 minutes of mostly easy uphill hiking. Just as I began my hike to the temple, it started drizzling. The higher I got on the trail, the greener the landscape became. After days of being in Upper Mustang's desert-like landscape with its arid brown hills, the greenery of Muktinath sparked joy in me. The higher I climbed, the more the hubbub of bustling Muktinath bazaar and its many restaurants, hotels, and shops, disappeared.
Tsering Ngodup Lama/TKP
Muktinath is an important religious site for both Hindus and Buddhists. The Hindus come to worship Lord Vishnu at the temple, and Buddhists believe that the Guru Rinpoche, an Indian Buddhist scholar who helped spread Buddhism in Tibet, meditated in the area on his way to Tibet. Inside the temple premises, a sense of relaxed calm prevailed. I found myself slowing down my pace, and reminding myself not to worry too much about how I would get back to Kagbeni. Instead I became present in the moment, enjoying the serenity and offer prayers at the holy site. The area was not only leafy but also had several gurgling streams.
Soon, that light drizzle turned to showers, I sought shelter in a quaint monastery north of the temple and got talking to the monastery's only nun. I told her that if the rain continued, I might have a problem getting back to Kagbeni. "You have come from far to this holy site. Don't let your worries about getting to Kagbeni bother you and not let you enjoy this place to the fullest. Don't worry, bhu la. You'll be fine," she said. With the rain showing no sign of stopping, she took me to the monastery's main hall and showed me some of the monastery's old statues, many of which, she said, were several centuries old.
"It's now time for my evening prayers. Since it's still raining, you can stay in the hall as I recite mantras," she said. I agreed, and sat in one of the corners of the hall and listened to the nun's prayers and the rain lashing the monastery's grounds.
Tsering Ngodup Lama/TKP
When the rain stopped, I got up, prostrated three times to the gods and deities, and quietly slipped away, making sure I didn't disturb my wise host. At the suggestion of the nun, I headed south-east of the temple, where there's a giant statue of Buddha and offered my prayers. On my way out of the temple grounds, I stopped at another quaint Buddhist temple, which had a giant prayer wheel spun by rushing stream. The temple's main prayer hall was an old stone house with creaking wooden floor and ancient mud statues of different Buddhist deities. Soon, it started raining again, and I had no choice but to wait. I tried to meditate in the old hall, but thoughts of how I would get back to Kagbeni kept resurfacing. As soon as the rain abated I dashed downhill to the bus stop, only to find it completely deserted.
I slowly started hiking downhill, asking the few villagers I met along the way how long it would take me to reach Kagbeni. The answer varied from one-and-a-half to two hours. But, almost twenty minutes into the hike, I saw a bus in the distance. It was heading to Muktinath. The driver stopped near me and asked where I was heading. "I am dropping supplies to Muktinath, and then heading to Kagbeni. I'll be back in 10 minutes, and I can give you a lift," he told me. The old nun from the monastery was right all along; I should focus on being present in the moment and not burden myself too much with the future. There was no need to worry about how I would return to Kagbeni.
---
---