For Achham's Badi community, festivals are a grim reminder of poverty
Mangalsen mayor says his local unit has prioritised the community for succour and is working on new uplift plans.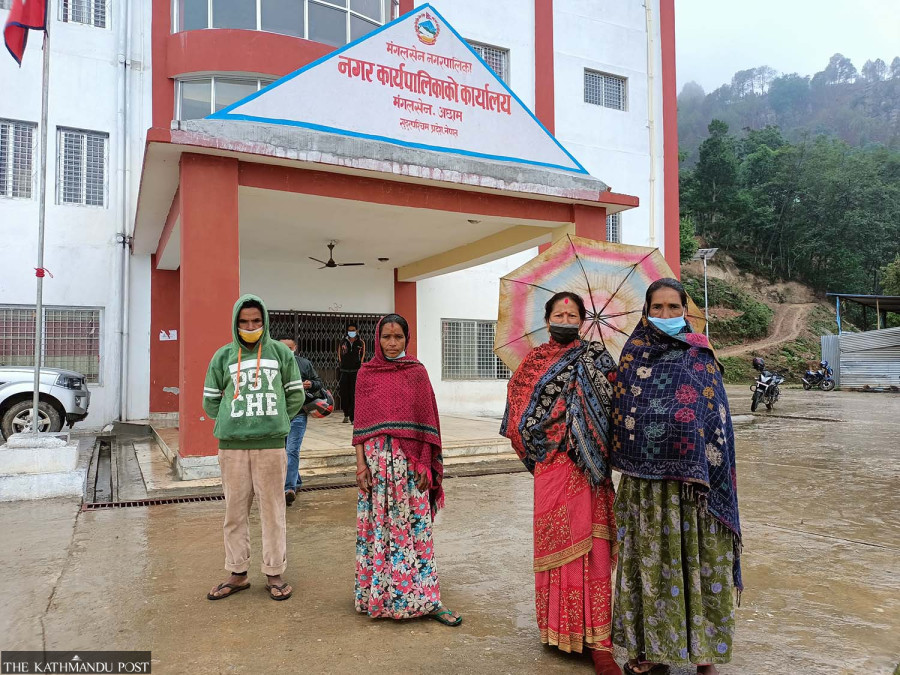 Members of the Badi community arrive at the office of the Mangalsen Municipality asking for Dashain donations, a few days ago. Menuka Dhungana/TKP
bookmark
Published at : October 12, 2022
Updated at : October 12, 2022 07:51
Achham
Tanki Badi, a 60-year-old woman, has been living in a makeshift tent with four of her brother's children near the district headquarters, Mangalsen, for the past few years. For Tanki's family, the festivals come with a reminder of their abject poverty.

"When festivals come, I feel overwhelmingly sad," Badi said. "The children ask for new clothes and good food but I can't afford any of those."
Badi's brother went to Mumbai for employment two years ago, and now, he is out of contact. His wife also left soon, leaving the children for Badi to look after. Badi herself has no home of her own and no money to raise the kids.
For the members of the marginalised communities like Badi, no government help seems to be forthcoming. Tired of begging for survival, Badi says all she wants from the government is to ensure them their fundamental rights. "If they could give me a job so I can earn my living, I would be able to take care of these children better," she said.
There are 40 to 50 Badi people in Mangalsen Municipality and none of them has a place to call their own. The municipality occasionally provides Rs5,000 to them when they go and ask for help, according to Badi. And that really is all the help they get from the government. Many members of the Badi community in Mangalsen beg for a living.
Supari Badi, a 65-year-old woman who has been living on the streets near Mangalsen market, also has a similar story to share.
"In the past, our people survived by begging but now we don't have that option," Supari said. "People don't treat beggars with empathy anymore. They ask us to get a job but who is going to give us jobs? The festivals are a grim reminder of the difficult life we live every day."
Sita Badi, a 45-year-old woman who lives in a corner of a street in Mangalsen Municipality-7, is also a political member in her community. Sita, who was elected as a district member in the 12th convention of Nepali Congress, held a political position, but her livelihood did not improve. Even remembering that she is a district member of the party, she feels sad. Sita herself regrets not being able to fulfil her children's small wishes when they desire, especially during the festival.
"Being a former district member of the party who has to go door-to-door to beg is embarrassing," Sita said. "Some even pass trash comments on my face when I go to beg. As a district member, it is difficult to beg, and there is also the problem of what to eat if I don't go. I have a severe pain in my left hand, and cannot even move it properly. I don't have a situation where I can make a living by working."
According to Sita, the Badi community, which professionally takes contracts of dancing and entertainment during festivals and weddings, is forced to live by begging after this profession also fell into crisis. The men of the community used to make musical instruments and women used to dance and sing. Gradually this practice has also disappeared. All the working age men and women go to India for employment and the women live by begging.
The local unit says that it has been working to uplift the condition of the Badi community as much as it can. Padam Bahadur Bohara, mayor of Mangalsen Municipality, said the local unit handed over land ownership certificates to eight families of the Badi community in the fiscal year 2019-20 through the People Housing Programme.
"The municipality has been doing everything in its power to make the lives comfortable for all residents in Mangalsen," Bohara said. "The municipality has been supporting the people financially and morally so they can change their lifestyle to have a better life."
Bohara added that his office is also formulating a plan to provide land to the rest of the Badi families soon and has prioritised employment for the Badi people. "The Badi community was given due priority during the Covid-19 pandemic, too, as they are the most vulnerable people during such a tough time," Bohara said.
Badi is one of the country's poorest and marginalised Dalit communities. The community is believed to have migrated from the Kumaon and Garhwal divisions of Uttar Pradesh in India and, as reported by the descendants of the former kings of Salyan's many smaller fiefdoms, initially settled in the hills of midwestern Nepal.
Beside musical performance, the male members of the Badi community are traditionally involved in fishing and pottery. The female members used to involve even in prostitution to eke out a living. The new generation ventures into more "respectable" professions and businesses.
According to the 2011 Census, there are 38,603 Badis in Nepal—less than one percent of total population. Today, Badi settlements are spread across the districts in the midwestern region, primarily in Kailali, Bardia, Surkhet, Bajhang, Salyan and Dang.
---
---