Schools in Bajhang resume as Yarsa picking season ends
Students move to the highlands to collect Yarsagumba for three months—from mid-April to June-end—every year, leaving schools empty.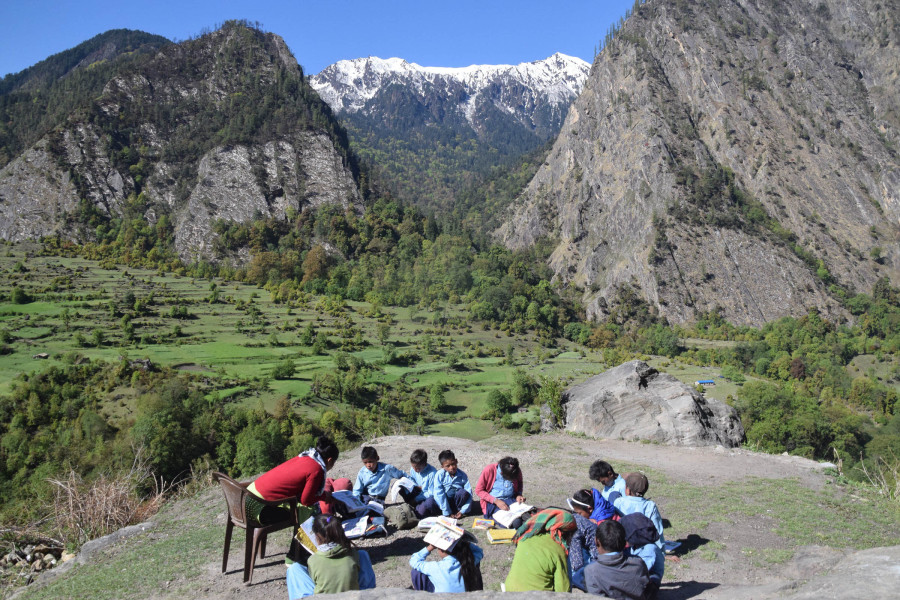 A teacher looks on as students go through their textbooks on the premises of Dhuli Basic School in Bajhang district. Basanta Pratap Singh/TKP
bookmark
Published at : July 26, 2019
Updated at : July 26, 2019 11:09
Bajhang
When children across the country were beginning their academic year in mid-April, 14-year-old Roshan Bohara of Surma Rural Municipality was up in the highlands with his parents collecting Yarsagumba, caterpillar fungi that are highly prized for their medicinal value.

Roshan, a seventh grader at Daulichaur Secondary School in Bajhang, stayed in the highlands for about three months and collected 150 Yarsagumbas.
"The picking season is over and I have collected many Yarsagumbas for which I will get a substantial amount of money. The money will cover my school fees this year," said Roshan.
Around four dozen schools in the northern part of the district were closed for three months starting mid-April, as most children had gone to the high pastures to harvest the world's most expensive herb.
Although the academic year across Nepal started four months ago, schools in Bajhang began their school year in July. Kalak Bahadur Bohara, chairman of the Daulichaur Secondary School Management Committee, said that they distributed textbooks to students and began classes from the first week of July.
"Since most children from Surma and Saipal municipalities go to the highlands to collect Yarsagumba from mid-April to June-end, we cannot begin our academic year along with the rest of the schools in the country," Bohara said. Yarsagumba harvest season starts in May and continues till June end.
Ashok Bohara, a teacher at Daulichaur Secondary School, says that the delay in starting the academic year in Bajhang is a yearly phenomenon.
"The Yarsagumba picking season falls right at the beginning of the academic year. Most of the villagers, including children, go to pick the precious herb," Ashok said. "We fall behind in our syllabus by about three months but we cannot run classes without students. Most schools here recover the lost time by eliminating summer vacation."
For most of the villagers, picking and selling Yarsagumba is their main source of income. They rely on this trade to cover their expenses for the rest of the year. According to authorities, Yarsa pickers in Bajhang collect around 300 kilograms of Yarsagumba every year.
Prem Bahadur Bohara, a local of Surma, said that collecting the herb is a once-in-a-year opportunity to earn money and that the villagers can't afford to miss it—even at the cost of hampering their children's studies.
"The money we earn after selling Yarsagumba covers our expenses for the rest of the year. We can't miss this window of opportunity. Children can continue with their studies when we come back; they usually do," said Bohara.
Yarsagumba is the world's most expensive medicinal fungus, and is used to cure anemia, chest and lung infections, tuberculosis, Hepatitis B and kidney and liver diseases. It can fetch around $100 per gram in the Chinese market, making it more expensive than gold, according to reports. The favourable returns from selling Yarsagumba is why many villagers including children rush to the highlands during the picking season.
Not just students, a majority of teachers also travel to the high pastures to collect Yarsagumba. Dhan Bahadur Bista, a teacher at Dhuli Basic School, said that the teachers are left with no work during the Yarsa picking season, as all the students go to the highlands.
"Since there are no students to teach, we close the school and go to the highlands to collect Yarsagumba with the students," he said.
Rajendra Dhami, chairman of Saipal Rural Municipality, said that all schools in the area have started conducting classes now that the picking season is over.
"Children have started going to school and parents are busy in their fields," said Dhami.
***

What do you think?
Dear reader, we'd like to hear from you. We regularly publish letters to the editor on contemporary issues or direct responses to something the Post has recently published. Please send your letters to [email protected] with "Letter to the Editor" in the subject line. Please include your name, location, and a contact address so one of our editors can reach out to you.
---
---