Pal, Pachhai claim Kantipur men and women Half Marathon titles
Army athlete Pal clocked 1 hour 6 minutes and 45 seconds while Police runner Pachhai finished in 1 hour 19 minutes and 16 seconds to win gold medals.

Kantipur Half Marathon men's winner Mukesh Pal and women's winner Rajpura Pachhai (left). Post Photo
bookmark
Published at : May 20, 2023
Updated at : May 20, 2023 21:23
Kathmandu
Tribhuvan Army Club athlete Mukesh Pal and Nepal Police Club's Rajpura Pachhai claimed the men's and women's half marathon titles in the Kantipur Half Marathon held on Saturday.
The 24-year-old Pal, who hails from Darchula, clocked 1 hour 6 minutes and 45 seconds to claim his maiden Kantipur Half Marathon organised with the slogan "Let's go Green Together."
His club-mate Rajan Rokaya finished runner up, completing the 21.0975km distance in 1:07:55 in the event that saw Army athletes dominating in the men's category. Indian Army's Tirtha Pun secured the third position with a timing of 1:09:18. Khadga Bahadur Khadka (1:09:29), Gajendra Rai (1:10:52) and Prem Bahadur Basnet (1:15:37) secured fourth to sixth positions, respectively.
Pal's career took a turn to athletics following his recruitment into the Nepal Army four years ago. "I had to run during training after my selection in the Nepal Army in 2019. I used to be first in running, inside my battalion. And then, I got recruited by the Tribhuvan Army Club two years back," recalled Pal, who had finished third in the last edition of the Half Marathon behind Gopi Chandra Parki and Arjun Adhikari.
Pal was neck to neck with Adhikari and Pun from the start until Tinkune. "My ambition was to run ahead of them from the beginning and we were together until Tinkune-Koteshwar. But I left them behind after that," said Pal, adding that he would have attempted for a new course record if he had been aware about the best timing of the event.
"I learnt later that Hari Rimal held the course record of 1:06:41. Rather than setting a time target, I was focused on beating my competitors. Had I known about the course record which was four seconds better than that time I took to complete the distance today, I would have pushed for that."
Police Club athlete Pachhai, who competed in the event for the fifth time, clocked 1:19:16 to defend the women's half marathon crown. "It was really challenging for me to finish inside the top seven positions in the past," recalled Pachhai, who finished ninth, eighth and seventh in her first three attempts. "But I worked really hard and gave continuity to my training and finally, I secured top finish in two editions."
Pachhai, however, was not satisfied with her timing. "I was 10 seconds behind than last year and my ambition was to finish inside 1 hour and 18 minutes," she said. "I had thought of setting a course record and tried accordingly. But that could not materialise due to leg pain. I feel this year's route is about 200m more than that of last year."
Ram Maya Budha of Police finished runner up clocking 1:23:07 and Nepal APF Club's Pushpa Bhandari came third at 1:24:31. Purna Rajya Laxmi Neupane (1:26:23), Gita BK (1:29:36) and Sumitra Chaudhary (1:30:09) earned fourth to sixth place finishes.
The top six finishers in both categories of half marathon walked away with a purse of Rs100,000, Rs50,000, Rs30,000, Rs20,000, Rs10,000 and Rs5,000, respectively.
The half marathon began from Kantipur Publication's office premises in Thapathali and finished at the same point going through Maitighar, Baneshwar, Tinkune, Koteshwar, Jadibuti, Lokanthali, Thimi and Sallaghari before turning back.
Khatri, Kumal win wheelchair race
Mahesh Khatri and Aishwarya Kumal secured top positions in the men's and women's 3km wheelchair race. Khatri, who also swims for Army Club, clocked 7 minutes 26.47 seconds. Dan Theeng (7:35), also Army Club's basketball player, and Ramkaji Mijar (8:52.84) secured second and third positions in men's wheelchair.
Kumal, also a basketball and swimmer, clocked 10:9.78 to claim the women's wheelchair title. Yami Jhakri (10:51.07) and Pema Chokpa (11:25.10) finished second and third.
The wheelchair race, participated by athletes with disabilities, carried cash prizes of Rs30,000, Rs20,000 and Rs10,000 for the top three finishers.
Ghimire, Maharjan claim corporate run
Bikesh Ghimire and Sunita Maharjan earned top finishes in the corporate run. Ghimire clocked 14 minutes and 36.03 seconds to finish the 5km distance in the men's section, while Maharjan took 23:23.90 to secure the top position in the women's category.
Bikash Pokharel (14:46.07) and Anish Lama Gurung (15:00.06) earned second and third place finishes in the men's event. Binita Maharjan (23:30.29) and Alina Shrestha (26:07.49) finished second and third in the women's event. The winners of the corporate event collected gift hampers and food vouchers from HAMS Hospital and KFC Foods.
Basnet, Karki win college run
Pukar Jung Basnet grabbed the men's college run gold, clocking 24 minutes 47 seconds to complete the 7 km distance. Rem Budha Magar (24:53) and Samip Thulung Rai (25:43) came in second and third.
Susan Karki secured the top finish in the women's college run clocking 27:29.56. Nisham Hang Subba (34:07.50) and Minisha Panta (32:18.42) ended up in second and third places. They all received vouchers from KFC Foods.
A total of 4,500 runners competed in the event. All the participants were given a plant in line with the event's slogan "Let's go Green Together."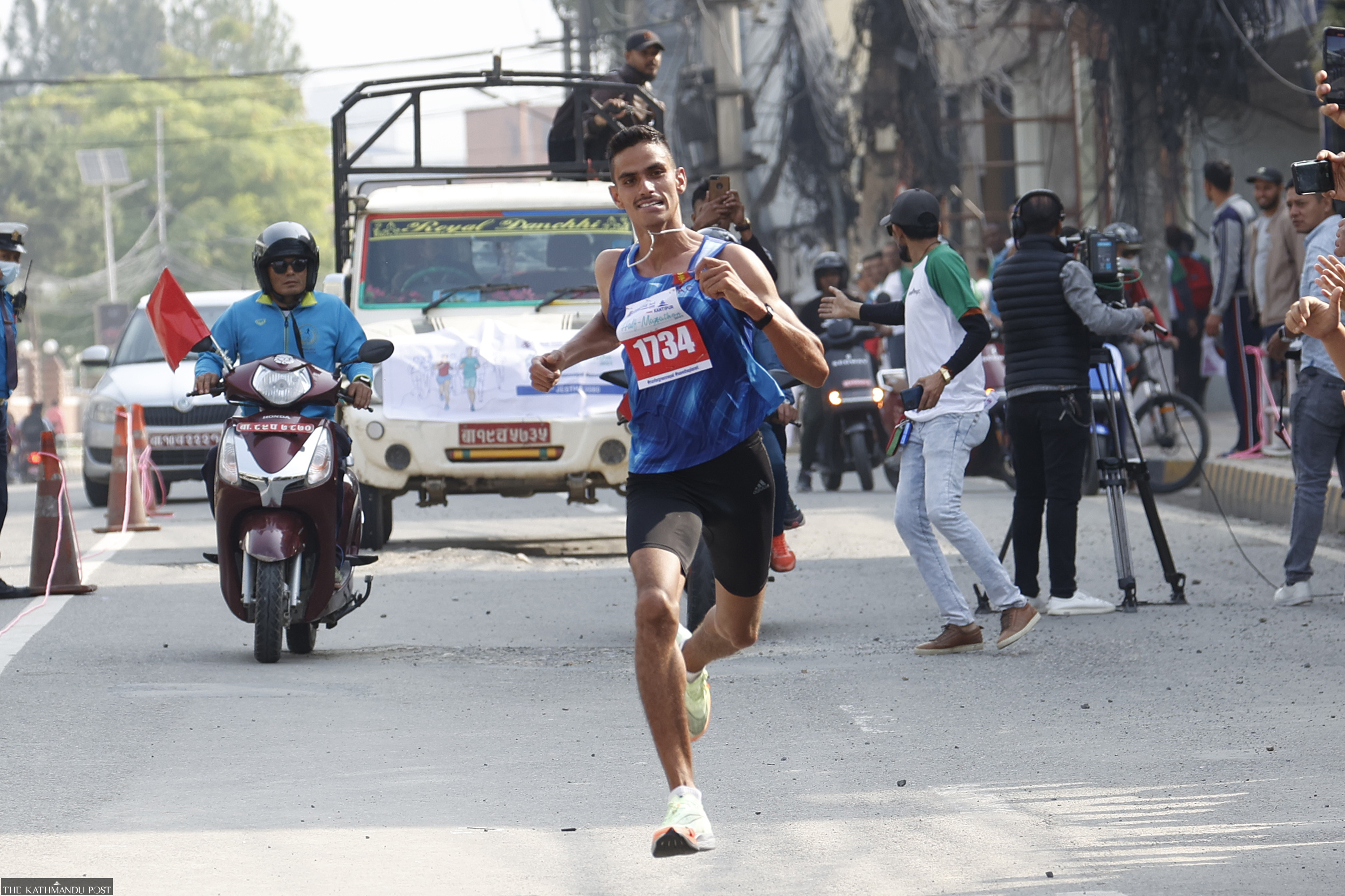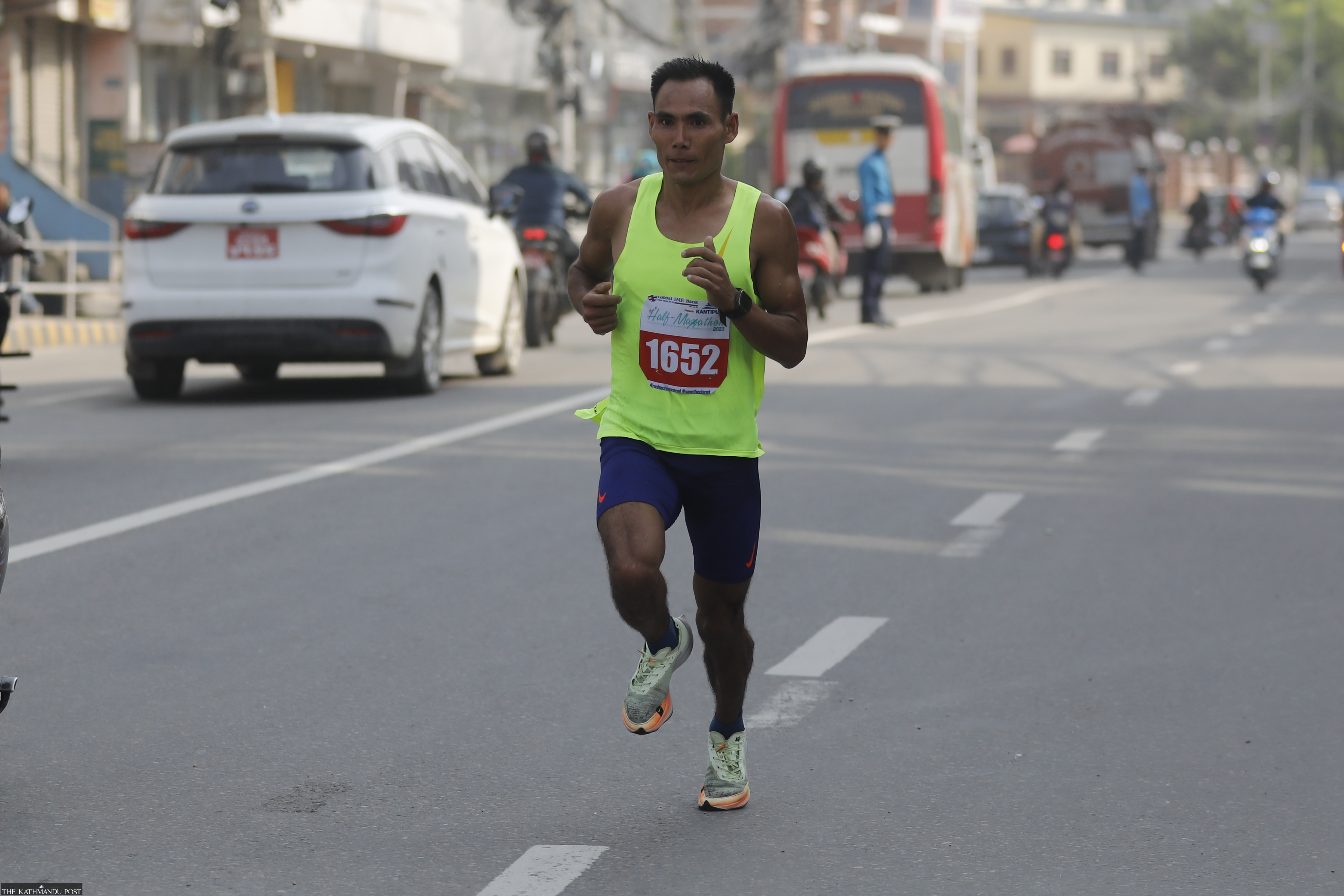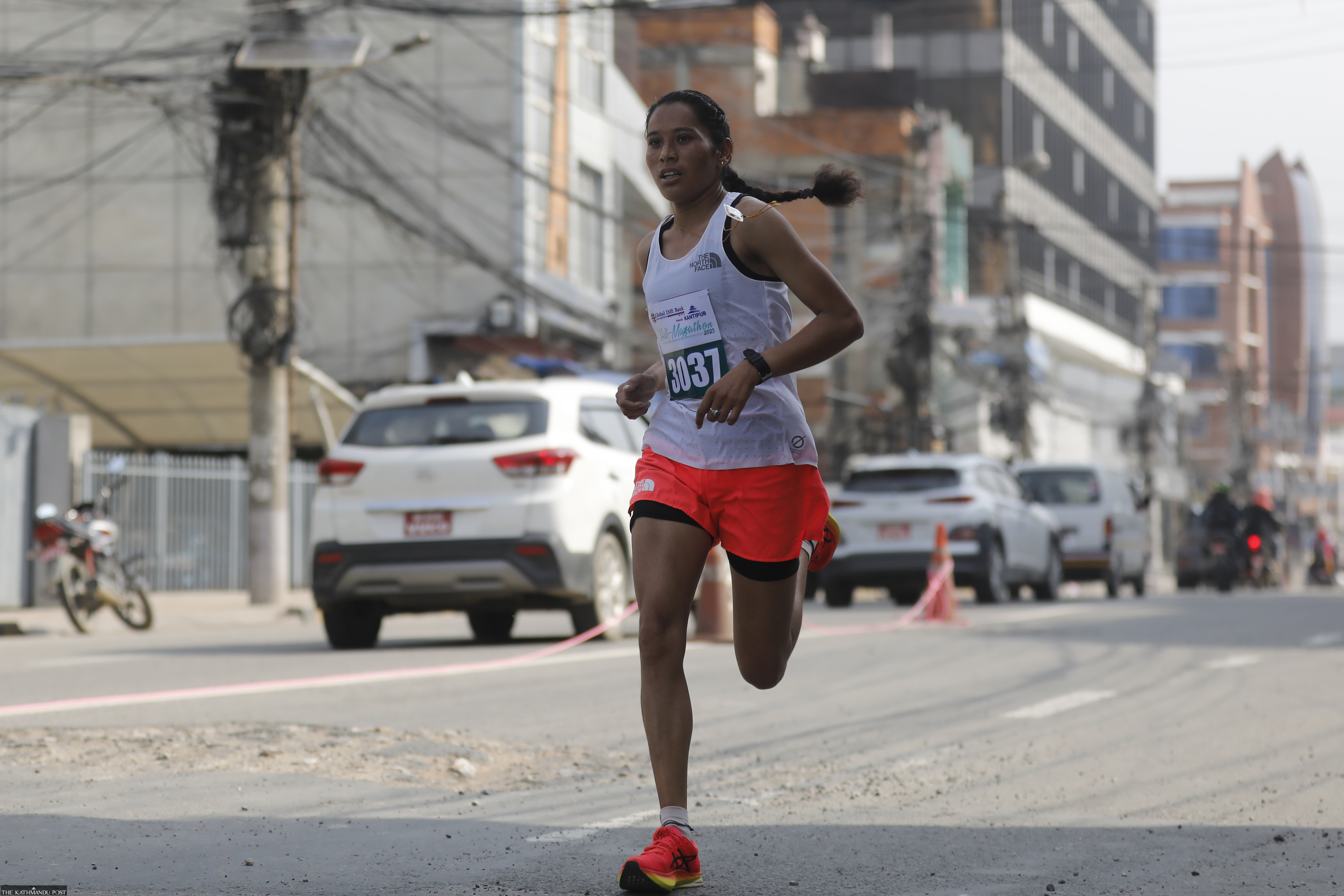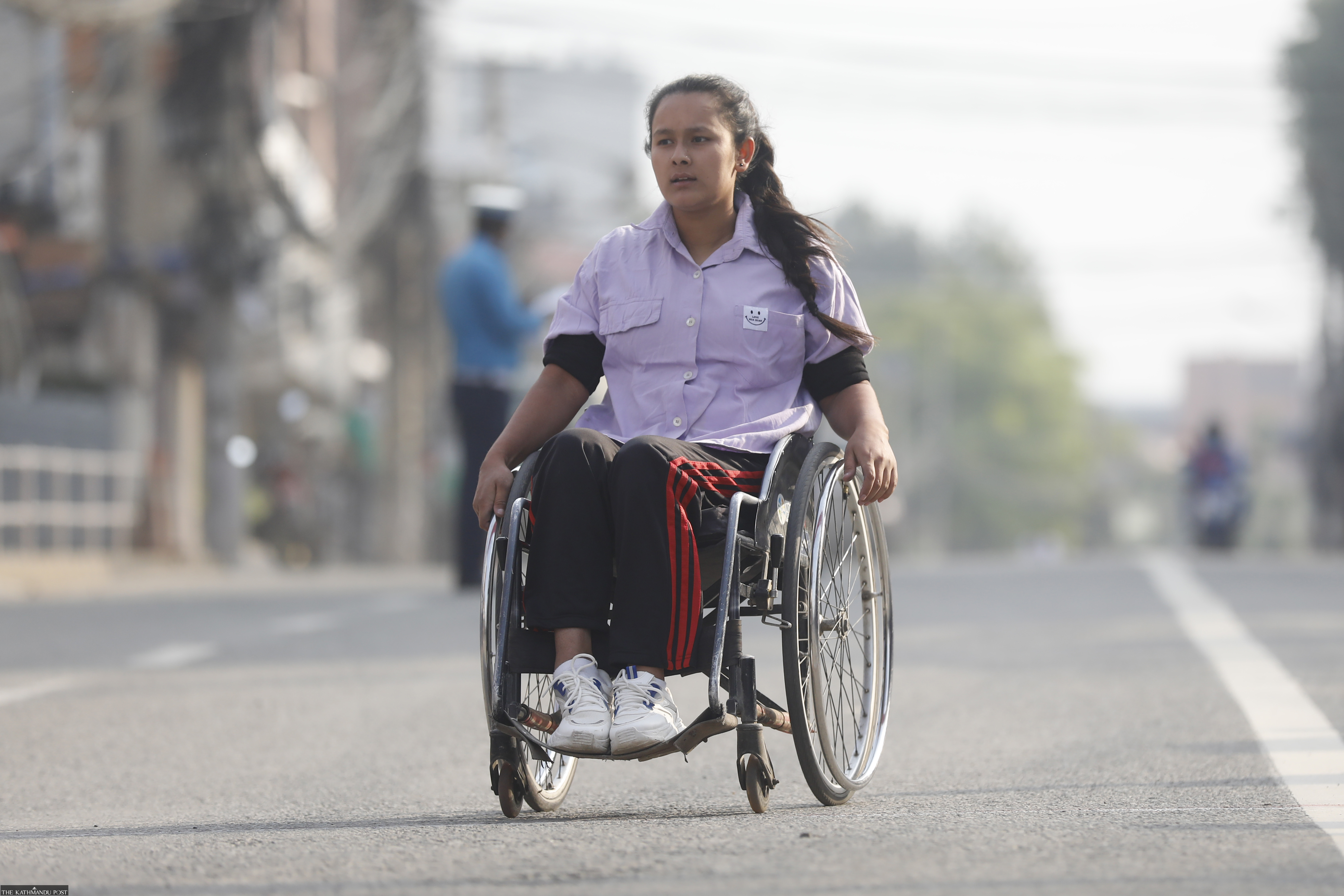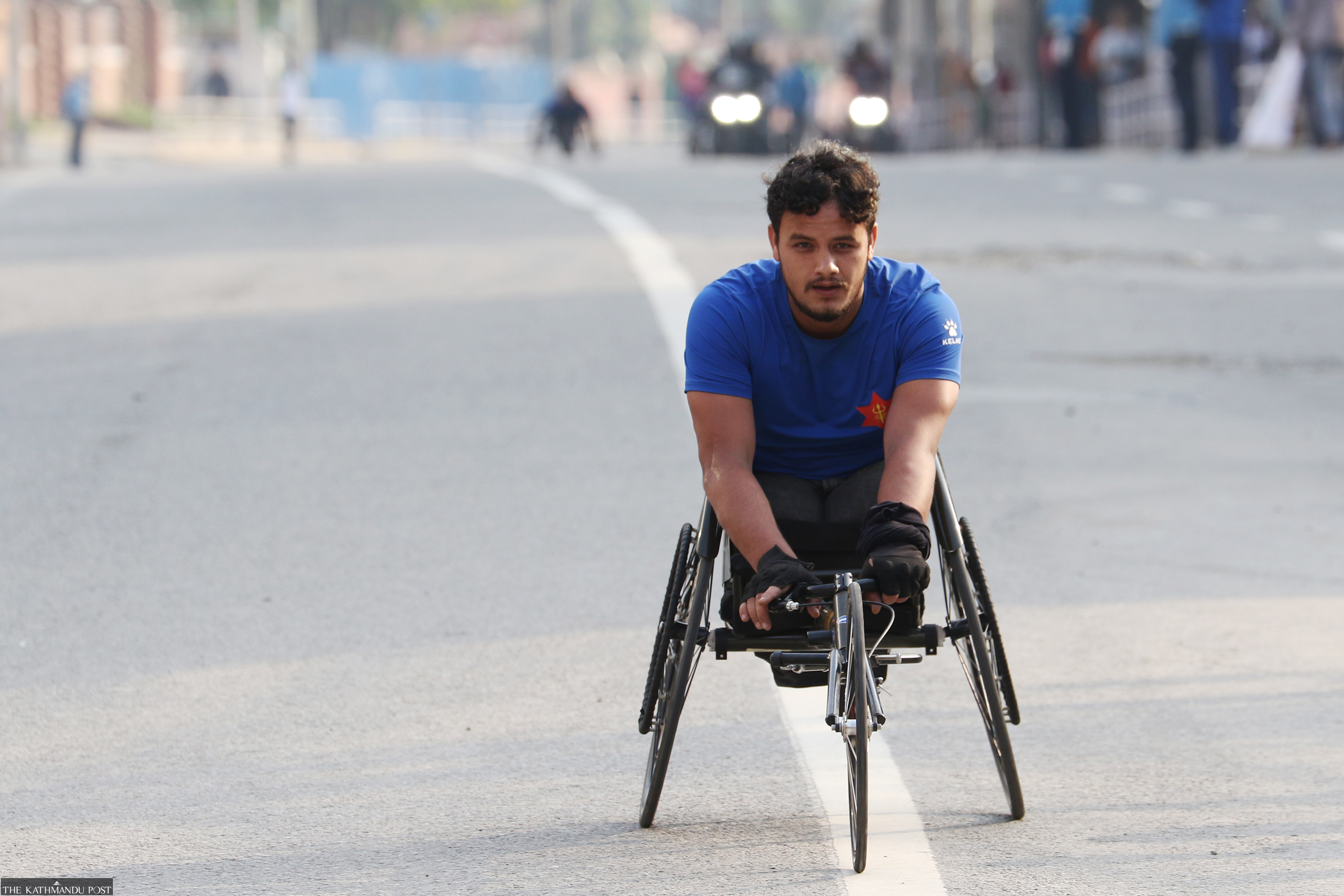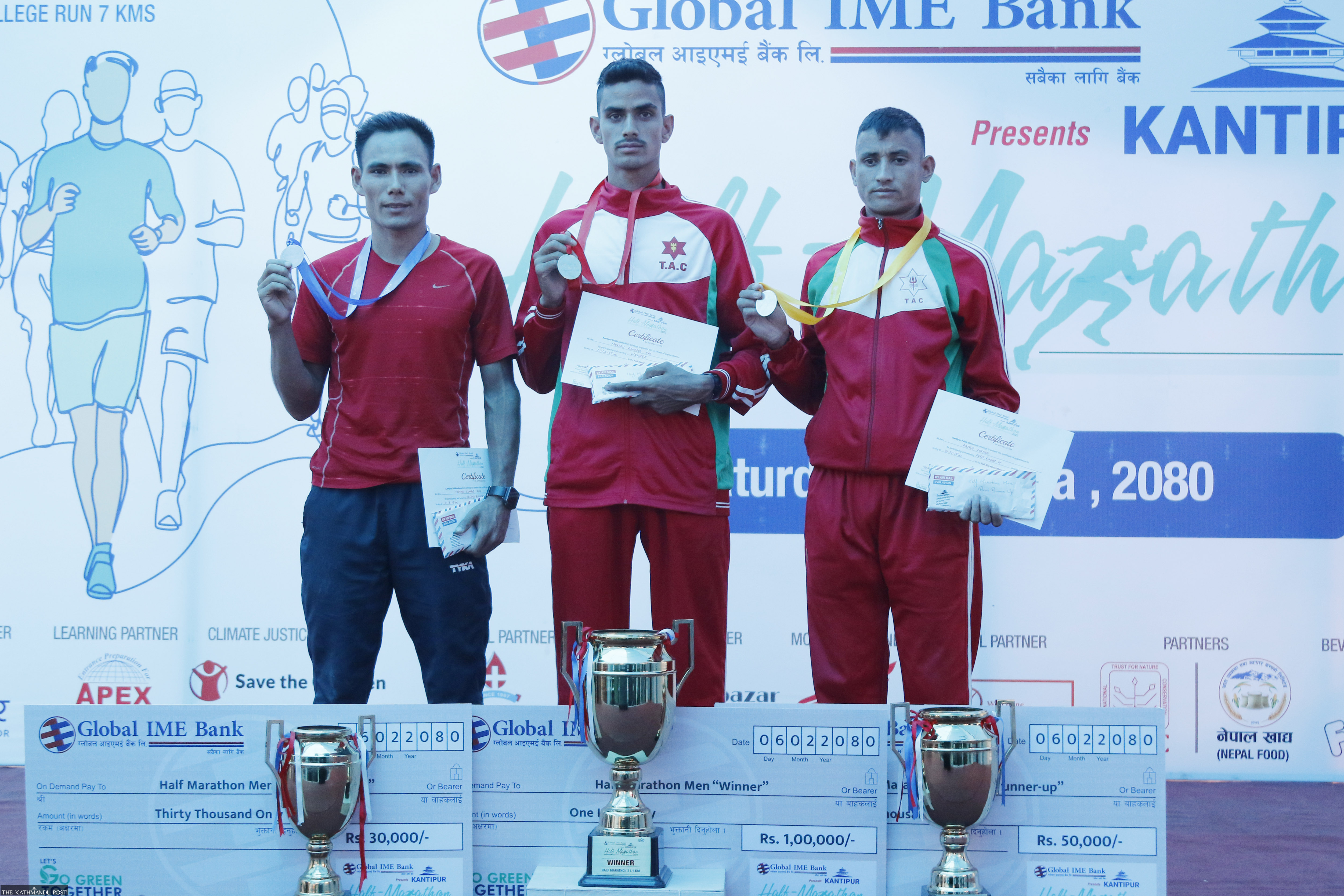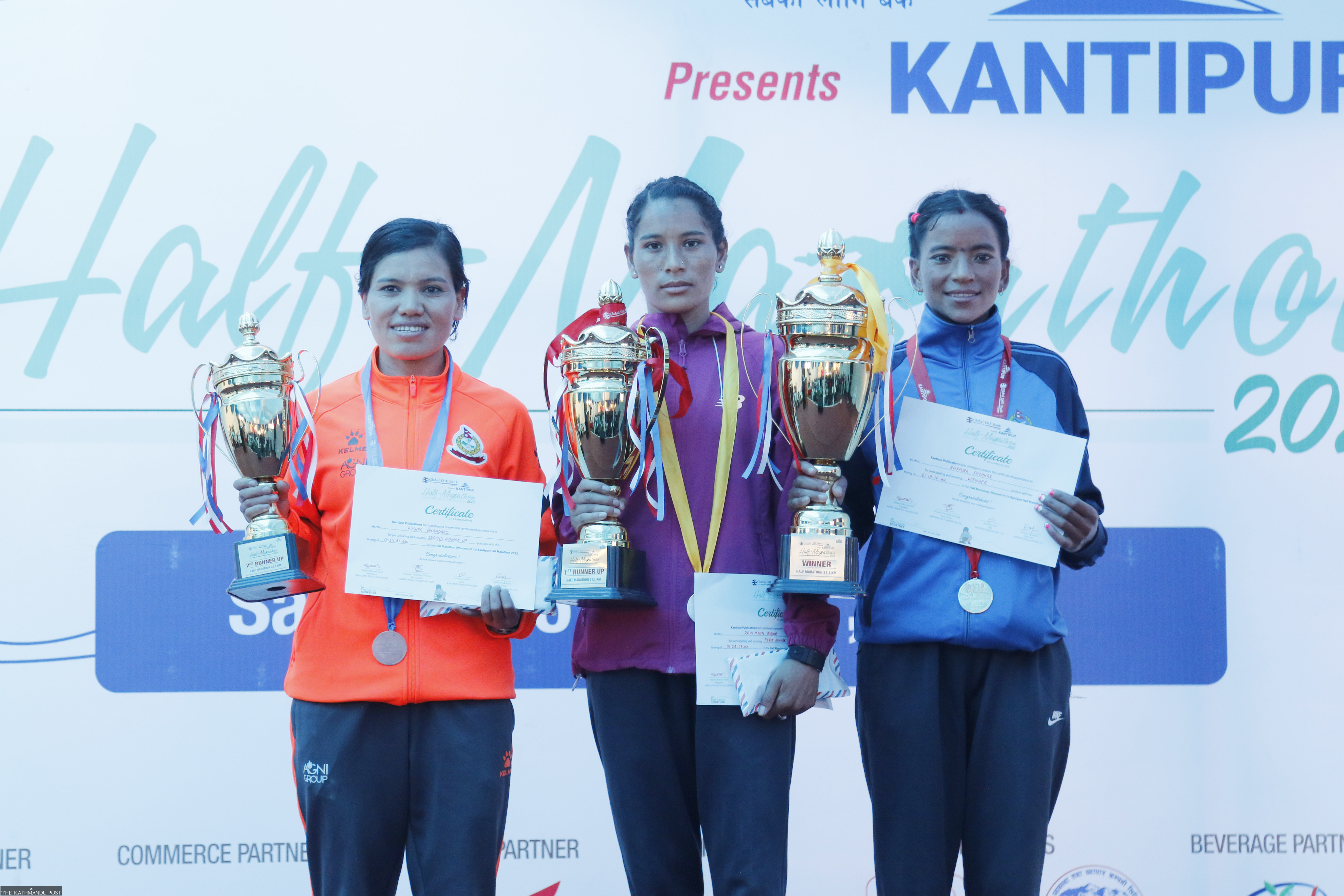 ---