Footballer Bista, Shahi win player of the year awards
Former national men's football coach Almutairi secures coach of the year, footballer Dangi youth player and volleyball player Bhandari peoples' choice award.

(From left) Qatari sports journalist Mohammed Hiji, former men's football coach Abdullah Almutairi, footballers Manish Dangi and Anjan Bista, athletics coach Raghu Raj Onta, badminton's Dan Bahadur Tamang and his wife Maya Devi Moktan, volleyball players Usha Bhandari and Aruna Shahi, and para-athlete Palesha Goverdhan during the NSJF Pulsar Sports Award ceremony in Kathmandu on Tuesday. Keshav Thapa/TKP
bookmark
Published at : March 7, 2023
Updated at : March 7, 2023 21:41
Kathmandu
Footballer Anjan Bista and national women's volleyball captain Aruna Shahi won the highest sports accolade claiming player of the year male and female awards during the annual NSJF Pulsar Sports Award 2078 ceremony at the Nepal Academy Hall in Kathmandu on Tuesday.

Footballer Bista beat his national teammate and captain Kiran Limbu, cricketer duo Dipendra Singh Airee and Kushal Bhurtel and badminton player Prince Dahal during a glittering award ceremony.
National men's football team former coach Abdullah Almutairi secured coach of the year award, while footballer Manish Dangi was named the youth player of the year.
The nominees and winners were picked on the basis of their performance and success at the national and international level in the calendar year 2078 BS by a players selection committee of Nepal Sports Journalists Forum (NSJF), the organiser of the event and umbrella organisation of sports journalists.
Bista, one of the key members of the national squad that entered the SAFF Championship final for the first time and secured runners up finish in October 2021, thanked the organisers of the award and said: "Many footballers are leaving the country for better opportunities, I hope the football governing body will work towards such issues."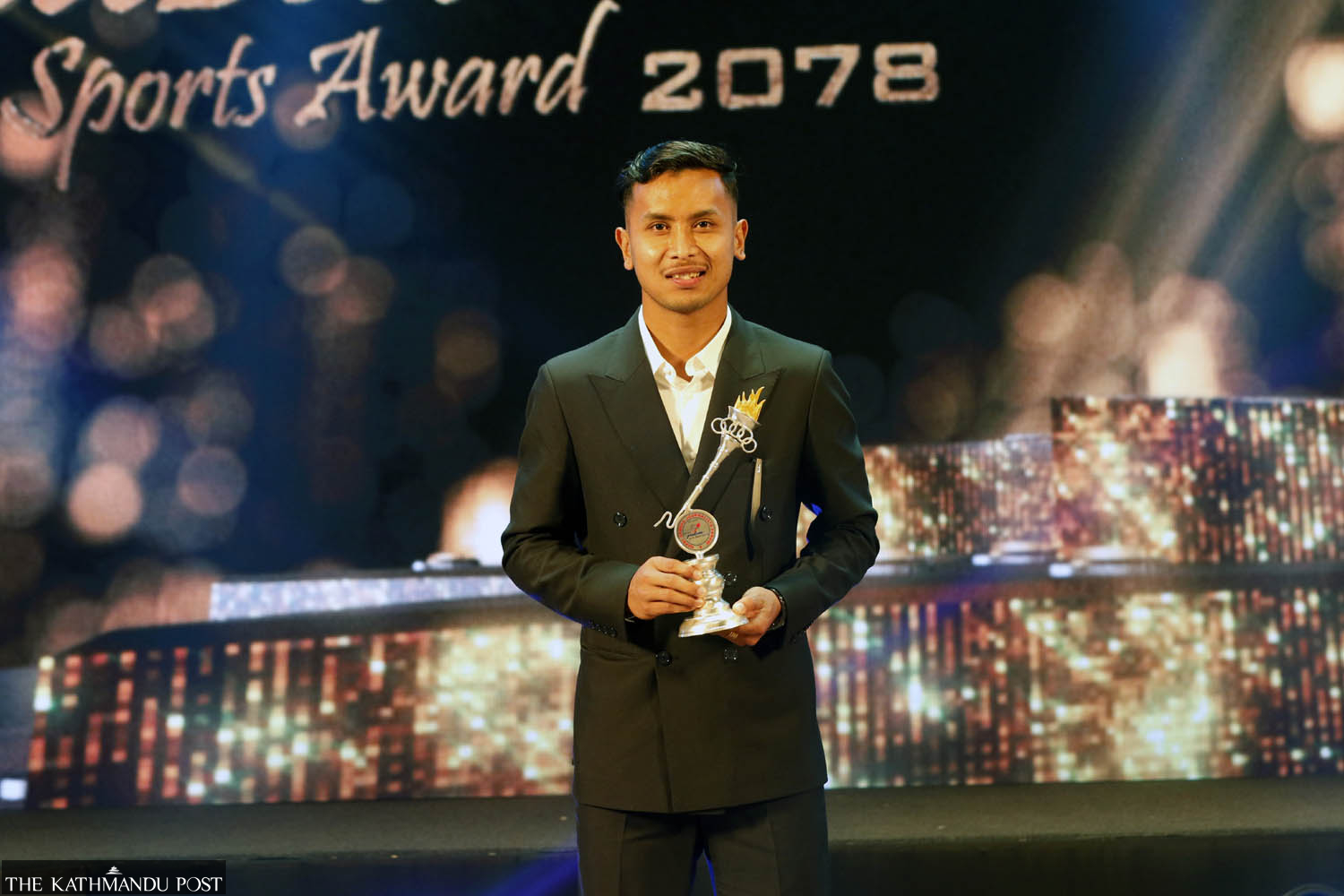 Keshav Thapa/TKP
Bista also scored against Bangladesh and Sri Lanka in the Championship, apart from scoring twice against Chinese Taipei in the 2022 World Cup and Asia Cup joint qualifiers. The-24-year-old also took his scoring tally to 11 goals as the joint second-highest goal scorer for the country.
Shahi got the better of national women's cricket captain Rubina Chhetry and Sita Rana Magar, boxer Punam Rawal and athlete Pushpa Bhandari to clinch best female player award.
Shahi led the team in their successful defence of AVC Asian Central Zone Women's Volleyball Championship, maintaining their cent percent winning streak. She was also declared the best setter of the tournament and also got the same honour during the sixth NVA Cup National Championship.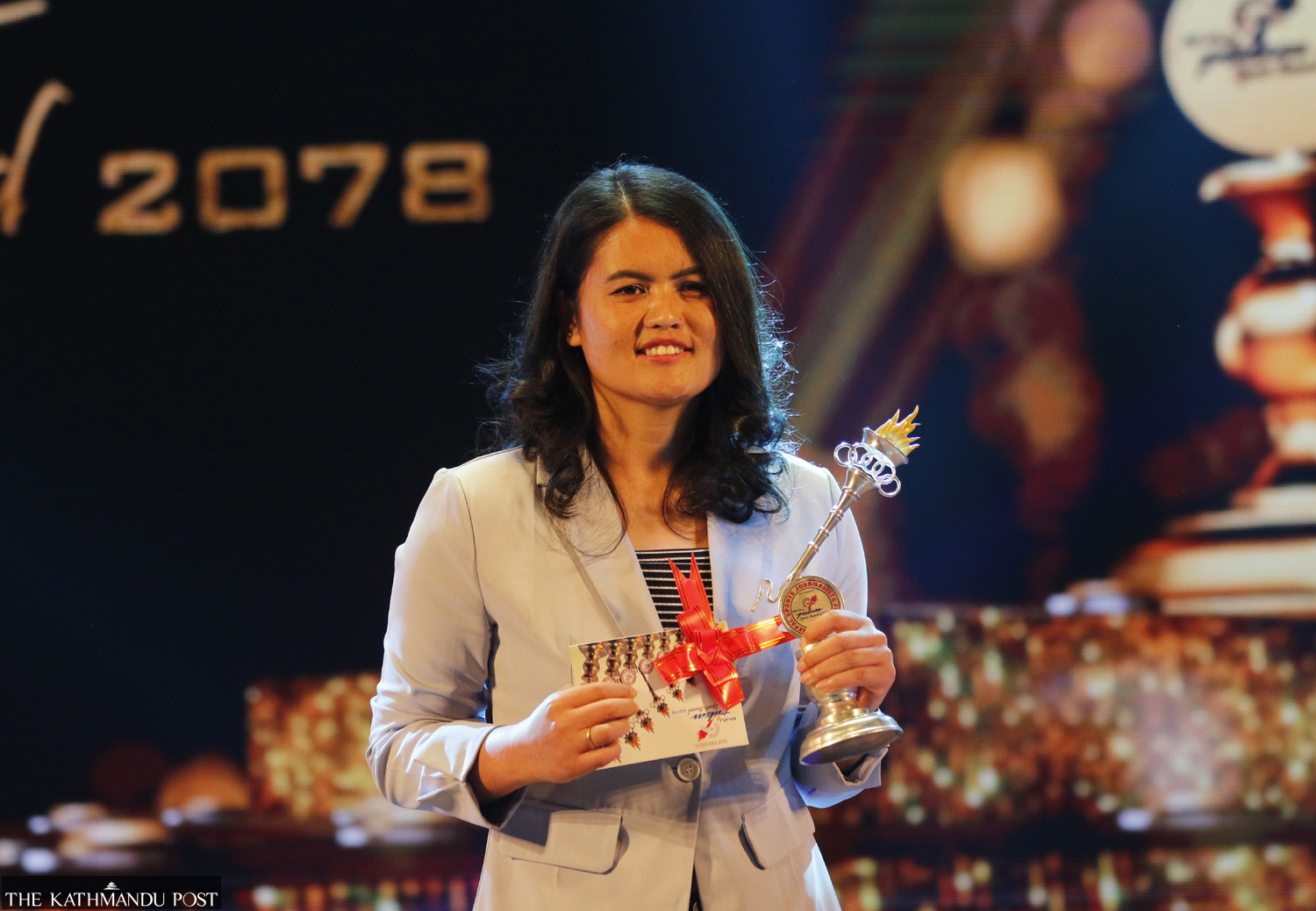 Keshav Thapa/TKP
"The Award ceremony is the most awaited event and a kind of festival for the sports sector of the country," she Shahi. "I am thankful to my teammates, volleyball association and my family on this occasion."
Kuwaiti national Almutairi, who guided the team to SAFF Championship runner up finish was declared the winner among former national cricket coach Dav Whatmore, para taekwondo's Kabiraj Negi, boxing coach Deepak Maharjan and volleyball coach Jagdish Bhatta.
Almutairi thanked ANFA, players and fans for supporting him. "Today, I miss Saud bin Abdulaziz Al-Muhannadi, the Qatar FA vice president who passed away last month. It is dedicated to him. He supported me and Nepali football very much."
National men's football member Manish Dangi bagged the youth player award beating contenders who included national women's football player Preeti Rai, boxer Chhiring Wangdi Sherpa, badminton's Rashila Maharjan and volleyball player Usha Bhandari.
Para taekwondo player Palesha Goverdhan claimed para-athlete honour. She won two bouts in the 2022 Paralympics becoming the first Nepali athlete to win a match at either Olympic or Paralympic Games. Goverdhan, born without a palm on her right hand, also secured gold in Asian Youth Para Games.
Volleyball's Bhandari claim people's choice Award
National women's volleyball team member Usha Bhandari claimed the peoples' choice award that was decided through eSewa voting, Facebook likes, points allocated by members of NSJF and chief coaches of 36 sports associations.
While Bhandari received 38.03 percent of votes, her closest opponent Anjan Bistan of football earned 31.14 percent votes. Cricketer Aasif Sheikh, swimmer Duana Lama and tennis player Abhilasha Bista were the other nominees of the award.
The winners of the male, female, coach, youth and peoples' choice award received a motorbike each and the winner of other categories were feted with purse of Rs50,000 each.
Tamang couple wins special award
Tamang couple Dan Bahadur and Maya Devi Moktan, the father and mother of badminton players Sara Devi, Nangsal and Ratnajeet – all of whom were the Nepal no 1 and national champions in the past, were feted with special awards.
According to the audio visual presentation at the ceremony, Bahadur himself made a badminton court, trained his own children and neighbourhood kids and is credited for making his hometown Bhojpur known for badminton.
At the presentation ceremony Bahadur recalled: "When I took youngsters for training, they teased me saying I would spoil my children. But now my neighbours appreciate me for making them top level players of the country."
Dan Bahadur, active in badminton for the last three decades, shared that he also spent all his salary he obtained as a teacher on the game. He also led Bhojpur District Badminton Association as president for 12 years.
Retired from his teaching profession, Tamang now visits different places of the country to play veteran badminton.
Onta gets lifetime achievement award
Dynamic sports personality Raghu Raj Onta was honoured with the lifetime achievement award. The 72-year-old, the winner of bodybuilding event, Mr Kathmandu, while he was 24, has been active in the sports sector in various roles for more than five decades.
As a player he represented the country at the 1980 Moscow Olympics in the 100m sprint. He was the national champion in the 100m sprint for seven years.
Onta was well known as a player in football, hockey and table tennis, apart from being a sprinter. He also served as a sports administrator and coach.
Onta led Nepal Athletics Association as office bearer, National Sports Council as a treasurer and was also the general secretary of Nepal Olympic Committee in the past.
He changed his role to coach after he studied Sports Physiology in Japan in 1978. He was the mentor of SAG record holder marathon runner Baikuntha Manandhar, who won three consecutive golds.
Onta is also known for his talent hunting. He is credited for identifying and training Santoshi Shrestha, who won 1500m gold in the 2019 South Asian Games (SAG). According to him, he is now working on identifying more talents and nurturing them.
Asian Sports Journalists Award
Qatari sports journalist Mohammed Hiji was honoured with the Asian Sports Journalists Award.
The editor-in-chief at the Arabic language's Lusail newspaper, based in Qatar, has been active in sports journalism for more than three decades. He has also previously served as vice president of AIPS, the global federation of sports journalists, for three terms.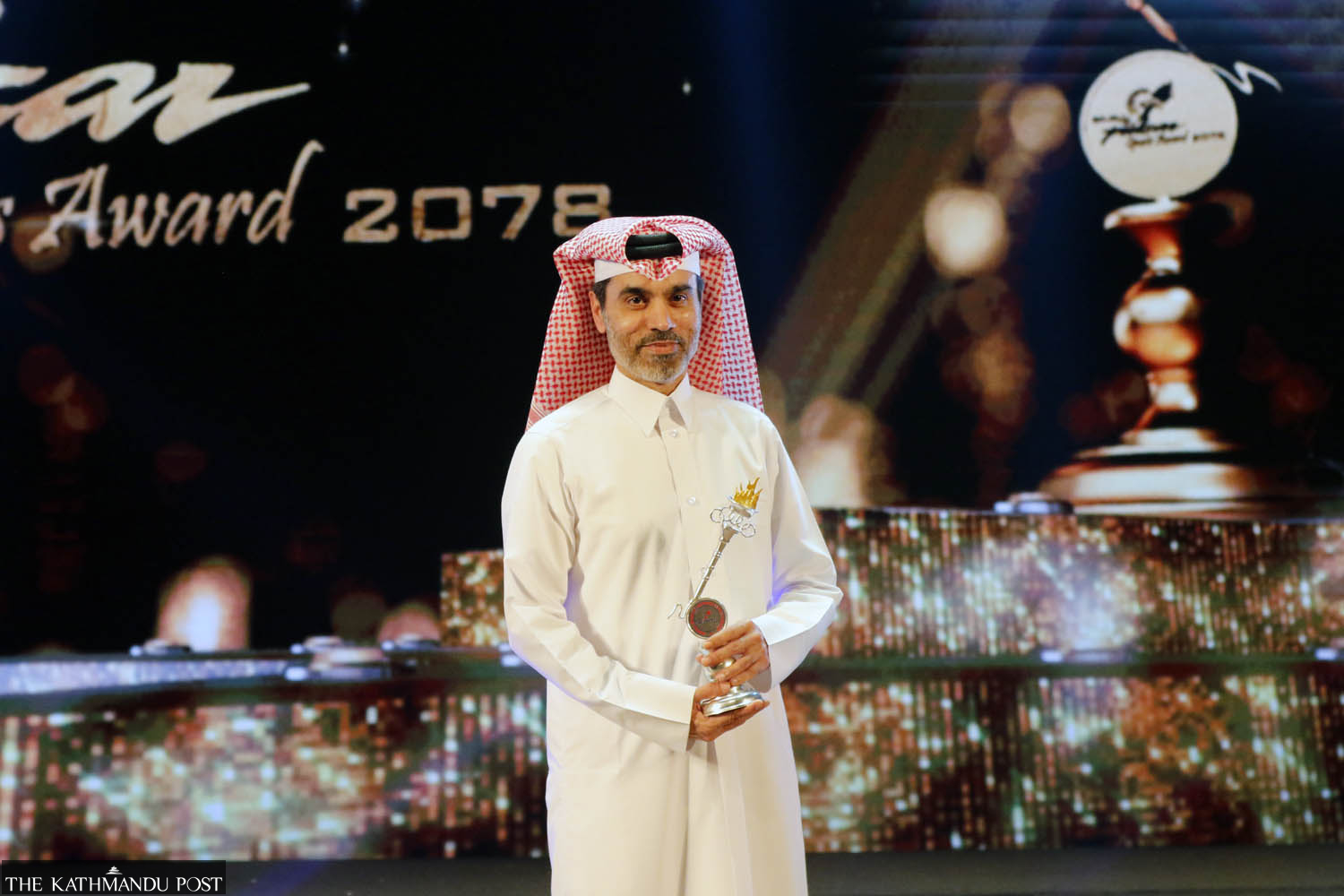 Keshav Thapa/TKP
Hiji, who has also covered the Olympics, FIFA World Cup and Asian Games, has played roles in setting up sports journalism academies, including NSJF Academy for skill development of journalists.
NSJF honoured him with the award on recommendation of AIPS Asia, the sports journalists' body of Asia.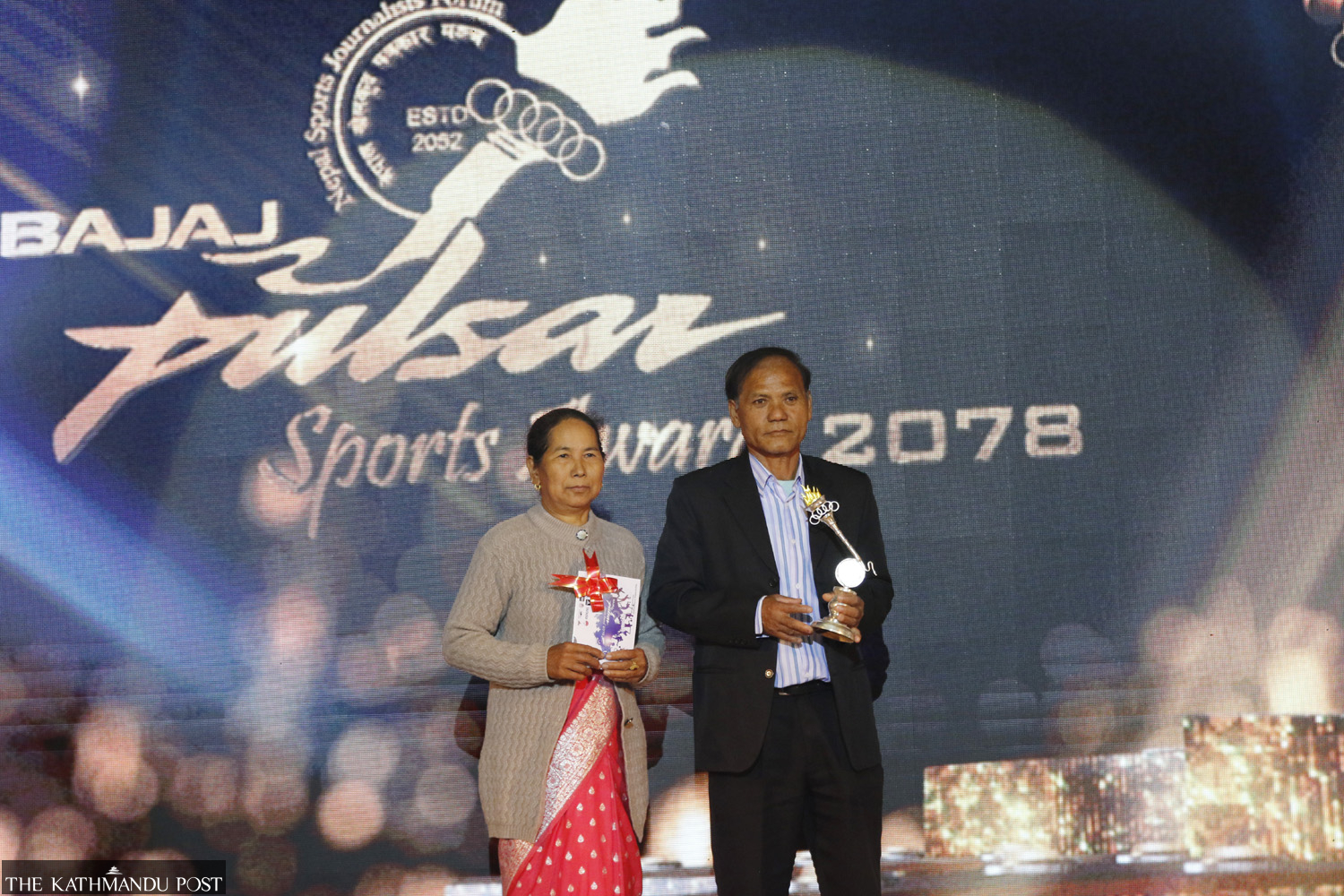 Keshav Thapa/TKP
---