Muay Thai is gradually gaining momentum in Nepal
Gymkhana, with the help of Nepal National Muay Thai Association, organised the first semi-professional competition and plans more in the future.

Ashish Tamang during a training session at Gymkhana. Kabin Adhikari/TKP
bookmark
Published at : August 31, 2019
Updated at : August 31, 2019 08:18
Kathmandu
Uses of hyperbole or over-exaggeration are quite common for parents to impress or soothe their kids. While still a child Rahul Moktan took one such statement from his father literally which paved his way to pursue Muay Thai. "Muay Thai fighters are so strong, they can knock down a tree with a single kick," Moktan recalls his father as saying.
Upon hearing his father's words, a young Moktan wanted to become a Muay Thai fighter himself possessing such massive power. Moktan now has over 10 years of Muay Thai playing experience. "Yes, a Muay Thai fighter can bring down a tree. But it has got to be a lean banana tree. Not the big ones I believed during my childhood," Moktan says with a big laughter.
At the end of 2008, Moktan was in India pursuing his studies where he found himself with the freedom he never had. "I had no one to control me. I was not in a position to distinguish right or the wrong. I could do whatever I wanted to do and go wherever I wanted to go. I actually loved that new-found freedom," he recalls.
But as time passed, Moktan realised he wandered off too much without any purpose or meaning in life. He says he lacked discipline in his life but fortunately, he realised his mistakes. He knew he was not very good at studies. So he turned his attention on martial arts. "I didn't plan to go pursue Muay Thai but I was good at sports and was fascinated especially by the martial arts," Moktan said. He looked for a proper training centre to realise his martial arts dream but could not find one.

[Read: MMA, the money-spinning combat sport, tries to find a hold in Nepal]
A few months later he came in contact with Edgar Noosdanus, a Dutch national married to an Indian woman. Edgar, a Muay Thai trainer, for the first time, introduced Moktan to the sport. He trained Moktan and also suggested him to go to Thailand—the country of origin of Muay Thai—for proper training. Moktan duly took the suggestion and went to Thailand. There was no turning back ever since.
Moktan came back to India after completing his training and upon the suggestion of his gym owner, started to train others too. In 2014, he returned to Nepal and started Gymkhana Muay Thai in 2017. Moktan now trains Muay Thai fighters at Gymkhana. His fitness centre recently organised its first Muay Thai and boxing competition and received rave reviews. Twelve fighters took part in three different weight categories-60, 65, 70 kg-in semi-professional rules in five rounds. Players were invited to take part in the fight and their opponents were chosen based on their past performance.
"Any combat sports in dangerous so we thought about getting permission from the governing body. We informed about our intention to the sports governing body—Nepal National Muay Thai Association—and got the green signal," said Moktan. But Moktan still believes there is a lot that needs to be done in the sport. "What always pinches me is that I am in this sport for over a decade and it took me so long to organise a tournament. "But I feel really proud knowing that we were able to organise such an event in just two years since establishing the Gymkhana," said Moktan. Moktan said they will try to make up for the lost time and, encouraged by the reviews their first tournament received, plan to organise a fight every three months. He hopes such tournaments will give a proper platform to aspiring Muay Thai fighters.
Moktan, however, believes it's still tough to give Muay Thai a professional touch in Nepal. "Whatever tournaments are organised in the country, they are amateur events. Such amateur tournaments won't help much in the popularity of the sport," said Moktan. Moreover, fighters don't have a financial incentive or motivation to pursue it for long. However, Moktan praised the support of national association for keeping the game alive and vibrant by organising tournaments—be it amateurs though—on regular basis. "The association take athletes to Thailand which helps grow their game. The sport is gradually finding it's foothold across the country," he added.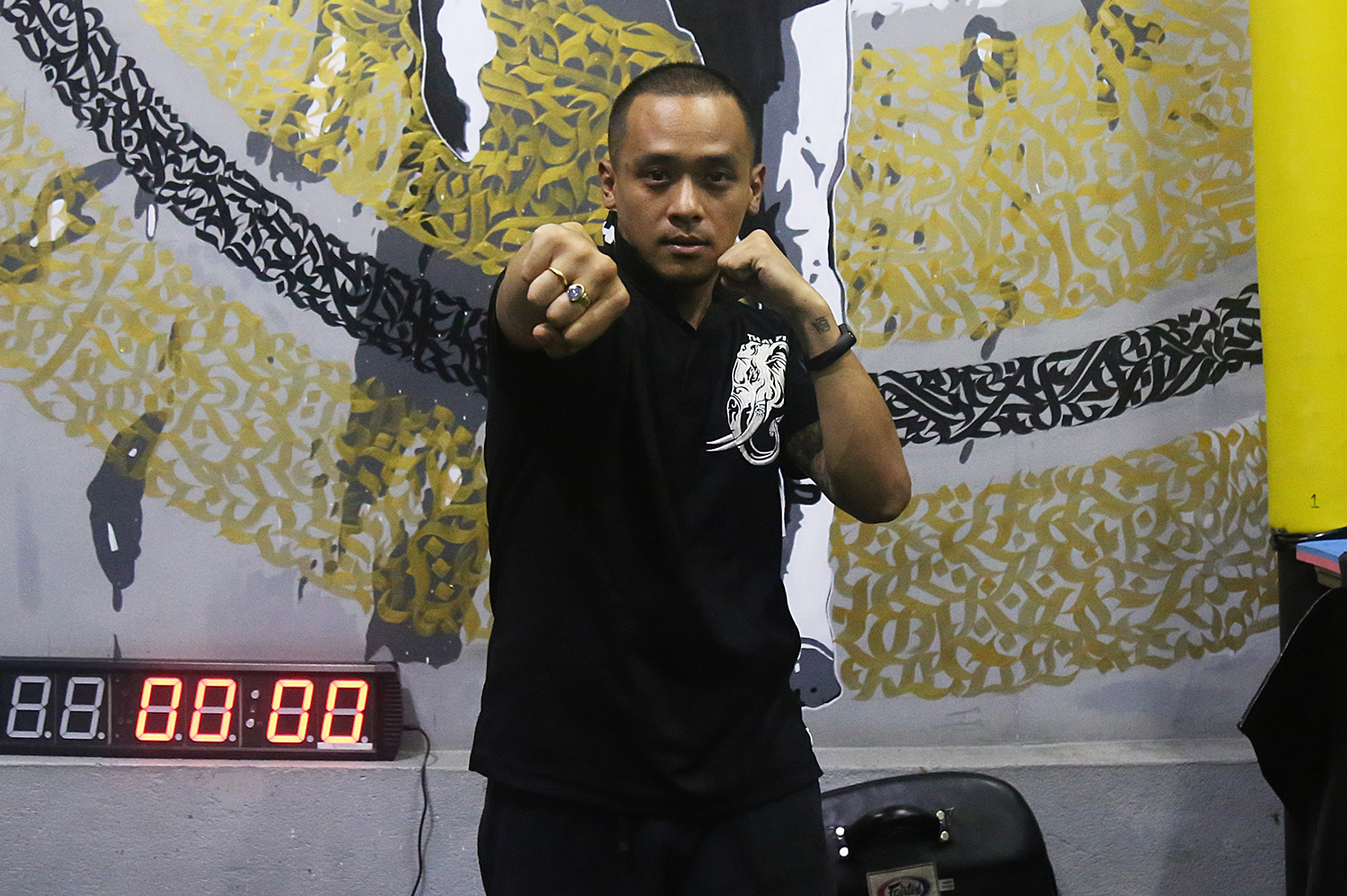 Trainer Rahul Moktan at Gymkhana Muay Thai training facility in Maharajgunj, Kathmandu. Kabin Adhikari/TKP
President of Nepal National Muay Thai Association Ganesh Lal Kakshyapati says Muay Thai needs greater fan base to help it gain greater heights. "We see fans flocking the airport every time the Nepali football or cricket teams fare well abroad at international tournaments. But whenever we (Muay Thai athletes) win big and return home, we hardly see anyone at the airport to welcome us back. We may lag behind in terms of infrastructure but what we lack is the support from the public," laments Kakshyapati. "People still don't understand Muay Thai well. They believe it a kind of karate or taekwondo. There is a need to clear this misconception about the sport," he added.
Raju Rai, a participant in the competition organised by Gymkhana recently, is a professional Muay Thai fighter. Rai, who is from Budanilkantha in Kathmandu, started his training in 2009. "I was in grade 10 when I had a fight with another guy. Coincidently, a Muay Thai trainer saw the brawl and suggested me to attend his Muay Thai training," recalls Rai. Rai says he was also fascinated by actor Tatchakorn Yeerum, popularly known as Tony Jaa, and wanted to copy his fighting styles.
Actor Jaa was a big reason for Rai to take up the sport. "I had some sort of training in martial arts but knew nothing about Muay Thai. I just wanted to be like Tony Jaa as his action movies were very popular among my circle," he said. Rai initially found training tough yet fascinating and soon started to love it. Ten years on and Rai, now 26, is now a so-called veteran Muay Thai fighter. He has been to Thailand on a number of occasions to take part in training and fights. "I have sacrificed a lot for this sport. I am what I am now just because of Muay Thai," he said.
Despite being in the sport for a decade and living a good life, Rai believes there is a lot to be done in this sport in Nepal to help players like him make a better living. "Don't expect big in Muay Thai anytime soon. Larger expectations can often lead to frustration," he said. Rai says taking part in competitions can help a player earn a decent amount to earn his living. "Muay Thai is slowly growing in Nepal. We also get opportunities to go to a foreign land and take part in fights," said Rai.
Trainer Moktan says he enjoys coaching fighters like Rai more than his fighting days in India and Thailand. But like the association president Kakshyapati, what also worries him the most is the support the sport gets from the people and the government. "Common people and the government still don't take us seriously. They think we cannot do anything in the sport," said Moktan. According to Moktan, one has to understand the training well and train accordingly. "Focus on recovery, rehabilitation and nutrition. One thing is for sure, you cannot become a Muay Thai fighter by training and eating like a sprinter," he said.
---
---