MMA, the money-spinning combat sport, tries to find a hold in Nepal
Trainer Sandesh Palungwa Limbu believes a major problem for the game is the dearth of players.

MMA coach Meghbar Chemjong (left) spars with his trainee Santosh Khatri during a training session in Naxal, Kathmandu. Kabin Adhikari/TKP
bookmark
Published at : August 23, 2019
Updated at : August 23, 2019 15:38
Kathmandu
Santosh Khatri's love affair with Mixed Martial Arts started when he began watching the combat sport on television. The 29-year-old from Itahari, who already was a keen martial arts fan, now trains at Rage Fitness in Naxal, hoping to become a professional MMA fighter someday and take part in competitions. But for Khatri and others training with the same ambition, the only problem is that there aren't any such competitions in the country.
Mixed Martial Arts, popularly known as MMA, is a full-contact combat sport that allows fighting using any style of martial arts while standing or on the ground. It incorporates techniques from boxing, wrestling, judo [jiu jitsu], karate, muay thai and other martial arts disciplines. Although initially decried by some, who called it a brutal sport without any rules, MMA has of late undergone a number of changes and become a rapidly growing sport in the world. This growing international craze has now arrived in Nepal.
Meghbar Chemjong, a trainer at Rage Fitness, says interest in the sport is growing. "Either be it on YouTube or on fight days, people are interested in watching the sport and its popularity is growing. A lot of people follow MMA now," said Chemjong, who started out with Hapkido in 1997 and later turned to Brazilian jiu-jitsu. Chemjong's friend, Sandesh Palungwa Limbu, another MMA trainer, echoes his views. But as there are multiple problems surrounding the sports, and with no real competition in the country, the sport is still in its nascent phase.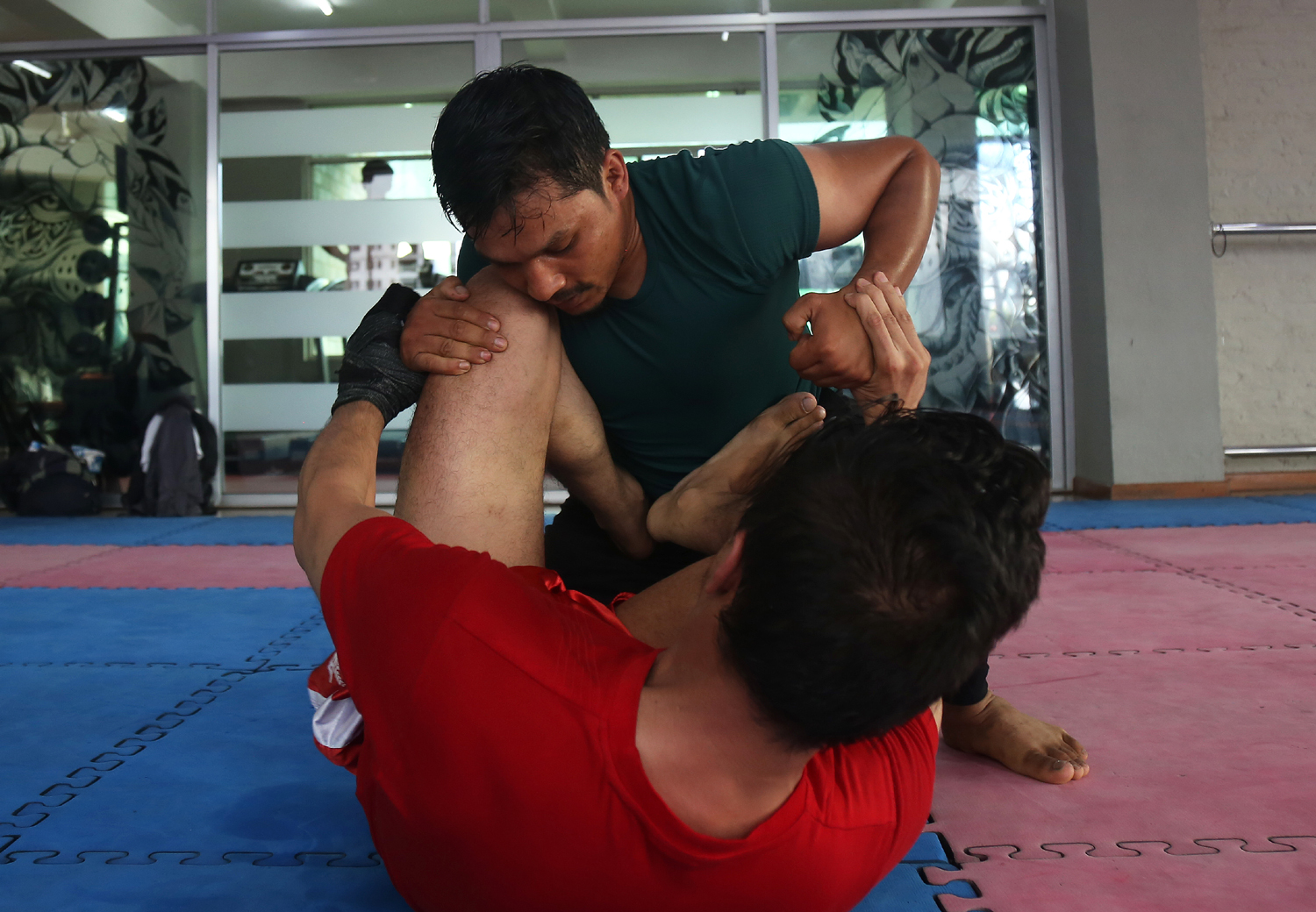 Khatri in action against his sparring partner. Kabin Adhikari/TKP
Limbu believes that a major problem for MMA is the dearth of players. Young people come to them to train but leave after a couple of months. MMA requires a lot of perseverance, dedication and discipline, and players are simply not patient enough. "It is an evolving sport and requires a lot of work," said Limbu. Young people are the biggest followers of the game but in a country like ours, where youths are more concerned about securing their future, those who come to train often move on quickly to other pursuits.
According to Limbu, parents see the sport on television and think it as an aggressive sport, deterring their children from even watching the fights. "One has to understand that MMA is a safe sport and only highly trained fighters take part in MMA. People tend to believe what they see on television, but that is not the whole truth. Safety is always the first priority in the sport," said Limbu.
Limbu, a martial arts practitioner since a young age, honed his skills in Vale Tudo, Brazilian jiu-jitsu and Muay Thai after going to Australia for his studies. He claims to have even won a state championship in Australia and still travels the world on a number of occasions, trying to learn more about the game. His visits often last for months. After those trips, he comes back to Nepal and shares his knowledge with his students. "You should never stop learning. Continuity in learning helps me pass my knowledge about the sport on to my students," he said.
Cyrus Gurung, who has been learning MMA for the past seven years, also teaches Muay Thai, kickboxing and boxing—collectively called MKB. But MMA has a completely different style of fighting, said Gurung. Now 28, Gurung started with karate and moved to other forms of combat sports and has been undergoing MMA training himself at Rage Fitness with Limbu since 2012. He says it is difficult for aspirants like him to become professional since there are no competitions in the country.
In a country where combat sports don't pay well, holding a competition will provide a platform for aspirants like him and also a source of income for players, said Gurung. He, however, understands that one has to train properly and be extremely patient and hard-working to succeed as an MMA fighter. "People here see fights on TV and try to imitate it. But it takes years of dedication and discipline before one can get into a ring. Doing what the fighters do on TV takes even more time," said Gurung.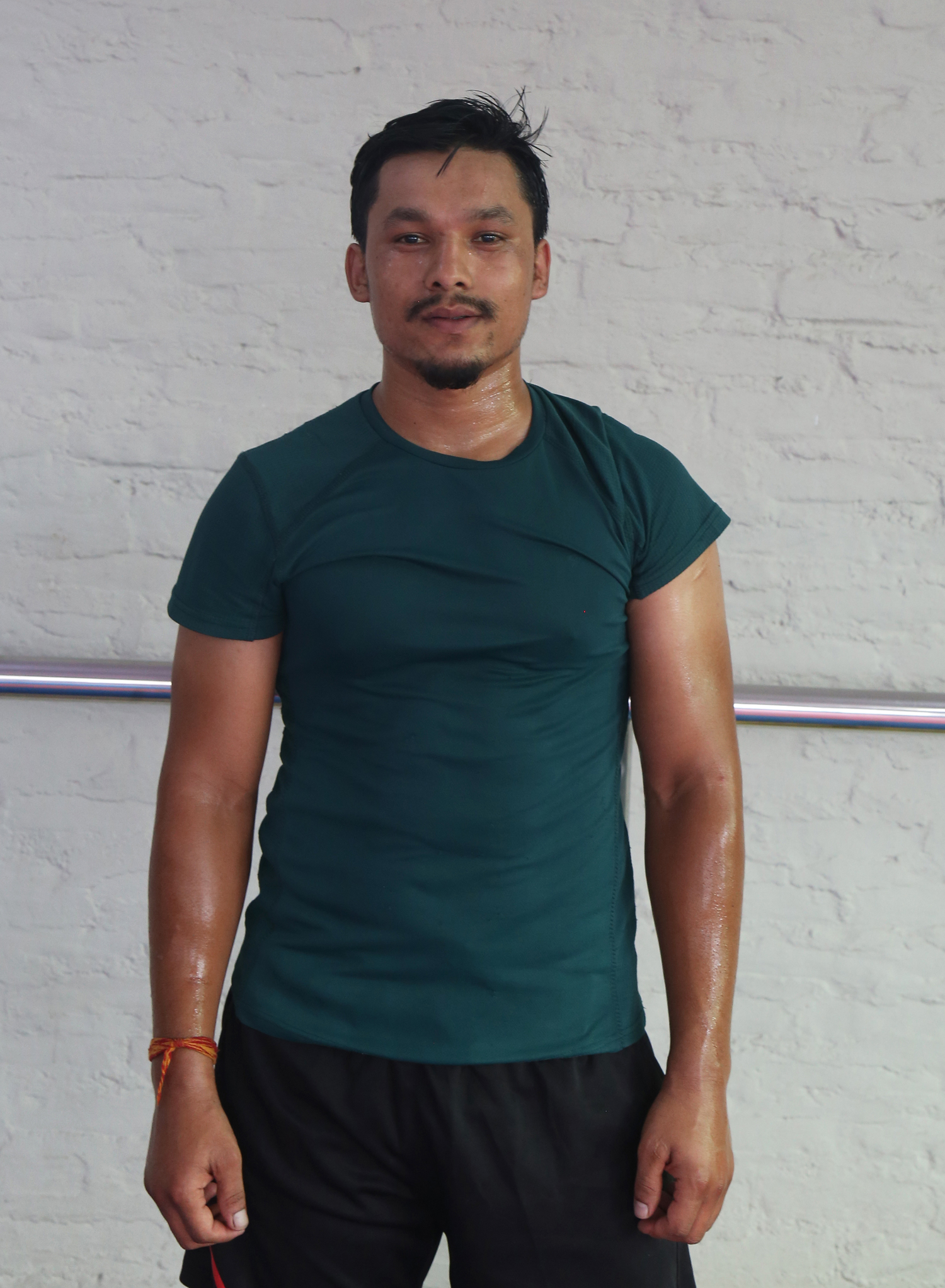 Santosh Khatri, 29, hopes to become a professional MMA fighter someday. Kabin Adhikari/TKP
But soon, things might change for the sport. Rage Fitness is partnering with Chaudhary Group to organise an MMA tournament in the near future, according to Limbu. The tournament is likely to be organised after the Dashain-Tihar festival.
"We are in an advanced discussion stage with Chaudhary Group about organising the event but have not fixed a date yet," he said. Limbu has eight professional fighters with him but they have never competed in MMA fights. "We usually compete in other combat sports, such as Muay Thai, but not MMA," he said. Thus the competition, if it materialises, will become a first for the country.
As of now, Nepal does not have an official governing body for MMA. In the absence of such an association, Limbu said the competition can be organised as sports entertainment. But first, they will try to get an endorsement from concerned authorities, he said. "Such a competition will help popularise the game in the country. Through this tournament, we can also help our fighters take part in international tournaments as those organisers often ask us to send our fighters," Limbu said.
But Limbu still feels much remains to be done in order to help grow the game in the country. One has to be aware of MMA, its rules and its style of fighting. A player with limited training cannot participate in MMA. They have to be highly trained in multiple disciplines.
Trainers like Limbu and Chemjong call MMA a safe sport but know that until a national competition takes place, it will be difficult to persuade suspicious parents to support the game. But competitions will motivate fighters and help aspiring players like Khatri achieve his professional dreams.
***

What do you think?
Dear reader, we'd like to hear from you. We regularly publish letters to the editor on contemporary issues or direct responses to something the Post has recently published. Please send your letters to tkpoped@kmg.com.np with "Letter to the Editor" in the subject line. Please include your name, location, and a contact address so one of our editors can reach out to you.
---
---