Departmental outf its continue to dominate the Games
Tribhuvan Army Club clinched both men's and women's gold medal in kabaddi during the eighth National Games on Wednesday.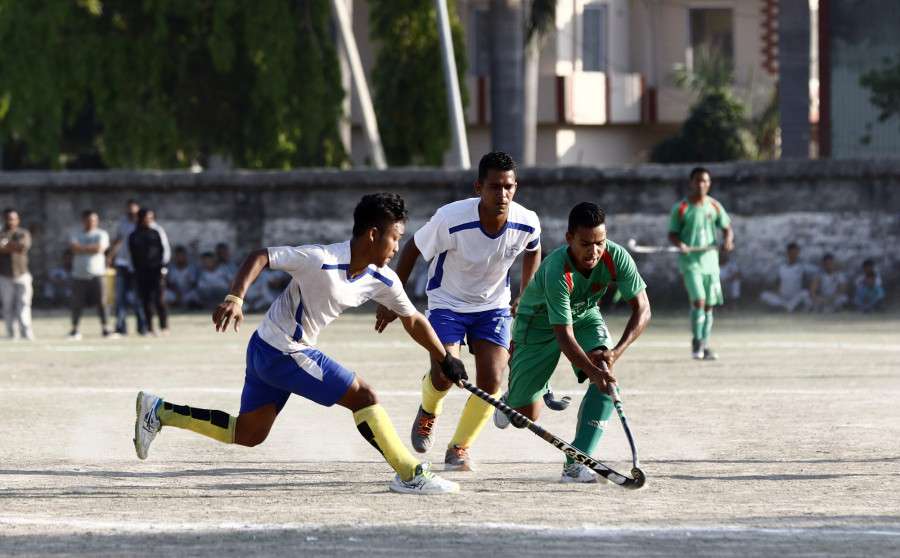 bookmark
Published at : April 18, 2019
Updated at : April 18, 2019 09:44
Bardiya
Tribhuvan Army Club clinched both men's and women's gold medal in kabaddi during the eighth National Games on Wednesday.
The Army club dispatched Province 5 41-21 in the men's gold medal match. Nepal APF Club was restricted to bronze. The Army club also won the women's title beating Nepal Police Club (NPC) 36-21 in the final. Province 5 walked away with a bronze in women's event. Sujan Lohani of Army won the gold medal in the women's chess tournament. Her teammate Sindira Joshi finished in second and Kripa Adhikari of Province 1 in third position. Purushottam Chaulagain won the open category title while his teammate Manish Hamal ended up clinching silver and Armyman Sunil Maharjan the bronze medal.
Army also won the men's basketball gold in Dang on Wednesday while NPC clinched the women's category title. Army beat Province 3 76-58 in men's final with Ram Krishna Ghatene contributing 23 points for the champions. NPC took bronze defeating Province 4 74-54 in the third place playoff.
The women's title decider saw NPC ease past Province 45-29 riding on 13 points from Anusha Malla. Army finished third defeating Sudhurpaschim Province 51-39. Grishma Silwal contributed 11 points for the winning side. Played under league-cum-knockout format the tournament featured 10 teams in men's and eight teams in women's tournament.
Tanka Bahadur Karki of Province 1 and Pratibha Rai of Province 3 claimed golf gold medals at the Gokarna Golf Club in Kathmandu on Wednesday. Karki finished ahead of Sukra Bahadur Rai to claim men's individual gold. Niraj Tamang won the bronze. Pratibha got the better of Kashmira Shah and Tara Karki in women's individual event. The top three finishers of men's event are from Province 1 while all three winners of women's event belong to Province 3. In the men's team event, Province 1 consisting of Sukra, Niraj and Babindra Rai claimed gold while Army's trio of Nischay Jung Rayamaji, Suhash Tamang and Rahul BK secured silver. Gandaki Province comprising of Madan Gurung, Laxmi Prasad Gurung and Mahendra Thagami bagged bronze.
Rupak Nepali of Gandaki Province and Manju BK of Army bagged the open weight category gold medals in full contact karate in Nepalgunj. Nepali enjoyed walkover from Binod Niraula of Province 1, who picked up injury in the semi-final bout, in the men's final. In the women's final, BK edged Sujata Rai of Province 1 in final.
In the men's 65kg division final, Gobinda Roka of Gandaki Province defeated Prakash Khadka of Province 5 to clinch gold. Santosh Kumar Lama of Province 3 won 60kg gold defeating Bishwo Lama of Province 2 while Chop Bahadur Budathoki of Army defeated Jeevan Gurung of Gandaki Province to secure 55kg division title. In the 50kg weight division final, Roman Sinjali of Province 5 saw off Sanjay Rai of APF and Dharmendra Ram of Army the 45kg division title defeating Bishal Kushwar of Province 2.
The women's 55kg division saw Army's Anupama Nepali clinch gold defeating Prisma Kunwar of Gandaki Province. Unika Serchan of Gandaki bagged 50kg gold defeating Shanti Thapa Magar of Army in the final while Deepa Shahi of APF secured 45kg gold defeating Sargam Kumal of Gandaki province. The two-day event saw participation of 54 male and 36 female players in altogether 10 weight categories.
The Army club lifted the men's hockey title defeating NPC 4-1 in penalty shootout in Nepalgunj. The match was decided from the spot after the regulation time ended in a 1-1 deadlock. Army had taken 11th minute lead through Pradip Rajbanshi but Roman Rana equalised equaliser in the 45th. In the tiebreaker, Army's Nagendra Adhikari, Pradip Rajbanshi, Amit Kumar Srivastav and Dipendra Aire converted their shots. Keshab Raj Joshi was the only player to score from the spot for NPC, who were competing in hockey tournament for the first time.
Sudhurpaschim Province set up the women's hockey title clash with Gandaki Province. Sudhurpaschim overcome Province 2 5-1 in the semi-finals after Anju Gurung and Anita Shrestha scored double each. Damara Bhatta added the another. Madhu Kumari replied for Province 2. Devika BK's solitary goal became sufficient for Gandaki to edge Army 1-0 in another semi-final.
Meanwhile, Gandaki Province and APF made winnings to the women's football at the Buddha Stadium in Jitpur, Kapilvastu, on Wednesday. In the first match, Gandaki defeated Karnali 4-0 while APF thumped Province 1 6-0. Nanita Gurung opened the scoring for Gandaki in the 17th minute before Asmita Ranapal doubled the advantage two minutes later. Manisha Pangeni made it 3-0 in the 41st before Uday Thapa sealed the victory in the 76th.
In the late fixture, Nepali international forward Sabitra Bhandari alone scored four goals against Province 1. Bhandari the departmental team the fifth minute lead before Ambika Basnet doubled their tally in the 29th. Bhandari made it 3-0 in the 37th before completing her hat-trick deep into the first half. Bhandari netted her fourth goal three minutes after restart before Anita KC sealed comprehensive victory scoring in the 52nd minute. Army will take on Gandaki while APF will take on Karnali on Thursday.
(Kamal Panthi in Bardiya and Manoj Paudel in Kapilvastu contributed to this report)
---