Costly loans forcing women to flee home
Microfinance companies in Gulmi charge up to 20 percent interest and take up to five percent service charge.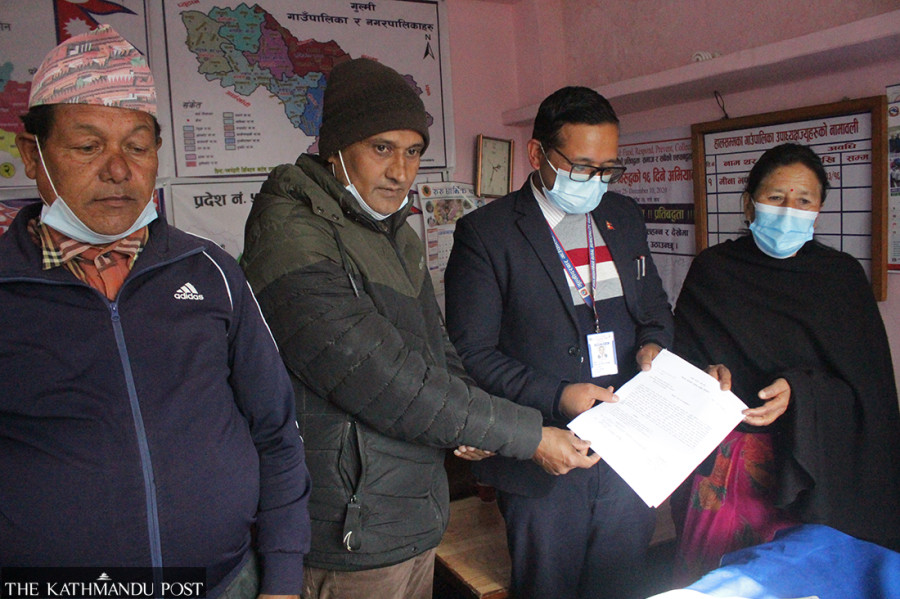 Women have access to microfinance companies that issue easy loans. Post Photo
bookmark
Published at : February 8, 2022
Updated at : February 8, 2022 09:33
A 42-year-old woman from Birbas in Gulmi Durbar Rural Municipality-3 left her village a year ago. Her family says she left home since she could not pay back the loan she had borrowed from a microfinance company. Global IME Microfinance Company Limited, the loaner, has enlisted her as a 'deserter'.
Twenty-eight-year-old Juli Panthi, who is in her mid-forties, took loans from four different microfinance companies to manage her household expenses in the absence of her husband, who had gone to India for work a few years ago. The loans, with interests, reached Rs 700,000. She had a heated dispute with her husband regarding the loans after he returned home last year. The dispute led to the separation of the Panthi couple.
Neha Khatun, aged 35, used to own a clothing store in Tamghas, the district headquarters of Gulmi, until last month. Since mid-January, her shop has remained shuttered and she is now out of contact. Khatun too has taken loans from different microfinance companies.
Several women in Gulmi have either gone missing or have run away after failing to pay back loans taken from various microfinance companies operating in the district. Many women have incurred huge debts and haven't been able to break the cycle of lending money from one microfinance to pay back another.
Financial illiteracy and indiscipline coupled with easy access to willing microfinance companies that encourage these women from economically weak backgrounds to take up loans without the means to pay them back have landed many women in the soup in Gulmi.
Another 36-year-old woman from Gulmi Durbar-3 took a Rs 50,000 loan from Global IME Microfinance Company a few years ago. The company charged her cyclic interest.
"I had taken a loan from Global IME. To pay the interest, I had to take a loan from other microfinance companies. I was encouraged to take loans from microfinance companies instead of borrowing from relatives and neighbours, as we usually do in the villages to tide over financial difficulties," said the woman. "I have to pay Rs 800,000 to a microfinance company but I went out of contact because I don't have the money to pay them back."
According to Mina Bhandari, the vice-chairperson of Gulmi Durbar Rural Municipality, there are many women who take loans from several microfinance companies but fail to utilise the money.
"These women do not utilise the loan in productive sectors or invest in income-generating ventures. They aren't financially disciplined on how to utilise money," she said.
According to Bhandari, family members of most of these women do not know about the loan so later when the collector comes asking for payment, these women run away.
"I raised my voice against the microfinance companies soon after I was elected to the office. But we could do nothing as such companies have been registered in the centre and have permission to invest in loans in the villages. They all work within the legal ambit," said Bhandari.
Most of the women who took loans spent the money on miscellaneous expenses like clothes and jewellery, says Durga Panthi, the coordinator of the dispute settlement committee of Dhurkot Rural Municipality.
"The microfinance companies provide easy loans to local women under women entrepreneurship schemes. They don't ask for collateral or the income source of the debtors," said Durga. "Some women who came to us for help in sorting disputes with family members did not even know where they spent the money. They bought clothes and jewellery and did not tell their family members."
"Many women from Dhurkot have gone out of contact after taking loans. The microfinance companies are now urging the judicial committee and dispute resettlement committee of the local unit to collect the loan amount," said Durga.
According to Ramhari Paudel, Gaidakot branch chief of Global IME Microfinance Company, around 90 women have gone out of contact in Gulmi Durbar Rural Municipality after taking loans from the microfinance company.
"We are yet to collect around Rs 13.5 million from debtors," said Paudel.
Global IME, Sabaiko Laghubitta, Suryodaya and Unnati are few of the microfinance companies that issue loans to the residents of Gulmi Durbar Rural Municipality.
"Most of the debtors have spent the loan amount on unproductive sectors where there is no guarantee of returns," said Paudel. "Also, there is an unhealthy competition among the microfinance companies so taking out a loan is easy."
The local people of Gulmi Durbar Rural Municipality recently formed a struggle committee against the 'highhandedness' of the microfinance companies in the local unit. The committee, headed by Maniram Gyawali, who is also the local unit chief of CPN (Maoist Centre), submitted a memorandum to the Prime Minister through the local unit, demanding the discontinuation of microfinance companies in the rural municipality.
"The microfinance companies charge up to 20 percent interest and take up to five percent service charge while issuing a loan. The loans they provide are not for any entrepreneurship ventures or for income-generating investments. Like the old feudals, they are cheating innocent villagers," alleged Gyawali.
Meanwhile, Suryodaya, one of the microfinance companies operating in Gulmi, says that it issues loans to the poor and people with low income.
"The company provides loans in two ways. One way is by keeping collateral. Another way is by forming a women's group, for which a loan up to Rs 500,000 is issued and no collateral is needed. Documentation is necessary while applying for loans and citizenship certificates are mandatory. Then we inquire if the applicant has taken out loans from other microfinances, about her business, her economic status, and whether she is blacklisted by other companies or not. Based on this information, a loan is issued," said Ajaya Koirala, Tamghas branch chief of Suryodaya Microfinance Company.
According to him, a microfinance company provides loans up to Rs 700,000 as directed by Nepal Rastra Bank.
"Our company does not issue loans of more than that. The interest rate, as mentioned by the central bank, was 18 percent before Covid-19. Now we charge 15 percent," he said.
---
---