Four party alliance stakes claim to form government in Lumbini
The alliance has proposed Maoist Centre Parliamentary Party leader Kul Prasad KC for the post of chief minister.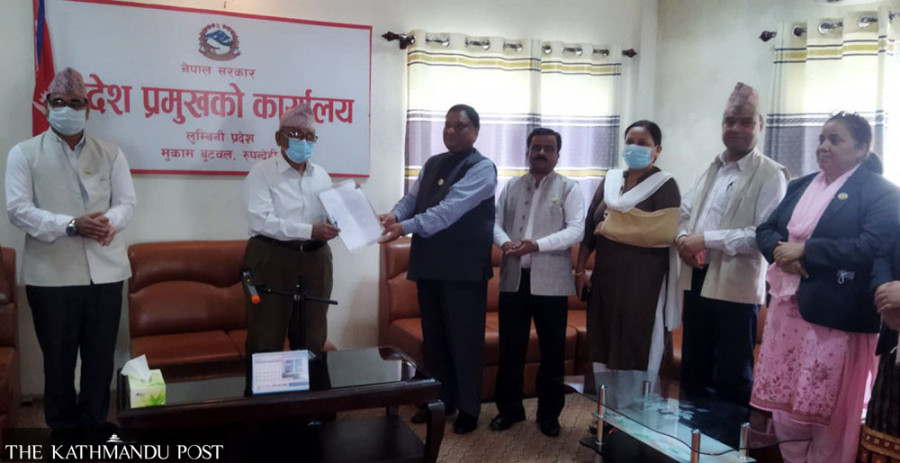 Post Photo
bookmark
Published at : August 12, 2021
Updated at : August 12, 2021 12:49
Butwal
The alliance of four parties—Nepali Congress, CPN (Maoist Centre), Janata Samajbadi Party and Rastriya Janamorcha—has staked claim to form the government in Lumbini Province.

The alliance on Thursday reached the office of the Provincial Chief Amik Sherchan and presented their claim for government formation including the decision and proposal of the parliamentary party leaders and all the four parties.
The alliance has proposed Maoist Centre Parliamentary Party leader Kul Prasad KC for the post of chief minister.
Sherchan while accepting the proposal said that his office will wait until the deadline for claims by other parties to form the government and move ahead with the appointment process after studying the claims for the chief minister's post.
The provincial chief has given until Thursday 3:00pm to form the new government.
In the 87-member Lumbini provincial assembly which now has 80 members, the alliance controls 42 seats while the UML has 38.
The alliance is preparing to form a four-member Cabinet following the oath-taking ceremony—two from Maoist Centre including the chief minister and one each from Nepali Congress and Janata Samajbadi Party.
According to KC, the Maoist Centre and the Nepali Congress have reached a gentleman's agreement to lead the provincial government in rotation of eight months each, while including the Samajbadi Party in each government. "Rastriya Janamorcha will not be a part of the government but will extend its support to the new government," said KC.
After falling into the minority, Pokhrel on Wednesday resigned as the chief minister of Lumbini Province. His resignation was immediately approved by Sherchan.
Ahead of the provincial session where opposition parties were all set to discuss a vote of confidence against him, Pokhrel on Wednesday met with provincial chief Sherchan and put in his papers.
Earlier too, Pokhrel had faced a similar political crisis but was later re-elected as chief minister on May 2.
After Pokhrel's resignation, the UML is leading governments in Province 1 and Bagmati Province.
If KC is appointed as the chief minister of Lumbini, the Maoist Centre will lead the government in three provinces. It already leads in Karnali and Sudurpaschim provinces.
---
---