What's it like to be a health worker in a pandemic? Bheri Hospital nurses and doctors share their stories
It's tough, exhausting and stressful, they say, but they have continued their duty, devoting themselves to the care of the Covid-19 patients in one of the health facilities that is overwhelmed and short of staff.

Photo Courtesy: Dr Chandra Prasad Sahu/Bheri Hospital
bookmark
Published at : May 3, 2021
Updated at : May 3, 2021 14:47
Banke
Preeti Khadka, a staff nurse at Nepalgunj-based Bheri Hospital, had her night shift on Friday. She didn't feel like clocking in. She was feeling a bit under the weather. She was on her period too. The thought of putting on her Personal Protective Equipment (PPE) and working her shift made her feel sicker. But she persevered.
She, along with four other staff nurses, Kamala Nepali, Sunita Sahakari, Nisha Pun and Yam Kumari Thapa, was on duty in the Covid-19 ward. One nurse is assigned to 30 to 40 coronavirus patients at the hospital given the shortage of staff.
The pressure under which they work is immense, says Khadka. After a night of taking care of coronavirus patients, the nurses look forward to taking off their PPEs and resting. Each day is a new battle won.
Saturday morning, Khadka, exhausted from the night on duty, had to wait a little longer to take off her PPE and get a change of clothes since the next shift workers were delayed. The nurses, exhausted from the overnight duty, threw themselves on a sofa placed just outside the ward.
The photo taken that very moment found its way to social media, says Khadka.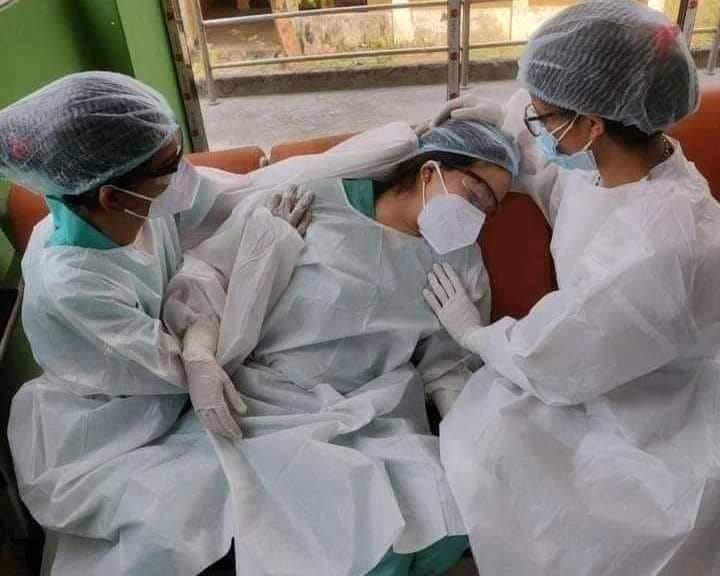 Photo Courtesy: Dr Chandra Prasad Sahu/Bheri Hospital
Yam Kumari Thapa knew who took that photo.
"I couldn't open my eyes. I was so tired and we all just collapsed on the couch. Dr Chandra Prasad Sahu, who came for his check-up round, teased us and said he would take our photo," said Thapa. "We all burst into laughter when the doctor said that."
Laughter, she says, doesn't come easy to them these days.
The health workers deployed at the Covid-19 hospital are simply overwhelmed with the massive surge of Covid-19 cases. As cases continue to soar across hospitals, health workers are themselves at high risk of getting infected.
According to Bimala Acharya, an administrative staff at Bheri Hospital, more than 90 health workers have tested positive for coronavirus at the hospital in the past few weeks.
Khadka, the staff nurse, said she has been commuting to and from the hospital from her house every day, as there's no place to stay at the hospital.
"I have isolated myself in my house. I stay separately from my family, fearing I might carry the virus and infect them," said Khadka.
The physical distance she has maintained from her family members is a necessity but it has left her feeling alienated.
"I don't get to see my family. I don't remember the last time I sat with them for a meal or a laugh," said Khadka. "At the hospital too, we are too overwhelmed by our work to even smile at each other. The only time we laugh or show happiness is when we see patients recovering from the virus."
In the photo that Dr Sahu took, Khadka can be seen leaning on the couch between two of her colleagues; she looks unwell.
"I was on my period. I was sweating inside the PPE," she said. "I had just taken a painkiller and my friends were trying to soothe me after seeing me in so much discomfort and pain."
Twenty-three-year-old Yam Kumari Thapa, who got married two years ago, is currently staying at her parent's house in Banke. Her husband, who stays in Kathmandu, arrived at her home a few days ago. But Thapa has had no time. Neither for her family nor for her husband.
"Even when I'm home with my husband, I'm busy on the phone," she said. "We get updates on our group chat of staff nurses. We discuss our patients' health even when we are off duty so that we can take better care of them when we get back to the hospital for our shift."
Sunita Sahakari, one of the four staff nurses on duty with Khadka, is from Kalikot.
She lost her husband to blood cancer two months ago. But hasn't been able to mourn her husband since she is one of the few health workers available for the care of Covid-19 patients at the hospital. A mother of a six-year-old son, she tested positive for Covid-19 a few days ago but is still on duty. When someone loses their loved ones to Covid-19, she is reminded of her husband.
"I know what it feels like to lose someone dear to you. I empathise with the family members of the patients who don't recover," she said.
Kamala Nepali from Dailekh says her family has been asking her to quit her job at the hospital and return home. But she's adamant to continue with her work. She also got infected while at the hospital.
"My mother is worried. She wants me to return home but I can't leave. The patients here need me and their families depend on us to see them through this," Nepali said.
Health workers deployed in other coronavirus-specific hospitals share similar stories of suffering and hope.
Dr Purushottam Barma, medical officer at Nepalgunj Medical College, has continued working at the hospital even though he's showing symptoms similar to that of Covid-19. But he can't take a day off since the hospital is receiving a massive flow of patients since Saturday.
Two medical officers are already in home isolation after they tested positive for Covid-19 a few days ago, leaving the hospital severely short-staffed.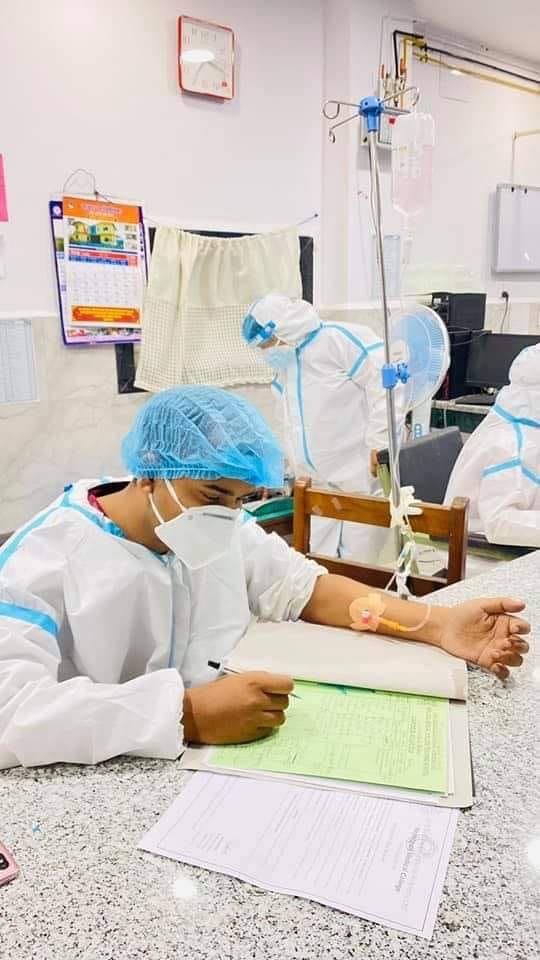 Dr Purshottam Barma Photo Courtesy: Nepalgunj Medical Hospital staff
A photo of Barma flipping the pages of a patient's report while being hooked on to an IV drip also found its way into various social media platforms. "I wasn't feeling particularly well that day. I was very weak due to diarrhoea. But our work doesn't stop even when we fall sick," he said. "So I was going through a patient's file while taking medicine myself when the photo was taken by a staff nurse at the hospital."
It has been around six months since Barma, a resident of Phultekra in Nepalgunj, met his friends. "We are so busy. Forget about meeting friends, we don't even have the time to ask each other how we're doing," he said.
Shila Sharma, nursing in charge at Bheri Hospital, stays at the hospital most of the time but she frequently thinks of her two-year-old son who tested positive for the virus nine days ago. She hasn't been able to take care of him as much as she would like to because most of her time is spent at the hospital.
"He's already asleep when I reach home late in the evening. I try to breastfeed him whenever he's awake," said Sharma. "His health is improving slowly."
She is looking forward to taking some time off to take care of her son, as she heard that 22 additional health workers have been deployed at the hospital.
"We will have less work pressure with the additional human resources," she said. "I will finally be able to look after my son."
---
---