Smuggling of wildlife parts rampant in Butwal
Smugglers have been using Butwal as a transit point to smuggle wildlife parts to China from Korala border point, police say.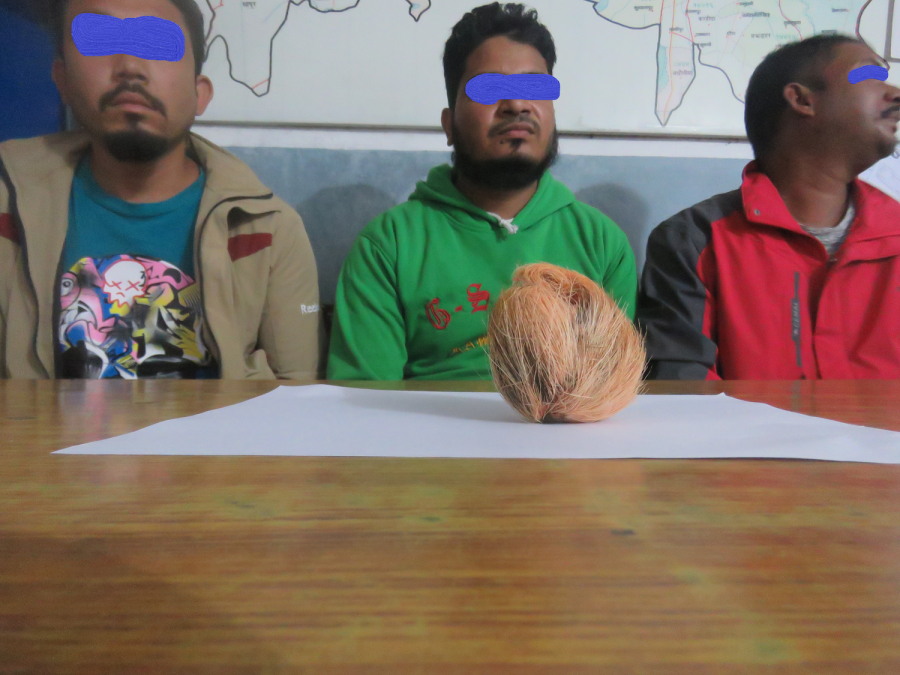 Eighteen individuals in Rupandehi have been arrested for their involvement in wildlife smuggling in the current fiscal year. Amrita Anmol/TKP
bookmark
Published at : December 16, 2020
Updated at : December 16, 2020 08:44
Butwal
On December 6, Rupandehi police confiscated a rhino horn from New Kalash Hotel in Sukhanagar, Ward No. 8 of Butwal Sub Metropolis.

While confiscating the horn, Birendra Bahadur Singh, one of the smugglers, snatched a pistol from a policeman, opened fire and escaped the scene.
Rakesh Neupane from Kathmandu, who was involved in the smuggling racket, sustained bullet injuries in the incident. Two arrests were made that day. Singh of Nayakbada Rural Municipality in Jajarkot is still at large, police said.
The next day, on December 7, police confiscated a musk deer's gland from Ward No. 10 in Devdaha Municipality. Satya Narayan Thapa, deputy superintendent of police in Rupandehi, said eight incidents related to wildlife smuggling were reported in the first five months of the current fiscal year.
"Eighteen individuals were arrested for their involvement in wildlife smuggling. Among them, nine have been remanded in judicial custody," said Thapa.
As per the existing legal provisions, a jail term of five to 15 years and a fine of up to Rs500,000 can be given to a person convicted of poaching a rhino or musk deer and smuggling their body parts.
Of late, Butwal in Rupandehi has become a hub for wildlife smuggling. According to police investigation, smugglers have been bringing wildlife parts from various parts of the country and using Butwal as a transit point to smuggle them to China from the Korala border point.
"Butwal is one of the big cities in the country and people's movement is high here. Smugglers take advantage of this to smuggle wildlife body parts," said Prabin Pokharel, superintendent of police in the District Police Office in Rupandehi.
On September 11, five people were arrested with two sets of pangolin skulls from Nepalgunj Road in Ward No. 5 of Butwal Sub Metropolis. According to the Division Forest Office, the five arrested had killed the pangolins themselves with the intention to sell the body parts in Butwal.
"The carriers were mostly found with leopard and pangolin body parts. But we haven't been able to arrest the individuals responsible for the export of wildlife parts to China" said Bodhraj Subedi, chief at the Division Forest Office in Rupandehi.
In the past, smugglers used to transport wildlife parts to Tibet in China from Darchula, Dolpa or from Rukum (East). But of late, smugglers have been using an alternative route—Rupandehi-Gulmi-Dhorpatan-Korala border point—for the export.
"Butwal has become a safe bet for wildlife smugglers because it's a big commercial hub," said Deepak Gyawali, spokesperson at the Ministry of Industry, Tourism, Forest and Environment in Lumbini Province. "So far, police have been able to arrest only carriers. The police must go after the criminal masterminds of wildlife smuggling to eradicate this illegal activity."
---
---