Patients of chronic ailments and accident injuries deprived of care due to pandemic
Immunisation programmes have also been disrupted in Lumbini Province.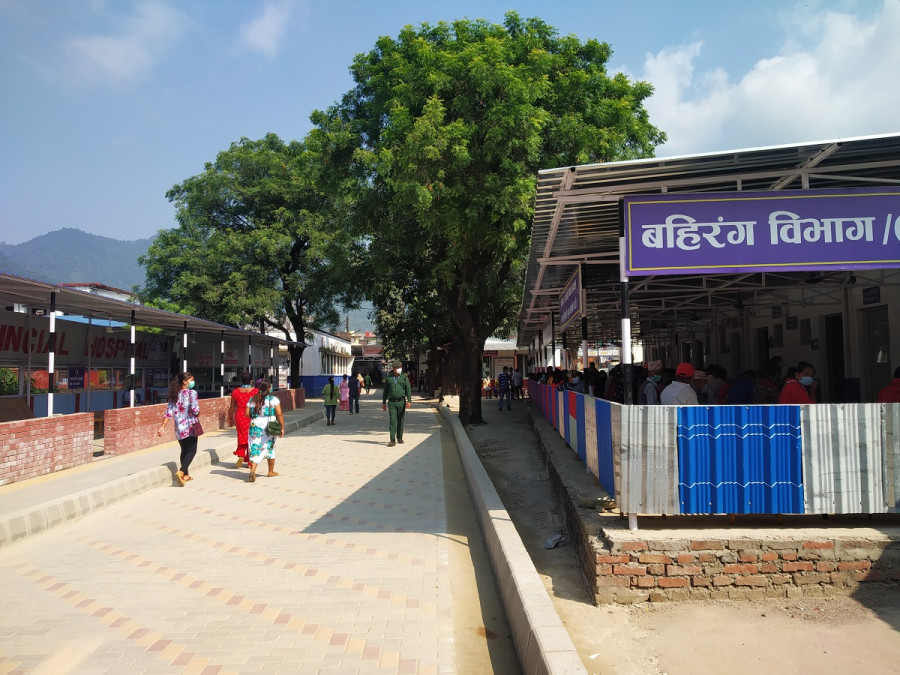 While patients of chronic ailments are avoiding health facilities, those with accident injuries have been rejected admission at hospitals. Post Photo
bookmark
Published at : November 13, 2020
Updated at : November 13, 2020 10:49
Parasi
Jitendra Gupta has a 9mm stone in his right kidney that doctors have recommended removing it surgically. But Gupta and his family have decided against the surgery fearing Covid-19 infection.

"I need to get the surgery done but I'm afraid of contracting Covid-19 while at the hospital," said Gupta, a resident of Ramgram Municipality-9 in Nawalparasi (West). "I am also suffering from diabetes and asthma and the hospital is also reluctant to admit patients with these ailments."
According to health workers, elderly patients who are in need of medical treatment have been avoiding hospital visits out of fear of contracting the coronavirus these days.
Dr Nurul Hoda, medical superintendent at the district hospital, says the patient flow has decreased significantly in the past few months.
"Patients of chronic ailments, especially senior citizens have been greatly affected by the Covid-19 pandemic. Most patients have refrained from seeking regular health checkups," he said.
Debaki Saru, 50, of Sunawal has gallstones and her doctor had recommended her for immediate surgery a few months ago. Like Gupta, she too is scared of going to the hospital.
"The coronavirus has been spreading like a wildfire everywhere. The hospital has more risks of disease transmission," she said. "I will wait one more month."
While patients of chronic ailments are avoiding health facilities, those with accident injuries have been rejected admission at hospitals.
Lalmani Kami came to Kohalpur, Banke, from Kalikot for the treatment of his 16-year-old son with serious head injuries. But the neurologist was unavailable so he went to Bheri hospital in Nepalgunj.
"But the hospital refused to admit him, citing lack of ICU beds. I spent two days visiting other hospitals," said Kami, whose son was admitted at Kohalpur Medical College. "We had to wait for five days for his PCR (Polymerase Chain Reaction) test report and other lab reports before he finally received treatment. The delay could have cost us more than just financial loss," said Kami.
Besides daily health services, the pandemic has also affected immunisation drives in health posts across Lumbini Province, say health workers.
Immunisation services at a health post in Niglihawa, Kapilvastu, have come to a halt after seven health workers tested positive for Covid-19 on October 21. The next day the health post was closed until November 6.
Around 200 children below two years of ages have been deprived of vaccinations including Polio, BCG, DPT and Hepatitis after the health post halted its vaccination programme.
"One of the seven employees at the health post recently tested positive for Covid-19. The health post is running with two employees now," Hariram Chaudhary, chief at the health post, said.
According to Maharani Chaudhary, an auxiliary nurse midwife at the health post, they are working under pressure due to the lack of staff.
Shiva Bahadur Wagle, ward-9 of Kapilvastu Municipality said they have informed the District Health Office about the situation.
"We have also informed the office about the Covid-19-caused disruption in the regular immunisation programme," he added.
Immunisation services in Bake and Bardiya have also been affected due to the coronavirus pandemic.
Since the health workers are focused on treating Covid-19 patients, other regular patients are not getting medical care from several health facilities.
According to the District Health Office in Banke, regular vaccinations have been lowered by 15 percent now.
"The immunisation programme has been affected since the start of the pandemic. We were providing 11 types of vaccines free of cost through various health posts in the district but we have stopped that for now," said Dhirjang Shah, chief at the office.
In Nepalgunj Sub-metropolitan City, the immunisation programme has been limited to 79 percent.
Likewise, vaccination services in Kajura, Baijnath, Rapti, Sonari and Kohalpur have also been affected.
"If the immunisation campaign can be taken to people's doorstep, these problems can be solved," said Shah.
Gaunghar Clinic of Siktahan Health Post at ward-12 of Devdaha Municipality in Rupandehi district halted its immunisation programme for a month due to the Covid-19 pandemic.
"We had to halt the immunisation programme in March. Services for pregnant women had also been affected for some time. But now, we have resumed the immunisation programme by following preventive health measures", said Resham Sunar, chief at the health post.
Sanju Paudel in Rupandehi, Manoj Paudel in Kapilvastu, Birendra KC in Arghakhanchi, Madhu Shahi in Banke and Thakur Singh Tharu in Bardiya contributed reporting.
---
---