Province 5 flounders in Covid-19 prevention and control efforts
Local units ill-prepared to handle the second wave of the coronavirus pandemic as cases begin to surge in the province.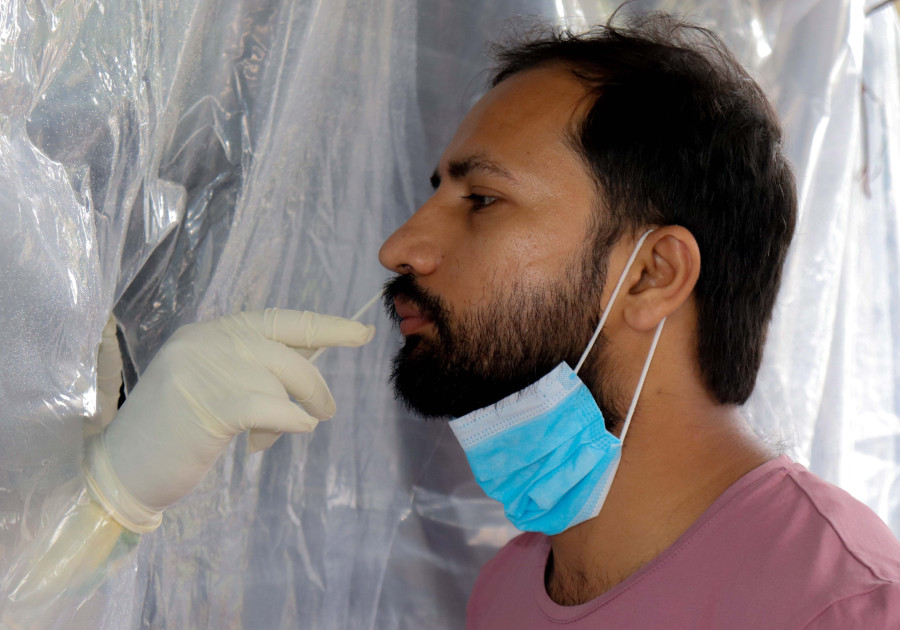 A health worker takes a nasal swab from a man for coronavirus test in Taulihawa, Kapilvastu. Manoj Paudel/TKP
bookmark
Published at : August 7, 2020
Updated at : August 7, 2020 06:56
Butwal
Province 5 was one of the hardest-hit provinces by the coronavirus pandemic back in April with districts like Kapilvastu, Dang, Palpa and Banke reporting the highest number of cases in the country closely followed by Province 2.
In June Province 5 saw a substantial decrease in the number of cases and in July the nationwide lockdown was lifted in light of the slowing down of Covid-19 cases across the country. However, the past few weeks have seen an uptick in infection numbers in various parts of the country, including in Province 5, with some health experts warning of possible community transmissions in some places.
The period between the last few days of the lockdown leading up to until a few days ago was seen as a "lull period" in terms of the coronavirus status of the country. This was also a missed opportunity for local governments to expedite and strengthen their efforts in containing the coronavirus spread.
Civil society leaders in Kapilvastu point out the failure of the local governments to prepare themselves for the second wave of the pandemic which has been picking up pace in recent days.
"The local and the provincial governments should have worked together to prepare for the second wave. They should have taken measures to control the spread during the lull period," said Bhaktiram Panthi, chairman of the Abhibhak Samaj in Kapilvastu. "They should have managed quarantine facilities and isolation centres instead of packing up and leaving. The virus has reached the communities now and it is imperative to expand the testing capacity of every local unit in the province."
The second wave has caught the authorities in Province 5 ill-prepared with no concrete plans and preparations to combat the spread at the community level.
In Kapilvastu, which was among the districts with the highest number of Covid-19 cases, the local units have failed to manage isolation centres. A health worker of Krishnanagar Municipality Ward No 6, who tested positive for coronavirus on Tuesday, has been staying in his rented room alone. "The local unit has not managed an isolation centre here. I have been staying indoors since Tuesday and haven't told my landlord about the infection," he said. "If he finds out, he will not let me stay. I will have nowhere to go then."
Another employee of Krishnanagar Municipality, who also tested positive for Covid-19, has a similar story. "Nobody knows I am a Covid-19 patient. I am alone here but can't tell anybody about my condition because the other people in the building will not let me stay here."
On Sunday, the municipality had collected 133 swab samples in Krishnanagar. Among them, 10 tested positive for coronavirus. Since the municipality has not managed an isolation centre in Krishnagar, all of the Covid patients are currently staying home. "All of the patients are in home isolation," said Gehendra Bahadur Dangi, chief administrative officer of the municipality. "We haven't decided if we will be constructing an isolation centre in the municipality or not."
Out of 10 local units in Kapilvastu, only Shivaraj and Badganga Municipalities have isolation centres. Most of the quarantine facilities and isolation centres in other local units have already been closed down. According to local units, individuals who were in those facilities went home after completing their quarantine or isolation periods.
The local governments do not have a plan to stem the spread of coronavirus which has put all lives at risk, says Shambhu Upadhayay, former chairman of Civil Society in Nawalparasi (West).
"The local governments do not have a long-term plan. Now the virus has reached the community level but the local units are still seeking help from provincial and federal governments," he said. "This is where the local units have failed. They haven't been able to even manage basic things like quarantine and isolation facilities."
There are a total of 4,150 isolation beds in 97 isolation centres including Covid-19 Special isolation hospitals in Province 5. Out of 4,150 beds, 270 beds are occupied.
Govinda Khanal, the central vice chairman of the Human Rights and Peace Society, says the lack of initiatives from the local units, provincial and federal governments in tackling the pandemic highlights the inefficiency of governance at all levels.
"The local units never have enough budget or the manpower to run isolation centres. This is where the provincial government should step in," he said. "The last few weeks had presented a window for all tiers of government to work together to fight against Covid-19."
On Thursday, Provincial Health Directorate in Butwal organised a two-hour virtual meeting with local unit chiefs, chief district officers and health officials from high risk districts and discussed plans and preparations for the next phase.
Dr Binod Giri, director at the Provincial Health Directorate, said, "It is necessary to stay alert and make preparations for the second wave of the coronavirus. In the meeting, we discussed how to manage isolation centres and adopt safety measures to fight against the virus."
However, people's representatives, who attended the virtual meeting, said the outcome of the meeting was dismal and that the provincial directorate only managed to add more responsibility on the local units while letting the provincial government off the hook. Preferring anonymity, one of the people's representatives from Kapilvastu, said: "Local units are not equipped to manage expenditure required for the fight against Covid-19. The lockdown has left the local economy in shambles and with the possibility of another lockdown looming large, recovery looks impossible."
The representative believes that by directing the local units to set up a local fund for Covid-19 expenditure, the provincial government is shirking its responsibility as a bigger and better equipped authority.
Minister of Social Development Sudarshan Baral, meanwhile, says that none of the local units in the province have requested for funds to prevent and control the Covid-19 spread in the current fiscal year.
"Currently, we have a total of Rs 170 million in the Covid-19 Prevention and Control Fund. If the local units demand a budget, we can mobilise the fund. Additionally, we can also seek help from the federal government if needed," he said.
According to the Ministry of Social Development, community level testing of swab samples started in the province from last week.
"Until now, 1,528 swab samples have been collected from six districts of the province. Out of 858 results, 18 have come positive so far," said Baral.
The data of the Ministry of Social Development showed that 4,382 individuals tested positive for coronavirus in Province 5 until Thursday. Among them, 13 died, 4,099 have been discharged and 270 are still undergoing treatment.
Manoj Paudel in Kapilvastu, Ghanashyam Gautam in Rupandehi, Sanju Paudel in Tilottama, and Nabin Paudel in Parasi contributed reporting.
Frequently asked questions about the coronavirus outbreak
UPDATED as of September 22, 2020
What is Covid-19?
Covid-19, short for coronavirus disease, is an illness caused by the coronavirus SARS-CoV-2, short for severe acute respiratory syndrome coronavirus 2. Common symptoms of the disease include fever, dry cough, fatigue, shortness of breath and breathing difficulties. In severe cases, the infection can cause pneumonia, severe acute respiratory syndrome, kidney failure and even death.
How contagious is Covid-19?
Covid-19 can spread easily from person to person, especially in enclosed spaces. The virus can travel through the air in respiratory droplets produced when a sick person breathes, talks, coughs or sneezes. As the virus can also survive on plastic and steel surfaces for up to 72 hours and on cardboard for up to 24 hours, any contact with such surfaces can also spread the virus. Symptoms take between two to 14 days to appear, during which time the carrier is believed to be contagious.
Where did the virus come from?
The virus was first identified in Wuhan, China in late December. The coronavirus is a large family of viruses that is responsible for everything from the common cold to Middle East Respiratory Syndrome (MERS) and Severe Acute Respiratory Syndrome (SARS). After an initial outbreak in Wuhan that spread across Hubei province, eventually infecting over 80,000 and killing more than 3,000, new infection rates in mainland China have dropped. However, the disease has since spread across the world at an alarming rate.
What is the current status of Covid-19?
The World Health Organisation has called the ongoing outbreak a "pandemic" and urged countries across the world to take precautionary measures. Covid-19 has spread to 213 countries and territories around the world and infected more than 31,405,983 people with 967,505 deaths and 22,990,260 recoveries. In South Asia, India has reported the highest number of infections at 5,557,573 with 88,943 deaths. While Pakistan has reported 306,304 confirmed cases with 6,420 deaths. Nepal has so far reported 65,276 cases with 427 deaths.
How dangerous is the disease?
The mortality rate for Covid-19 is estimated to be 3.6 percent, but new studies have put the rate slightly higher at 5.7 percent. Although Covid-19 is not too dangerous to young healthy people, older individuals and those with immune-compromised systems are at greater risk of death. People with chronic medical conditions like heart disease, diabetes and lung disease, or those who've recently undergone serious medical procedures, are also at risk.
How do I keep myself safe?
The WHO advises that the most important thing you can do is wash your hands frequently with soap and water for at least 20 seconds or use hand sanitizers with at least 60 percent alcohol content. Avoid touching your eyes, nose and mouth with unclean hands. Clean and disinfect frequently used surfaces like your computers and phones. Avoid large crowds of people. Seek medical attention if symptoms persist for longer than a few days.
Is it time to panic?
No. The government has imposed a lockdown to limit the spread of the virus. There is no need to begin stockpiling food, cooking gas or hand sanitizers. However, it is always prudent to take sensible precautions like the ones identified above.
---
---