Man dies after police fire on a group defying curfew in Krishnanagar
Local administration imposed indefinite curfew after a clash between Hindu and Muslim communities over the route of idol procession.

Post Photo
bookmark
Published at : October 31, 2019
Updated at : November 1, 2019 07:31
Kapilvastu
A man died in Kapilvastu district's Krishnanagar on Thursday when police opened fire on a group of protesters defying a curfew imposed by the local administration. According to the District Police Office, the deceased has been identified as 22-year-old Suraj Pandey.

The local administration imposed an indefinite curfew at 11am on Thursday, a day after a dispute between members of the Hindu and Muslim communities turned violent.
According to locals, the dispute arose when a group of Hindus were on their way to immerse idols of goddess Laxmi into the nearby river. Hindus in the Tarai tend to immerse idols of gods and goddesses after their worship. However, the Hindus changed the route they were taking and opted for one where the road passes through a Muslim girls' school, according to witnesses.
When a Muslim man attempted to stop the group, a small confrontation arose which then turned ugly. As members of the Hindu community refused to budge, a stone was suddenly thrown and violence escalated, said the witnesses. Police fired around 50 tear gas shells to contain the situation. Four persons were injured in the clashes.
After an overnight calm, on Thursday morning, people from both the communities began to gather in groups, complaining against "police excesses". Locals armed with sharp weapons and sticks began to fill the roads and alleys, even burning down a police beat, according to the district police.
Afraid that the situation could spiral out of control, the local administration announced an indefinite curfew.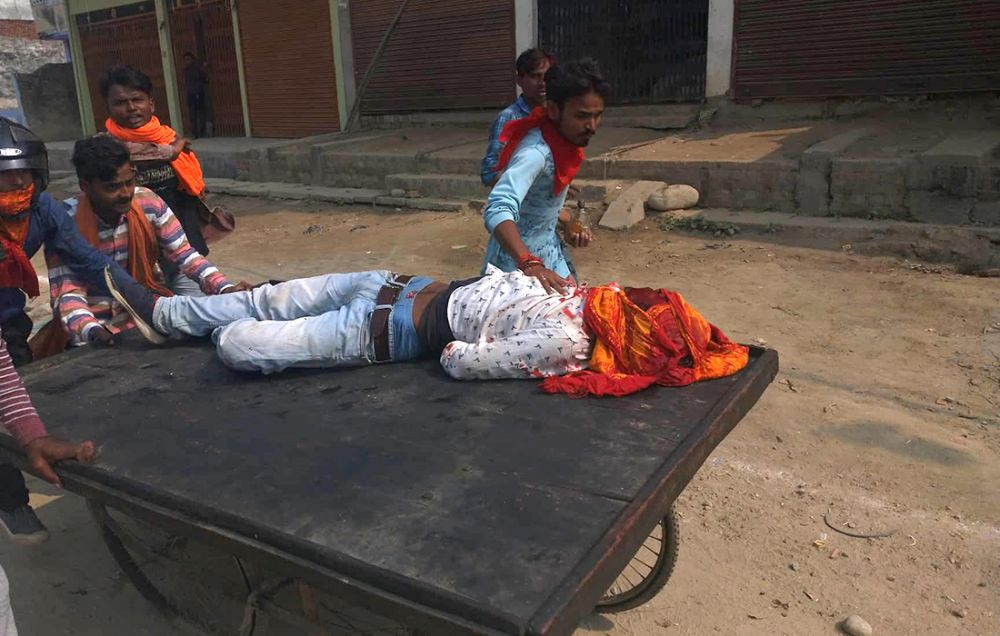 Post Photo
"Security personnel were forced to open fire after a group of people defied the curfew and turned violent," said Deputy Superintendent Sunil Malla, spokesperson for the district police.
The local administration has called for calm and an amicable solution to the dispute, urging local leaders to hold talks, according to Chief District Officer Gajendra Bahadur Shrestha.
"Nobody has come into contact so far," said Shrestha. "We've also requested the Federation of Nepali Journalists and civil society to help create a conducive environment for talks with both sides."
Security, meanwhile, has been stepped up in Krishnanagar and the surrounding areas. Large numbers of personnel from the Nepal Police and the Armed Police Force have been deployed, according to the local administration.
There was tension in Krishnanagar also in October last year after a dispute over the route to take for immersing Durga idols.
---
---