Dengue-hit Makwanpur faces shortage of test kits
The district has reported 750 dengue cases in one and a half months this year while it recorded only 195 in the entirety of last fiscal year.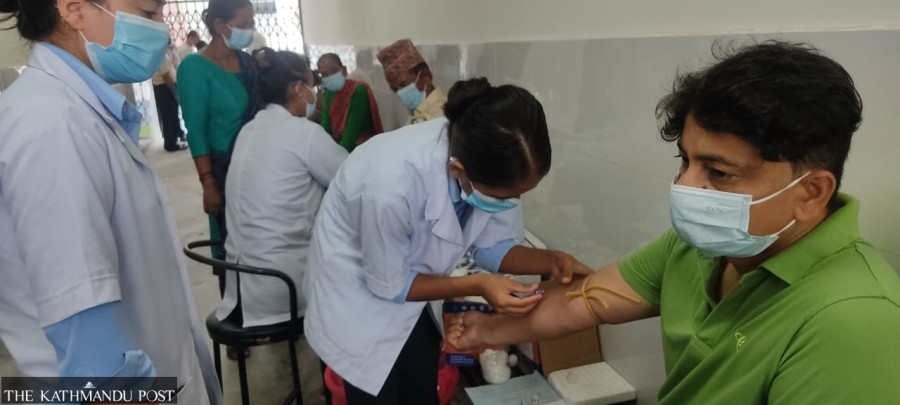 Makawanpur witnesses dengue cases every year, especially in the monsoon and post-monsoon seasons. Post Photo
bookmark
Published at : September 7, 2022
Updated at : September 7, 2022 15:55
Makwanpur
Makwanpur district that has been reporting an alarming rise in dengue cases is facing a shortage of dengue testing kits.

More than 100 patients with symptoms of dengue have been visiting Hetauda Hospital daily, according to medical superintendent Ramchandra Sapkota.
"But we haven't been able to carry out tests on all dengue suspects for a shortage of testing kits," he said. "We have informed the District Health Office, Health Supply Management Centre, and the Ministry of Health and Population about the lack of test kits but the hospital is yet to receive an additional supply of the said kits."
The hospital has been using last year's stock of dengue kits. "Even last year, we only purchased a limited number of test kits because dengue cases weren't that high," Sapkota said. "But this year, dengue is spreading like wildfire in the district and we don't have enough test kits in stock. This has inconvenienced the patients because we have been asking them to purchase dengue test kits from pharmacies outside the hospital."
Makwanpur witnesses dengue cases every year, especially in the monsoon and post-monsoon seasons. However, the number of dengue patients is far more this year than in the past. According to the data of the district health office, a total of 195 people were infected with dengue in the fiscal year 2021-22. But just one and a half months into this fiscal year, as many 750 dengue cases have already been reported in the district.
According to Bhola Prasad Chaulagain, public health officer of Hetauda Sub-Metropolitan City's health unit, 700 dengue cases were reported from the local unit's ward 4 and 5 alone. Sporadic cases of dengue have also been reported from Manhari Rural Municipality.
The 110-bed Hetauda Hospital is filled beyond capacity with dengue patients with 12 seriously ill patients receiving treatment in the ICU of the hospital, according to Rajib Jha, information officer of the hospital.
"Hetauda Hospital is full to its capacity with dengue patients, that is why patients with severe symptoms have been referred to bigger hospitals in Chitwan and the Valley for further treatment," said Deepak Tiwari, senior Public Health Officer of the district.

A total of 815 cases of dengue were reported in the week ended September 6. Kathmandu reported 311 cases, followed by Lalitpur (143) and Rupandehi (93). This week last year, only 14 cases of dengue were reported. Source: EDCD
According to the District Health Office, the District Administration Offices in Makwanpur and Hetauda sub-metropolis have deployed health workers to carry out public awareness campaigns against dengue and have initiated search and destroy drives to rid all 19 wards of the metropolis of mosquito larvae.
According to doctors, mild to high fever, severe muscle pain, rashes, severe headache, and pain in eyes are some of the symptoms of dengue.
Meanwhile, Makwanpur has also been reporting a rise in Japanese encephalitis.
According to data from Makwanpur district health office, out of 12 confirmed cases of Japanese encephalitis in the past 45 days, three patients have died while one is in a critical condition. Two people from Bakia Rural Municipality-7 and one from Hetauda Sub-Metropolitan City-3 died due to Japanese encephalitis infection. A 48-year-old woman from Bagmati Rural Municipality-4 is currently undergoing treatment at Bharatpur Hospital in Chitwan.
Japanese encephalitis virus is the most important cause of viral encephalitis in Asia. It is a mosquito-borne flavivirus and belongs to the same genus as dengue, yellow fever and West Nile viruses, according to the World Health Organisation.
Severe form of Japanese encephalitis is characterised by rapid onset of high fever, headache, neck stiffness, disorientation, coma, seizures, spastic paralysis and ultimately death. The case-fatality rate can be as high as 30 percent among those with disease symptoms, says the United Nations health body.
According to Laxman Ghimire, information officer at the District Health Office, Japanese encephalitis is transmitted to humans by mosquitoes that have bitten pigs, boars and ducks. The encephalitis and dengue began spreading in Makwanpur as soon as the rainy season started, Ghimire said.
"Both diseases are transmitted by mosquito bites so the Health Office has urged people to be cautious," he said. "Stagnant water is a fertile breeding ground for mosquitoes so we request all to be careful while storing water for household usage."
---
---