Conservationists concerned over rising rhino deaths
As many as 27 rhinos have died in Chitwan since the beginning of the current fiscal year on July 16, 2021.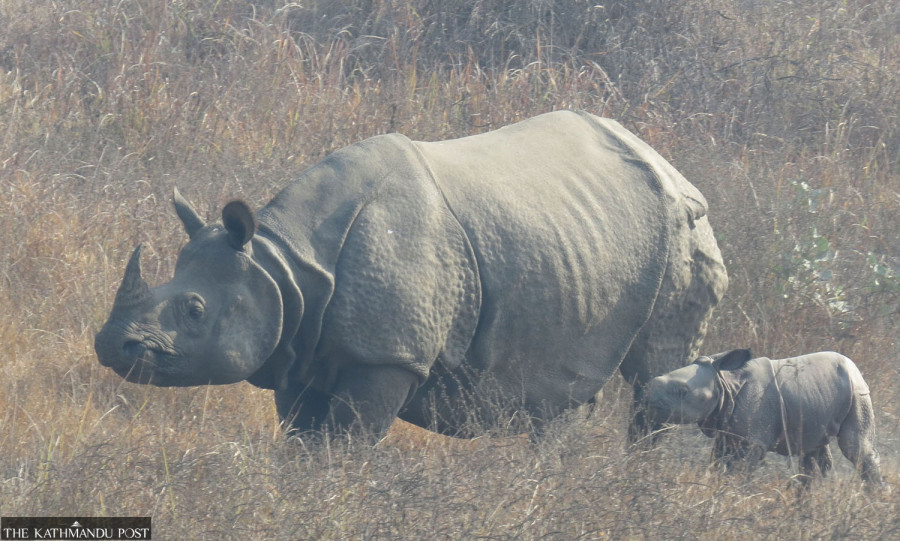 A rhino with its calf inside the Chitwan National Park in this undated photo. Post Photo
bookmark
Published at : February 25, 2022
Updated at : February 25, 2022 07:57
Chitwan
Conservationists have expressed concern over the alarming death rate of rhinos in Chitwan, the country's oldest national park.

As many as 27 rhinos have died in Chitwan since the current fiscal year began on July 16. Among them, four were killed by tigers, six fell into swamps while seven died in separate incidents of fighting between one another, the park administration said.
"Incidents of tigers attacking rhino calves are reported quite frequently. It is very difficult to protect the calves from tigers," said Ganesh Prasad Tiwari, the information officer at Chitwan National Park.
According to the Chitwan National Park, a one-and-a-half-year-old rhino calf was killed by a tiger at the Ghatgain area of the national park on November 20, 2021. Another one-year-old calf was found dead near the Baghmara Post while the carcass of a four-month-old calf was found at Dhungrekhola in Sauraha in February second week. Both the rhino calves were killed in separate incidents of tiger attacks.
In the latest incident of a tiger attack, a four-month-old rhino calf was killed by a tiger at Shishuwar Buffer Zone Community Forest area on February 16, according to Tiwari.
Tiger attacks have become a major challenge for rhino conservation in Chitwan, a major habitat of endangered one-horned rhinoceros and tiger.
As per the last census conducted in 2018, Chitwan National Park is home to 93 tigers. Its population is estimated to be on the rise, park officials say.
"The rise in tiger activities indicates that the tiger population in Chitwan has increased of late. A tiger census is underway at present. We will know the number after the census results are out," said Haribhadra Acharya, the chief conservation officer at Chitwan National Park.
Swamp traps is another leading cause of rhino deaths in Chitwan. According to the park administration, six rhinos—five male and one female—died after falling into swamps in the first six months of the current fiscal year.
According to conservationists, rhinos often meet in the wetland areas as they gather to drink water.
"The meetings often lead to fighting among the males. The rhinos that fall into swamps while running get trapped there and die," said Acharya.
Territorial fighting is another reason behind the alarming number of rhino deaths in Chitwan. According to Tiwari, four female and three male rhinos died in the current fiscal year due to infighting. Conservationists say the rhinos encounter quite frequently and fight when their number increases.
"Territorial battles are reported frequently when the number of rhinos increases," said Acharya.
In recent years, rhino deaths caused by age, drowning, diseases and territorial clashes have increased significantly. Government records put rhino deaths into two broad categories—natural and poaching. All deaths, including those caused by territorial clashes, drowning, injuries, ageing and diseases, are defined as natural.
According to the national park administration, as many as 32 rhino deaths were reported in Chitwan National Park in the fiscal year 2020-21. Four among them were killed by poachers.
As per the latest census held in 2021, the population of one-horned rhinos stands at 752 in Nepal. Chitwan is home to 694 rhinos, an increase of 89 since the last census in 2015. The number of rhinos, which fell sharply in the 1950s and 60s, started to rebound after the establishment of the Chitwan National Park in 1973.
---
---