Alarming rate of deaths threatens rhinos
The threat of one-horned rhino poaching, which was at its peak during the armed insurgency, is no more. What's worrisome is the high number of deaths in the past few years from unspecified natural causes.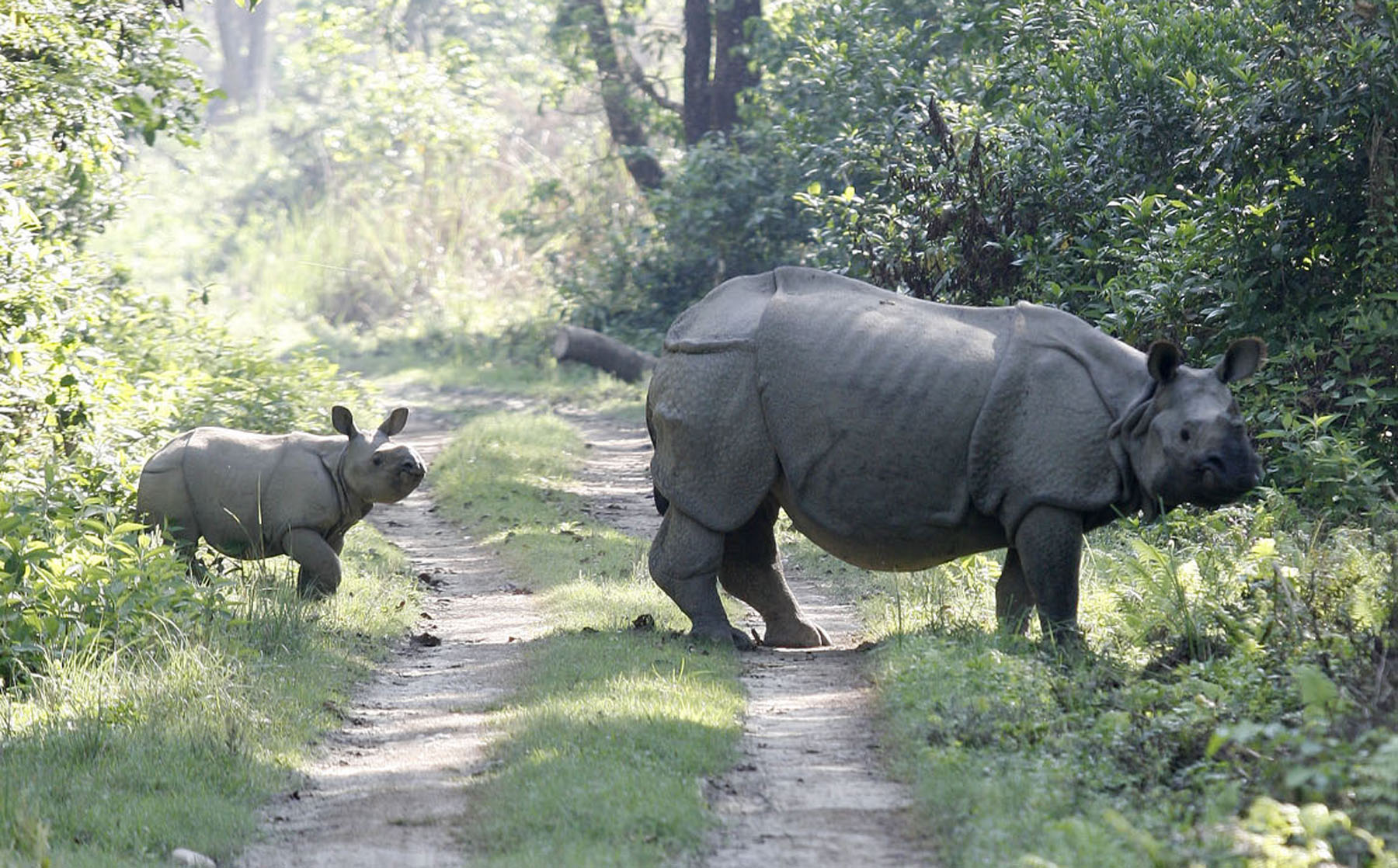 Chitwan National Park holds the second largest population of rhinos in the subcontinent after Kaziranga National Park in India. Post File Photo
Published at : March 5, 2020
Updated at : March 5, 2020 08:26
For decades, Nepal has been known for efforts to save its wildlife. The country's success story is visible in its conservation of endangered animals, particularly tigers and one-horned rhinos. The country's conservation model, which also takes along local communities and security forces, has put it ahead of other tiger host nations on track to doubling the tiger population by 2022, a global commitment. The country has also succeeded in recovering the number of rhinos, which fell sharply in the 1950s and 60s, with the establishment of Chitwan National Park in 1973 and the measures introduced over the years. However, as the country just celebrated World Wildlife Day, it is met with another challenge—unchecked rhino deaths in recent years.

Here's everything you should know about the alarming rate of rhino fatalities in Chitwan Park, even after controlling the poaching of the prized one-horned species.
How alarming is the death of rhinos in Chitwan National Park?
On February 7, a five-month-old female one-horned rhino was found dead near the Kujauli Post area of Chitwan National Park. The park officials said that the baby rhino might have succumbed to the injuries sustained during the attack by a male adult rhino. Deaths of rhinos due to territorial fights are frequent and regarded as natural. But the death of one more rhino in Chitwan was not normal, especially because at least 19 rhinos have been reported dead from natural causes so far this fiscal year.
The last few years have seen an unprecedented rise in the deaths of one-horned rhinos in Chitwan National Park, the country's richest wildlife habitat.
These deaths in Chitwan Park, home to at least 605 rhinos, which saw a sudden surge in recent years, have continued this year. A spike in the fatalities, witnessed in the last three years, continued last year as well. A total of 43 deaths of one-horned rhinos in and around Chitwan Park made 2018-19 one of the worst years in the country's conservation history. The year saw the highest mortality of the endangered great one-horned rhinoceros for the park due to natural causes.
According to Bishnu Prasad Shrestha, spokesperson for the Department of National Park, following the continued deaths of rhinos even this year, the department dispatched a team of experts to Chitwan to study the reasons behind.
Why are rhinos dying in the Chitwan sanctuary?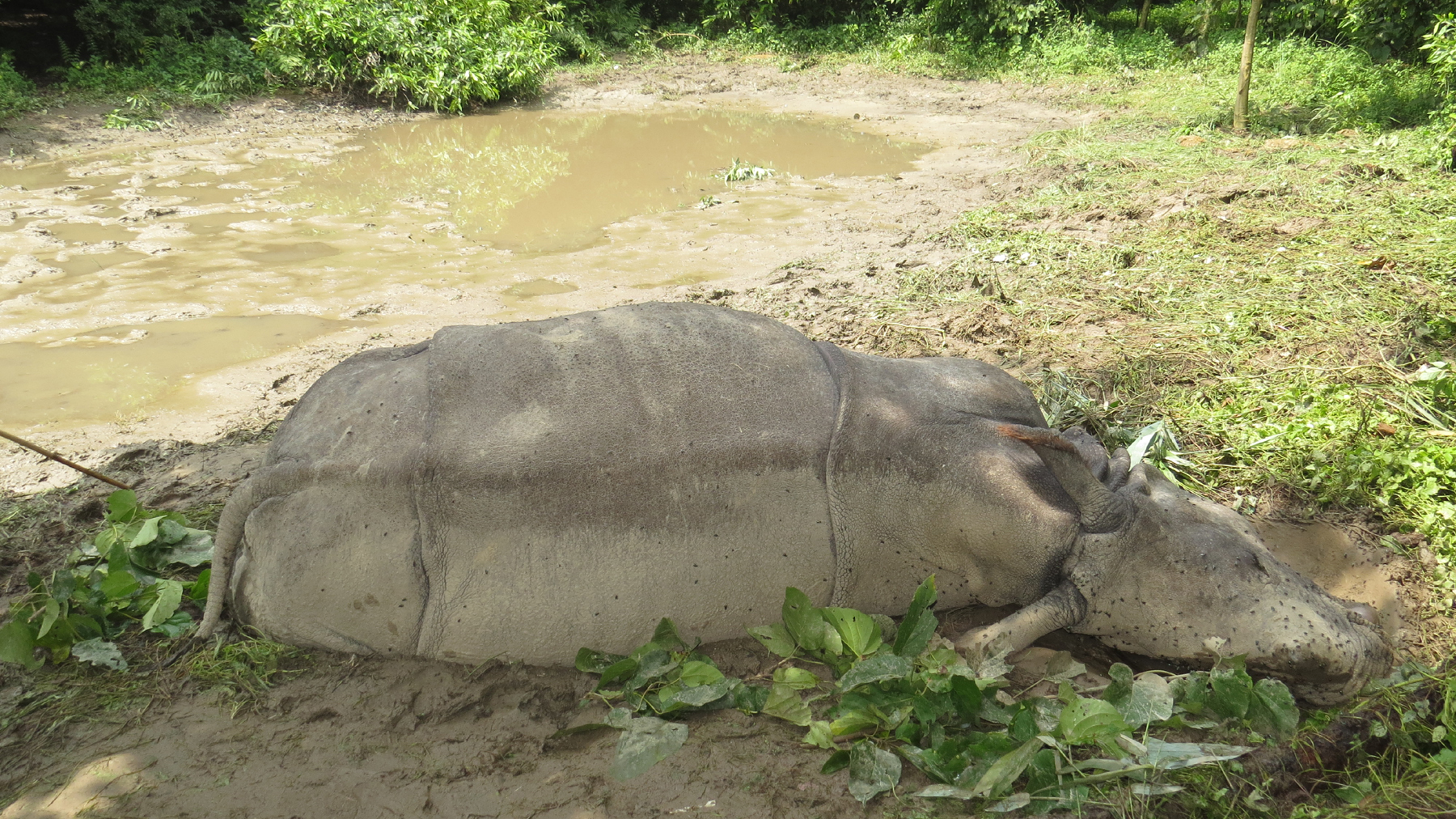 The fatality rate of conserved rhinos has alarmed conservationists as causes are not exactly known. Post File Photo
While the death of rhinos inside the protected area looks unlikely to stop without major intervention, what is notable is that nothing external is killing the animals. The rhino fatality rate in the park and its adjoining forests has alarmed conservationists because the attributed natural causes have not been specified. Now these rhinos are succumbing to injuries during territorial clashes and old age, drowning, labour complications, infections and diseases.
Last year, eight rhinos died due to age, seven were killed in territorial fights, two succumbed to infections, and one each were killed in attacks by tiger and crocodile, by falling into a septic tank pit, and electrocution, among other known natural causes.
The unprecedented upsurge in deaths due to natural causes has been witnessed over the past three years. In the fiscal year 2016-17, 25 rhinos were reported dead, including one killed by poachers—the first instance of poaching in five years. A total of 26 rhinos died inside the park in 2017-18, before recording the highest fatality, all due to natural causes, next fiscal year.
Rhinos dying from natural causes is a normal phenomenon but the high rate is worrisome. Before such a terrifying increase, which was observed since mid-2017, the number of deaths due to natural causes would be around 15 annually, according to the department records. The surge in natural causes is also attributed to the Tarai flood of 2017 when many wild animals, including rhinos, were killed, and many were even swept down to India. Officials have also been saying that these rhinos might have died at that time and carcasses were found later while scanning and monitoring the habitat.
A study called "Chitwan National Park Rhino Mortality Report (2018)", conducted by the Veterinary Initiative for Endangered Wildlife, had said, "141 documented rhino deaths from 2004-2017, with 111 (79 percent) deaths due to unknown/natural causes and 30 (21 percent) due to poaching." The report also concluded that the park had seen a dramatic rise in rhino mortality in three years compared to the previous decade. According to the same report, among 141 rhino deaths, the highest number--114--was of adults (older than five years), followed by sub-adults (4) and calves (23).
The rhino mortality study found there were 41 deaths due to unknown reasons between 2004 and 2018.
How do the present fatalities compare with the poaching deaths?
Never before in the park's recorded history, more than 28 rhinos were reported dead, as in the fiscal year 1999-2000, due to natural causes—one of the two categories maintained by Chitwan authorities while counting rhino deaths. The present fatality rate looks daunting because these deaths have been attributed to natural causes at a time when authorities have effectively curbed poaching. In the last five years, only one rhino has been poached.
Forty-eight rhinos had died each in 2001-2002 and 2002-2003. But those deaths were attributed to poaching. A total of 37 rhinos were killed by poachers in FY 2001-2002, followed by 32 next year.
In the past 21 years, a total of 476 one-horned rhinos died inside the Chitwan Park due to various reasons. Rhino conservation met with a new challenge during the decade-long armed conflict when 157 rhinos were killed by poachers until 2006.
What has been done so far?
There has been discussion over studying the carrying capacity of the park, which hosts 605 rhinos in an area of 932 square kilometres, and habitat management as the number of rhinos has grown over the years. Also, as causes of most of the deaths were unknown, the park authority had tested samples from water sources and body parts of dead rhinos. Last fiscal year, the park upgraded 71 ponds at a cost of around Rs 13.65 million.
"We had immediately swung into action by improving habitat and wetland management and creations," said Shrestha. "Habitat improvement started last year and will continue this fiscal year as well."
In its bid to track deaths, the Department of National Park and Wildlife Conservation conducted a rapid study. The preliminary findings of the study showed that competition for food among the rhinos, habitat fragmentation, drying up of wetlands and water resources, and decreasing grasslands due to invasive plants accelerated deaths last year. The study also linked the sudden increase in rhino deaths to the dumping of toxic wastes into rivers that flow through protected areas. The rivers like Riu and Narayani where rhinos drink water might have been polluted with toxic chemicals released from industries, a possible cause of deaths, reported the study. It had recommended studying the rhinos' ecological carrying capacity and finding out the reasons behind the unexpected surge in deaths.
How is the central Tarai forest as a habitat for rhinos?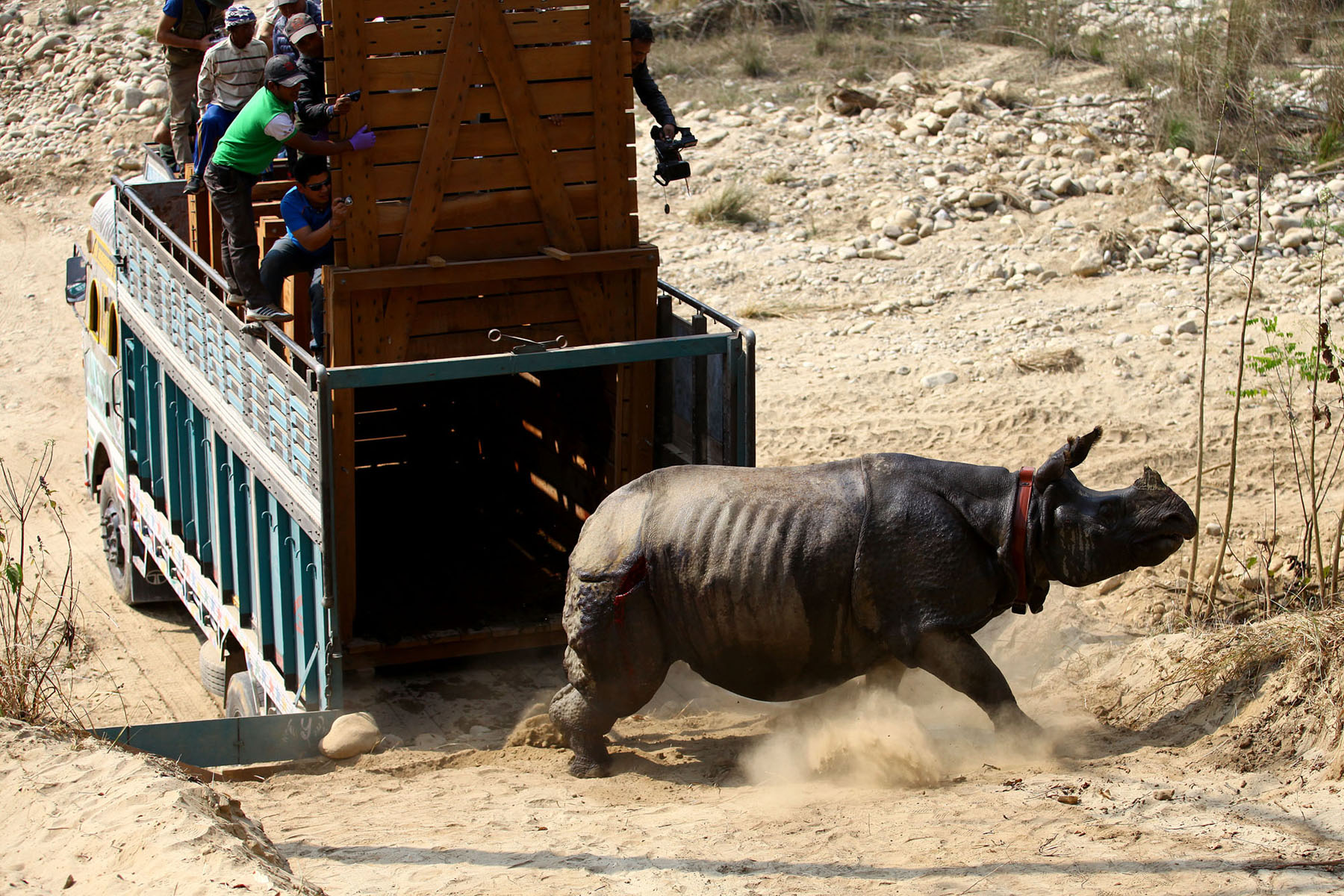 In 2016, a male rhino captured from the Chitwan Park was released into its new wild habitat in Bardia. Post File Photo
Alluvial flood-plain vegetation of subtropical climates where water and green grass are available around the year is the ideal habitat for the greater one-horned rhinos, also known as Indian rhinos. For all these factors, Chitwan National Park, which holds the second largest population of rhinos in the Indian subcontinent after Kaziranga National Park in India, remains their perfect home.
"Chitwan National Park has been an excellent habitat for one-horned rhinos," said Shrestha. "But there have also been changes over the years like encroachment by invasives species like mikania and as impact of climate change." The department is conducting another study to see the dynamics of rhino habitat change.
What are the plans for habitat improvement?
With the rise in reported deaths, habitat management has been at the core of crisis management. Shrinking and degradation of habitat result in fatal fighting between rhinos. After a record number of deaths of one-horned rhinos last year, the government rolled out a plan to improve their habitat.
The rapid study also pointed out that with the loss of grassland and fragmentation of habitat, most of the rhino population was concentrated around certain areas of the park.
Based on the recommendation of the rapid study, the government had promised to create 2,100 hectares of grassland—1,500 hectares of new grassland and maintaining 600 hectares of old grassland—inside the natural parks in the Tarai region. Of the 1,500 hectares of grassland planned to be created, more than 700 hectares will be in Chitwan. To recover grassland, park rangers participated in a weeklong training at the Wildlife Institute of India. Besides, all protected areas with rhino populations were asked to prepare separate action plans on maintaining grassland.
How did rhino translocation go?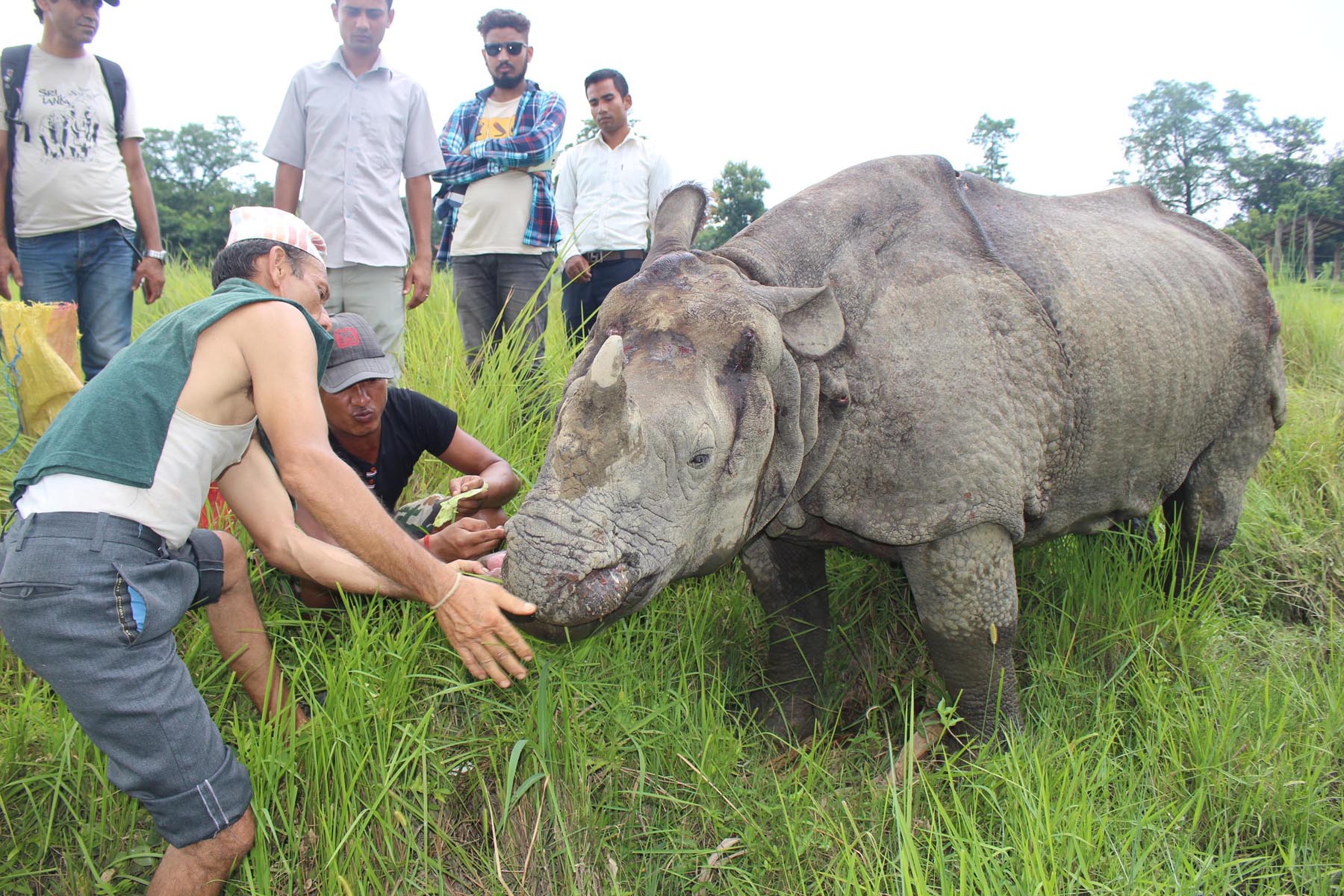 An injured rhino is fed in Sauraha, Chitwan. Post File Photo
Chitwan National Park has been the prime habitat for the one-horned rhino in Nepal and remained the only protected area with rhino population in the country until 1986, according to "The Greater One-horned Rhinoceros Conservation Action Plan for Nepal (2017-2021)." Between 1986 and 2003, a total of 87 rhinoceros were translocated from Chitwan to Bardia National Park, where the authorities wanted to create another habitat for rhinos. In 2003, four rhinos were translocated to Shuklaphanta National Park. After a gap of 13 years, rhino translocation resumed in 2016 when a male rhino captured from the Chitwan Park was released into its new wild habitat in Bardia, as part of the government plan of translocating 30 rhinos from Chitwan to two potential habitats—Bardia and Shuklaphanta. However, the experience of rhino translocation has not been pleasant as almost all of the translocated rhinos were killed by poachers in Bardia. During the armed conflict (1996-2006), Bardia suffered heavy poaching of rhinos, with a decline in its population from 67 in 2000 to 31 in 2007 and 29 in 2015.
What's in store for our one-horned rhinos?
Amidst the high mortality of rhinos in Chitwan, the government will be conducting nationwide rhino census in March this year. The census results will be taken seriously as it will not only determine the number of rhinos in the country, but also future interventions required and a rethinking of its conservation practices.
"Even the carrying capacity study team is awaiting the census report as they have to see the population before drawing any conclusion," said Shrestha. "Also, the report is looked up to for inter-park translocations and internal relocation inside Chitwan where rhinos are congregated in the western side."
---