Untreated drain water released directly into Naubise stream
There are around 70 hotels and restaurants directly disposing of waste into the water.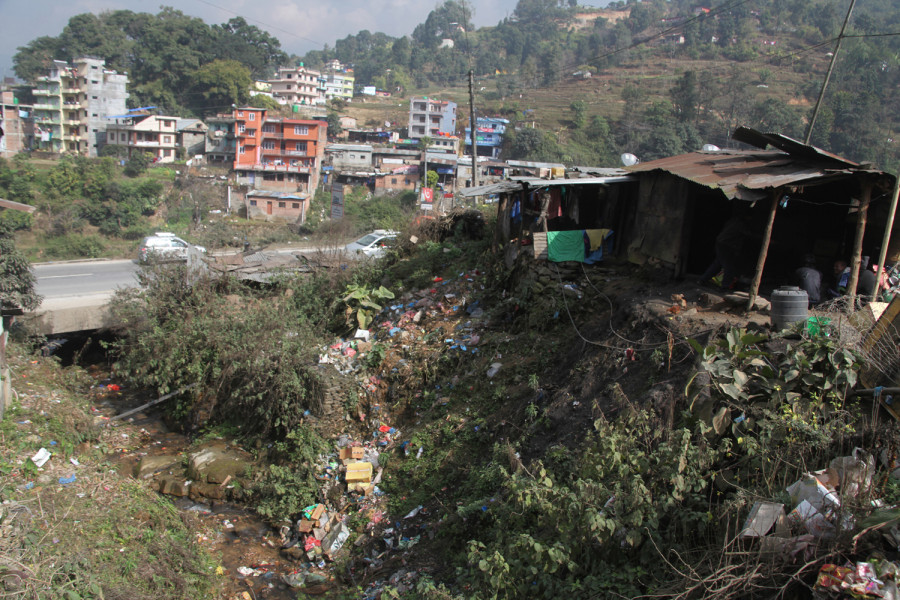 Outside the bazaar area, there are more than 200 eateries and hotels, and most of them release untreated waste into the stream. Harihar Singh Rathour/TKP
bookmark
Published at : January 25, 2020
Updated at : January 25, 2020 08:36
Dhading
A majority of eateries and hotels in the highway town of Naubise Bazaar have been releasing waste and sewage water into the Naubise stream.

Naubise Bazaar was established during the construction of Tribhuvan Highway that links Kathmandu with the Tarai. It is a popular stopover town for motorists and travellers to rest and eat.
The local eateries and hotels here have no shortage of customers, and with customers comes the issue of managing waste.
The bazaar has 70 hotels and eateries and none of them has a proper sewage management system, according to Hemanta Subedi, chief at the Health Section of Dhunibesi Municipality.
"All the hotels and eateries in the bazaar area have been discharging their toilet waste in the stream. The municipal office has already sent letters to the hotels and eateries to stop discharging toilet waste into the stream but none of them has taken it seriously," said Subedi.
Outside the bazaar area, there are more than 200 eateries and hotels, and three resorts operating along Khani Khola, Biskilo, Sikre Khola and Dharke road. Some of them have constructed open toilets in their vicinity with most of them releasing untreated sewage waste into the stream.
Kamala Pathak, a local hotel operator, said her neighbours (who also operate hotels) ignored her request to construct septic tanks.
"All of them are only concerned about earning money. No one pays attention towards keeping the bazaar area clean," she said.
A few months ago, Dhunibesi Municipality had conducted a training for hotel and restaurant operators in Naubise Bazaar on the importance of building safe toilets and treating waste.
"But most of the hotel operators said that they had no space to construct septic tanks," said Subedi.
The stream has been turned into a waste dumping site. The yield of crops in fields in Dharke has been affected because of the groundwater quality in the adjoining areas.
Bal Krishna Acharya, mayor of the municipality, however, said the municipal office has decided to take sterner action against pollution of the stream.
"We have decided to cut off government services to businesses and households who don't manage their toilets and sewage system. We will make our decision public soon," said Acharya.
---
---