Cold waves throw life out of gear in several districts across Tarai
Five people died due to severe cold in the past three weeks. People from impoversihed Musahar, Dom and Chamar communities among the most affected.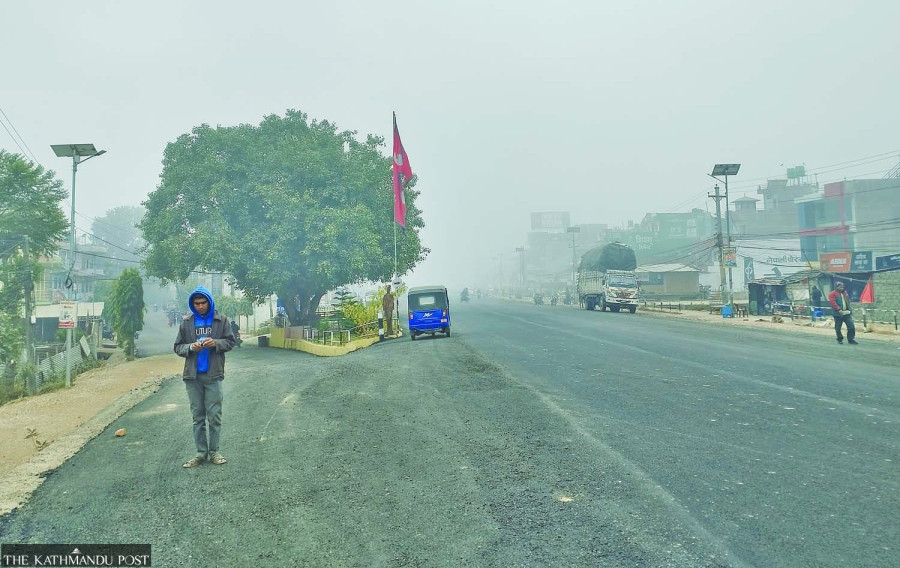 Bardibas town in Mahottari pictured in an afternoon last week. A cold and foggy spell has disrupted life in most of the Tarai. AJIT TIWARI/TKP
bookmark
Published at : January 4, 2023
Updated at : January 4, 2023 07:42
Janakpur
Cold waves over the past few days have greatly affected daily life in several Tarai districts of Madhesh Province. Several local units decided to close schools as the temperature started plummeting in the region. On Tuesday, most of the flights to and from Janakpur, Simara and Rajbiraj were cancelled due to poor visibility caused by thick fog.

According to the Provincial Police Office in Janakpur, five people—four in Sarlahi and one in Saptari—died due to severe cold in the past three weeks. People from impoverished communities, elderly people and children are hit hard by the increasingly cold weather in the area.
"I cannot go outside the house to find work due to the bone-chilling cold. I have problems managing food for my children and keeping them warm," said Shanti Majhi of Kabilasi Municipality-7 in Sarlahi district. Majhi, who ekes out a living as a daily wage earner, does not have enough food grains and warm clothes to see him through the winter.
People of Musahar, Dom and Chamar communities are hugely affected due to the cold wave. Many of them do not have warm bedding materials. They have been using straws and jute sacks to keep themselves warm. "The straws used as bedding get damp. We have not been able to dry them out for a lack of sunshine for days," said Marani Devi Majhi, another local of Kabilasi-7.
Cold wave is a weather condition with a rapid fall in temperature due to a lack of sunshine, thick fog and cold wind. Districts across the Tarai region are affected by the phenomenon every year.
Sarlahi and other districts have not seen sunshine for the past three days. Human activities decreased significantly in the streets and marketplaces as people remain confined inside their houses.
Several local units in Madhesh started closing schools to save children from severe cold. Birgunj Metropolitan City decided to close schools for four days starting from Tuesday due to the cold. The metropolis office on Monday issued a notice directing all the schools to close their classes up to Friday. The metropolis distributed firewood to make bonfires in major market junctions while various social organisations distributed warm clothes to the homeless.
Meanwhile, cases of cold-related diseases including pneumonia are surging in Rautahat district. According to Subas Chaudhary, a doctor at Chandrapur Hospital in Rautahat, four to five children suffering from pneumonia have been visiting the hospital daily for the past few days. "Children, elderly people and people with chronic diseases have been affected hugely. We suggest people stay indoors and keep themselves warm," said Chaudhary.
The provincial assembly members drew the attention of the provincial government to take prompt initiatives to protect people from the cold wave. Speaking at the provincial assembly meeting on Tuesday, the people's representatives demanded the distribution of warm clothes and relief to the needy.
According to the data available at the Meteorological Forecasting Division, maximum and minimum temperatures in Janakpur were recorded at 16 degree Celsius and 12.6 degree Celsius, respectively, on Tuesday. Likewise, in Simara of Bara district, the maximum temperature was recorded as 14.9 degree Celsius while the minimum temperature was 12 degree Celsius.
(With inputs from local correspondents)
---
---