Janakpur is decked out in saffron, and not everyone is thrilled
The city government has been providing saffron paint for homeowners for free, or at a discount, to showcase the city's heritage. But many are concerned about the colour's links to Hindu nationalism.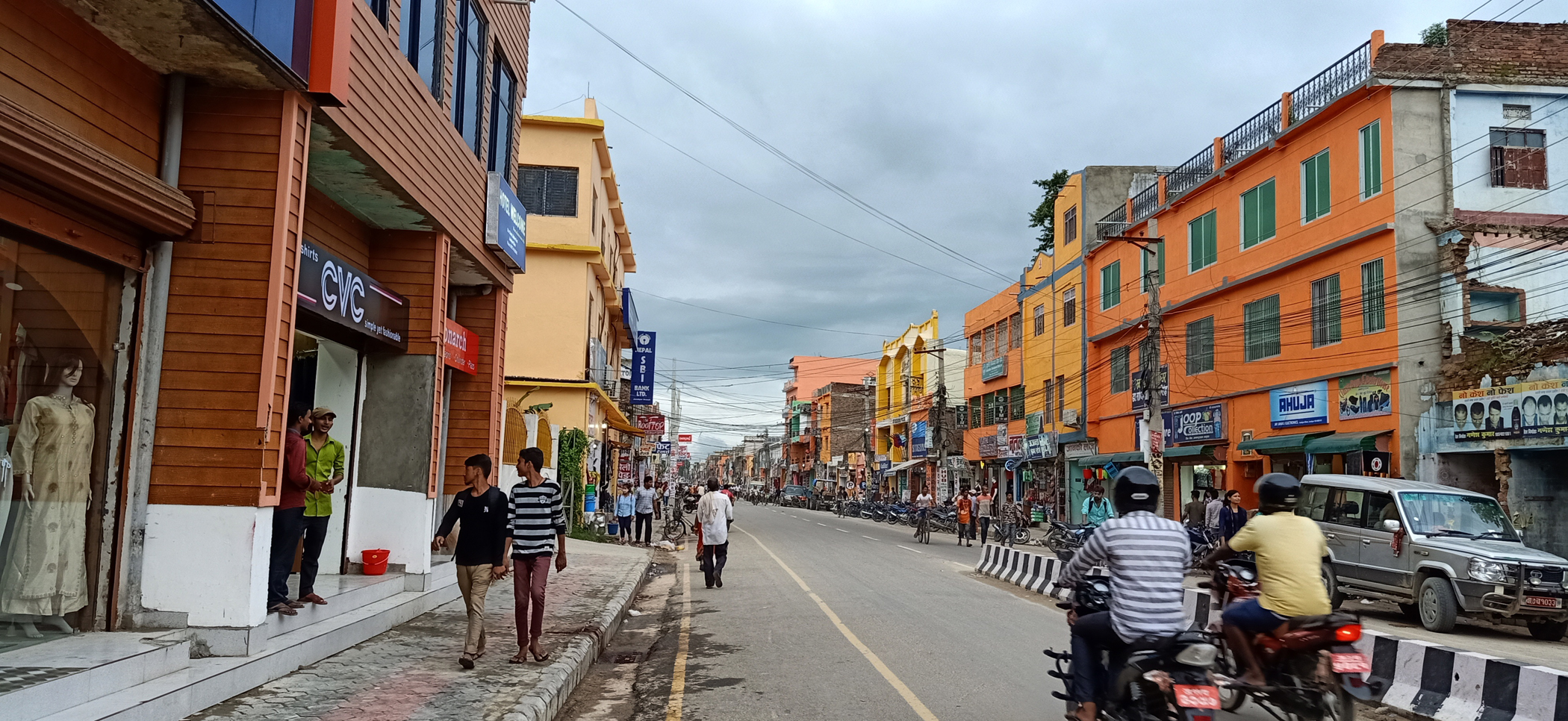 Even in the heart of Janakpur, most buildings are painted in saffron, a colour that has become deeply intertwined with the Hindutva movement. Shyam Sundar Sashi/TKP
Published at : September 28, 2019
Updated at : September 28, 2019 08:14
Bidyapatinagar is an ideal Janakpur neighbourhood, with wide roads, clean streets and a heterogeneous mix of families. A single-storey mudhouse and a four-storey complex stand next to each other. Children from the neighbourhood school play under the abundant mango trees and the elderly chat on their roofs, waiting for the sunset. But what is most distinct about Bidyapatinagar is not it's calm in a notoriously chaotic city, but the fact that all homes in the neighbourhood have been painted one singular colour--saffron.

Along with the famed Janaki Mandir, the many Ashoka trees and the region's Mithila paintings, these saffron buildings perfectly align with Janakpur's earthy aesthetics. But with both private and public properties, including whole neighbourhoods, the boundary walls of the Barhabigha, Janaki Mandir, and about a quarter of the Parikrama road, all colour coordinated in saffron, Janakpurdham has now started to make some of its residents uncomfortable.
"I don't know how right it is to paint the city in a way where its residents start feeling pressured and uneasy," said Shubajit Thakur, a local who said that he feels like he is being forced into painting his house saffron.
In recent years, neighbourhoods across Janakpur have all painted their walls saffron, a colour traditionally identified with Hinduism and Theravada Buddhism. But with the rise of Hindu nationalism across the border, saffron has taken on a more insidious meaning, closely linked with India's right-wing Sangh Parivar, of which the Narendra Modi-led Bharatiya Janata Party is a part. The process of promoting Hindu nationalism at the expense of other cultures, religions and traditions, is termed saffronisation in India, a phenomenon that many are afraid is now entering Nepal.
For four years now, the city of Janakpur has been trying to expand roads, renovate religious sites and clean the city in order to attract more tourists. In this process, they had also planned to fill the city's empty walls with Mithila paintings, which is a large part of the city's heritage, according to Bijay Mandal, a local.
"As covering walls with Mithila paintings can be a lengthy process, the local government might have come up with an alternative of colouring the walls in saffron," Mandal said.
The project was initially about cleaning the city, renovating public places, and painting the main city saffron to promote tourism, but things never really took off until Indian Prime Minister Narendra Modi announced his visit to Janakpur in 2018, said Mandal.
After Modi's visit in May last year, the local government spent Rs 27.64 million to give Janakpur a facelift by levelling and paving over roads and putting up elaborate Mithila paintings depicting stories from Ramayana or the day-to-day lives of the local community on both sides of the road.
But it was in the fiscal year 2018-2019 that the colour saffron really began to take over the city. That year, the local government decided to declare the main bazaar as "Mithila heritage", and subsequently purchased saffron paint worth Rs 2.5 million, according to the city's Chief Engineer Birendra Yadav. Public places, temples and government offices were thus painted saffron. Once the fiscal year ended, a lot of paint was leftover and so, in the first two months of the 2019-2020 fiscal year, 71 people were provided with about 1,232 litres of paint, said Yadav.
The buildings that were being rebuilt during the road expansion process, which took off in late 2017, would be designed and coloured in saffron so that visitors "could witness the faith and culture of Janakpur," said Yadav.
Despite multiple attempts, the post reporter could not reach the city's Mayor for a statement. However, according to Yadav, Janakpur Sub-metropolitan city has been providing saffron paint at a discounted price, sometimes even free of cost, for buildings that are built according to the design provided by the sub-metropolitan city office. It is for this reason that many families are choosing saffron paint for properties that are being rebuilt so that they can cut costs.
"For lower-middle-class people like us who can barely afford to paint the houses we have built, it's definitely a help," said Birju Lal, a local cyber-shop owner of the city. "At least we can paint the fronts of our houses." Like most newly built houses in the city, Lal has only painted the front of his house in saffron, with the help of the local government.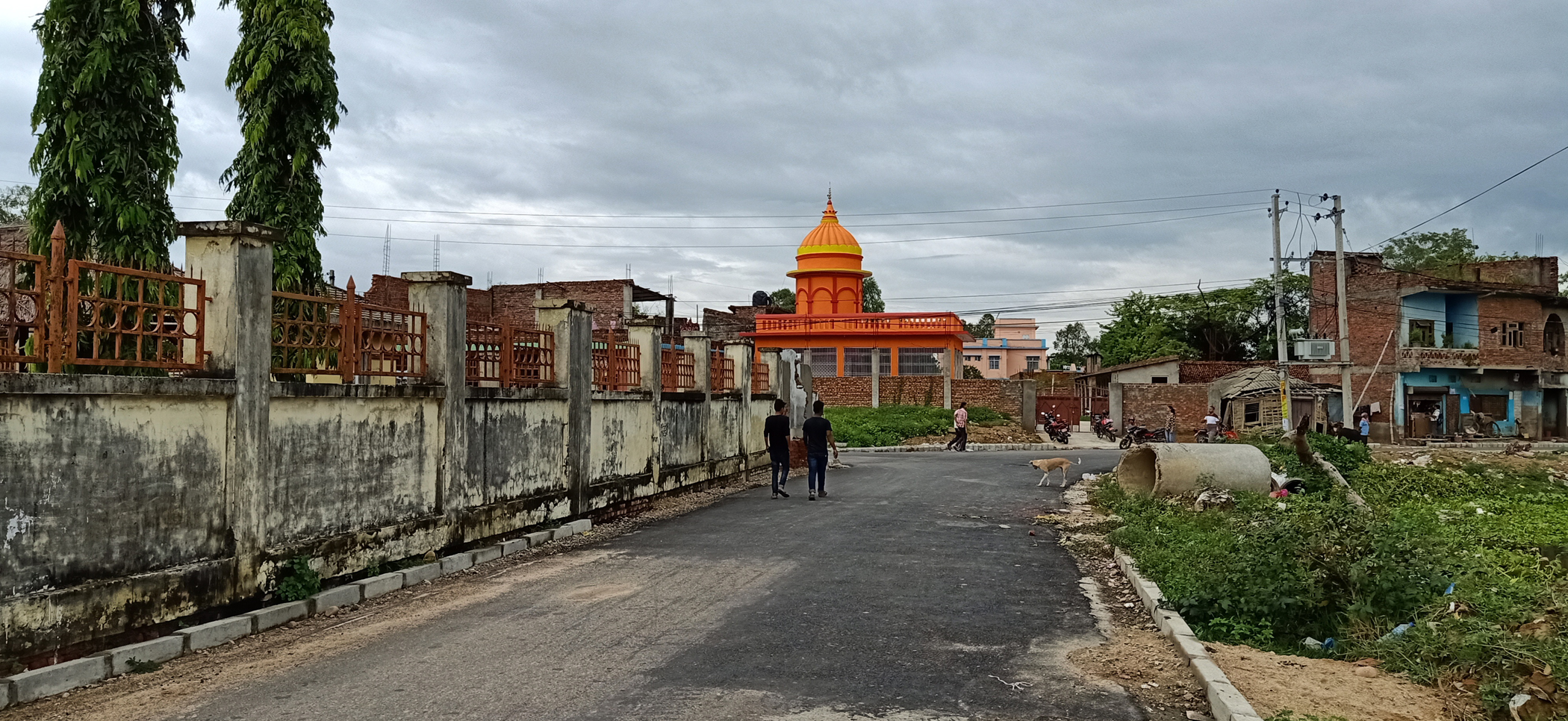 It was in the fiscal year 2018-2019 that the colour saffron really began to take over the city. That year, the local government decided to declare the main bazaar as "Mithila heritage", and subsequently purchased saffron paint worth Rs 2.5 million. Shyam Sundar Sashi/TKP
While providing paint to locals at subsidised rates might sound like a thoughtful thing to do, the choice of the colour saffron has caused many to raise eyebrows. Many residents admit that they wouldn't have painted their walls saffron if the city wasn't offering a subsidised rate or if others hadn't already followed suit.
"I wouldn't have painted my walls saffron," said Ramish, a local pharmacist, who asked to be identified only by his first name. "But because all other houses in the street were already saffron, I felt pressured and didn't think I had a choice."
Kabita Rauniyar, another local, told the Post that she wouldn't have picked saffron but her home would've stood out in the neighbourhood had she chosen a different colour.
"What's the point of democracy if I'm pressurised and guilt-tripped into doing things that I don't want to?" Rauniyar told the Post.
Even though Ramish and Rauniyar both said that they had nothing against the colour or the local government, they didn't agree with the pressure they felt to conform to their neighbourhood and the local government's suggestions.
In the past, all religious sites and most public places were painted saffron. Old homes and the remains of what was rumoured to be the old palace were also saffron with 'Jai Siya Ram' painted on its walls. Even though saffron has always been a part of Janakpur and these old splashes of saffron did not particularly bother inhabitants, its increasing prevalence and the subtle manner in which the city is tacitly imposing the colour on people is leading the inhabitants to ask questions.
"Janakpur is a Hindu religious destination and saffron is the most sacred colour for Hindus. Maybe that's why they are encouraging the colour saffron," said Surendra Labh, a university professor and political analyst based in Janakpur. The motive of encouraging the saffron colour might be to beautify the town and bring about uniformity, he said.
Travel entrepreneurs too believe that the saffron colour could come to define the city as a religious destination for Hindus from across the world.
"The 'Saffron City' can be Janakpur's new identity," said Rupesh Mahat, who runs a travel and tour business. "How Jaipur is pink and Santorini is white, Janakpur can be saffron."
The local government says painting the city saffron is about continuing the 'Mithila Heritage'. Shyam Sundar Sashi/TKP
These lofty goals, however, do not provide much solace to the city's non-Hindu population, which is not particularly happy with the imposition of a colour so closely identified with Hindu nationalism.
"Honestly, it shouldn't be a big deal. It's just another colour, but it does pinch me sometimes," said Iftekar Muhammed, a local carpenter. Despite being a predominantly Hindu city, the city is host to a significant population of Muslims.
Likewise, Sabnam Khatun, another local, isn't very comfortable with how widespread the colour is in the city.
"It doesn't feel very inclusive and makes me feel like my religion isn't respected enough," Khatun told the Post.
With multiple religious groups living together, the city hasn't really faced any instances of religious intolerance. However, the city's promotion of the colour saffron has now started to worry people, leading them to question Janakpur's adherence to secularism.
"The constitution of Nepal declares the state to be secular. Maybe the non-Hindu population hasn't said anything about this matter because they are minorities," said Labh. "But wouldn't the promotion of a colour symbolising Hinduism hurt their feelings?"
Similar circumstances were created in India last year when Lucknow's chief minister's office, the Haj office and the local police station were painted saffron under Yogi Adityanath's government in Uttar Pradesh. The state also launched 50 saffron buses to provide services in rural areas. The ruling party was highly criticised for choosing a colour that is associated with the Bharatiya Janata Party. Painting the walls of the Haj office, a transit point for Muslims on their way to Mecca, saffron especially led to criticism from Uttar Pradesh's Muslim population and the government was accused of deliberately provoking the non-Hindu population by hurting religious sentiments. In a few days, the exterior walls were repainted in a shade of white to calm religious tensions.
Whether the local government of Janakpur is taking inspiration from Uttar Pradesh's decidedly Hindu nationalist government led by Yogi Adityanath to make saffron a defining feature of the city is unclear, but the response to the UP government's actions could act as a deterrent to any incidents that could potentially hurt religious sentiments.
The Janakpur local government, however, is adamant about continuing with its "Mithila Heritage" project. All residential and commercial buildings that are up to three stories and are within a kilometre of the Janaki Mandir will be given a new look, the same design and the same colour, according to Yadav. All buildings 400 metres from the railway station to Janak Chowk, 1,300 metres from Janaki Mandir to Ramanand Chowk, the area from Janak Chowk to Janaki Mandir, and the area from Mahavir Chowk to Janaki Mandir will all be painted saffron to give visitors a glimpse into the city's religious life, the sub-metropolitan city office told the Post.
Santosh Singh contributed reporting from Janakpur.
Dear reader, we'd like to hear from you. We regularly publish letters to the editor on contemporary issues or direct responses to something the Post has recently published. Please send your letters to tkpoped@kmg.com.np with "Letter to the Editor" in the subject line. Please include your name, location, and a contact address so one of our editors can reach out to you.
---