The injured and families of martyrs wanted cash. They got buffaloes instead.
Livestock provided by the Province 2 government is an additional burden, many families say.

A martyr's family receiving a lactating buffalo provided by Province 2 government. Post Photo: Bhusan Yadav
bookmark
Published at : July 11, 2019
Updated at : July 11, 2019 08:37
Birgunj
Rajeshwor Sah Kanu can barely walk. Ever since his prosthetic leg broke, he's been having trouble moving around. But on Monday, July 8, Kanu received a lactating buffalo from the Province 2 government as compensation for the injuries he sustained during the 2007 Madhes Movement—those very injuries that had led to the loss of his right leg.

"I asked for financial assistance for medical treatment, but instead, they gave me a buffalo," said Kanu. "What am I going to do with this buffalo?"
Kanu, who's from Kalikamai village in Parsa district, was just one of the many who received a lactating buffalo each from the provincial government. The Province 2 government had decided to distribute a buffalo to those injured and the families of those who died during the Madhes movement, the second people's movement, and the Maoist insurgency.
Alongside Kanu, 25 others from Bara and Parsa districts were compensated for their losses with a four-legged bovine each, and Rs30,000 in cash to build a shed and provide medical treatment to the animals. The buffaloes were distributed by the provincial Ministry of Land Management, Agriculture and Cooperatives. But most are unhappy with their recompense, saying they'd prefer cash instead.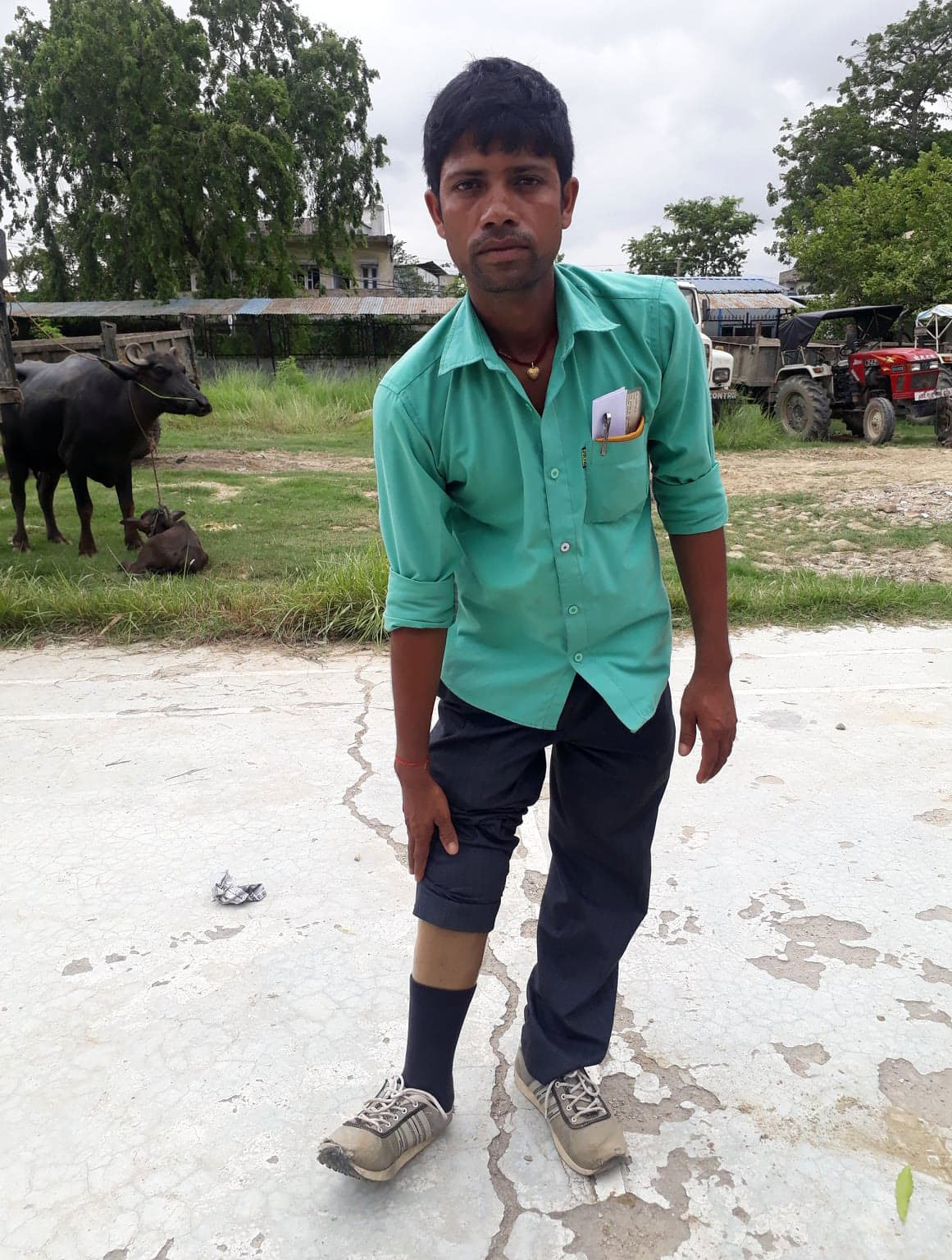 Rajeshwor Sah Kanu, a victim of the 2007 Madhes Movement, received a lactating buffalo as compensation. Post Photo: Bhusan Yadav
The disabled feel particularly "insulted" by the government's "thoughtless" decision.

"This shows their insensitivity towards us," said Kanu. "The buffalo is now an additional burden. I can't look after it and it can't look after me."
Jitendra Yadav, who has a permanent limp from a bullet injury also sustained during the Madhes Movement, came all the way from Kalaiya in Bara to Birgunj to receive his buffalo. But he too was unsure of what he could do with the animal.
"I came here to receive the buffalo but I don't know what I will do with it," said Yadav. "It would've been better if the authorities had given us financial aid to seek medical treatment."
Yadav doesn't want to keep animals, as his injury prevents him from the physicality associated with animal husbandry. He'd rather work another job, he said.
"We were asked to choose between a cow and a buffalo, but I don't want either. I didn't join the Madhes movement to become a herder. The government should provide us with employment opportunities as per our skills and competency," said Yadav. "I can't even stand on my own feet, how will I rear a buffalo?"
So far this fiscal year, the provincial government has distributed buffaloes to 64 people who were injured and the families of 58 martyrs. The buffaloes cannot be sold for three years and they cannot be given to others as gifts, according to Indra Dev Sah, acting chief of the Province 2 Livestock Service Office.
But despite the dissatisfaction of the recipients, the provincial government appears to believe that a live animal is a necessary piece of the compensation due.
"The provincial government was formed due to their sacrifice and it is the government's responsibility to honour the martyrs and the injured," said Chief Minister Mohammad Lalbabu Raut at the buffalo distribution ceremony in Birgunj on Monday. "Buffaloes are certainly not enough, but this is just the beginning."
The provincial government's decision has been met with heavy criticism, not just for the insensitivity of compensation for the injured but also for ignoring the very real needs of the injured and the families of those martyred.
"The children of martyrs and the injured should be provided free education, not given buffaloes to herd. They need opportunities to lead a better life, not an additional burden," said Om Prakash Saraf, a social campaigner who was active during the Madhes movements.
Various Madhes-based parties had announced that they would provide Rs5 million each to the families of martyrs, but so far, have only distributed buffaloes that cost Rs50,000 each.
---
---