Man's journey from office assistant to ward chief
Netra Bhattarai, 29, impressed many when he was employed at the ward office of Chishankhugadhi-5 as an office assistant. People's encouragement led him to win the local polls and return to the same office as ward chairman.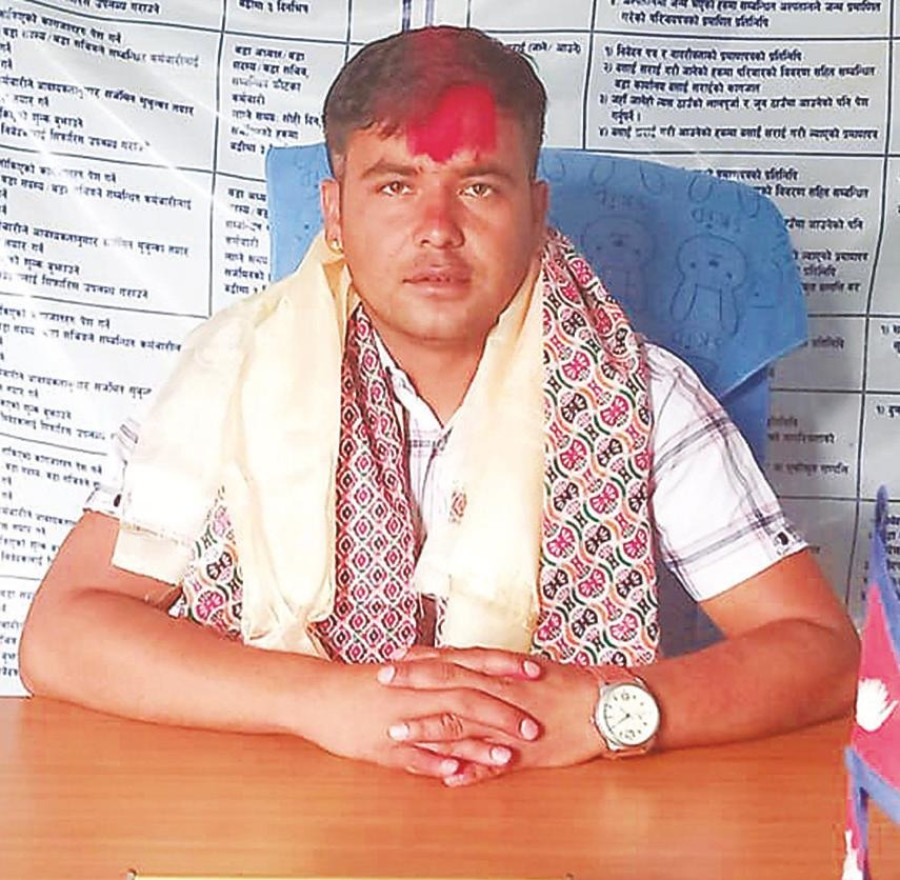 Photo courtesy: Bhattarai's facebook
bookmark
Published at : June 1, 2022
Updated at : June 1, 2022 08:43
Okhaldhunga
When Netra Bhattarai joined the ward office of Chishankhugadhi-5 as an office assistant three years ago, he hadn't imagined he would one day become the ward chairman operating out of the same office.
Netra Bhattarai, 29, passed his School Leaving Certificate examination in 2009. He continued his high school education but could not pass the boards so he flew to Qatar for foreign employment and stayed there for three years before moving to Malaysia. He lived and worked in Malaysia for two more years and returned to his village in Chishankhugadhi Rural Municipality-5, Okhaldhunga around four years ago.
Upon returning, he opened an eatery in the village with the money he had earned abroad. He says he wanted to become a hotelier but fate had different plans for him.
Netra's father, Laxmi Bhattarai, was the office assistant at the ward office of Chishankhugadhi-5. When Laxmi retired three years ago after 25 years of service, he insisted Netra apply for the same position.
"I was not interested in working as a job holder. But my father said it would be good to have a job in a government office. He started working as an office assistant at a salary of Rs 200 per month and said that the current salary of Rs 16,000 for an office assistant post was lucrative," said Netra. "I still wasn't convinced but I couldn't go against his wishes so I joined the ward office as an office assistant."
Netra, though an office assistant, had to fulfil many other responsibilities due to the shortage of government employees in the local unit. He frequently visited the ward chairperson's office with the recommendations and documents of the service seekers. The locals were happy with his work as he prioritised the elderly, disabled and incapacitated people.
But one day, he had a heated confrontation with a local leader regarding the work at the ward office. As a result, he was transferred to another centre in Serna, a few hours walk from his house.
He quit his job in September last year since he felt mistreated by his seniors. He then purchased a vehicle and started working as a driver.
As the local elections neared, Netra's village, like most places in the country, got gripped by election fever. In a casual election conversation with the passengers of his vehicle and the locals to whom he had provided services during his government service, the locals encouraged him to contest the local elections. Since Netra was not affiliated with any political party then, the CPN (Maoist Centre), which was a relatively weak political force in his ward, offered him the party's ticket to compete for the post of ward chairperson of Chishankhugadhi-3.
After filing his candidacy for the ward chairman, Netra launched a door-to-door campaign with the support of his father, friends, relatives and party supporters. Many did not believe him at first but he emerged victorious in the local election conducted on May 13 by defeating the nearest rival with a margin of 115 votes.
According to the local people of his ward, Netra was elected as the ward chairman for the good work and service that he performed while working at the ward office as the office assistant.
Netra, who is also called Anil in his village, has been elected as the ward chief at the same office where he used to work as an office assistant.
"The ward secretary and the former ward chairperson feel uneasy when they meet me. But I respect all of them. I plan to work successfully by taking their suggestions," said the new ward chief. He plans to upgrade the rural roads in his village and strengthen health services as his ward lies in a remote area.
"I won't engage in cheap populist programmes. The ward will focus on upgrading roads so that the villagers can easily access health institutions," said Netra. "I will do what I can with the available means and resources."
---
---