Free eye camp benefits more than 200 people
Ophthalmologists say lack of regular check-ups and pollution trouble eyes.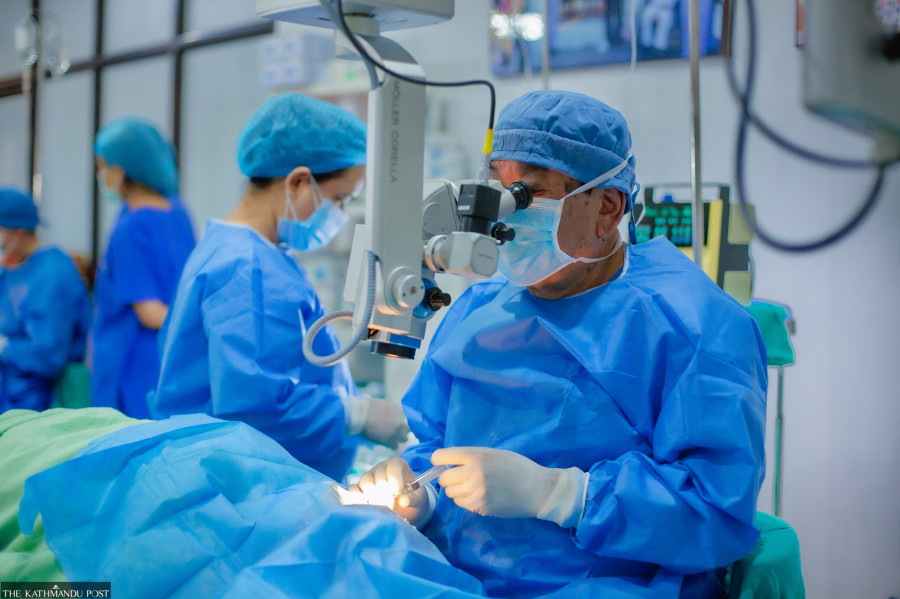 Post File Photo
bookmark
Published at : March 28, 2022
Updated at : March 28, 2022 08:03
Panchthar
Thirteen-year-old Abhishek Phombo of Aathrai Rural Municipality in Tehrathum lost his eyesight when he was just four. He was suffering from cataract, an eye ailment commonly found among old people.
Phombo's happiness knew no bounds when he underwent a surgery during an eye camp organised in Phidim, the district headquarters of Panchthar, in March second week. He got his eyesight back after nine years.
"I was very worried thinking that I would have to spend my whole life in darkness. The doctors and health workers at the eye camp gave me light. I am very happy and grateful to them," he said.
Like Abhishek, many children in the country's eastern hill districts are suffering from cataract, a condition in which the lens of the eye gradually becomes opaque resulting in blurry vision and eventually blindness. According to ophthalmologists, cataracts usually affect the ageing and elderly population. However, cases of cataract among children and newborns are rising of late.
As many as 218 people underwent eye surgery in the health camp organised jointly by Phidim Municipality, Janasewa Samaj Panchthar and Mechi Eye Hospital. Among them, 12 patients were below 16 years of age and most of them were suffering from cataract. According to the organisers, 20 other eye patients who underwent surgery were in the 17-40 age group.
"The disease is very common among people above 40 years of age. But the number of children and youths suffering from cataract is increasing in recent years," said Dr Kabita Karki Kaderiya, an ophthalmologist at Mechi Eye Hospital. According to her, cataract is taking its toll among children mainly due to carelessness in eye treatment and injuries. Some of the children might even be born with cataracts, she added.
Many people in remote areas continue to suffer from various eye ailments due to a lack of access to health institutions for regular eye check-ups. The villagers greatly benefit from free health camps like the one recently organised in Phidim.
Dhan Bahadur Tamang, 80, of Hilihang Rural Municipality-7 in Panchthar also received treatment at the eye camp in Phidim. He regained his eyesight after eight years.
"Doctors are like gods. I can see people and things around me after the doctors cured my eyes," said Tamang.
According to ophthalmologists, a lack of regular eye check-up, air pollution and long hours on computer screens and cell phones are the leading causes of eye problems these days. They warn people not to take any eye problem lightly and urge them to visit health institutions for timely treatment.
---
---