Too many patients, not enough doctors at Mangalbare Hospital in Morang
Currently, the hospital has appointed three doctors on a contract basis to treat patients.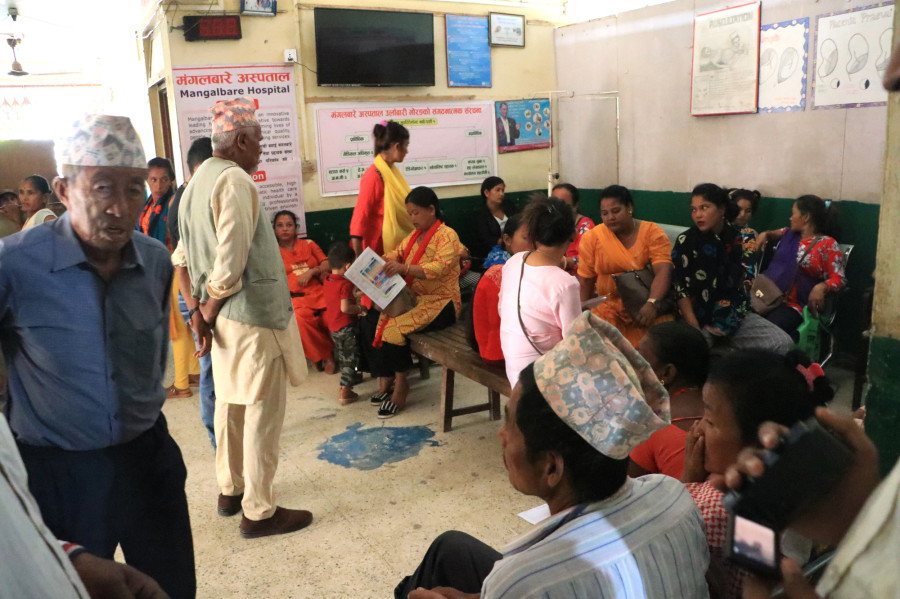 The hospital receives more than 200 patients on a daily basis. Deo Narayan Sah/TKP
bookmark
Published at : November 8, 2019
Updated at : November 8, 2019 08:41
Morang
Madan Limbu of Urlabari Municipality in Morang, who was suffering from high fever, had to wait for more than five hours to meet a doctor in Mangalbare Hospital on Thursday. "There is a queue in every section of the hospital. The hospital is not equipped to deal with such a high number of patients," said Limbu.

The hospital receives more than 200 patients on a daily basis, according to the hospital administration.
Ram Prasad Dahal, a local of Miklajung, said that he arrived at the hospital at 10am but was told that he would have to wait till mid-afternoon before a doctor could see him. "I'm told that the doctor will see me only at 2pm. I need to rest, but I have to wait here for the doctor," said Dahal.
Although the hospital has posts of two medical officers and an MD, the posts are currently vacant. "Our posts are vacant because we haven't found the candidates for the jobs," Dr Dhan Bahadur Shrestha, officiating chief at the hospital, told the Post.
At present, to provide services to the patients, the hospital has appointed three doctors on a contract basis. "These doctors have been providing services at the Out Patient Department, In-Patient Department, Maternity and Emergency departments in the hospital. They are seeing hundreds of patients per day," said Shrestha.
Generally, a medical doctor can work only up to 40 hours a week. "But doctors in Mangalbare Hospital are compelled to work for more than 100 hours in a week," said Shrestha, adding that they have been treating patients from 10 am to 6 pm. "We have been treating as many patients as possible."
Aside from taking care of incoming patients every day, the three doctors are also responsible for conducting post mortems at the hospital. Shrestha said, "The hospital receives at least three bodies every day. When a body comes, one of the three doctors has to carry out the post mortem, halting other services."
Currently, Mangalbare Hospital is a 15-bed hospital. The federal government is in a process to upgrade the hospital to a 50-bed hospital. "We have requested the local and provincial governments to manage human resources time and again, but to no avail," said Shrestha, adding that the hospital has been facing difficulties to operate other health services.
In the last fiscal year, the provincial government had purchased equipment worth Rs 22.2 million and handed it over to the hospital to operate a trauma centre, an operation theatre and to provide dental health services. "Those equipment have remained unused due to lack of manpower," said Shrestha.
Toyanath Ghimire, the health coordinator of Urlabari Municipality, admitted that the hospital has been unable to provide effective health services. "The hospital has been operating under the local government. However, the municipality doesn't have enough budget to meet the expenses of the hospital," said Ghimire, informing that the Ministry of Social Development could not allocate sufficient budget and human resources to run the hospital in the current fiscal year.
---
---