Resident doctors at BPKIHS in protest over foreign student quota policy row
Doctors demand one-third quota should apply in each department.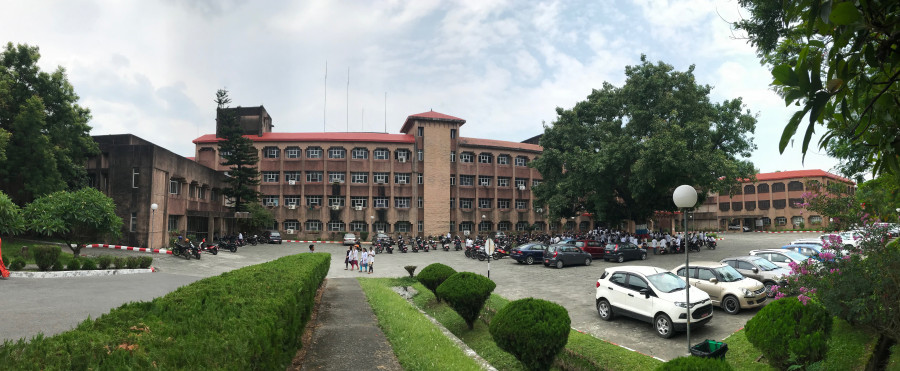 bookmark
Published at : June 28, 2019
Updated at : June 28, 2019 09:55
Sunsari
Junior Resident Welfare Society, a grouping of junior resident doctors at the BP Koirala Institute of Health Sciences in Dharan, padlocked the offices of Vice-chancellor Dr Raj Kumar Rauniyar and Rector Dr Guru Khanal on Thursday, accusing the institute of exceeding its foreign student enrolment quotas in MD and MS programmes.
Earlier, the agitating doctors had issued a 72-hour ultimatum to the BPKIHS administration to consider its foreign student quota policy.
Meanwhile, Vice-chancellor Rauniyar has claimed that the institute has not breached any rule while enrolling foreign students.
Only 26 of the total 123 seats in MD and MS levels have been allocated to foreign students, as per the Medical Education Act, he said.
However, Dr Kabiraj Paudel, the chairman of the society, said that although the administration has allocated seats to foreign students within the limits of the law, the distribution of seats is what concerns them.
"The Doctor of Medicine (MD) and Master of Science (MS) programmes of Surgery, Medicine, Paediatric and ENT are important fields in the study of medicine, and these are the fields where there are fewer number of seats for Nepali students. Nepal does not stand to benefit from producing skilled foreign doctors in these important fields," said Kabiraj Paudel. "We urged the institute to reconsider its quota policy. But it did not pay heed to our requests. Therefore, we are compelled to padlock the offices," he added.
The Medical Education Act states that medical colleges cannot allocate more than a third of the total seats to foreign students. The BPKIHS has claimed of allocating 26 seats, which is just 21 percent.
The institute has allocated quotas to foreign student in aggregation. But the doctors have been demanding that the one-third quota rule should apply for each department.
The institute allocated three out of five quotas each in medicine and paediatric, and four of six quotas in surgery to foreign students.
The BPKIHS conducted the entrance exams for MD and MS on Saturday. The results were published a few days ago.
Vice-chancellor Rauniyar said the BPKIHS is an autonomous institute and it has to manage the budget to run the institute by itself.
According to him, the government allocates limited budget to the institute and that too only for infrastructure development.
"We have to provide perks and salary to the doctors, nurses and other staff with the income generated through patients and fees collected through students. We wouldn't have to allocate even a single quota to foreign students if the government was providing the budget to pay our staff," said Rauniyar.
A foreign student pays around Rs 15 million for MD or MS course while the government provides Rs 2.2 million for a Nepali student pursuing the same.
---
---