Chelsea hope to place early marker
Whether it is Chelsea, Manchester City, or even Manchester United, Liverpool will have challengers.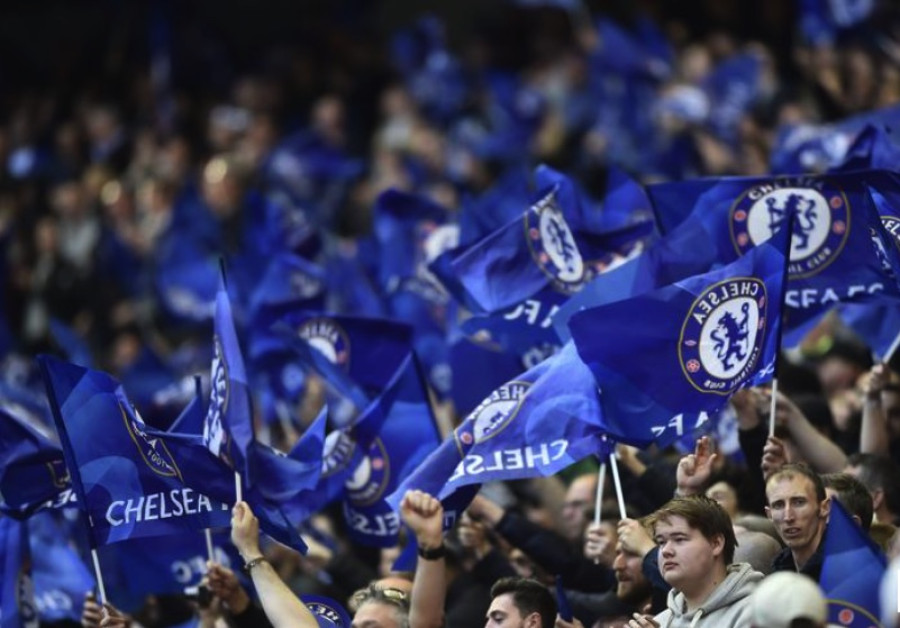 In this file photo, Chelsea fans wave flags before the FA Cup semifinal match against Tottenham Hotspur at the Wembley Stadium on April 22, 2017. Reuters
bookmark
Published at : September 18, 2020
Updated at : September 18, 2020 14:27
Kathmandu
The new Premier League season has brought new hopes and new aspirations for the clubs, managers, players, and, of course, the fans. The first round of fixtures has come and gone and they provided an initial feel of what the season ahead holds for the teams — except for Manchester United and Manchester City who didn't play in the first weekend. Both are aiming for the title.

Chelsea is the other club going for glory this season. They have splashed the cash and Frank Lampard, the club legend and manager, admitted as much following his team's lacklustre win against lowly Brighton Monday night. He wants to challenge for title and this weekend he will have a chance to show his team's mettle against Liverpool, last season's runaway champions. The signings of striker Timo Werner from RB Leipzig, midfielder Kai Harvetz from Bayer Leverkusen and defender Ben Chilwell from Leicester City for eye-catching fees are a statement of intent. The other two notable signings have been Hakim Ziyech from Ajax and 35-year-old Thiago Silva on a free transfer from last month's Champions League finalist Paris Saint-Germain.
Lampard's opposite number Jurgen Klopp did not miss the new arrivals and even took a dig at the Russian billionaire Roman Abramovich-bankrolled club. He claimed Liverpool are not like Chelsea and Manchester City, the other potential challenger, who seem to have unlimited funds. Lampard was quick to remind him of the signings of Virgil van Dijk and Alison Becker a couple of seasons ago for not small amounts. These arrivals catapulted them to the European title in their first season and the long-awaited English one next year. But by then the experienced German had already built a system of play and the bulwark at the back only strengthened the set forward line. Lampard, on the other hand, with only one season as manager is yet to stamp any style of play on his team. With a number of new arrivals, if he is to challenge for the title, young manager has to make sure his team gels soon.
Whether it is Chelsea, Manchester City, or even Manchester United, Liverpool will have challengers. Last year with the other teams in transition, it had been a toss-up between City, the defenders, and Liverpool, the Champions League winners. City's defensive issues let them down but there also seemed to be a matter of complacency in them. Much of any game, provided there is a certain degree of individual talent, is about the desire to win. Liverpool had that last season after the disappointment of the previous one, having failed to win the title with 99 points. Last season's commitment was evident in their opener against Leeds United, the stand out game among the opening fixtures.
Marcelo Biesla's boys did not disappoint. The pace was frenetic, the match pulsating, and the goals many. Every time Liverpool scored, Leeds replied. In other words, it was a viewers' delight. The Championship champions, as expected, made a statement and the other teams in the division better watch out. The Argentine maverick, however, was not happy and rightly pointed out that his team did not create many chances. Liverpool had 22 shots, Leeds seven. Liverpool's quality came through as did Mohamed Salah's brilliance and they deserved to win but Leeds did not deserve to lose, so committed and attractive football did they play. The cheap penalty that record signing Rodrigo gave away at the end was such a letdown.
Tottenham's loss, on the other hand, was nothing to feel sorry for. The performance of the team was lethargic and the fact that the standout player was Matt Doherty, the new signing from Wolves, speaks volumes of where the team seems to be heading with Jose Mourhino in charge. But take nothing away from Carlo Ancelotti's Everton who have been mid-table for simply too long. Before David Moyes went to Manchester United in 2013, the other team from Liverpool challenged for Europa league places consistently but had been floundering since then. The performances of new arrivals Brazilian Allan and Colombian James Rodriguez in the opening weekend have the team looking up again.
Following their impressive run at the end of last season, Manchester United is another team looking up. They, along with Manchester City, play their first games this week end and on paper should win comfortably against Crystal Palace. But speculations over Paul Pogba's long drawn out move away from the club are yet to settle and that could unsettle the team. With Bruno Fernandes's distribution prowess the lethal forward line could spring a surprise as the season progresses. The signing, if it does happen, of England international Jadon Sancho from Borussia Dortmund will add ammunition to the once-mighty Manchester United.
Last weekend was all about the anticipation and thrill of the start of the Premier League. This weekend is about Chelsea's title aspirations.
---
---