Petition demands removal of polygamous PR candidates
Lawyer registers a writ petition at the Supreme Court after appealing the Election Commission that candidates practising polygamy be denied election.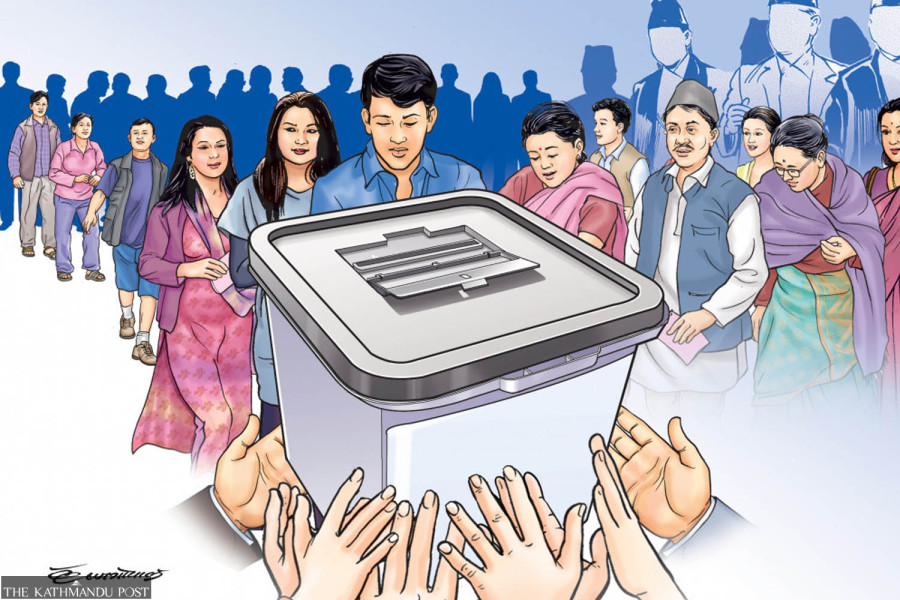 Post Illustration
bookmark
Published at : December 10, 2022
Updated at : December 10, 2022 08:19
Kathmandu
A writ petition has been registered at the Supreme Court demanding the removal of polygamous candidates for both federal and provincial elections from the proportional representation lists of political parties.
Lawyer Kedar Luitel has made the Election Commission, concerned political parties and such candidates as defendants. According to Luitel, the Supreme Court will hear the case on Sunday.
On Tuesday, Luitel had been registered a plea at the Election Commission demanding that candidates who are practising polygamy, outlawed in Nepal, be removed from the lists. Luitel claims that the parties have flouted the rule of law by recommending the candidates, who warrant punishment for flouting the law, for lawmaker roles.
The act of the parties to enlist the polygamous candidates for election is unconstitutional, said Luitel. "They have also written the names of their two wives while registering their candidacies."
The writ petitioner has also demanded legal action against those who have been practising polygamy as per the existing law.
Luitel claims that Prem Raj Thamsuhang of Panchthar, who tops the list of Rastriya Prajatantra Party PR candidates in Province 1 Assembly; Krishna Bahadur Ale, who is sixth on the House of Representatives PR list of the Communist Party of Nepal (ML); Chiranjiv Ram Tharu, 61st candidate of the same party for the House; Ekwal Kabiraj of the Loktantrik Samajbadi Party, who is on the Lumbini Provincial Assembly PR list; Gyan Bahadur Ibung Limbu, who is on the PR list of Loktantrik Sanghiya Manch for Provincial 1 Assembly; and Chakrapani Sharma, who is on the UML's PR list for Lumbini Provincial Assembly, have more than one wives.
According to the law, polygamous men are liable to one to five years in jail and Rs10,000 to Rs50,000 fine. Luitel has also demanded due punishment for them.
---