Loktantrik Samajbadi Party crumbles as Lal and supporters quit
Lal and Bijay Kumar Singh are reviving Tarai Madhes Loktantrik Party.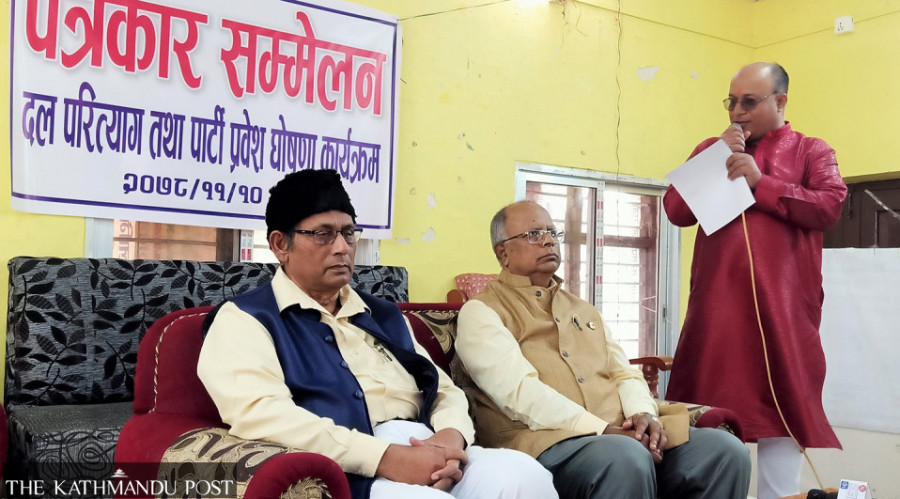 New outfit to focus on regional politics as 'there is no party devoted to the Madhes cause'. Post Photo
bookmark
Published at : February 23, 2022
Updated at : February 23, 2022 07:57
Kathmandu
The ailing Loktantrik Samajbadi Party that has been locked in an internal struggle between Chairman Mahantha Thakur and senior leader Rajendra Mahato, has started to crumble with two senior leaders along with their supporters quitting the party to revive Thakur's previous party, Tarai Madhes Loktantrik Party.

On Tuesday, party's executive committee member Brikhesh Chandra Lal and another leader Bijay Kumar Singh along with more than 100 supporters announced that they are no longer with the Loktantrik Samajbadi Party.
While the two leaders of the party were announcing their exit from the party through a press conference in Janakpur, major leaders of the party—Chairman Thakur, senior leaders Mahato, Sharat Singh Bhandari, Anil Jha, Laxman Lal Karna and Sarbendra Nath Shukla had managed to sit together for a meeting in Kathmandu after a long time.
Lal was a member of the National Assembly while Singh was a member of the second Constituent Assembly.
"To further the spirit of autonomy and federalism as per the regional aspirations of the Madhesi people, a democratic political party committed to the Madhesi agenda is the need of the hour, and therefore we have decided to quit the party and joined the Tarai Madhesh Loktantrik Party," states the press statement issued at the press meet.
According to Lal his new party will focus on regional politics as currently there is no political party devoted to the Madhes cause with most parties becoming supporters of either the communists or the Congress.
"To strengthen federalism we need to promote regional parties but there are constitutional constraints. We will raise these issues gradually," Lal, who is preparing to lead the Tarai Madhes Loktantrik Party by organising a special gathering of the party next Sunday. "We are planning to reorganise the Tarai Madhesh Loktantrik Party on Sunday and start our journey."
Not only Lal and Singh, according to party insiders most party leaders including Rajendra Mahato were 'fed up' with the unilateral working style of Chairman Thakur ever since the party managed to split from the Janata Samajbadi Party and register the Loktantrik Samajbadi Party with 13 lawmakers in August last year.
Led by Lal and Singh, more than 100 leaders of the party, mostly former leaders of the Tarai Madhes Loktantrik Party, have decided to quit the Thakur-led Loktantrik Samajbadi Party and joined Tarai Madhes Loktantrik Party organising a press meet in Janakpur on Tuesday.
The Tarai Madhes Loktantrik Party was registered by Shiva Shankar Lal Karna, a leader from Janakpur.
Reacting to the desertions, Executive Committee member of the Loktantrik Samajbadi Party Keshav Jha, however, said it will not cause any significant loss to his party.
Thakur's Loktantrik Samajbadi was formed after a split in the Janata Samajbadi Party following a long-running dispute between the other executive chairman Upendra Yadav. The merger between the Thakur-led Rastriya Janata Party and Yadav's Sanghiya Samajbadi Party was prompted by KP Sharma Oli's ordinance brought in April 2020 to ease party splits.
The Rastriya Janata Party was formed before the 2017 Federal and Provincial polls with the merger of six fringe Madhes based parties—Thakur's Tarai Madhes Loktantrik Party, Rajendra Mahato-led Sadbhawana Party, Sharat Singh Bhandari-led Rastriya Madhes Samajbadi Party, Mahendra Yadav-led Tarai Madhes Sadbhawana Party and Rajkishor Yadav-led Madhesi Janadhikar Forum- Ganatantrik and Anil Jha-led Nepal Sadbhawana Party. Currently Mahendra Raya Yadav is with the Janata Samajbadi Party.
"All the mergers and unifications of the parties were prompted by their urge to ascend to power. We were fed up with such an attitude and have attempted to do something new," Lal told the Post via telephone from Janakpur. "Even the so-called Madhes-based political parties were afraid of using the word Madhes to show that they were national parties."
---
---