Two major Madhes-based parties in crisis
Disputes deepen in Upendra Yadav's Janata Samajbadi Party and Mahantha Thakur's Loktantrik Samajbadi Party over key appointments.

Post File Photo
bookmark
Published at : January 12, 2022
Updated at : January 12, 2022 14:36
Kathmandu
As major parties have been holding conventions, electing office bearers and trying to strengthen their organizations, two big Madhes- based parties are facing serious problems in their organizations.

The ruling Janta Samajbadi Party, led by Upendra Yadav, and Mahantha Thakur's Loktantrik Samajbadi Party, both with their bases in the Madhes region, are internally fractured.
Both parties fought for the cause of Madhes and the Madhesi people; fought together for over a decade either being inside one party or separately, but now they are in a sorry state, leaders inside the both parties said.
But some experts who have been following Madhesi politics observed that since Madhes-based parties do not have an agenda, they are now fighting for resources and election mechanisms.
And, infighting inside both the parties is not over ideology or the larger cause of the Madhesi people but it is largely for posts and positions and management of their leaders.
When you do not have any agenda, you start quarreling over petty issues like how to win elections and how to grab the resources, said prominent Madhesi writer and columnist C K Lal.
"The Madhes-based parties do not have agendas to raise or voice concerns. Also, they are not in power so they cannot cover up their differences. If they were in power, they could easily hide their differences. Now they are only fighting for resources and election mechanisms. Besides these two issues, the Madhes-based parties do not have any big thing to offer the people," said Lal.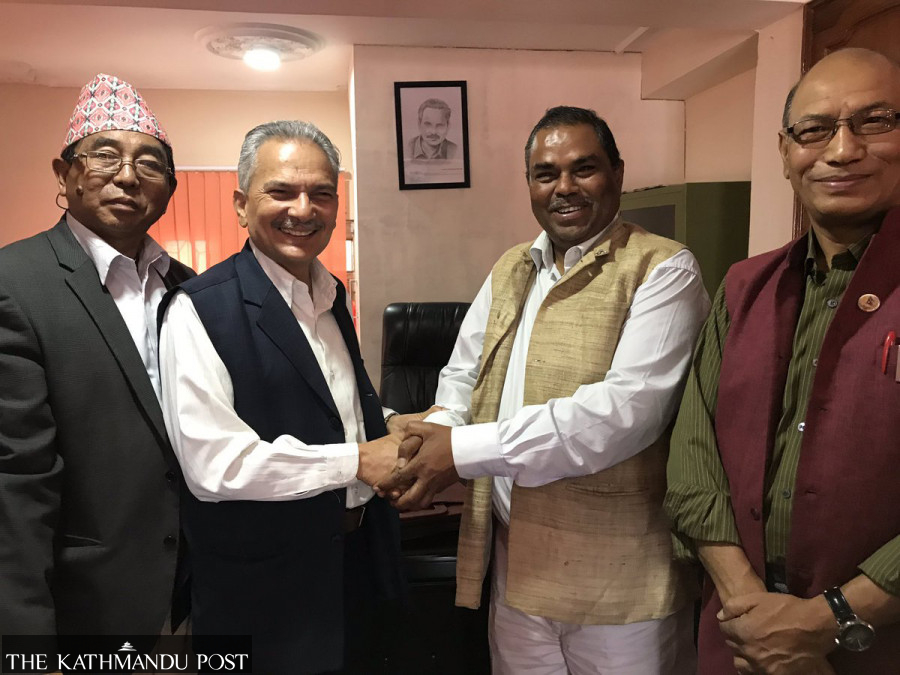 File Photo
Inside the Yadav-led Janata Samajbadi Party, a triangular fight between three senior leaders—Chairman Yadav, senior leader Baburam Bhattarai and Minister for Agriculture and Livestock Mahendra Raya Yadav, has escalated inside the party, said party leaders.
Party leaders told the Post that Bhattarai is not happy with Upendra after he unilaterally recommended two candidates for the National Assembly elections without consulting the party. Similarly relations between Chairman Yadav and Minister Yadav are not going well since the cabinet formation and when Yadav was given the Agriculture Ministry.
Yadav was looking for the Ministry of Physical Infrastructure and Transportation and also wanted to lead the party's team in the government but both of his demands were not addressed and instead Renu Yadav was appointed Minister for Physical Infrastructure and Transportation, which is considered as a resourceful ministry.
Besides sending ministers to the Cabinet, as per the power-sharing deal the party could make two political appointments–a National Planning Commission member and a province chief. Chairman Yadav and Bhattarai had agreed to fill the two positions through consensus, a JSP leader said.
Parshuram Khapung, who was close to Bhattarai was made chief of Province 1 and Uma Shankar Shah, who was close to Chairman Yadav, was appointed member of the National Planning Commission.
"There is no major disagreement between Yadav and Bhattarai," said party's central committee member, Arjun Thapa, adding, "Any disagreement can be sorted out amicably."
But both Yadav and Bhattarai have pitched different names for the positions. Bhattarai has recommended former ambassador Pradyumna Bikram Shah and Nawaraj Subedi for ambassadorial appointment while Yadav is in favour of appointing Thapa and Ram Swartha Raya Yadav. Similarly, two senior party leaders Ashok Rai and Minister for General Administration Rajendra Shrestha have recommended Pushpa Raj Rajkarnikar for ambassador.
A leader close to Bhattarai said that he always wants to see the party taking decisions as an institution, not on individual whims of a few leaders.
"The party has not held meetings for a long time, so we don't know the real issues of discord between the leaders," said Pradip Yadav, a lawmaker from the party. Bhattarai always insisted on taking institutional decisions inside the party if we follow the principle of democracy, federalism, party statute and system. Chairman Yadav has reportedly warned Minister Yadav not to make major administrative decisions at the Ministry of Agriculture without consulting him.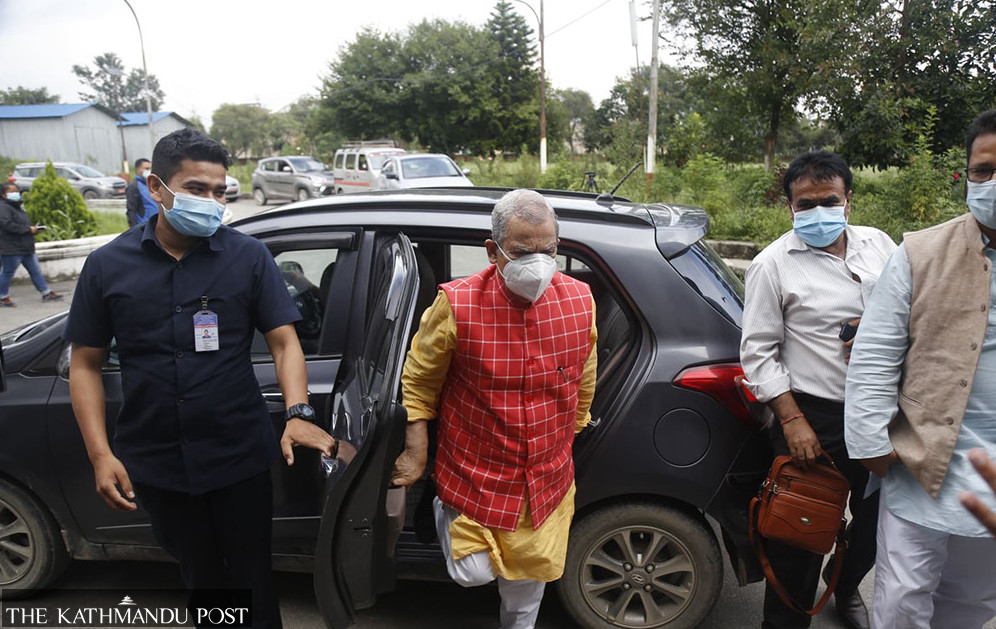 Post File Photo
Similarly, in the Loktantrik Samajbadi Party, as many as six dozen leaders and cadres from various districts started protest and held a sit-in at its central office from December 26 to January 1 to protest against Thakur's "unilateral decisions."
They have accused Thakur of taking ad hoc decisions while appointing provincial chief, secretary and district chairs of the party.
After five days of protest, the agitators held talks with Thakur and have briefly paused their protest and sit-in but they have threatened to resume their protest.
We have not received any convincing answers from Thakur and other leaders so we will continue our struggle, said Sanjay Singh, who is one of the leaders leading the protest. "If our grievances are not heard, we will restore our protest and agitation."
Thakur decided to register the Loktantrik Samajbadi Party in August last year after the Janata Samajbadi Party was awarded to Upendra Yadav and Baburam Bhattarai.
But just four months into its existence, one after another incidents of discontentment have started surfacing inside the Loktantrik Samajbadi Party. Apart from protesting against Thakur's unilateral decision to appoint a provincial party chief, secretary and some district presidents without holding discussion in the party, recently a group of leaders have decided to revive the old Tarai Madhes Loktantrik Party.
Thakur was the chair of the Tarai-Madhes Loktantrik Party that was formed in December 2007.
But recently a group of disgruntled leaders inside the Loktantrik Samajbadi Party have re-registered the Tarai Madhesh Loktantrik Party at the Election Commission and decided to revive it after the 'party leadership started undemocratic practices and taking undemocratic decisions,' according to Brikhesh Chandra Lal, who was earlier with Thakur but is now trying to revive the old party.
Insiders say a tussle between Thakur and Rajendra Mahato, a senior leader, and some others, has grown lately.
Those protesting at the central office are from Dhanusha and Mahottari districts, where Mahato and Anil Jha, also a senior leader, are said to have a strong hold.
A few days back, Thakur had appointed Jitendra Sonal as in-charge of Province 2 and appointed a dozen district chairs. Similarly Parameshwar Shah has been appointed district chairman of Dhanusha. Both Sonal and Shah are considered to be close to Thakur.
"Discontent inside the party is brewing," said a leader close to Mahato. "We are trying to defuse the tension, but agitators have refused to sit for talks with Thakur."
Agitators say such appointments should have been made through the party's executive committee in consultation with all the leaders.
"The party chair should follow a democratic process. He should stick to the party charter," said Sanjay Singh, a district leader of the party from Dhanusha. "We are demanding that the party chair correct his decisions."
Singh admitted that Thakur had invited the agitators for talks, but talks have failed.
"We met Thakurji and some other senior leaders but we could not get any concrete answers from them. We will hold a meeting in a few days and decide what to do next. After meeting the leaders, we came to know that the appointments were made by Thakurji unilaterally, without consulting other leaders as there was no meeting and no minutes," said Singh.
The agitators have told the leaders to either review the decisions and ensure internal democracy in the party or face continued protests and agitation.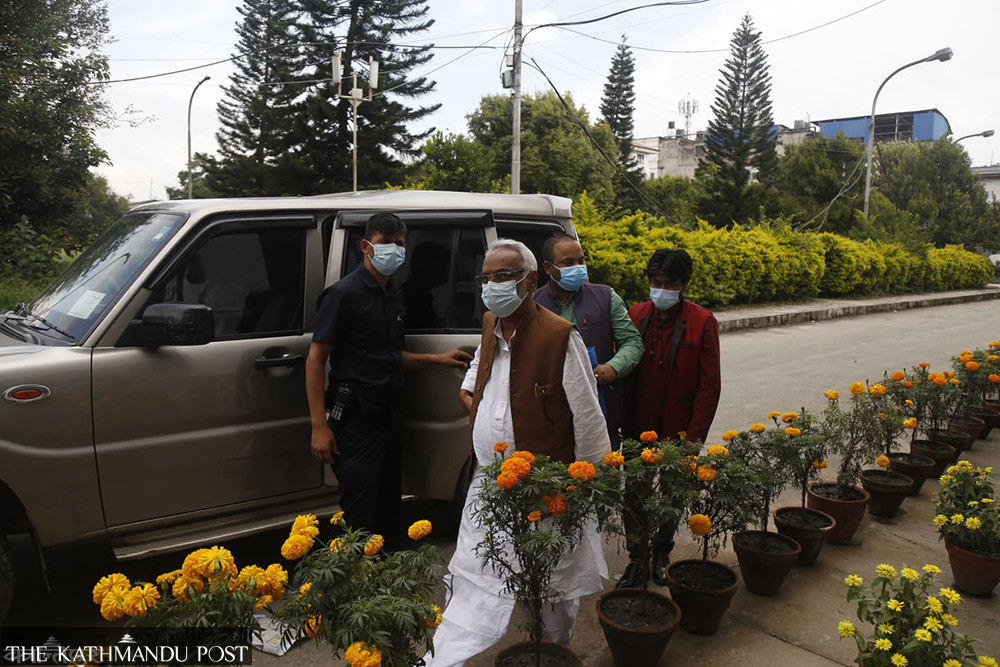 Post File Photo
A leader close to Thakur, however, said some leaders are being instigated by Mahato and Jha.
"Some party leaders and cadres who are agitating are from Dhanusha, which is the electoral constituency of Mahato," the leader told the Post. "The party chair has not done anything wrong, as he has taken decisions in line with the party charter."
According to the leader, the party chair can make ad hoc appointments and form committees as per the party statute.
"When we decided to form the Loktantrik Samajbadi Party, we agreed that it would uphold democratic norms, values and principles, but the leadership failed to live up to those ideals. Hence the discontent, said Lal.
Leaders said in most cases, Tarai party leaders take decisions in undemocratic ways and fail to observe internal democracy.
"Whether they were the Tarai-Madhes Loktantrik Party or the Rastriya Janata Party Nepal, or the current Janata Samajbadi Party, a small group of leaders hold sway and run the party like a private firm. So we decided to revive the old party," argued Lal.
The chairman of the new Tarai-Madhesh Loktantrik Party is Ravi Shankar Kumar Karna. Similarly, two new Sadbhawana parties with different suffixes have also been registered at the Election Commission.
Those who follow Madhes politics say the Loktantrik Samajbadi Party is plagued by not one but multiple problems.
"Party leaders have stopped visiting the electorate, they have stopped talking about political and social transformation," said Chadrakishore, a journalist and political commentator. "The recent episode in the Loktantrik Samajbadi Party is the result of frictions in leadership."
There is no progress to settle the dispute inside the party, said party leader Kashav Jha. The protesters have now returned to districts after getting assurances from leaders that they will address their grievances.
Nepal's Madhes-based parties have a history of disunity.
The last time the Madhes-based parties decided to go for a big merger was in April 2017 when six forces joined hands to form the Rastriya Janata Party.
In April 2020, the Rastriya Janata Party merged with the Samajbadi Party which itself was formed in May 2019 after a merger between Upendra Yadav-led Sanghiya Samajbadi Forum and Baburam Bhattarai-led Naya Shakti, to form the Janata Samajbadi Party.
The party, however, struggled to remain a united force.
"Now there is a deep misunderstanding among party leaders. There is also this question of the future party leadership," said Chandrakishore. "Similarly, if a new alliance is formed for reasons like the Millennium Challenge Corporation, some are willing to join the Nepali Congress-led government. The National Assembly election is also on the cards. So there are several factors behind the current confusion in the Loktantrik Samajbadi Party."
---
---