Diplomatic manoeuvrings
Nepal and India need to work together for regional stability and economic growth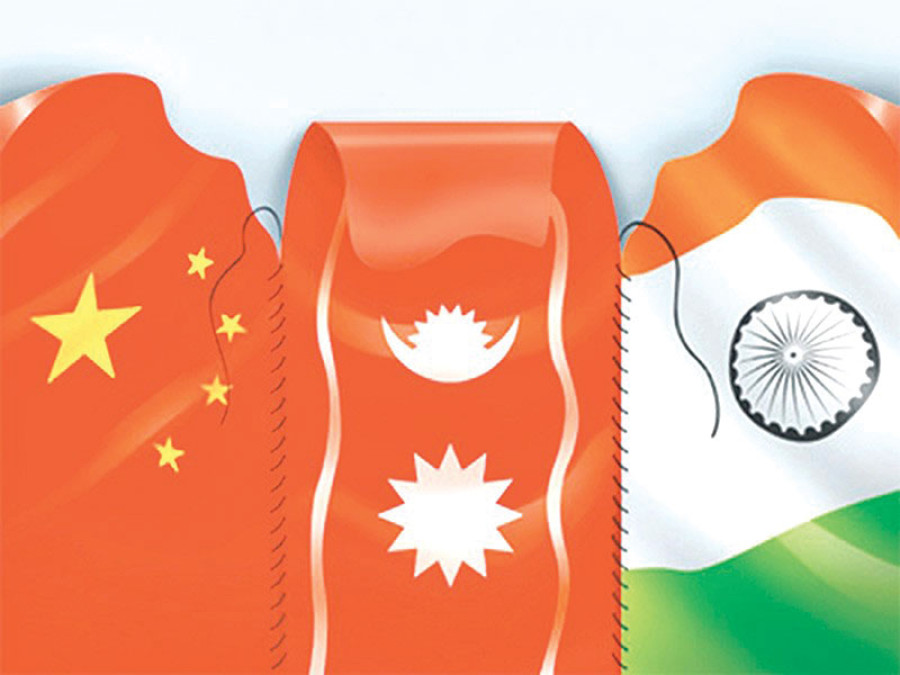 bookmark
Published at : May 18, 2018
Updated at : May 18, 2018 08:27
The United States, the sole global power, has lately brought out four documents: National Security Strategy, National Defence Strategy, Nuclear Posture Review and US South Asia Policy articulating the shift in US policy to great power strategic competition, primarily with China and Russia, and prioritising military options and an arms race over diplomacy and arms control. US President Donald Trump's policy shows that globalisation and interdependence are not perceptible for global peace and stability, and that they have been replaced by great power competition and conflict with investments in new technologies.
United States Secretary of Defence James Mattis indicated the shift in strategy by saying, "great power competition, not terrorism, is now the primary focus of US national security" while releasing the document at the Johns Hopkins School of Advanced International Studies and his testimony to the Senate Armed Services Committee. Graham Allison in his book Destined for War analyses 16 instances of great power conflict in the last 500 years, in which a rising power threatened to supplant a ruling one.
Indo-China bilateral trade will reach $100 billion by 2020. China's economy is five times bigger than India's, and its defence spending is three times as large. The diplomatic actions and reactions of Indian Prime Minister Narendra Modi and Chinese President Xi Jinping are an aspiration for 2.6 billion people, or 40 percent of the world's population, and 17.6 percent of the global economy, and their functioning concurrently will well tackle global and domestic challenges.
Respectable Indo-China relations are an important approach for regional growth and stability for the countries that share borders with China and India. Discussions on trade, strategic military relationship, tourism and other regional issues, including a joint Indo-China economic project in Afghanistan, were held. The realism of geopolitical realignment is in the air. India is securing Beijing's cooperation in putting pressure on Pakistan-based terrorists groups and getting India admitted into the Nuclear Suppliers Group, a body that controls nuclear trade.
China is keen to reduce India's resentment against the Belt and Road Initiative (BRI)—a strategic network that has furthered uncertainty in the US, Japan and the EU while being publicly rejected by India. Although all diplomatic efforts for cooperation are on-going, the undercurrent of competition is beefing up in the air, land and sea with massive air exercises, signifying how India's air assets can move both towards Pakistan and China's first overseas military base in Djibouti.
Modi's recent visit to Nepal commenced with religious and cultural engagements that signify the strong people to people, religious and cultural relations, the backbone of Nepal-India ties, and concluded with political and diplomatic engagements. Nepal and India need to work together for regional stability and bilateral economic enhancement as well as for multilateral connectivity for both energy and strategic connections. For regional networking, bilateral, trilateral and multi-lateral regional associations like the South Asian Association for Regional Cooperation (Saarc) and the Bay of Bengal Initiative for Multi-Sectoral Technical and Economic Cooperation (Bimstec) need to be active, keeping aside bilateral misunderstandings.
Nepal should be able to reduce risks and contribute to regional stability, which bear geo-political consequences by: one, protecting the cultural and religious values and harmony that both countries enjoy; two, successfully completing the road map for past agreements within a stipulated time, detaching the trust shortfall by fulfilling the assurances given by the political leaders and bringing about diplomatic reliability; and finally, communicating major concerns about comprehensive and strategic issues by Kathmandu-Delhi political engagements. They should revitalise the recognition that India and Nepal are going to work together to produce a strategic relationship to make the 21st century the century for the people of the two countries.
The Indo-China understanding and settlement will bring about opportunities, but a more comprehensive approach of all the state mechanisms will require strategic planning for the development of infrastructure for economic enhancement, effective management and admirable administration, national interest-based stable national foreign policy, and a professional and agile national security system to meet geo-political trends.
Basnyat is a retired Army Major General, holds an MPhil degree and is a political and security analyst
---
---