A three-way tie
Playing one neighbour against another or inciting nationalism by inflammatory speeches would take us nowhere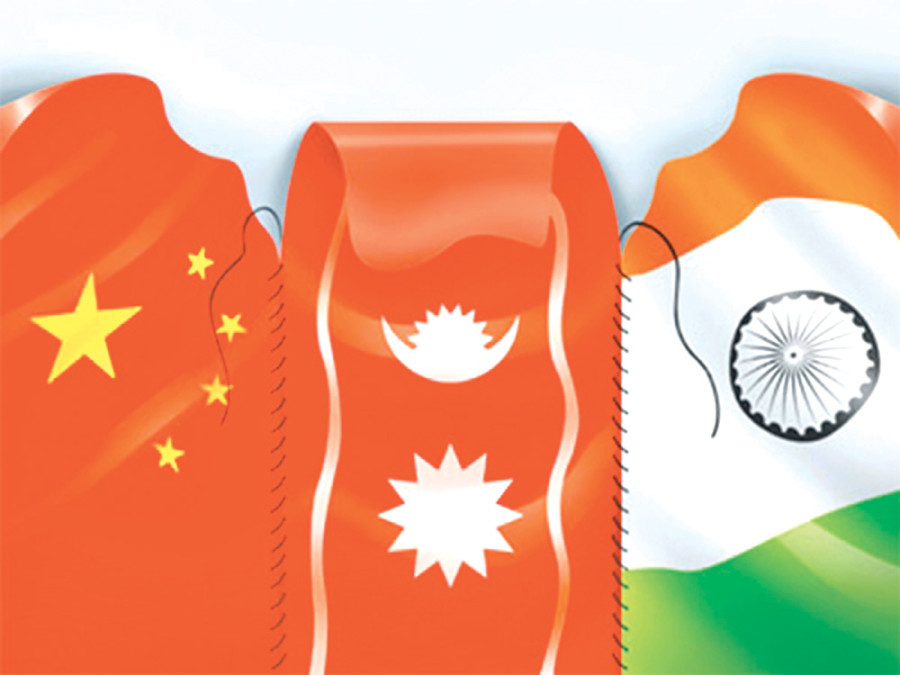 bookmark
Published at : June 29, 2016
Updated at : June 29, 2016 08:17
Chinese President Xi Jinping has drummed up support for his 'Belt and Road' initiative the world over, and now he is also urging different countries to take advantage of its position as a founding member of the Asian Infrastructure Investment Bank (AIIB). Launched by China and viewed by many as a rival to the World Bank, the AIIB includes several European countries among its members, with the US and Japan as notable absentees. However, in the light of China's development on multiple sectors along with its subtle wish of becoming a global power, the underdeveloped and developing nations' desire to tie up with this bank is both a necessity and a fad.
China neither wants to compete with India directly, nor with its South Asian bordering states, for they would be put in an awkward position of having to choose a side. China does not want small countries in the region to suffer. Moreover, it does not intend to haggle over border issues again or squander the tectonic gains it has made on bilateral fronts with the countries in the region at the cost of its 'superpower ambitions'.
Both our neighbours want to see Nepal united and stable. From the way China has been attaching importance to Nepal in view of broader physical connectivity issues mainly under the 'One Belt One Road' paradigm, it looks like it wishes to enter the South Asian markets through Nepal. As China does not have diplomatic relations with Bhutan, reaching regional markets through physical connectivity becomes a reality via Nepal only. However, Nepal should gain confidence of both its neighbours to establish itself as a bridge for strong partnership and collective development. Playing one neighbour against another or inciting nationalism by inflammatory speeches would take us nowhere.
Expanding markets
Both China and India are becoming pragmatic in their development and growth strategies. Both have strong governments and are engrossed in internal reforms. The Modi regime has pushed a spectrum of policy reforms in defence, insurance, civil aviation, education and health, which in the past were considered sensitive areas; the Indian government always maintained a stronghold on these realms. Foreign Direct Investment (FDI) in these areas will definitely increase after reforms. Modi's bold intention of intensifying reform for fast track development since his initial days in office has materialised. India will now turn into an investment destination and a venue for merchandise and capital exports in sensitive and high-tech areas. Its immense strength and soft power would be useful to lay ground for job opportunities for technical manpower. This would provide it with enormous leeway to not only advance its current capability in military hardware but also to enhance its own 'Make in India' brand image.
In the future, China and India will not only be colossal markets but also production bases. Their smaller neighbours will also reap benefit from their development gains, which will trickle down to other countries in the region.
Last year, nearly 100 million Chinese tourists travelled abroad and now every country wants to attract Chinese tourists. Professor Hu Shisheng, Director of the Institute of South and Southeast Asian and Oceania Studies at China, opines that if China and India cooperate, some of China's manufacturers could shift to Nepal. The mapping of labour distribution in the region is already under study. If India becomes a new production base and the connectivity between China and India improves, the whole region will benefit just as the Sino-US economic relation has benefitted the world.
Economy of scale
My recent visit to China was an eye-opener. Taxi drivers do not have customers; vendors in shopping malls are idle. Drivers, shoppers and other businesspeople all complain of a slowdown in business. This shows a hint of recession in the country, yet the Chinese keep tight control on how much of this sensitive information can be published. If what I saw indicates recession, it must have happened at the cost of unbearable expenditure in physical infrastructure and anti-corruption drive. This may decelerate China's growth in the years ahead.
Still China wishes to connect and engage with all the South Asian states with the sole interest of expanding markets, enhancing interdependence and reducing security concerns. This would also help all the countries involved reduce their security expenditure. Security or geo-strategic concerns have hijacked the socio-economic development agenda in the region for many years now.
Economy of scale has been a boon for China, allowing it to prosper. India's soft power can also be attributed to the same phenomenon. Now is an opportune moment for Nepal to take these two regional giants into confidence and forge ahead with development as its sole agenda.
Baral was Foreign Relations Advisor to late prime minister GP Koirala
---