Sweet and sour
Oli's visit to China has been praised as historic and decried as mere showing off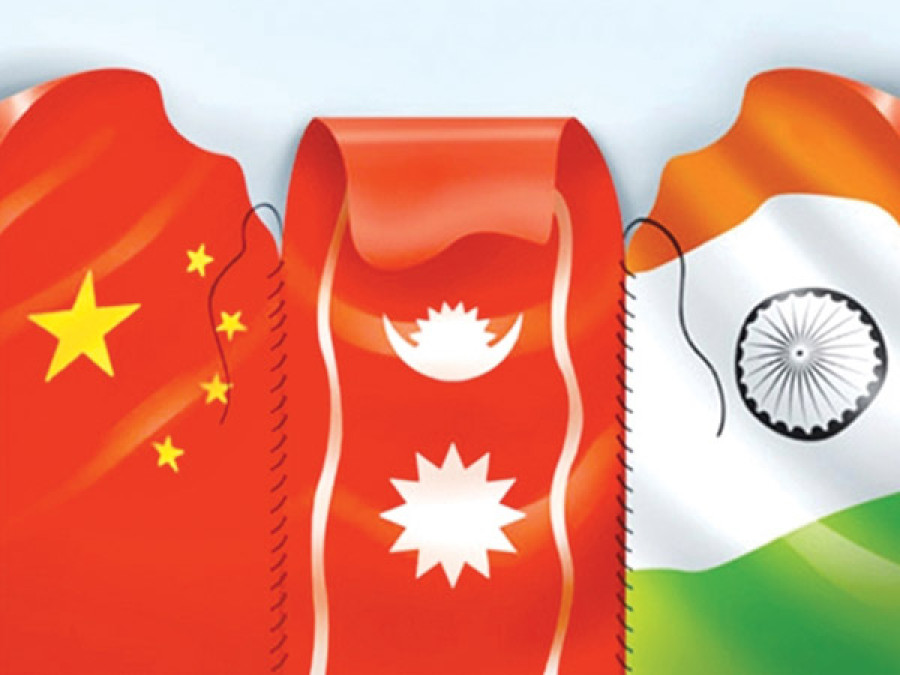 bookmark
Published at : April 5, 2016
Updated at : April 5, 2016 07:59
The accords signed between China and Nepal and the joint communiqué issued during Prime Minister KP Sharma Oli's visit to Beijing may provoke New Delhi and widen the India-Nepal gap, but they are barely enough to take China-Nepal relations to a new height. Oli's visit to China has been lauded as an 'historic' event, mostly by Nepali left-leaning thinkers, naive foreign policy analysts guided by sheer idealism and 'accidental' experts on almost everything. International relations and diplomacy can be interpreted as one wants to, but the truth is that this visit is a combination of showing off and testing limits in regional politics. What did not happen is more important than what did.
The status of the proposed oil trade between Nepal and China and the reopening of Tatopani customs remain like they were before Oli's trip to Beijing where he was greeted in a language he could not understand. The use of translation devices to understand what Chinese leaders were saying shows how hard it is for Nepal to play the 'China card' against India. New Delhi is paranoid not because of what has already happened between China and Nepal, but because it is clueless about the course the Nepal-China pact could take. New Delhi has almost no access to what was discussed inside the Zhongnanhai former imperial garden. Chinese President Xi Jinping cleverly mentioned that there should be China-India-Nepal trilateral cooperation in the future in a subtle but clear message to New Delhi that Beijing is in no mood to hobnob alone with Kathmandu's leadership. In other words, it is a message to the Nepali leadership that China will not go further with Nepal on a road that does not seem to be sustainable.
Realism versus idealism
Chinese leaders know that what Nepali leaders say is not based on national consensus, and that everything can turn upside down with a change in the administration. It is important not to undermine this symbolic message. Such an implicit message signifies that Beijing is merely being generous to Nepal and the Nepali people. It means that Nepal cannot be China's strategic partner to keep India off-balance in regional politics. Hence, it is difficult for the things that China agreed to during Oli's visit to materialise. It is necessary to look at where China is coming from while signing agreements with Nepal and issuing joint communiqués. China shifted from Deng Xiaoping's policy of 'keeping a low profile' to 'striving for achievement' after Xi came to power in 2012. Chinese foreign policy maven Yan Xuetang says that China seeks to gain more power regionally and internationally not by distancing itself from any power but by engaging them and supporting small countries to grow.
Additionally, China's engagement with Nepal is the result of its policy of 'peripheral diplomacy', which is helping and participating in the development efforts of the neighbouring countries. Oli's visit has been seemingly successful on the basis of China's policy, and not because Nepal did the required homework to lift the relationship to a new level. This is where Nepal has failed and will continue to suffer even though China wants to help it prosper. A prognosis of Oli's visit to China will not be accurate because the northern neighbour's foreign policy is strongly guided by a realist attitude and not idealistic thoughts. Oli, who believes in shrewd deceptive politics, went to India suggesting that his leadership would not lean towards the north at the cost of the southern neighbour. Failing to issue a joint communiqué from New Delhi was his failure; but more than that, it was a failure of Nepal's collective leadership.
The hype in Nepal over the signing of the Agreement on Transit Transport with China and Nepal was a result of the frustration caused by the months-long economic blockade by India. Arguably, it is an achievement, but it is Nepal's right as a landlocked country to get transit facilities from its neighbours. The central issue is whether China will help Nepal to actually diversify its trade routes. The joint communiqué includes one of the major issues of connectivity, which is to develop a railway line between China and Nepal. If both the sides start working on it seriously and implement it, the rail link is expected to bring economic development through trade and tourist inflows from the Middle Kingdom. However, China has not promised to build the railway line. The language of the joint communiqué is clear that China will consider it after Nepal submits a detailed proposal.
Trade, not aid
There should be frequent high-level visits between the two countries if they are serious about boosting connectivity. And while trying to connect Nepal with the world through the northern door, China should open up the politically complicated Tibet to the world. One of the conditions for China to become a superpower is to open itself up without any hesitation. The question is when, and more importantly, if the communist leadership is ready to go that far. Conducting bilateral cooperation, synergising the development plans of the two countries, carrying out projects under the framework of the Belt and Road Initiative and increasing land and air connectivity are important. But the issue here is that Nepal lacks serious homework on how to make the optimal utilisation of the Belt and Road Initiative.
Accelerating the feasibility study for the Araniko Highway repair project, Syabrubeshi-Rasuwagadhi Highway repair and opening maintenance project, building a bridge over the Karnali River at Hilsa and upgrading the Kathmandu Ring Road are some of the schemes for which China has extended support during Oli's visit. They are indeed welcome, but what is important to notice is whether Nepal can foster an environment to attract Chinese outbound foreign direct investment (FDI). Without FDI, Nepal will not be able to emerge from the current status no matter how much foreign aid it gets. Continuing down the road to prosperity, Nepal will have to work with both China and India. The only safe way is to devise a neighbourhood policy to deal with the two rising powers. Nepal should state clearly what it wants from them and what it can offer in return. Pragmatic deals are far more important than diplomatic grandeur for a country like Nepal reeling under poverty and underdevelopment.
Poudel is an economist/researcher associated with ThinkIN China
---
---