Chinese experts blame geopolitics for PM's reluctance to attend Boao Forum
Implementing agency for BRI in Nepal suggested just as the MCC has set up MCA-Nepal.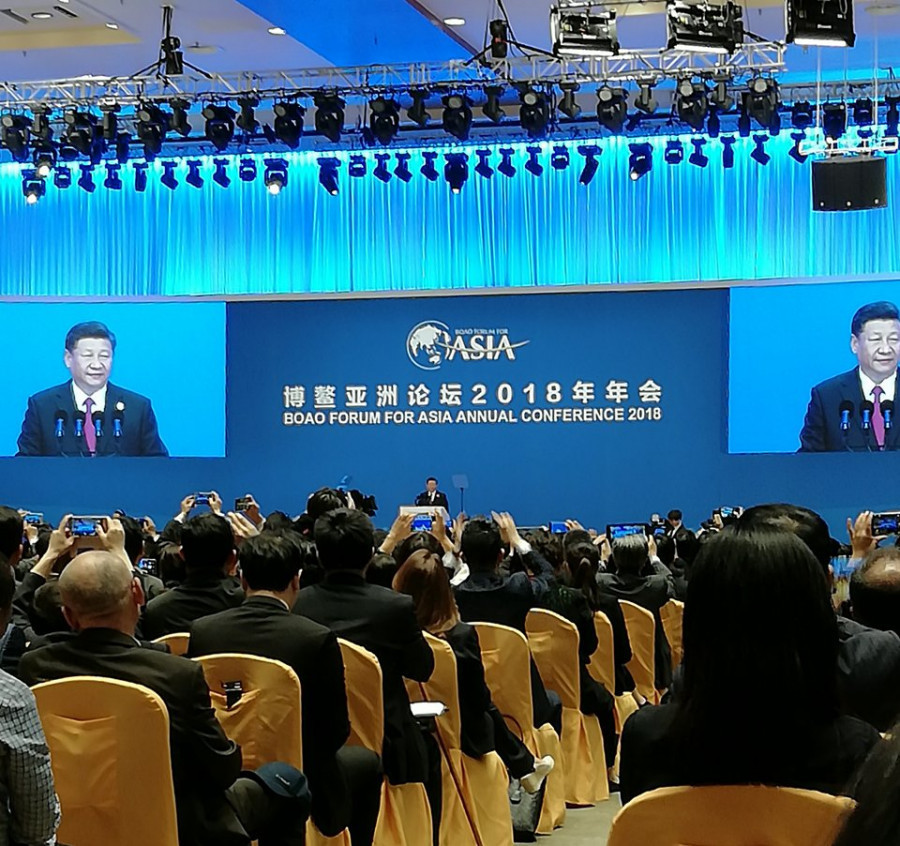 Post File Photo
bookmark
Published at : March 18, 2023
Updated at : March 18, 2023 06:41
The Chinese scholars interested in Nepal's affairs have attributed Nepali Prime Minister Pushpa Kamal Dahal's reluctance to take part in the Boao Forum for Asia (BFA) to geopolitical factors.

Speaking at the 'Interaction with the Chinese Scholars' organised by the Nepali Embassy in Beijing, Zhang Shubin, director of the Nepal Studies Centre at Hebei, said, "We know that even though China had extended an official invitation, Nepal's Prime Minister Dahal is not participating in the BFA and there lies a geopolitical reason behind it."
The forum is a nongovernmental and nonprofit international organisation which provides a platform for dialogue for leaders and people from various walks of life in Asia. This year, it is taking place on 28-31 March in the Hainan province of China.
Speaking at the event, Professor Zhang further claimed that the Belt and Road Initiative is a prosperity booster. However, he went on to say that BRI is a grant, not aid. During the immediate past foreign minister Wang Yi's Nepal visit last March, the Sher Bahadur Deuba administration had made it clear that Nepal would only accept aid under the BRI and would reject any kind of loans.
Zhang also suggested setting up BRI's own implementing agency in Nepal. "The MCC [the Millennium Challenge Corporation] has a specific office in Nepal to coordinate the implementation of its project. I suggest establishing an office of BRI in Nepal to promote its implementation as well."
Professor Hu Shisheng, director and research professor of the Institute of South Asia Studies, said both Nepal's and China's economies are expected to grow with the arrivals of fresh governments in Kathmandu and Beijing respectively. "Economic growth might usher in a new era in relations between the two nations," he said.
After the completion of the federal and provincial elections on November 20, Nepal got a new government led by CPN (Maoist Centre) chair Dahal whereas China last week formed a new cabinet under Premier Li Qiang.
Professor Hu said that although both countries have the opportunity to make economic progress, there is also a challenge of how to make such progress given the emerging challenges in global politics.
Hu said that a small country like Nepal should be careful when receiving aid from foreign organisations like the International Monetary Fund. "For the long-term development of Nepal, there should be no competition between big countries in Nepal. Zero-sum competition… is not in Nepal's interest."
He stressed how economic sustainability is a prerequisite for Nepal's development.
Chinese analysts also spoke on the growing geopolitical competition in Nepal. China will not fear competition even though it does not seek a geopolitical conflict, said Chen Xiaochen, deputy director of the Institute of Area Studies. "Countries should manage their own course rather than following the course set by others," he said.
Dai Yonghong, dean of international studies at Shenzhen University, said "...mutual respect, mutual agreement, and mutual trust can enhance relations between the two countries."
Huang Zhengduo, head of the Sichuan University Center for Nepal Studies, said the disruptive effect of the Covid pandemic on bilateral collaboration will now decrease. He also emphasised the importance of strengthening cultural ties between the two nations.
At the event, Nepali Ambassador to China Bishnu Pukar Shrestha handed an appreciation letter to 90-year-old adjunct professor Wang Hongwei for his contribution to enhancing Nepal-China ties.
Wang has authored research works of scholarly importance, such as 'Mountainous Kingdom of Nepal' (1980), 'The Nationalities of Nepal' (1980), 'Nepal: Guide to World States' (2004), 'Nepal: People and Culture' (2007), and was recognised for helping 'spread Nepal's national pride in the international arena' through his works.
---
---