Disaster-prone schools put students' lives at risk
Around 122 schools in Bajhang are at high risk of natural disasters. More than 24,400 children study there, according to the district office.

A landslide-damaged school in Bajhang district. Haphazard expansion of rural roads has rendered several schools here vulnerable to landslides. Basanta Pratap Singh/TKP
bookmark
Published at : November 23, 2022
Updated at : November 23, 2022 07:29
Bajhang
Bhumidev Basic School in Kedarsyu Rural Municipality-6, Bajhang is perched atop a hill with roads cutting on either side. The school which runs classes for grades one to eight has 236 students but the infrastructure of the school does not provide a safe environment for any of its students.

Ishwar Dhami, an eighth grader, says he does not feel safe at school given how vulnerable the building has become to landslides after the construction of roads so close by two years ago.
"Landslides threaten our school every year. During monsoon we can hardly concentrate on our lessons in the classroom as the fear of landslides sweeping us away gets overwhelming," said Ishwar. "Even when heavy vehicles pass by, our school building trembles to its foundations and we all run out."
The constant threat posed by landslides disrupts classes and affects learning, says Maan Bahadur Dhami, the school principal. "We are on the edge all the time but during monsoon, it's twice as difficult to run classes. The mulch washed in by the rainfall floods our classrooms and it takes us four to five days to clean up," said Maan Bahadur. "Between these chaotic activities, studies take a backseat for both students and teachers."
The principal accuses the road authorities of being insensitive to the school and its occupants. "The authorities should have considered the risk of road construction on a fragile topography," said Maan Bahadur.
Sidhu Kami, whose two grandchildren attend grades four and six, is in a dilemma over whether to send them to school. "If we don't send them to school, they will never get an education. But when they are away at school, I get restless," said Sidhu. "The school building will not be standing if a landslide occurs in the vicinity."
Bhumidev Basic School is only one of the hundreds of schools in Bajhang that are at risk of floods and landslides. In Kedarsyu Rural Municipality, where Bhumidev Basic School is located, there are seven more schools vulnerable to natural disasters like landslides and floods. According to the local government, around 3,191 students are enrolled in these schools.
In the adjoining Durgathali Rural Municipality, 23 schools are at risk. Around 297 students from Durgathali go to these schools.
According to the District Education Development and Coordination Unit, 122 schools in Bajhang are threatened by natural disasters including earthquakes. These put the lives of more than 24,400 students at risk.
Landslides started erupting close to schools after the construction of roads, studies show. In 2021, a report titled 'Landslides, Road Construction and Risk Reduction in the Political Economy of Nepal 2020' conducted by Oxford Policy Management: a British Policy and Institution Facility, showed that the risk of landslides in hilly and mountainous areas of Nepal has increased due to haphazard road construction. The report states that haphazard construction carried out without geological and environmental studies has not only put infrastructure such as schools, health posts and irrigation canals at risk but the entire settlements and arable land have come under threats.
"In the last few years, landslides have been occurring mostly in places where new roads are built or are under construction. The stakeholders do not consider the safety of the local people and their schools, settlements, drinking water projects, irrigation facilities or anything," said Surendra Kathayat, head of the District Education Development and Coordination Committee. "The constant fear of death while at school has affected the learning of students in the district."
In October last year, floods and landslides triggered by three days of continuous rainfall caused widespread destruction in Bajhang. According to the District Disaster Management Committee, 31 people lost their lives in the disaster and the district suffered a loss of more than Rs10 billion in physical infrastructure and economy. Schools were the most affected.
More than 10,000 students were affected by the floods and landslides while almost 89 schools in the district suffered damage. Over a year since the disaster, the damage caused is yet to be recovered and schools yet to be fortified and rebuilt. As a result, most of the schools conduct classes in an unsafe environment with some moving classrooms out in the open.
The October floods in the Jadarigad river in Khaptad Channa Rural Municipality washed away three concrete buildings, toilets and the playground of Jagdamba Basic School.
"Since then classes were conducted out in the open until mid-August this year. We didn't run classes at all during the monsoon season. For 10 months, our lesson plan was interrupted and the academic performance of the students dipped to an all-time low," said Makar Khatri, a teacher at Jagdamba Basic School.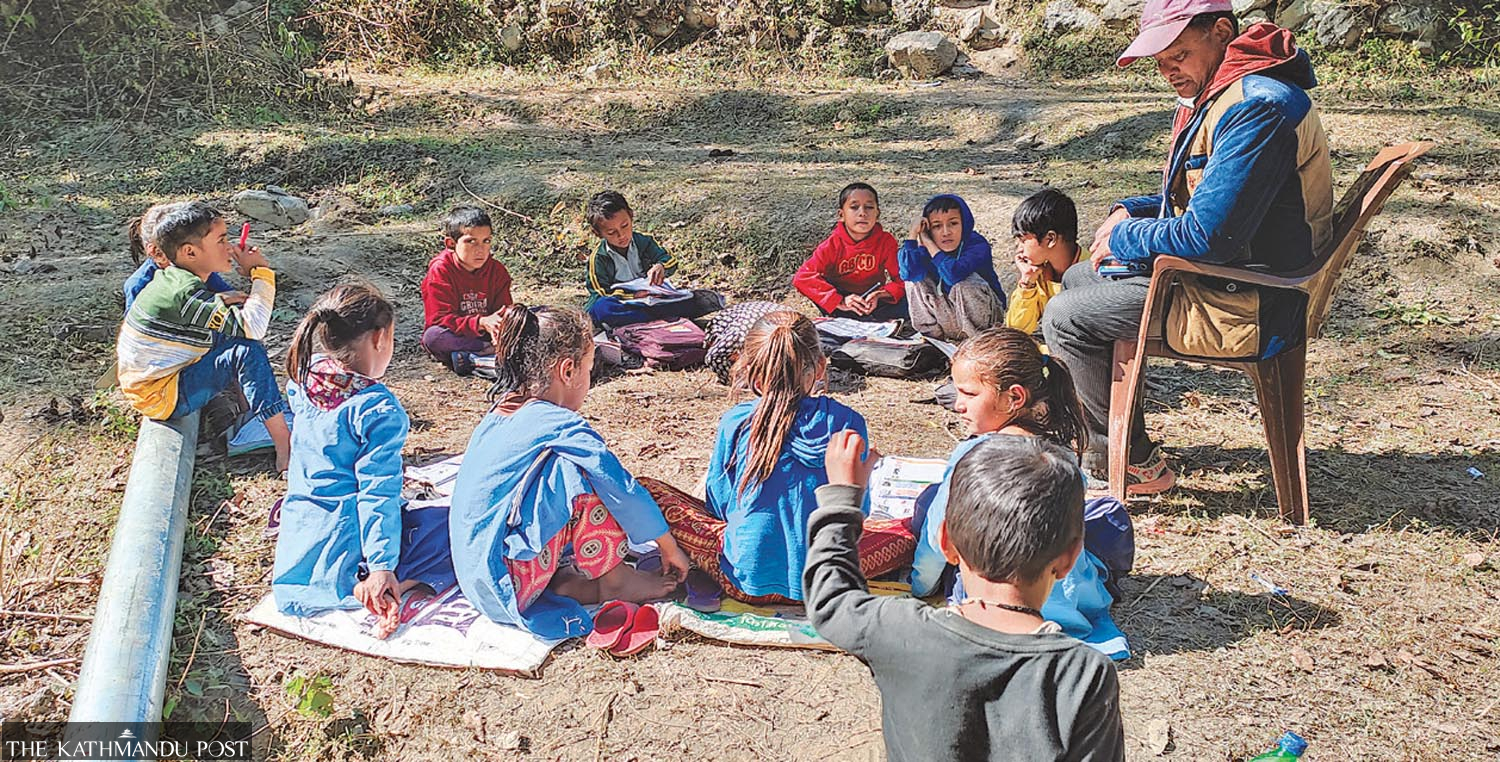 This file photo shows a class in progress in the open. Basanta Pratap Singh/TKP
According to Lal Bahadur Khatri, the principal of the Jagdamba Basic School, the construction of a six-room building a bit farther from where the previous school building stood is in its final stage. "We plan to start conducting classes in the new building but we will not be able to accommodate all the grades," said Khatri. "We have 160 students in total. With winter fast approaching, I'm concerned about conducting classes out in the open for the rest of the students."
Some schools in Bajhang have been moved permanently from risky zones in areas where new roads have been constructed. Bishwanath Primary School of Bastigau in Talkot Rural Municipality has been moved from its original location after a landslide started four years ago following the construction of the Chainpur-Ruwatola and Busti-Bhimdhunga road sections near the school.
"The authorities should not allow road networks to penetrate haphazardly in the hilly areas," said Jhalak Rokaya, a local of Talkot Rural Municipality. "This negligence has caused us much grief and loss over the years."
On rainy days while sitting in the classroom, Ishwari Joshi, an eighth grader at Luyata Basic School in Jayaprithvi Municipality, worries about the Dilgad river which has already cut through the foundation of the school building. "When the water flow increases, the whole building starts shaking. Last year I saw the angry river wash away the toilet close to the school building," said Joshi.
The river has already reached three of the five buildings of the school.
"But we can't afford to close this school since this is the only one in this area. If we close down, the local children will have no other school to go to," said Dhanbhakta Joshi, the principal of Luyata Basic School. "We have 150 students here and it is becoming increasingly difficult to keep them safe at school."
The condition of Ratna Secondary School in Pauta village of Kedarsyu Rural Municipality is similar. Due to erosion, four buildings of the school are in a constant state of inundation. The school, which has about 600 students, is being eroded by the Kalanga river.
"The road connected to the compound has been washed away and the river has almost reached the school. The entire structure may collapse anytime," said Tara Dutt Pant, a teacher at the school.
According to Harilal Thagunna, a resident of Pauta village of Kedarsyun-5, along with the schools more than 20 houses of the locals around the school are also at risk of erosion by the Kalanga river.
Most of the schools in Nepal's upper region are at risk of disaster. But this problem has taken a serious turn in Bajhang. Most of the secondary and higher secondary schools in the district are located on the banks of rivers. More than 36 schools are on the banks of Seti River, and Kalangagad and Bahuligad streams. All of these schools are at risk of landslides, floods and erosion.
Despite perennial disasters and loss of lives and property, the authorities are yet to adopt a disaster mitigation plan for Bajhang.
According to Sami Bista of Parakatne, Thalara Rural Municipality-4, the locals themselves have reached out to the authorities seeking help to fortify the schools against natural disasters but no help has been forthcoming. "If the authorities had provided Rs50,000 to Rs60,000 to build embankments along the riverbanks, the locals would have contributed labour," said Bista. "It would have saved a lot of trouble."
Santosh Panthi, an engineer and green infrastructure expert from Scott Wilson Nepal, who has studied the roads in Bajhang district for two years and the geographical, environmental and watershed conditions, said that the roads built in Bajhang are one of the main causes of frequent landslides. The road network has increased the chances of more floods and landslides, he says.
According to Panthi, 95 percent of the roads built in Bajhang lack proper engineering. The new roads have been built over small streams blocking traditional water sources and their routes, creating more floods and landslides. "Roads built without meeting the minimum engineering standards have not brought development to rural areas, but only destruction," said Panthi.
"The road construction that has picked up pace over the past few years threatens the survival of local communities. Excessive use of heavy machinery to construct roads has resulted in more occurrences of landslides," said Kamal Thapa, a geological engineer who has studied various municipalities of Bajhang.
Saipal Rural Municipality is considered the most vulnerable in the district in terms of landslide risk. According to a study published in 2018 by GeoHazard International, an international organisation that studies natural disasters, earthquakes above 7 Richter scale will cause landslides in 2,630 places in Saipal Rural Municipality and cause huge loss of lives and property.
"The disaster management and response plan prepared by the district disaster management committee mentions that schools will be used as shelters during disasters such as floods, landslides, and earthquakes. But the schools themselves are at risk of disasters," said Thapa.
Chief District Officer Baburam Aryal, who also chairs the District Disaster Management Committee, says none of the local units or the provincial and federal governments has plans to designate buildings other than schools as shelters during disasters. "We know that taking shelter in schools is not the best plan but we have no other alternative for now," said Aryal.
Last year, floods and landslides damaged 90 schools in 25 municipalities and rural municipalities in 10 districts of Nepal. According to the National Disaster Risk Reduction and Management Authority, school structures worth more than Rs500 million were damaged in Bajhang, Baitadi, Bajura, Dadeldhura, Darchula, Dhankuta, Doti, Ilam, Panchthar and Rupandehi districts. Baldeep Sharma, an engineer of National Disaster Risk Reduction and Management Authority, said there has been no survey yet to find out the risk facing schools across the country.
Deputy Director General of Education and Human Resource Development Centre Rudra Prasad Adhikari said the government has not done any study on how many of the country's 26,454 government schools are at risk of natural disasters.
"At the moment none of the schools in Saipal is safe," said Bharat Bahadur Singh from the Department of Education, Youth and Sports. "There is no way to predict what kind of accident will befall which school."
---
---