Nepal's tiger population reaches 355
The number increased by 120 in four years, as country successfully achieves the goal of doubling the big cat population by 2022.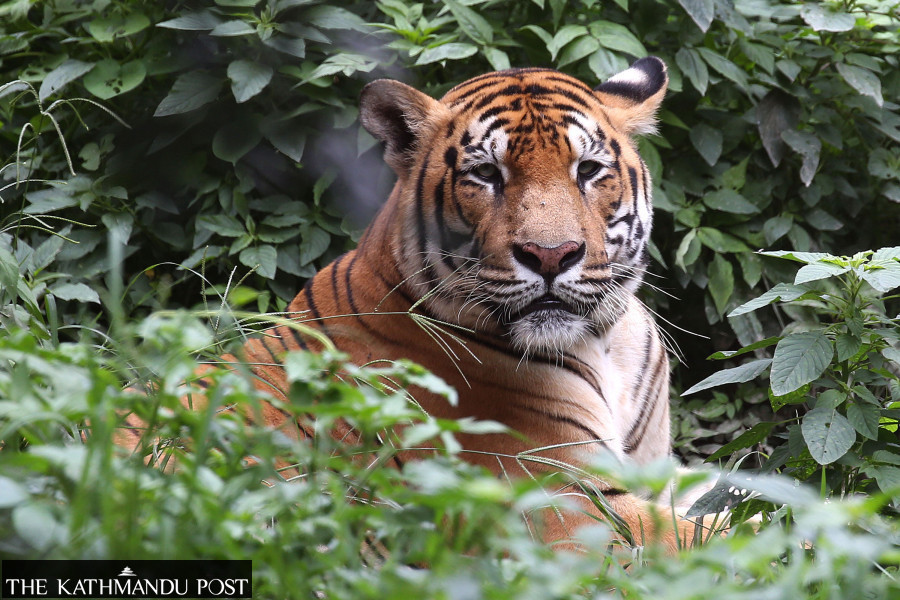 Post File Photo
bookmark
Published at : July 29, 2022
Updated at : July 29, 2022 10:55
Kathmandu
Tiger population in Nepal has reached 355.

The new number of tigers, as per December last year census, was unveiled by Prime Minister Sher Bahadur Deuba at a programme in Kathmandu organised to mark the Global Tiger Day.
Nepal has successfully achieved its goal of doubling the tiger population by 2022, as per its commitment, along with 12 other tiger range countries, the first tiger summit in 2010 in St Petersburg.
In 2010, there were 121 tigers in Nepal. The number rose to 198 in 2013 and 235 in 2018.
Nepal has now easily surpassed its commitment to increase the number to 250 in 2022, as 355 tigers were counted during the last census in December.
In the census of 2018, Chitwan National Park was home to 93 tigers and Bardia National Park had 87 tigers. Banke National Park and Shuklaphanta National Park had 21 and 16 tigers, respectively. There were 18 tigers in Parsa National Park.
As per the new census, CNP has 128 tigers, Bardia National Park has 125, Banke National Park has 25 and Shuklaphanta National Park has 36 and Parsa National Park has 41.
While the increase in tiger numbers is a welcome move, say experts, there are concerns and challenges about sustaining them while avoiding human-tiger conflict which also has increased in recent years.
According to Ganesh pant, an ecologist at the Department of National Park and Wildlife Conservation, Nepal's protected areas have the potential to sustain around 400 tigers.
Past research shows that the Chitwan-Parsa landscape is capable of carrying 175 tigers. The government is also studying the carrying capacity of tigers in the Banke-Bardiya landscape.
---
---