Is it time to put a two-term limit for executive and legislative posts?
Some observers say there is a need to review provisions to make way for generational change and allow new faces to lead.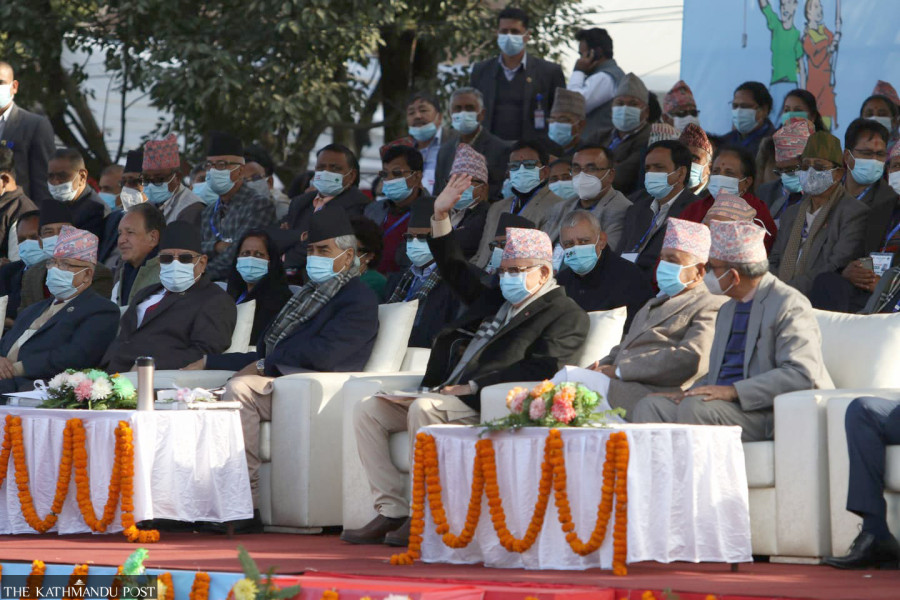 The problem, observers say, is not that politicians continue to seek multiple terms; it is their failure to deliver. Post File Photo
bookmark
Published at : May 27, 2022
Updated at : May 27, 2022 07:46
Kathmandu
Roughly one third of local representatives have been re-elected from this month's local elections. Once they complete their second term after five years, they won't be able to contest again, even if they perform exceedingly well.

Article 216 (7) of the Constitution of Nepal says a person who has been elected as mayor for two terms will not be eligible to be a candidate in municipal elections. Similarly, Article 215 (7) has a similar provision for chairpersons of rural municipalities.
While there is a two-term cap for local representatives, there is no such provision for other high-level positions like prime minister, chief minister, minister or lawmakers. And this gives an opportunity for politicians to assume office as long as they choose to, thereby preventing generational change in the leadership positions, observers say.
Incumbent Prime Minister Sher Bahadur Deuba is currently serving his fifth term. Leaders like KP Sharma Oli and Pushpa Kamal Dahal have already become prime minister twice. Most of the senior leaders like Madhav Nepal, Jhala Nath Khanal and Baburam Bhattarai have served once. There are several politicians who have become ministers multiple times.
The problem, say observers, is not that politicians continue to seek multiple terms. The problem is their failure to deliver, according to them.
Addressing a meeting of the National Assembly on Monday, its member Khim Lal Devkota said that the time has come to impose a cap of a maximum of two terms on the executive and legislative positions at federal and provincial levels, something similar to that of the local level. He said the tradition of allowing a single person to lead the government or become lawmaker as long as s/he desires is wrong, which must be revisited without delay.
If the results of the local elections are anything to go by, when the country holds general elections later this year, a hung parliament is most likely. And the most likely contenders for the prime ministerial post will be Deuba, Oli and Dahal who are 75, 70 and 67 years old, respectively.
"There is no difference between monarchical and democratic systems if the same [or just a handful of] persons continue to rule until s/he expires," Ram Krishna Tiwari, chief of the Central Department of Political Science at the Tribhuvan University, told the Post. "It is already late to amend the constitution to impose the cap."
Different provisions in the constitution must be amended if a two-term cap were to be implemented. And such proposals need to be passed by a two-thirds majority of the federal parliament.
In his address to the National Assembly, Devkota urged all the parties to come together for a revision of the constitution and other laws to prevent a single person from becoming prime minister, minister or lawmaker for more than two terms.
In the United States, for instance, one could contest for president as long as s/he wished until 1951, when the US constitution was amended to put a two-term cap. The 22nd amendment to the US Constitution states, "No person shall be elected to the office of the President more than twice."
Devkota, who is also an expert on federal affairs, said without the restriction of two terms, the same old faces will continue to occupy the political space barring not only the next generation but also other politicians with the potential for delivering, from holding the position of power.
Most of the central level leaders of political parties across the spectrum have been around since 1990 and have been the major players of the game of musical chairs.
"Allowing the same old faces to be in power for several tenures will only stoke pessimism among the general public," he told the Post.
Nepal has not had a full-term government since the restoration of democracy. In the last three decades, until 2018, the average tenure of a government has been nine months. The KP Sharma Oli government had the mandate to govern for a full term, but it too fell in little over three years, helping Deuba come to power.
Experts say a person, in general, can have a vision to lead just for a certain period. The same person may not be able to provide leadership for decades in a society that is changing so rapidly. A change in the leadership raises chances for new persons with new visions to guide the society and the country.
But for the new generation to take over, the old guards need to give way.
Bipin Adhikari, a professor at the Kathmandu University School of Law, says limited opportunity for the new generation in leadership is also a reason behind the political instability in the country.
According to him, frequent splits, guided by certain politicians' desire to attain power, also lead to instability.
"It is quite reasonable to allow a person to be in a position for a maximum of two tenures," he told the Post. "Politics is not a profession. The road must be left open for the new generation to take over."
---
---