Over 100,000 nominations filed for local polls
Ruling coalition sees discord and discontent in some districts with some challenging the alliance politics.

Candidates for local elections with their supporters heading for the District Election Office in Kathmandu on Monday. Hemanta Shrestha/TKP
bookmark
Published at : April 26, 2022
Updated at : May 12, 2022 15:21
Kathmandu
As many as 104,123 candidates filed their nominations on Monday at election offices across the country for the upcoming local elections slated for May 13.
The Election Commission said counting would continue throughout the night as there were lines for filing nominations until the evening.
Nepal is holding local elections, second since the promulgation of the constitution in 2015, in a single phase on May 13 to elect 35,221 representatives for six metropolitan cities, 11 sub-metropolitan cities, 276 municipalities and 460 rural municipalities.
In municipalities, 586 mayors and deputy mayors and in rural municipalities, 920 chairs and vice chairs will be elected. A total of 33,715 office bearers will be elected for 6,743 wards.
The electoral alliance of five parties—Nepali Congress, CPN (Maoist Centre), CPN (Unified Socialist), Janata Samajbadi Party and Rastriya Janamorcha—faced a tough time dividing up local government posts among themselves.
On Monday, alliance leaders said they were able to reach seat-sharing deals in over 60 percent local units despite their earlier claims of forging electoral alliance in all local units.
"The ruling partners have fielded alliance candidates in over 60 percent of local bodies," said Krishna Bahadur Mahara, spokesperson for the Maoist Centre. "In some local bodies, some partner parties have fielded rebel candidates against the alliance's official candidates. This problem will be resolved within a couple of days."
But leaders of the CPN (Unified Socialist), a member of the ruling alliance, have felt neglected in the distribution of local unit seats.
"The [electoral] alliance has not been satisfactory and respectful," Minister for Urban Development and leader of the Unified Socialist, Ram Kumari Jhakri, wrote on Twitter. "We were unable to create a cordial atmosphere even among the alliance member parties."
"There was a show of arrogance [by alliance partners] during talks. Meanwhile, after listening to the expressions of some of the leaders of the coalition, it seems someday we need to settle our scores with them. That's it!," Jhakri said.
A meeting of the ruling alliance on Monday also urged all district and local committees of the five political parties to support and elect alliance candidates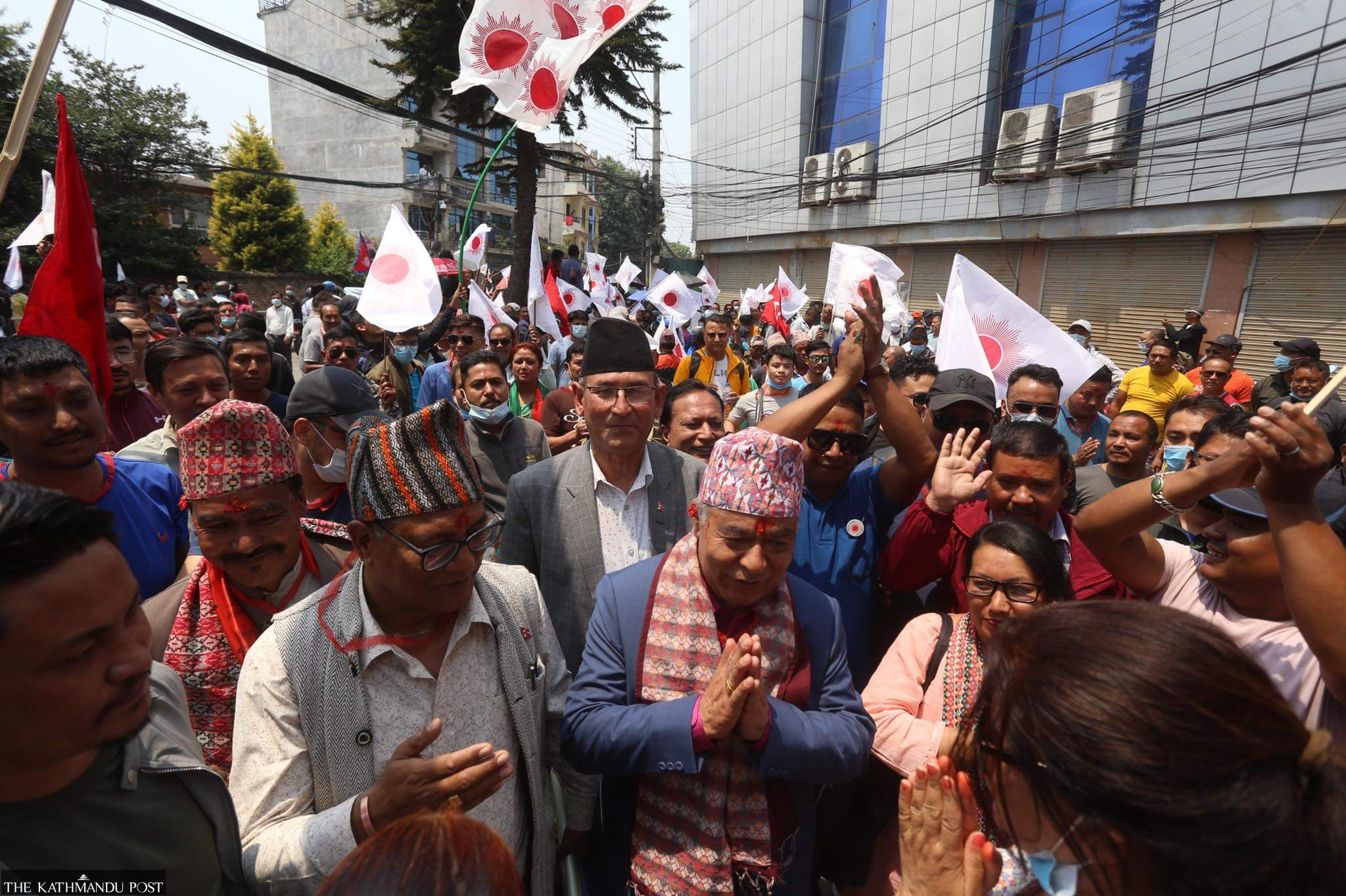 Elite Joshi/TKP
For the main opposition, the CPN-UML, nomination filing was somewhat plain sailing, as it has forged alliances with some fringe parties only in places like Jhapa, Chitwan, Butwal and Birgunj. The party, however, faced criticism for fielding controversial figures like Keshav Sthapit in Kathmandu and Krishna Thapa in Pokhara. Sthapit in the past has twice been accused of sexual harrassment while Thapa had run into controversy for his involvement in releasing individuals detained for caste-base discrimination.
The Nepali Congress, the leader of the coalition, however, has witnessed dissatisfaction within the party, with reports of disputes in many districts.
After differences, the top Congress leadership decided to allow party president Sher Bahadur Deuba and senior leaders Shekhar Koirala and Prakash Man Singh to pick the party's mayoral candidates for Lalitpur, Biratnagar and Kathmandu, respectively.
As per the decision, Deuba has decided to allow Chiribabu Maharjan to contest for yet another term for Lalitpur mayor. In Biratnagar, Koirala's favoured candidate Nagesh Koirala will contest for mayor. And in Kathmandu, Singh has nominated his spouse Sirjana Singh for the city's top executive post. She was active in Congress politics since her student days.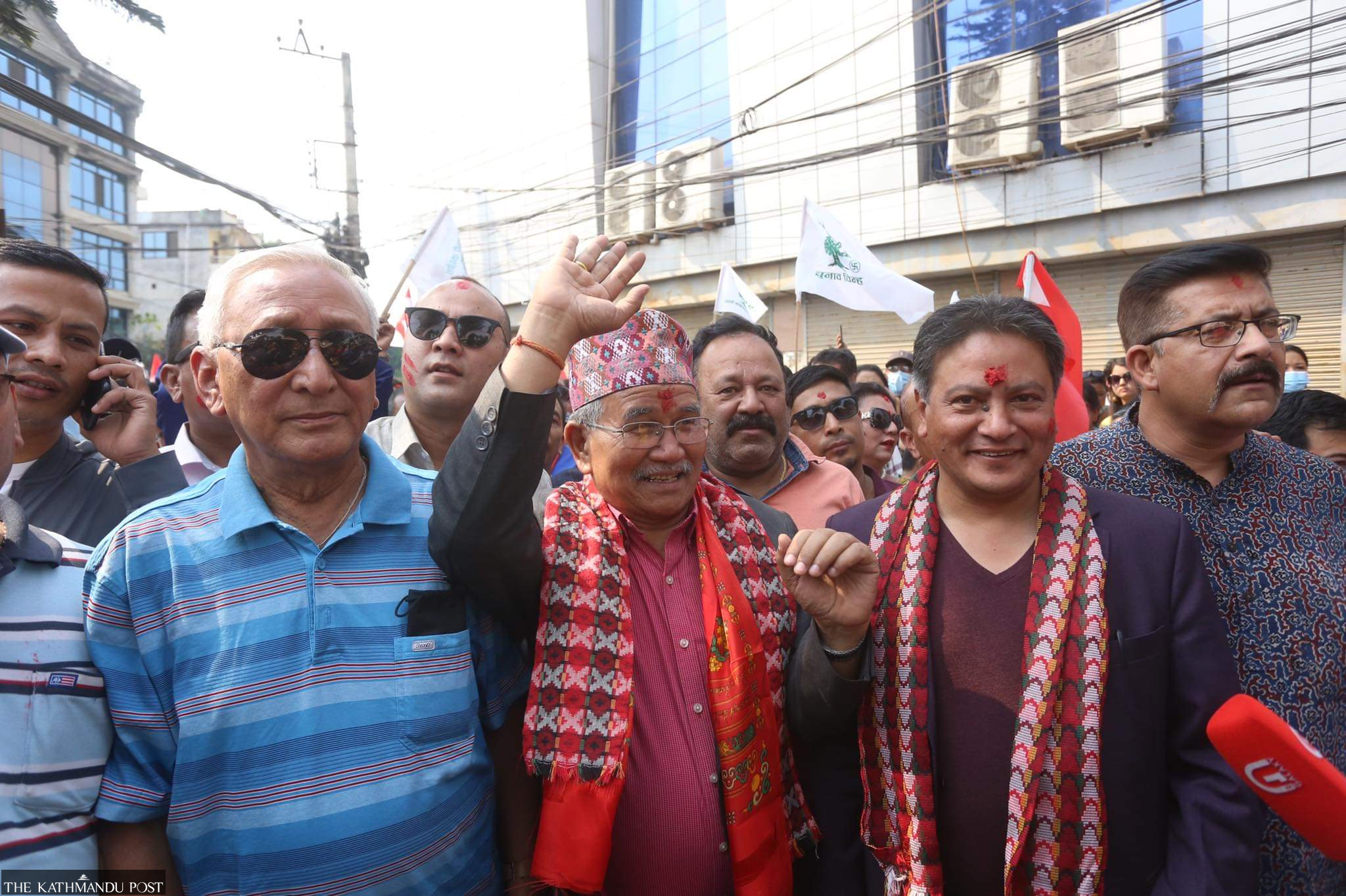 Elite Joshi/TKP
In Biratnagar, Amarendra Yadav, son of Janata Samajbadi Party Chairman Upendra Yadav, has registered his candidacy for deputy mayor from the ruling alliance.
Observers and dissidents in the alliance have accused their leaders of promoting their own relatives after Renu Dahal, the daughter of Maoist Centre chief Pushpa Kamal Dahal; Sirjana Singh, spouse of Congress leader Prakash Man Singh; and Amarendra Yadav, son of Janata Samajbadi Party chief Upendra Yadav were picked as candidates for top executive posts.
Congress leaders admitted that there are disputes in some districts.
"We have noticed some dissatisfaction among party leaders and cadres in some districts. But we will sort these out," said Bishwa Prakash Sharma, party's general secretary and spokesman. "Similarly, we have to figure out some method for candidate selection for the next elections."
Sharma added that as Congress is contesting the election under an alliance, some of the local leaders might have taken it as an easy opportunity to get elected. "But as there is still some time left for candidates to withdraw, we hope to resolve these disputes," he said.
In the Bharatpur Metropolitan City, where the local Congress leadership is dissatisfied after the party decided to cede the mayoral seat to Maoist Centre's Renu Dahal, a former Congress lawmaker Jagannath Poudel has rebelled and filed candidacy for mayor.
In Pokhara, Congress leader Rishi Sapkota filed his candidacy against Dhanaraj Acharya, the ruling alliance's candidate for mayor from the CPN (Unified Socialist).
In Janakpur, local Nepali Congress leader Manoj Sah who was the president of the party's Janakpur city unit, rebelled against the party's decision and proposed himself as candidate for mayor. Earlier, he resigned from Congress. This happened after the alliance decided to field a Janata Samajbadi Party candidate for mayor of the city.
In Gorkha, the mayoral candidate of the Nepali Congress, Bishwa Dev Shrestha was thrashed by his own party cadres and later his nomination was stripped by the party.
"We are preparing a list of local party leaders who have rebelled against the alliance candidates," said a Congress central working committee member, adding: "Other alliance member parties will also prepare their lists of rebel leaders and cadres, and after this we will work jointly to persuade them to withdraw their candidacies."
Despite opposition from within Congress, Deuba was bent on fighting local elections under an alliance. Deuba believes that keeping the alliance intact until federal elections raises his chance of becoming prime minister for one more time. For the Maoist Centre and Unified Socialist, Deuba's insistence has come as a godsend, as with not strong vote bases and no clear agenda, the two communist forces would have been left with no option than to play a second fiddle to the UML.
Dev Gurung, a senior Maoist leader, admitted that the coalition faced a tough time selecting candidates.
Fighting local elections under an alliance may be a compulsion for the coalition partners, but experts have for long questioned the practice, saying it subverts democracy and creates a platform for the parties to plunder state funds.
Political analysts have said the dissatisfaction among local committees of the alliance member parties in many places was genuine and this indicates the grassroots does not agree with the decisions the parties' top leaderships foist on them.
"Actually as per the spirit of federalism, local party committees should have been allowed to select their candidates independently but that did not happen in many places," said Hari Roka, a political analyst. "This won't help strengthen democracy."
Roka said local factors including ethnicity are important for the victory of any candidate at the local level and cross voting is a common trend during local elections.
"Therefore I don't think the alliance could be decisive for the victory this time," said Roka.
But some people, like Khimlal Devkota, an expert on fiscal federalism, say they are still happy because the country is holding periodic elections after decades of instability.
"Elections are the beauty of democracy," said Devkota, who is also a member of the National Assembly. "The upcoming elections will help strengthen federalism."
"This is a good opportunity for people, political parties and leaders to exercise democracy and federalism, for providing services and other opportunities to the people. One negative trend we noticed is politicians switching parties ahead of elections. This should be discouraged. Voters should reject such people," said Devkota.
Former Chief Election Commissioner Bhojraj Pokharel also said it is good to see people flocking to election offices with their candidates along with musical accompaniment but questions have arisen over the way the candidates were selected.
"The candidates have had a painful and stressful time after their parties finalised candidates only at the last hours today," said Pokharel. "Also, the tendency of switching parties continued till the last hours and this showed that we practice interest-based politics."
Pokharel also pointed out that the centralised system of selecting the local election candidates was not right.
"There is an urgent need to review and revisit our candidates selection process for local levels polls," Pokharel told the Post. "This is what we learnt from the nominations this time."
---
---