Nepal faces financial deadlock as budget fails to get through House
Finance minister says spending could be affected "for a few days."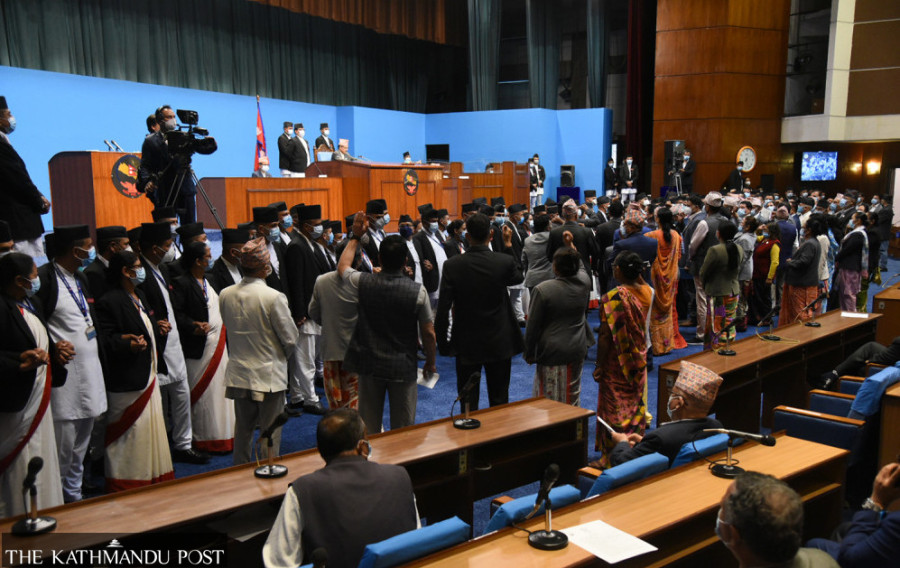 Angad Dhakal/TKP
bookmark
Published at : September 14, 2021
Updated at : September 14, 2021 14:15
Kathmandu
The meeting of the House of Representatives has been adjourned for a week, until September 20, after discussions on the replacement bill on the budget, amid sloganeering by CPN-UML lawmakers.

Speaker Agni Sapkota allowed Finance Minister Janardan Sharma to present the bill using marshals to contain the obstruction from the main opposition. No lawmaker except Prem Suwal, a member of the lower house from Nepal Majdoor Kisan Party, participated in the discussion.
Sharma had presented the replacement bill on Friday amid obstructions from the UML, which has vowed not to let the House function accusing Speaker Sapkota of not acknowledging the party's August 17 decision to expel 14 lawmakers, including Madhav Kumar Nepal.
Nepal split from the UML and formed his party, CPN (Unified Socialist), on August 26.
The UML has alleged that Speaker Sapkota played a complicit role in splitting the UML.
As the ordinance on the national budget issued by the erstwhile KP Sharma Oli government gets invalidated from Wednesday night, the government will not be able to spend from the state coffers until the replacement budget gets endorsed from the house.
"There is no legal problem in tax collection. The government's spending can be halted for a few days," Sharma told journalists after the House meeting. "The budget will be endorsed from the regular process."
He said the government won't present an advance budget nor will it bring the ordinance.
The erstwhile Oli government had introduced the budget for the fiscal year 2021-22 on May 29 through an ordinance. The Sher Bahadur Deuba government had tabled the budget ordinance in the Parliament on July 18. Hence, a replacement bill had to be passed through the House by Wednesday, as 60 days would complete from the date the ordinance was presented.
Officials at the Parliament Secretariat say now the lawmakers will be allowed 72 hours to register their amendment proposals on the bill.
"The amendment proposals need to be discussed and presented for voting before the bill is put to vote," Gopal Nath Yogi, secretary at the House of Representatives, told the Post.
---