Darchula incident exposes persisting issues between Nepal and India, again
'Probe underway', says Kathmandu, showing no urgency to pursue the matter a day after a youth fell into the Mahakali as Indian security force denies role in dismantling cable.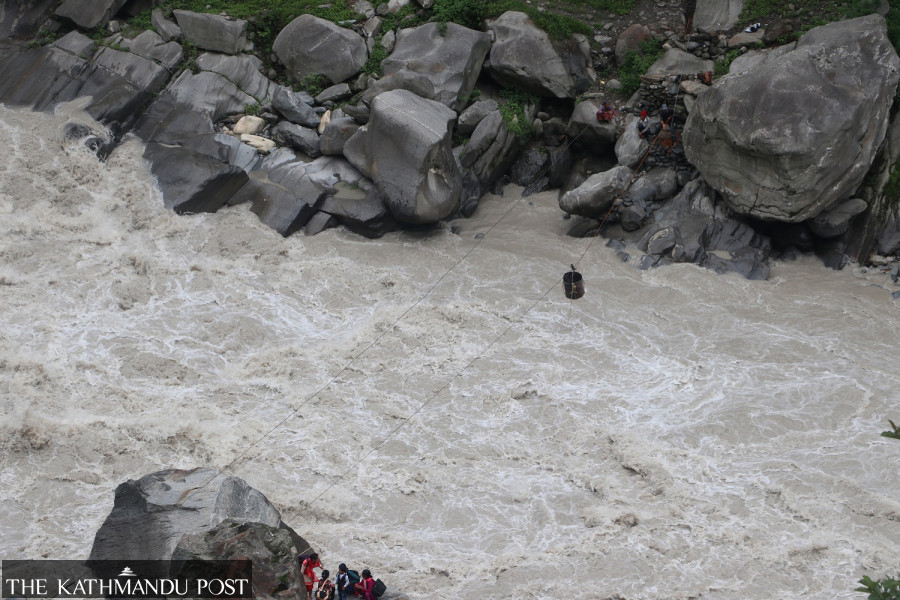 A tuin crossing over the Mahakali river in Byas Rural Municipality. Manoj Badu/TKP
bookmark
Published at : August 1, 2021
Updated at : August 1, 2021 11:37
Even a day after a youth from Darchula went missing in the Mahakali river after an improvised cable crossing was reportedly dismantled by a member of India's Sashastra Seema Bal, Nepal's reaction has been limited to "investigation is underway".
On Saturday afternoon, the Ministry of Home Affairs in a statement urged all to exercise caution while reporting the incident.
A team of local security agencies including representatives from the District Administration Office, Nepal Police, Armed Police Force and National Intelligence Department had already left for the incident site, according to the ministry.
"Since the incident site is very far from the district headquarters, a five-hour walk, the team will return to the district headquarters only on Sunday. Only then will we know the facts and reality behind the incident," the ministry stated.
The District Administration Office, Darchula, also issued a similar statement.
"We have written to our Indian counterpart to apprise us of the truth and facts related to the incident and initiate action accordingly," read the statement, issued by Jyotsana Bhatta Joshi, assistant chief district officer.
"Since the incident is under investigation, we request all not to disseminate any misleading and baseless information that could hamper the relations between the two countries."
A team from the Armed Police Force, Nepal Police and National Investigation Department has been dispatched to the incident site, the statement added.
Friday's incident has once again brought some cruel facts to the fore—how Darchula residents continue to live in a state of statelessness, how their survival is, by and large, completely dependent on the Indian side and how authorities in India continue to harass Nepalis, sometimes leading to their deaths, like in Friday's case.
Darchula is a remote district in the northwestern ridge of Nepal. After the erstwhile KP Sharma Oli government released a new Nepal map in May last year showing Kalapani, Limpiyadhura and Lipulekh of the district as Nepali territories, Darchula has been in the news lately. The decision has also emerged as an irritant in Nepal-India ties.
But the death of a Nepali national on Friday has shaken not only the district but the entire country.
Jaya Singh Dhami, 33, of Khaldang, Malghat in Byas Rural Municipality of the district, on Friday was trying to cross the Mahakali river using an improvised cable crossing known locally as tuin, the only means to get to the district headquarters Khalanga from where he was planning to travel to Kathmandu.
According to locals and eyewitnesses, a member of India's Sashastra Seema Bal detached the metal cable from a tree supporting the cable crossing just when Dhami had almost reached the other side.
According to Nabin Singh Dhami, an eyewitness, Jaya had almost made it to the other side when he suddenly fell along with the cable after it was detached from a tree on the Indian side. The incident took place at around 8:30am.
"People from our side of the river kept on shouting, pleading not to detach the cable," said Dhami. "We begged, but no one listened to our pleas. And suddenly Jaya fell into the swollen river."
Bikram Nankali, another eyewitness, said that local people tried to rescue Jaya but he was quickly swept away.
Officials and observers say such incidents have been occurring over the years, but Friday's incident must serve as a wake-up call for the authorities in both Nepal and India—more so in Kathmandu—to find a lasting solution.
"If the incident did take place in the manner the media has reported, then it's an absolutely inhuman act on the part of the Indian official in question," said Deep Kumar Upadhyay, a Nepali Congress leader and former ambassador to India.
But, according to Upadhyay, Nepali authorities must also introspect what leads to such incidents.
"Does the Nepali state indeed consider people from the remote district as its own?"
Since the disputed areas over which Nepal and India have sparred for decades fall in Darchula, for Kathmandu and Nepali political parties it is just a strategic issue. People of Darchula have for decades been neglected by the Nepali state. Even to reach their district headquarters, people have to first reach India. For villagers, the only means to get to the Indian side, across the Mahakali river, is a tuin crossing or inflated tubes, which they use as boats.
People of Darchula have for long said that unless the state pays attention to their plight and the conditions they live in, lip service by political parties in Kathmandu and their pronouncement of reclaiming territory mean little, as more residents could meet the fate of Jaya.
The absence of the state has made Darchula people depend entirely on India—not only when they have to travel to their own district headquarters or to Kathmandu but also when they have to buy daily essentials.
Home Ministry spokesperson Phanindra Mani Pokharel told the Post on Saturday that the government is serious about this particular incident and other similar incidents that have been reported from the bordering areas where Nepalis face trouble and are harassed by Indian security personnel.
"In this particular case, our local administration has taken the matter up with their Indian counterpart," said Pokharel.
On Saturday, around a dozen youths from the village scoured the banks of the Mahakali river in search of Jaya Singh.
According to Kalyan Singh Dhami, another eyewitness, locals could see Jaya's head for a while after he fell into the river but soon after, the river swallowed him. "We have not been able to find him yet," said Kalyan.
Jaya has a mother and two children—a five-year-old son and an 18-month-old daughter. According to local people, he is the family's sole breadwinner.
According to Harak Singh Karki, Jaya's neighbour, Jaya had returned home last year following the Covid-19 pandemic after working for two years as a security guard in Qatar. Before that he had worked in the Nepal Army.
"He had taken a loan to build his house," said Karki. "He was going to Kathmandu on the way to Qatar again. If only the state had built a bridge over the river, his family would not have to suffer."
According to Karki, locals of Darchula for years have been living with such a plight.
"I hope after this incident the state will realise the hardships we face," said Karki. "Using a tuin to cross the river is our compulsion."
Meanwhile, Anand Swarup, district magistrate of Pithoragarh, has written to his Nepali counterpart Siddha Raj Joshi, chief district officer of Darchula, explaining that the Sashashtra Seema Bal was not involved in the incident.
According to Chief District Officer Joshi, Swarup has said that Jaya Singh fell into the river when he was untying the cable after crossing the river and India's Sashastra Seema Bal was not involved in his fall.
Chief District Officer Joshi had written to Swarup on Friday after the incident.
The Indian Embassy in Kathmandu declined to comment saying the Sashashtra Seema Bal would make its position clear soon.
"We are not in a position to say anything at this point of time, as an investigation is underway," an embassy official told the Post. "Officials from both sides are also discussing the matter and local authorities from our side have responded to their Nepali counterparts."
Harassments of Darchula residents by Indian authorities have been reported quite often of late. Kathmandu-Delhi ties reached a new low after India started building a new road via Lipulekh to Kailash Manasarovar in the Tibet Autonomous Region of China. When Nepal took exception and released a new map of its own showing Kalapani, Lipulekh and Limpiyadhura as parts of its territory, both countries were in a state of cartographic war.
India, however, continued building the road, creating troubles for the people living on the Nepali side.
In light of frequent disputes along the border areas, the government has formed several mechanisms at the local level either to address them locally or report them back to Kathmandu so issues can be taken promptly up with India, according to a former official at the Ministry of Foreign Ministry.
"But nothing much has happened," said the official who in the past headed the India Division at the ministry, requesting anonymity. "Our local officials do not report the incidents to Kathmandu promptly. Incidents are reported quite late, and by that time much damage is done."
According to officials, when incidents happen, usually the local administration communicates to its Indian counterpart. And when the Home Ministry is made aware of any incident, it then requests the Foreign Ministry to take the matter up with India.
Yagya Bahadur Hamal, who headed the India Division at the Foreign Ministry for two and a half years and recently retired, said that the Nepali side needs to continuously follow up on the matters and try to find a lasting solution instead of just writing diplomatic notes.
"We should build trust and seek solutions to every kind of dispute—big or small," Hamal told the Post. "We are said to have been following up various issues, including boundary row, with India. But where is the result?"
Friday's incident in Darchula has put the Sher Bahadur Deuba government, which came into being a little over two weeks ago, under immense pressure.
Five student unions on Saturday submitted a memorandum to Deuba demanding immediate action, including summoning the Indian ambassador to discuss the matter.
A Home Ministry official said that the government has not sent any diplomatic note to India as yet, as it is awaiting details from the ground.
"After we get the report from the ground, we will decide on further action, including taking the matter up with India at the highest level," the official, who spoke on condition of anonymity, told the Post.
Observers say disputes and disagreements are common between neighbouring countries and such things are even more common between neighbours like India and Nepal that share a long open border. But disputes and disagreements between the two governments should not cause problems on the ground and harm to, and deaths of, citizens.
"We have several outstanding issues with India and in most cases, we write diplomatic notes and we are done," said Madhu Raman Acharya, a former foreign secretary and ambassador. "When Sushil Koirala was prime minister, he had raised the issue of unfair treatment of Nepali citizens on the border with Indian Prime Minister Narendra Modi."
Indian authorities had then instructed Sashastra Seeema Bal not to harass Nepalis and treat them in a fair manner.
"So such issues between Nepal and India should be handled from the highest political level," said Acharya.
Former ambassador Upadhyay says a holistic approach is needed for resolving such incidents.
"Piecemeal measures are not going to work and such incidents will continue unless both the countries sit down and hold serious talks," Upadhyay told the Post. "And since our countrymen face the problems the most in remote places like Darchula, firstly the state needs to pay attention to the citizens' plight and then the government should communicate to India about our expectations, what we want and our common interests."
---
---