'My body was freezing. I told my teammates I couldn't move.'
Nepali mountaineers relive the historic winter ascent of K2 as it emerges Purja, the record breaking climber, achieved the feat without supplemental oxygen.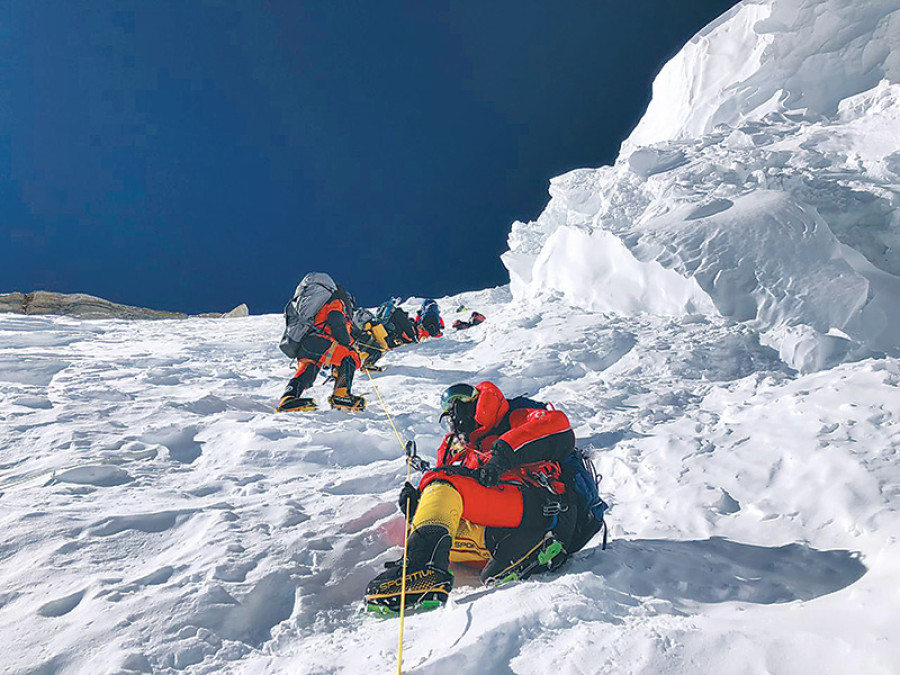 The Bottleneck (pictured) at 8,200 metres, with tons of ice overhanging, is the most perilous part of the climb. Photo courtesy: Mingma Gyalze Sherpa
bookmark
Published at : January 19, 2021
Updated at : January 20, 2021 07:48
Kathmandu
When George Bell, an American mountaineer, came down from Mount K2 in August 1953, having nearly fallen to death during his failed ascent, he told reporters, "It's a savage mountain that tries to kill you."
Since then the 8,611-metre (28,251 feet) mountain, the world's second highest peak, has been known as The Savage Mountain and is widely regarded as the toughest, and most dangerous, to climb.
And Bell was narrating his summer expedition experience.
It was only next year in 1954 that the mountain, that straddles Pakistan and China, was first conquered by Italy's Achille Compagnoni.
True to its killer sobriquet, 86 have lost their lives on the mountain and 367 had summited it before this winter.
While all other 13 eight thousanders have been climbed during winter, K2 hadn't because of extreme weather conditions as winds blow up to 200km per hour and temperature drops to minus 50 degrees Celsius (minus 58 degrees Fahrenheit), cold enough to freeze anyone standing.
The K2 winter expedition with about 60 climbers from about a dozen countries had a taste of the normal winter conditions in early January.
The climbers at base camp were able to see sunshine only on January 10, after a gap of eight days. The climbing team had to remain inside their tents for seven days because of high winds and clouds besides low temperatures.
They faced a multi-day storm, which affected their plans. At Camp 2 situated at 6,760m (22,178 ft), the team was battered by heavy winds. The tents were ripped apart.
"Our team reached Camp 2 today [January 11] and it was a wreckage site. We found that both our tents and all equipment that we had left here for the summit plan are [sic] all destroyed and swept away by the wind," said Nirmal Purja, one 0f the 10 climbing members, on his Facebook post on January 11.
"We have lost everything including all our kits; sleeping bags, mattresses, heated shoe insoles, summit gloves, summit base layers, paragliding equipment, cooking equipment, etc. I am devastated to be breaking this news. Now, I have to reassess and replan everything."
Situated in the northernmost latitude of all 8,000-metre peaks, K2—in the Karakoram range—is more prone to severe winters.
But on January 15, in a rare weather condition in the midst of the winter, the wind was almost dead.
"That was the weather window we were waiting for," Mingma Gyalze Sherpa, one of the ten climbers who reached the top of K2 on Saturday, told the Post over the phone from the base camp on Monday.
The Nepali team heading to the world's second tallest mountain largely relied on the weather forecast by Krishna Bhakta Manandhar, a former senior meteorologist at Nepal's Meteorological Forecasting Division, made in Kathmandu.
Manandhar was the one who had warned that a cyclone in the Bay of Bengal would bring snowstorms in the Annapurnas in October 2014, which killed 39 hikers along Nepal's Annapurna hiking circuit.
Even experienced mountaineers baulk at the idea of climbing K2 more than once, let alone in winter.
"K2 in winter. Don't ask me again. I cannot imagine climbing K2 now. I'm retired for K2," said Kami Rita Sherpa, who has a record 24 climbs of Everest under his belt and plans two more climbs this spring on the world's highest peak.
Kami Rita had climbed K2 during the summer of 2014.
But the ten-member Nepali team—nine of them Sherpas who started their climbing careers as porters—were determined to create history.
"As we negotiated the dangerous Bottleneck couloir fixing ropes, on two different occasions, some of the friends, including me, had decided to give up," said Mingma Gyalze.
Bottleneck is a narrow couloir, with seracs—tonnes of ice blocks— overhanging in the death zone. The couloir is only 400 m (1,300 ft) below the summit, and climbers have to traverse about 100 m (330 ft) exposed to the overhanging seracs to pass through it.
At 8,200 metres (26,900 ft), and with an incline of 50 to 60 degrees, this stretch is the most dangerous part of the route to the summit. It is where the 2008 tragedy took place in which 11 people were killed in an avalanche, one of the worst disasters in mountaineering history.
"My body was freezing. I told my teammates I couldn't move. It was frustratingly cold at minus 50 degrees Celsius," Mingma Gyalze told the Post.
But a few others started moving.
"I too continued," said Mingma Gyalze. "I felt like there was no point in turning back."
"I would like to thank Nirmal Purja who encouraged me, boosted my confidence. I was numb but I could hear Purja encouraging me."
Nirma 'Nims' Purja, a former British army special operations soldier, after all holds the record for climbing all 14 8000-metre peaks at a record time of 190 days in 2019, although it had been planned to complete the climbs in seven months.
"Out of 10, only two are now in good condition with other eight members sustaining frostbites," said Mingma Gyalze. "I cannot describe in words how tough Saturday night was. It really tested the limit of Sherpas."
But they made mountaineering history with the first winter ascent of K2.
If Sherpas are known the world over for their prowess, it was Nirmal "Nims" Purja, a Magar, the only non-Sherpa among the 10, who has the added distinction of having climbed The Savage Mountain without using supplemental oxygen.
That announcement through his website on Monday surprised many potential climbers who might have thought that still one record—K2 winter ascent without supplemental oxygen—remained.
The team had earlier planned to announce the feat in Islamabad, Pakistan later this week.
"It was a tough call this time in order to make that decision whether to climb with or without supplemental oxygen (O2). Due to the weather conditions and time frame, I hadn't acclimatised adequately. I was only able to sleep as high as Camp 2 (6,600m). Ideally, climbers need to sleep OR [sic] at least touch Camp 4 before heading for a summit push. Lack of acclimatisation, developed frostbite from the first rotation and slowing down other team members, risking everyone's safety, were the key uncertainties associated," Purja wrote on Monday.
"I took a calculated risk this time and I pressed on without supplementary O2. My self confidence, knowing my body's strength, capability and my experience from climbing the 14 x 8000ers enabled me to keep up with the rest of the team members and yet lead," he added.
"JOB DONE! K2 WINTER WITH NO SUPPLEMENTARY OXYGEN !"
The K2 winter expedition leader Chhang Dawa Sherpa also announced from the K2 base camp on Tuesday that Purja reached the summit without using supplemental oxygen.
"A tons of Congratulations [sic] brother Nims, for your successful ascent of Mt. K2 in winter and absolutely with NO SUPPLEMENTARY OXYGEN," Chhang Dawa wrote on his Facebook page on Tuesday morning.
Mingma Gyalze confirmed that they had actually planned to make an official announcement about Purja's feat in Islamabad.
"We have asked the Nepali embassy in Islamabad to support us with a chopper as it will take two weeks to reach the city," Mingma had said earlier. "The embassy officials are positive. As soon as we reach the city, we will announce Purja's feat [officially]."
"It was one of the hardest pushes ever. There had been close calls where team members nearly turned around due to extreme cold. But everyone was pushing themselves to the edge of their limits for a purpose; a common goal, to make the K2 winter happen, to make the last greatest mountaineering challenge happen, with positive power and honour," Purja wrote on his Facebook page.
But in the mountaineering fraternity, there was yet another suspicion. Why weren't foreign climbers part of the Saturday's expedition?
"As all preparation was done in a rush and some foreign climbers [around 30] were not comfortable to join the Sherpa team. They were not ready with their level of acclimatisation after reaching the base camp. We, on the other hand, didn't want to miss the good weather window for two consecutive days which is very rare on K2," said Mingma Gyalze. "As all were Nepali climbers, we decided not to compete with each other and show teamwork by reaching the peak together."
All gathered 10 metres below the summit and reached the top together at 17:00 hours local time on Saturday, having started at Camp 3 [7,200m] at 02:30 hours.
The historic winter expedition on K2 was completed within three weeks, a very short period of time.
"We [Sherpas] normally don't need much acclimatisation, so the time factor was not a concern per se," said Mingma Gyalze. "The only worry was the weather."
As they say fortune favours the brave, there were two days of perfect weather windows on January 15 and 16.
The wind was almost dead on January 15 and at around 20 km per hour on January 16, said Mingma Gyalze.
"Manandhar's was an accurate forecast without a margin of error," said Mingma Gyalze.
Mingma Gyalze said despite achieving such a great feat, they are not happy with the comments of some veteran mountaineers who have charged Sherpas with foul play for climbing K2 using supplemental oxygen.
"We want to clear this in our official statement in Islamabad," said Mingma Gyalze.
Legendary Russian-Polish climber Denis Urubko who in 2002-2003 had reached 7,650 metres on K2, had stated before the 10 Nepalis' K2 success, that using supplemental oxygen is equivalent to "sports doping".
"Oxygen is a powerful DOPING. I'm sorry to find out the really weird way people react. In the event that an athlete in boxing, running, skiing, cycling and other disciplines use doping—he [she] gets total contempt, reactions of disgust. And punishment [even heavy penalties] by the official authorities. But in mountaineering, people who use doping become heroes. I am surprised by this psychological reversal," Urubko told Italian media.
Purja has reacted to such comments.
"There are many cases, where climbers have claimed no O2 summits, but followed our trail that we blazed and used the ropes and lines that we had fixed," wrote Purja. "Some of which are widely known within the inner climbing community. What is classified as fair means?"
Purja wrote that personally, it had never been a major deal for him and that it still isn't.
"Coming from a United Kingdom's special forces background, you have been and done all sorts but we don't make a big fuss about everything," he wrote. "It is a personal choice. Nature and the mountains are for everyone. You make your own call!"
Other mountaineers, however, welcomed the feat which so far had been considered impossible.
"The K2 in winter has been climbed and now come on! ahead those who think, want and know they can do better, both the K2 and the other eight thousand are there waiting for them," vetran Italian alpinist Simone Moro wrote on his Facebook page on January 17.
"Today the Sherpas have rightly received a well-deserved place in history as they have helped hundreds and thousands of mountaineers and their ascents for decades."
---
---