As Oli and Dahal seek to find a middle ground, pressure mounts to resume Standing Committee meeting
Insiders say the two chairs might be discussing a deal between them but they cannot ignore other senior leaders and the party committee.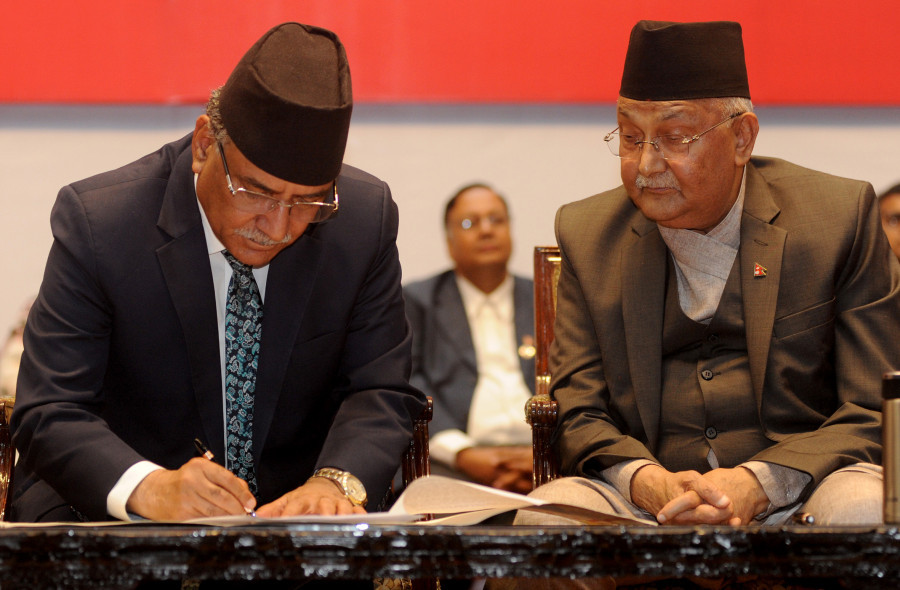 Pushpa Kamal Dahal and KP Sharma Oli are said to be pursuing a new deal. Post file photo
bookmark
Published at : July 16, 2020
Updated at : July 16, 2020 08:11
Kathmandu
Two ruling Nepal Communist Party chairs KP Sharma Oli and Pushpa Kamal Dahal are under pressure to resume the Standing Committee meeting, which has been stalled since July 10, on Friday, as scheduled.
The committee has failed to meet since July 10 after both the chairs sought time to iron out their differences and save the party, which had come so close to a split after growing polarisation between the factions led by Oli and Dahal.
The Dahal faction, backed by senior leaders Madhav Kumar Nepal and Jhala Nath Khanal, had been demanding until a few weeks ago that Oli resign both as party chair and prime minister.
As the Standing Committee remains stalled, both Oli and Dahal, as of Wednesday, have held at least eight rounds of talks, to no avail.
Leaders from both sides told the Post that Oli and Dahal could agree on a "give and take" on a larger power-sharing deal but management of three leaders—Nepal, Khanal and Bamdev Gautam—is equally crucial.
"Both sides are adamant on their positions but such a deadlock cannot continue for long," a Standing Committee member told the Post on condition of anonymity. "So a power-sharing deal has been offered from the Oli's side. Madhav Nepal too has been invited for a meeting with Oli and Dahal."
After a couple of rounds of talks between Oli and Dahal in the presence of their lieutenants, the two chairs had decided to go for one-on-one talks, but with an understanding that Nepal and Khanal also could be called if there was a need.
The Standing Committee member said that Oli, Dahal and Nepal will try to iron out the differences by Thursday so that the Standing Committee meeting scheduled for Friday is not postponed again.
If necessary, other leaders like Khanal and Gautam also will be invited, according to the member.
Insiders say Oli can agree on holding the party's general convention "at the earliest" so as to let Dahal run the party singlehandedly.
Even as Dahal was made the executive chairman in November last year as per a deal between him and Oli, he was rarely given a chance to lead the party on his own, which leaders say is one of the reasons he decided to form his own faction against Oli.
Some say Dahal might not agree for something less than the prime minister's post, but since Oli has taken some drastic steps, including the House prorogation, he could step back for some time, fearing he would be blamed in the event of a party split.
The Dahal-Nepal faction until a few weeks ago was so adamant that it looked like they would manage to force Oli to capitulate. But two days after proroguing the House on July 3, Oli briefed his ministers that the rival faction was plotting to oust him and impeach the President, putting Dahal and Nepal on the back foot.
Since then Oli and Dahal are in a bid to find a middle ground.
Party General Secretary Bishnu Poudel said there has been no substantial outcome from the meetings between Oli and Dahal so far.
A meeting of second rung leaders on Wednesday agreed that the Standing Committee meeting should not be put off again in the name of seeking consensus between the two leaders.
"Both the chairs also agree that the meeting cannot be postponed again and again," Poudel told the Post. "Though there is no visible progress in the last several meetings, there is no alternative to a deal."
Asked if the two leaders are trying to strike a power-sharing deal, Poudel said he was not in a position to say what they are discussing since they had not invited any other leader to their meetings.
"It will be wrong to make a conclusion based on assumptions," said Poudel.
There's a general understanding among leaders, including Dahal, Nepal, Khanal and Gautam, that forcing Oli to resign could mean a party split.
According to insiders, even if Oli splits the party under pressure, the rival faction will be accused of prompting the action and they do not want to take that blame.
Lately, discussion between Oli and Dahal has revolved around whether to follow the May 2018 gentleman's agreement or the November 2019 agreement.
Oli appears to be ready to uphold the November 2019 agreement, as per which he will lead the government for the full five-year term and Dahal will run the party. Dahal, however, is still attempting to go by the May 2018 gentleman's agreement, which says both leaders should run the government in turn—two and a half years each.
Insiders say both leaders could agree on upholding the November 2019 understanding but to implement that, they have to figure out how they can pacify Nepal, Khanal and Gautam.
A Standing Committee member close to Nepal said that a deal between Oli and Dahal would not suffice, as there are other senior leaders who are equally important stakeholders in the party.
"There is no other way than to bring all the issues to the Standing Committee for discussion," said Raghuji Pant, a Standing Committee member.
"There were a number of issues that the Standing Committee needed to discuss when the meeting was called. Now the leadership cannot avoid the meeting. The meeting must resume on Friday."
---
---