More anxiety for Nepali students in the US with decision to send home those enrolled only in online classes
Many universities, including Harvard, have decided to go online for the next academic year, meaning foreign students will not be legally allowed to remain in the United States.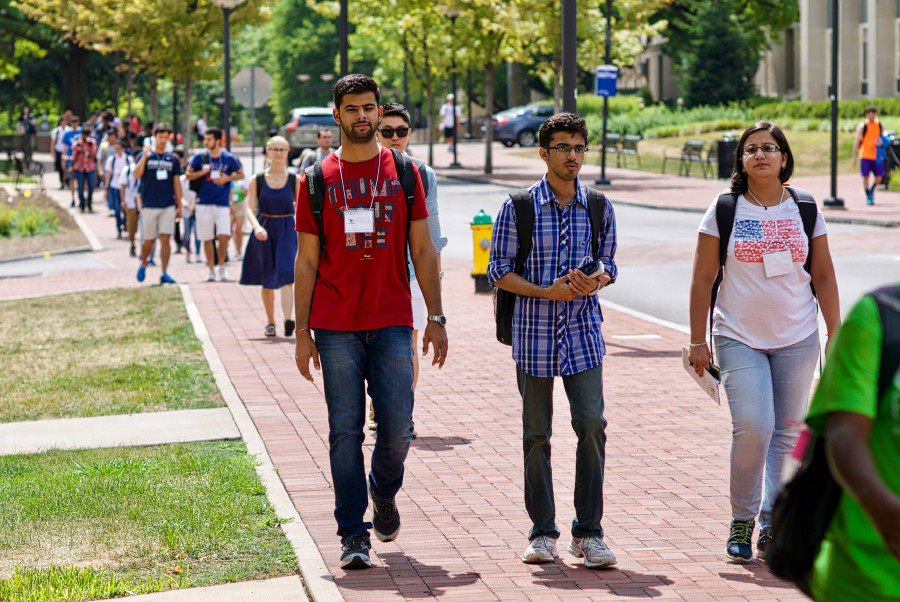 Shutterstock
bookmark
Published at : July 8, 2020
Updated at : July 9, 2020 18:27
Lalitpur
When Mohamed's university in the US state of Texas abruptly moved all classes online in the middle of February because of the Covid-19 pandemic, he felt that it was a good initiative. Mohamed, who is in his final year of his bachelor's degree, believed that going digital would help protect students and staff from getting infected with the coronavirus.
"Right now, I am taking 3 credit courses online from the safe space of my apartment, due to which I felt less anxious about the whole situation," said 23-year-old Mohamed, who asked that he only be identified by his last name as he doesn't want to jeopardise his visa status.
However, news on Monday shattered all of Mohamed's peace of mind. The US' Immigration and Customs Enforcement (ICE) agency announced that all active international students would not be allowed to stay in the country if they were only attending classes online.
"Nonimmigrant F-1 and M-1 students attending schools operating entirely online may not take a full online course load and remain in the United States," said the agency in a release. "Active students currently in the United States enrolled in such programs must depart the country or take other measures, such as transferring to a school with in-person instruction to remain in lawful status."
Students who fail to comply "may face immigration consequences including, but not limited to, the initiation of removal proceedings," said ICE.
An F-1 visa is required for international students to attend high school and university in the United States whereas an M-1 visa is for vocational programmes.
For international students like Mohamed, who migrated four years ago to Texas from Butwal to pursue a computer science degree, this decision only adds more complications to their already desperate situation. Mohamed did not receive much financial aid and, like the majority of Nepali students in the US, had been supporting his studies by working a part-time job as a cashier in a department store.
"When the country went into the lockdown, I lost my job for more than two months. I am struggling to cobble together tuition fees of around $4,500 for the fall semester and now, the government's decision is creating more problems," said Mohamed, who is on an F-1 visa.
Although his university has yet to inform the students about the new ICE guidelines, Mohamed said he will not consider returning to Nepal, even if his college sticks by its decision to continue with online classes.
"Even if I return to Nepal till my college moves back to conducting in-person classes, I still have to pay the semester fee and since I don't come from a wealthy family, I will have to work here," said Mohamed, who works around 40 to 45 hours per week to sustain himself and his studies.
Like Mohamed, 23-year-old Bishal Thapa, an undergraduate student at the University of Idaho, also feels that for most self-financing students, returning home in the middle of a study programme is not a practical solution, given that most Nepali students rely on part-time jobs to survive.
"I would be more than happy to return to Nepal since it will be an opportunity to see my parents after all these years, but it is financially impractical," said Thapa, who is also in the final year of his study. "I live in a rented room, which has a contract for a year. If I have to return to Nepal, I still need to pay for my room, apart from having to pay my semester fee."
Foreign students in the US during the pandemic are already suffering in ways untold. Locked down in dorms and rented rooms thousands of kilometres away from family and unable to return home, many foreign students had just gotten through a difficult time when the ICE regulations were revealed.
Even if students do return home, many of them will be in vastly different time zones and many might not have access to reliable internet connections.
"There are also online websites and reading materials, which we will not be able to access if we return to Nepal," said Thapa.
The ICE announcement came hours after some colleges and universities, including Harvard University on Monday, said that they plan to offer only online courses for the 2020-2021 school years as the US is still struggling to get the Covid-19 pandemic under control.
In the wake of the ICE announcement, many, including Thapa, are hoping that their universities will opt for a hybrid model of teaching, offering both in-person and online classes, so that international students like him will be able to remain in the US.
According to the US' Department of Homeland Security, more than 1.1 million foreign students currently hold active student visas. Nepal ranks 12th in number among both undergraduate and graduate students in the US, according to a 2019 study by the Institute of International Education.
There are thousands of Nepali students in the US, most of whom are pursuing undergraduate degrees. Most Nepalis go to study with little-to-no financial aid and hope to pay off their college fees by working long hours, often illegally.
According to Santosh Pyakurel, president of the National Educational Consultancies Association, one of five umbrella bodies of education consultancies in the country, the ICE guidelines are impractical, stating that even if students decide to return home, Nepal's international borders are still closed.
The Nepal government recently allowed in a few hundred Nepalis, mostly students, from the US, but bringing back the thousands of graduate and undergraduate students currently in the US would be a massive operation, especially during a pandemic, said Pyakurel.
Frequently asked questions about the coronavirus outbreak
UPDATED as of September 22, 2020
What is Covid-19?
Covid-19, short for coronavirus disease, is an illness caused by the coronavirus SARS-CoV-2, short for severe acute respiratory syndrome coronavirus 2. Common symptoms of the disease include fever, dry cough, fatigue, shortness of breath and breathing difficulties. In severe cases, the infection can cause pneumonia, severe acute respiratory syndrome, kidney failure and even death.
How contagious is Covid-19?
Covid-19 can spread easily from person to person, especially in enclosed spaces. The virus can travel through the air in respiratory droplets produced when a sick person breathes, talks, coughs or sneezes. As the virus can also survive on plastic and steel surfaces for up to 72 hours and on cardboard for up to 24 hours, any contact with such surfaces can also spread the virus. Symptoms take between two to 14 days to appear, during which time the carrier is believed to be contagious.
Where did the virus come from?
The virus was first identified in Wuhan, China in late December. The coronavirus is a large family of viruses that is responsible for everything from the common cold to Middle East Respiratory Syndrome (MERS) and Severe Acute Respiratory Syndrome (SARS). After an initial outbreak in Wuhan that spread across Hubei province, eventually infecting over 80,000 and killing more than 3,000, new infection rates in mainland China have dropped. However, the disease has since spread across the world at an alarming rate.
What is the current status of Covid-19?
The World Health Organisation has called the ongoing outbreak a "pandemic" and urged countries across the world to take precautionary measures. Covid-19 has spread to 213 countries and territories around the world and infected more than 31,405,983 people with 967,505 deaths and 22,990,260 recoveries. In South Asia, India has reported the highest number of infections at 5,557,573 with 88,943 deaths. While Pakistan has reported 306,304 confirmed cases with 6,420 deaths. Nepal has so far reported 65,276 cases with 427 deaths.
How dangerous is the disease?
The mortality rate for Covid-19 is estimated to be 3.6 percent, but new studies have put the rate slightly higher at 5.7 percent. Although Covid-19 is not too dangerous to young healthy people, older individuals and those with immune-compromised systems are at greater risk of death. People with chronic medical conditions like heart disease, diabetes and lung disease, or those who've recently undergone serious medical procedures, are also at risk.
How do I keep myself safe?
The WHO advises that the most important thing you can do is wash your hands frequently with soap and water for at least 20 seconds or use hand sanitizers with at least 60 percent alcohol content. Avoid touching your eyes, nose and mouth with unclean hands. Clean and disinfect frequently used surfaces like your computers and phones. Avoid large crowds of people. Seek medical attention if symptoms persist for longer than a few days.
Is it time to panic?
No. The government has imposed a lockdown to limit the spread of the virus. There is no need to begin stockpiling food, cooking gas or hand sanitizers. However, it is always prudent to take sensible precautions like the ones identified above.
---
---