Paddy plantation season is here but there isn't enough fertiliser
Nepal does not have adequate stocks of chemical fertiliser, with imports stuck at Kolkata for the last two months due to the lockdown.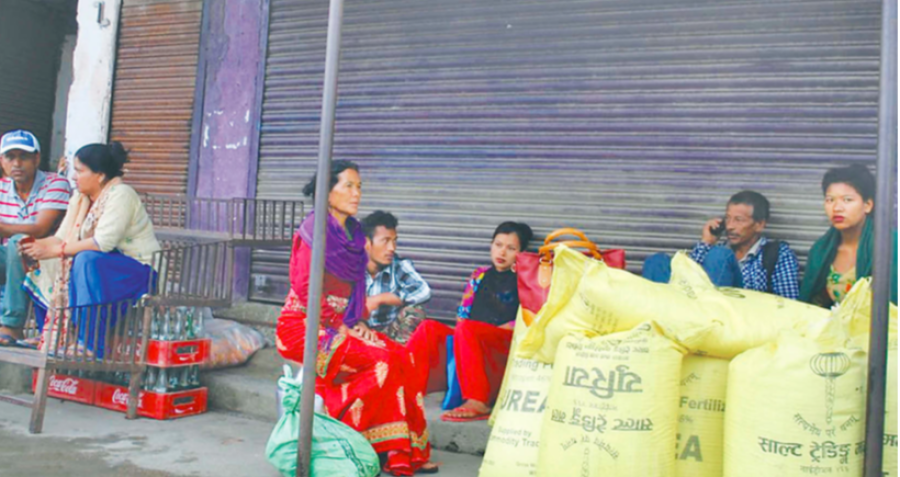 Like everywhere else in Nepal, Sindhuli farmers haven't got enough fertiliser this season. Post file photo
bookmark
Published at : May 26, 2020
Updated at : May 26, 2020 10:14
The good news is that local governments across the country have loosened the lockdown for farmers following concerns that keeping tens of thousands away from their fields during peak plantation season could lead to food shortages.

The bad news is that chemical fertiliser—a vital farm input to increase productivity—is in short supply and available stocks could run out before paddy plantation begins.
As Nepal is completely dependent on imports for chemical fertilisers, any shortage could lead to food insecurity, affect the incomes of farmers, and dampen economic growth prospects for the next fiscal year.
The World Food Programme and the World Bank have both warned that as the coronavirus crisis unfolds, disruptions to domestic food supply chains and other shocks could affect food production and lead to insecurity. Nepal, which relies heavily on food imports and agricultural input, is already bracing for shortages.
"This year, Nepal has more mouths to feed than ever before, but it doesn't have adequate fertiliser to grow more," said Bhola Man Singh Basnet, a former agricultural scientist from the Nepal Agricultural Research Council.
Thousands of people, including migrant workers, are returning home as they have lost jobs abroad and the country needs to produce additional food to feed them.
"Importing food from India will also be difficult in the immediate future as it too may impose restrictions amid pressure to feed its own population," said Basnet.
Fertiliser supply is certain to be affected by the closure of fertiliser factories, the disruption in transport, and new restrictions along the Nepal-India border.
And with Nepal-India relations souring due to border issues, the government is unlikely to request India to provide fertiliser directly through a government-to-government deal.
"Our planning failed due to the Covid-19 pandemic," said Bishnu Prasad Pokharel, spokesperson for the Agriculture Inputs Company, the state-owned fertiliser supplier. "We didn't know how long this lockdown would last. Now, it does not look like it is possible to import fertiliser."
The Agriculture Inputs Company and Salt Trading Corporation had issued tenders to import 25,000 tonnes of diammonium phosphate (DAP) and 71,000 tonnes of urea for this year's paddy plantation.
"But we haven't even been able to bring 25,000 tonnes of chemical fertilisers that have been stuck in Kolkata for the last two months," said Pokharel.
According to Pokharel, Nepal's fertiliser stock will last for at least a month. Nepal requires 120,000 tonnes of urea and 50,000 tonnes of DAP for paddy plantation. Currently, the two companies have a combined stock of 35,000 tonnes of DAP and 25,000 tonnes of urea.
"Fertiliser will be inadequate this planting season. We have to manage with the stock we have," he said. "If the stranded fertiliser arrives, it will relieve pressure to some extent. But we don't have any other alternative."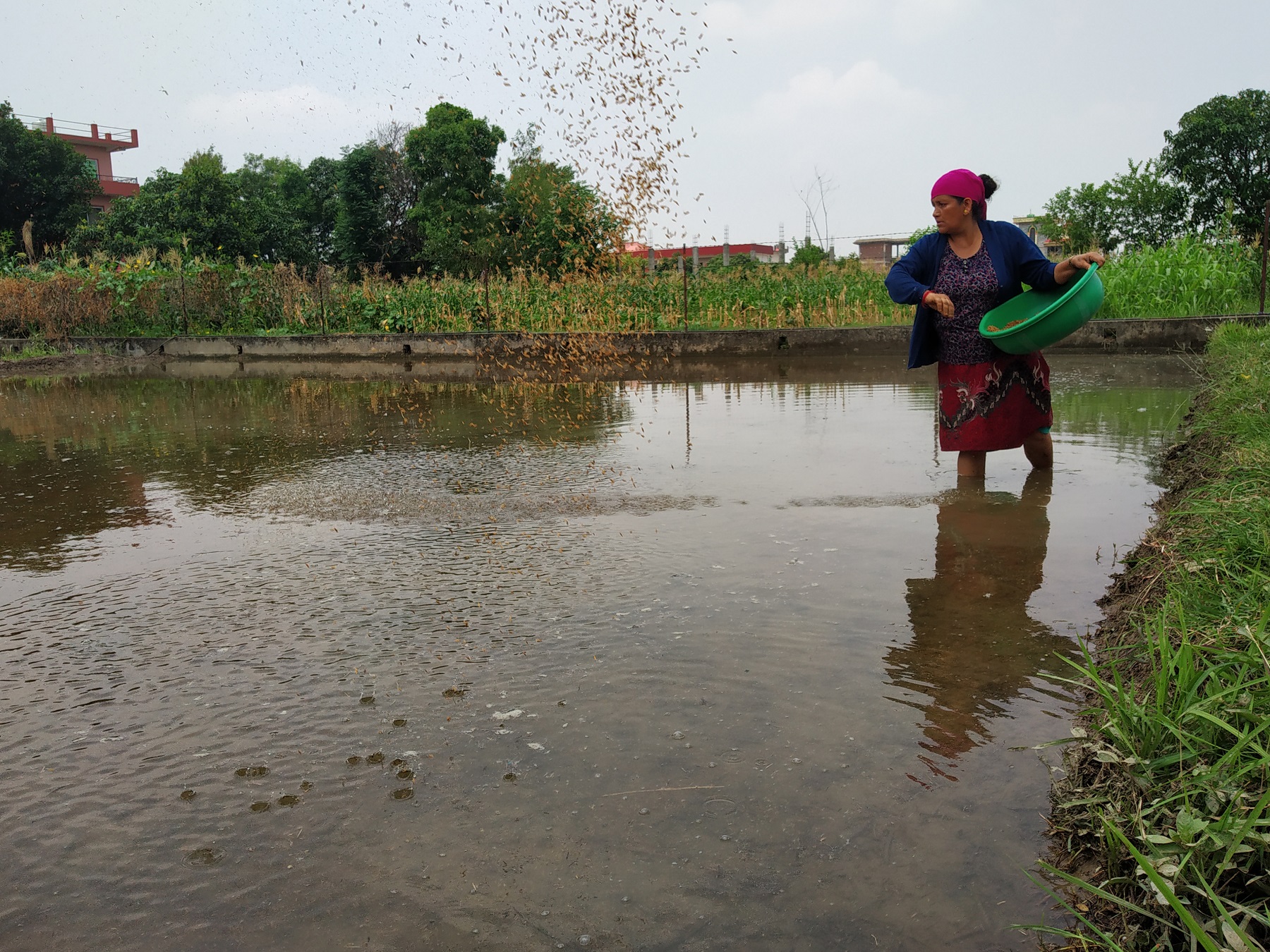 A woman prepares paddy seed bed at Tilottama Municipality Ward No. 6 in Rupandehi district. Sanju Poudel/TKP
In preparation for a crisis like this, Nepal and India had signed an agreement in 2009 that allowed India to sell 100,000 tonnes of chemical fertiliser (60,000 tonnes of urea and 40,000 tonnes of DAP) to Nepal annually at international parity prices to avoid a lengthy tender process. That deal expired in December last year and has not been renewed.
The government, this fiscal year, had increased the budget for the distribution of subsidised chemical fertiliser from Rs5 billion to Rs9 billion to ensure timely supply and sufficient quantity, but the Covid-19 pandemic and lockdown took away some of those funds and placed additional obstacles on the availability of fertiliser.
Much fertiliser, however, does not come into Nepal through formal channels. According to the Agriculture Ministry, the annual demand for chemical fertiliser currently stands at more than 700,000 tonnes while imports are just around 300,000 tonnes. Subsidised fertiliser covers 40 percent of the country's total need while the rest is met by informal imports or shipments smuggled across the open border.
A study conducted by the Finance Ministry in 2006 put the share of informal fertiliser imports at 71 percent of total supplies. Private companies in Nepal are reluctant to trade in fertilisers due to high costs and risks, and all imports and distribution are conducted by the Agriculture Inputs Company and Salt Trading.
Economists warn that a lack of fertilisers could aggravate food insecurity and impact the country's economic growth.
"Imported chemical fertiliser is a major agricultural input that determines output and productivity," said economist Chandan Sapkota. "Agricultural output has declined whenever there was a shortage of chemical fertiliser."
In the upcoming 2020-21 fiscal year, given the continued lockdown, shortage of chemical fertilisers, and other key agricultural inputs like labour, credit and transportation, agricultural output is likely to be lower than this fiscal year, said Sapkota.
Nepali farmers gathered the second largest paddy harvest in history this fiscal year, despite a series of misfortunes ranging from a delayed monsoon and fertiliser shortages to a supply of fake seeds and an armyworm invasion.
As per the Agriculture Ministry, paddy output totalled 5.55 million tonnes, only 1.1 percent less than last year's record harvest. The ministry attributed the better-than-expected yield to increased productivity, which stood at 3.8 tonnes per hectare.
According to Sapkota, food insecurity looms large next fiscal year.
"This will also exert inflationary pressure as food and beverages account for about 44 percent weight on the overall consumer price index," he said.
As the agricultural sector is the key contributor to Nepal's economy, even with the normal monsoon projected this year, the country is unlikely to benefit.
Farmers in the Tarai region have started preparing paddy seed beds, which are usually prepared three weeks before transplantation. In the hills, paddy transplantation begins next week. The plantation season lasts until the end of July under normal monsoon conditions.
The 16th session of the South Asian Climate Outlook Forum, a consortium of meteorologists and hydrological experts from South Asia, has predicted a normal monsoon over the region this summer.
---
---