How the crisis in ruling party was averted and each leader got what they wanted
A deal has been reached to allow KP Sharma Oli to continue as prime minister for the full five-year term while Pushpa Kamal Dahal gets to run the party and Bamdev Gautam to enter Parliament.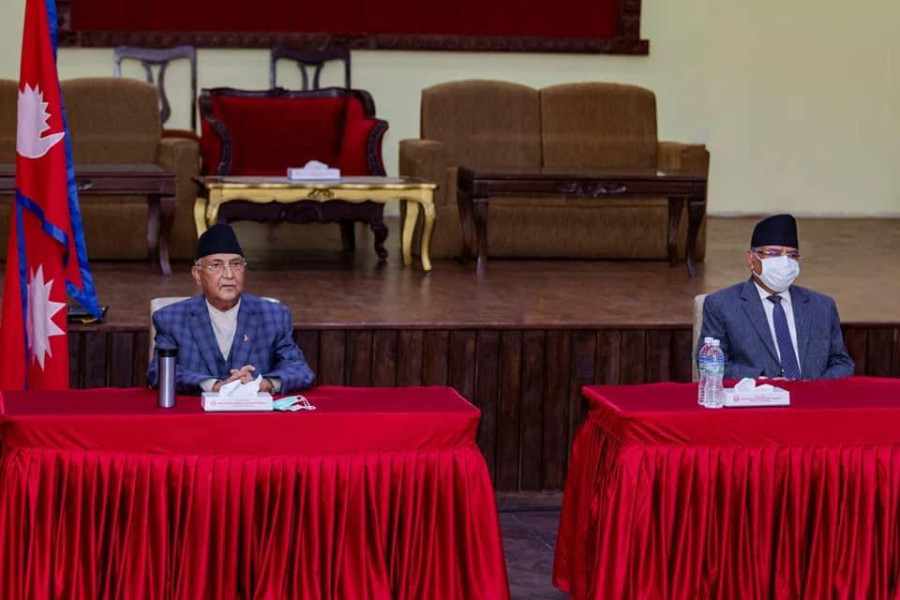 Photo via Nepal Communist Party Facebook page
bookmark
Published at : May 3, 2020
Updated at : May 3, 2020 22:53
Kathmandu
Until Friday, the faction led by Nepal Communist Party chair Pushpa Kamal Dahal, and backed by senior leaders Madhav Kumar Nepal and Jhala Nath Khanal, appeared so muscular that it looked like Prime Minister KP Sharma Oli would be forced to resign.

By Saturday, party vice-chair Bamdev Gautam had by and large deserted the Dahal faction. The Secretariat meeting, which had been dubbed 'crucial', ended "on a positive note", with Oli and Dahal appearing on the same page and Gautam emerging a happy man. Khanal, who was the first leader to demand Oli's resignation at Wednesday's Secretariat meeting, decided to go with the flow. Nepal was sceptical but has not opposed any of the goings on.
The ruling Nepal Communist Party, just days ago, had appeared to be in an insurmountable crisis. But ultimately, what prevented calamity, and secured Oli's stay in power for just a little longer, was largely due to the self-interest of party leaders, along with Oli's ability to play off their desires, say party insiders and political analysts.
According to one ruling party leader, negotiations between Oli and Dahal, immediately following the former's meeting with President Bidya Devi Bhandari, did the trick.
Before going to Sheetal Niwas, Oli had already taken Gautam into confidence. There was a slight change in plans though—instead of the prime ministership, Gautam would be made a member of the House of Representatives. Given how unlikely it was that he would be made prime minister, Gautam had consented. After that, Oli just needed to convince Dahal, said the party leader.
"Oli agreed to a self-criticism, to abide by the party's instructions, and let Dahal run the party," said Haribol Gajurel, a Standing Committee member who has close relations with Dahal.
On Saturday, Oli and Dahal agreed to share the order of precedence, with Oli to focus on the government and Dahal on party affairs with executive authority. Meetings will be chaired jointly, but in general, Dahal will preside, according to the agreement. Oli will run the government for the full five-year term to send a message of political stability.
"Party and the government will be run as per the mutual understanding of the chair duo. Statutory arrangements will be duly followed and party committees made more effective," states the agreement.
This is what Dahal had wanted all along, as he has already made it clear that he has no desire to become prime minister, according to an aide to Dahal. Dahal has already started drafting a political proposal for the upcoming Standing Committee meeting where the modality of the leadership will be proposed, as agreed upon at Saturday's Secretariat meeting, said the aide.
Analysts say since infighting in the ruling party was largely over power-sharing rather than governance issues, when everyone's interests were served, the crisis came to its logical end.
"Though leaders may have stated various reasons behind calling for Oli's resignation, the main issue was power-sharing," said Shyam Shrestha, a political commentator who has followed Nepal's leftist politics for decades.
Even ruling party members agree that leaders' personal and factional interests ultimately prevailed.
"The first priority of our leaders is their personal interest and then come factional interests. Nothing more than that," said Lekhnath Neupane, a Central Committee member of the Nepal Communist Party (NCP). "The prime minister's self-confession is so cosmetic that it has no significance."
According to Neupane, the agreements have no meaning yet, as everything has only been promised and nothing has been delivered yet.
"They have promised to elect Gautam to the House of Representatives and give Dahal sole chairmanship," he said.
As far as Khanal is concerned, he had no option than to give up on demanding Oli's resignation as Dahal, the faction leader, had already conceded. Khanal has always been a vocal critic of Oli's and the two leaders were rarely on good terms during their UML days, according to insiders.
Khanal led the UML from 2008 to 2014, taking over the party reins as general secretary after Madhav Nepal resigned in 2008 following the party's drubbing in the Constituent Assembly elections. When the party went for a chairperson model in 2009, Khanal was elected to lead the party.
According to insiders, Khanal has been eying Sheetal Niwas, as he has already served as prime minister. He has been miffed at the party leadership for not fielding him for the Office of the President, despite a promise to that effect. He was also unhappy because he was not accorded a respectable position in the party hierarchy, despite having led the party and government, according to insiders.
Khanal has long been on Dahal's side. The last time he was satisfied with Oli was in August last year, when he was elevated to the third position in the party's order of precedence after his role became crucial in the Secretariat. But that meant Nepal's relegation to fourth position.
Like Khanal, Nepal too does not have good relations with Oli as his faction has long been sidelined in the party's power-sharing.
Raghuji Pant, a Standing Committee member, in past interviews had told the Post that Nepal's only demand was to establish a 'proper system' in the party. But according to some ruling party leaders, Nepal's demands grow when his faction is ignored. Nepal has also irked Oli by demanding 'one person, one responsibility'. He wanted a tangible deal with Oli, as he was assured of party leadership at the next national convention.
Last year, Nepal was embroiled in the Lalita Niwas land grab scandal and was even informally interrogated by the Commission for Investigation of Abuse of Authority. That was a major setback for him. Leaders close to Nepal say that Oli employed the land grab scandal to tame him, which had enraged Nepal.
Nepal is considered an unstable leader but someone who is less assertive, despite a desire for power. Insiders say that Nepal wants to either lead the party or the government. Oli's proposal of a third party chair at Wednesday's Secretariat meeting put him in a bind, as Dahal had offered him the prime ministership as per the Bhaisepati alliance.

Gautam had joined the Bhaisepati alliance in January this year as a means to pursue the prime ministership. Gautam lost the 2017 parliamentary elections from Bardiya but was desperate for a role in the party and the government. Gautam is viewed as a leader who does not stick to his stances and can go to any length to fulfil his interests. Gautam has been unhappy with the current leadership as he believes that his 2017 electoral loss was engineered by Oli.
Gautam is the only leader among his contemporaries who has not become prime minister yet. He served as deputy prime minister in 1997, but a year later, he split from the UML to form his own party, the CPN-ML. But after failing to win even a single seat in the 1999 elections, Gautam came back to the Unified Marxist Leninist party. He was appointed deputy prime minister in 2008.
He has made no secret of his desire to become prime minister.
"Oli knows Gautam inside out so he knows what Gautam's weakness is," said Ram Kumari Jhakri, a Central Committee member who is close to Nepal. "Therefore, he proposed him as the next prime minister and Gautam fell for it."
Gautam's understanding is that the proposal to elect him to the House of Representatives will eventually result in the prime ministership.
Observers, however, say that it's too early to say that the crisis is over in the ruling party, as just an understanding has been reached to address leaders' interests.
"Yesterday's solution is just for the time being," said Shrestha, the leftist political analyst. "It has, however, become apparent that their fight was for power and they are least bothered about the national crisis."
But according to some analysts, there could be external factors at play.
Just ahead of Saturday's Secretariat meeting, Chinese Ambassador Hou Yanqi held a series of meetings with Oli, Dahal and Nepal. Apart from discussing bilateral relations, Covid-19 and Chinese assistance to Nepal, the conflict in the ruling party also figured in their talks, according to leaders.
"The way the ruling party leaders suddenly came to terms is no less than a miracle," said Bishwa Bhakta Dulal, a former Maoist leader. "I would not rule out the Chinese factor."
Foreign Minister Pradeep Gyawali, however, dismissed a Chinese role in the party's internal matters as just speculation.
"Both India and China want to see stability in Nepal," Gyawali told the Post. "There was no Chinese role in brokering a deal. The origin of the crisis was internal and reconciliation was found from within."
Gyawali, however, admitted that some top leaders are extremely critical of the government.
"But they were never in favour of instability," he said. "I think they must have realised that destabilising their own government will only affect the party's future."
Anil Giri contributed reporting.
---
---