By courting Dahal and Gautam, Oli has effectively silenced opponents' calls for his resignation
Oli has offered to get Gautam elected to the lower house 'at an appropriate time', and has broken the Bhaisepati alliance—at least for now.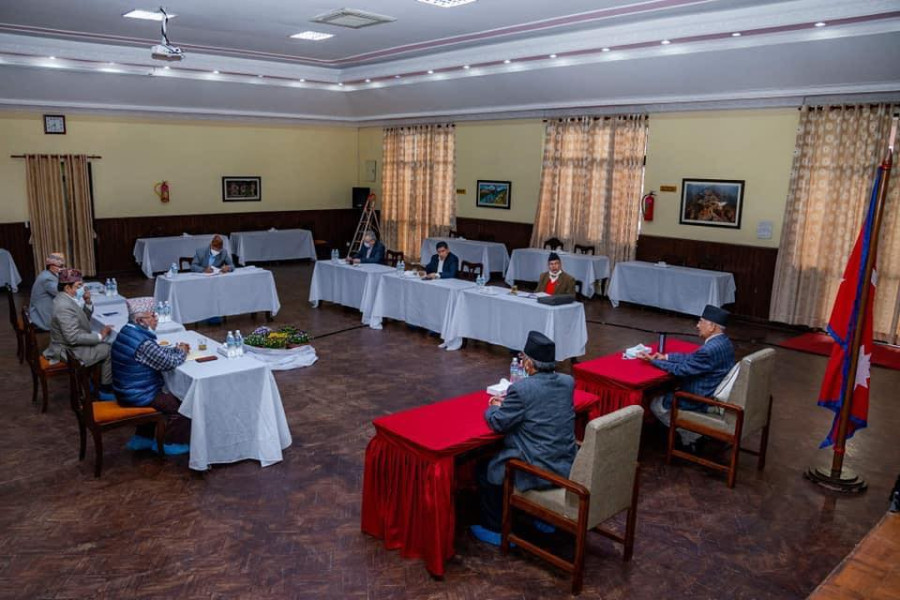 Photo via Nepal Communist Party Facebook
bookmark
Published at : May 3, 2020
Updated at : May 3, 2020 01:25
Kathmandu
In yet another bizarre twist in the ongoing political saga unfolding within the ruling Nepal Communist Party, Prime Minister KP Sharma Oli, who is also the party chair, has defused the internal crisis by getting vice-chair Bamdev Gautam on his side and placating Pushpa Kamal Dahal, the other chair.

Saturday's Secretariat meeting decided to send Gautam to the House of Representatives "at an appropriate time". This comes days after Oli proposed Gautam the prime ministership, a position that Gautam was unlikely to receive, given that he lost the elections and is not a member of the federal parliament.
Earlier on Saturday, Oli had proposed deputy prime ministership to Gautam, as the position was more achievable.
During his daylong negotiations on Saturday, Oli also managed to placate other dissenting members of the party Secretariat—chair Pushpa Kamal Dahal and senior leaders Madhav Kumar Nepal and Jhala Nath Khanal—all of whom, until Friday, had been asking for Oli's resignation.
But Oli had managed to tackle calls for his resignation at Wednesday's Secretariat meeting by proposing Gautam as his successor and Nepal as the third party chair.
While Nepal had expressed indifference and said he would not take the bait, Gautam, whose desire to become prime minister is well known, had already begun exploring ways to achieve his long-cherished wish. Gautam was set to demand a roadmap and timeline from Oli on the succession at Saturday's Secretariat meeting.
"But things have now changed," said Haribol Gajurel, a Standing Committee member.
Oli expertly played on Gautam's desire for power, according to Gajurel.
And in doing so, Oli also managed to break the Bhaisepati alliance.
At Gautam's residence in Bhaisepati in early January this year, Dahal, Nepal, Khanal and Gautam, along with party spokesperson Narayan Kaji Shrestha, had decided to go all-out against Oli for running the party and the government unilaterally. But all the leaders, who make up a majority in the Secretariat, had decided to put the squeeze on Oli only after he issued the two untimely ordinances.
But Oli has since managed to convince his opponents that since the ordinances have been repealed, the source of their grievances is no longer present, according to party insiders. He then broke the alliance by dangling the prime minister's post in front of Gautam, who was only too ready to switch sides.
This is a tried-and-tested tactic for Oli. In January last year, Gautam had sided with Dahal, Nepal and Khanal in a meeting at Jhamsikhel—in what was known as the Jhamsikhel alliance—to launch an offensive against Oli. But aware of the machinations against him, on July 12, Oli invited Gautam to Baluwatar and surprised him with a birthday cake and offered to make him the party vice-chair, chief of the organisational department and eventually, prime minister. As gifts are very much to Gautam's liking, he duly switched sides and the Jhamsikhel alliance was broken.
But Oli never acted on his promise.
Oli continued to run the party as he saw fit, alienating Dahal by not allowing him any executive authority and humiliating Nepal by relegating him to fourth position in the party hierarchy. Gautam was almost a forgotten entity. All of this culminated in the Bhaisepati alliance.
On Saturday, Oli once again changed all the equations.
He mollified the opposing factions by self-criticising and agreeing to run the government as per the Nepal Communist Party (NCP)'s instructions.
The opposing faction led by Dahal, Nepal and Khanal had been demanding his resignation, accusing him of not giving party leaders respectable space and ignoring party committees.
"Oli also agreed to a meeting of the Standing Committee on Thursday," said Narayan Kaji Shrestha, the party spokesperson.
Earlier on Saturday, Oli had held a meeting with Gautam. The Secretariat meeting was called for 4pm but it was rescheduled, as immediately after holding discussions with Gautam, Oli met with President Bidya Devi Bhandari.
As per Saturday's deal, exercises will now start to vacate a seat in the House of Representatives to hold a bypoll so that Gautam can be elected as a Member of Parliament.
According to insiders, despite promising prime ministership on Wednesday, Oli on Saturday had offered Gautam the post of deputy prime minister after nominating him to the National Assembly.
Gautam, however, was holding consultations with legal experts to explore ways to become the prime minister.
According to an advocate, Gautam had been in consultation, asking, until Saturday morning, if there was a way the constitution could be amended to pave the way for him to become prime minister. "But he was advised that there were constitutional hurdles," the advocate told the post on condition of anonymity.
Gautam is the only senior leader in the ruling party who has not become prime minister yet. Oli is in his second stint while Dahal has served twice and Nepal and Khanal once each.
Earlier in February, the party's Secretariat had decided to send Gautam to the National Assembly. Oli, however, had refused to nominate him amid a tussle between him and the Dahal faction, of which Gautam then was a crucial member.
At Saturday's Secretariat meeting, Gautam himself declared that he was not keen on going to the National Assembly.
"Today's Secretariat meeting ended on a positive note," said Shrestha, the party spokesperson. "The party has decided to take initiatives for taking Gautam to the House of Representatives at an appropriate time."
The nine-member Secretariat of the ruling party was so precariously aligned that one member could easily tip the balance. With Gautam now jumping to Oli's side, Dahal is in the minority, with just Nepal, Khanal and Shrestha backing him.
Oli now has Ishwar Pokhrel, Bishnu Poudel, Gautam and even Dahal's longtime ally from the insurgency days, Home Minister Ram Bahadur Thapa, on his side.
After losing the majority, there was no point for the Dahal faction to demand Oli's resignation, said a leader.
Leaders close to Dahal said the party has managed to avoid a possible accident.
"Since the prime minister has realised his mistakes and agreed to abide by party instructions, things have changed for now," said Bishnu Sapkota, Dahal's press advisor.
The Nepal faction, however, expressed dismay at the sudden change of position by Dahal.
A leader from the Nepal faction said the issue of the prime minister's resignation is not over yet and that it will be raised again at the Standing Committee meeting.
"It's a temporary truce, as Oli managed to secure a majority," said Raghuji Pant, a Standing Committee member.
Anil Giri contributed reporting.
---
---