Amid Covid-19 fears, it is the people in lower economic strata who are most vulnerable
Many people in the Capital may have started working remotely, but there are some who have to be in the field to make a living—without proper care and hygiene.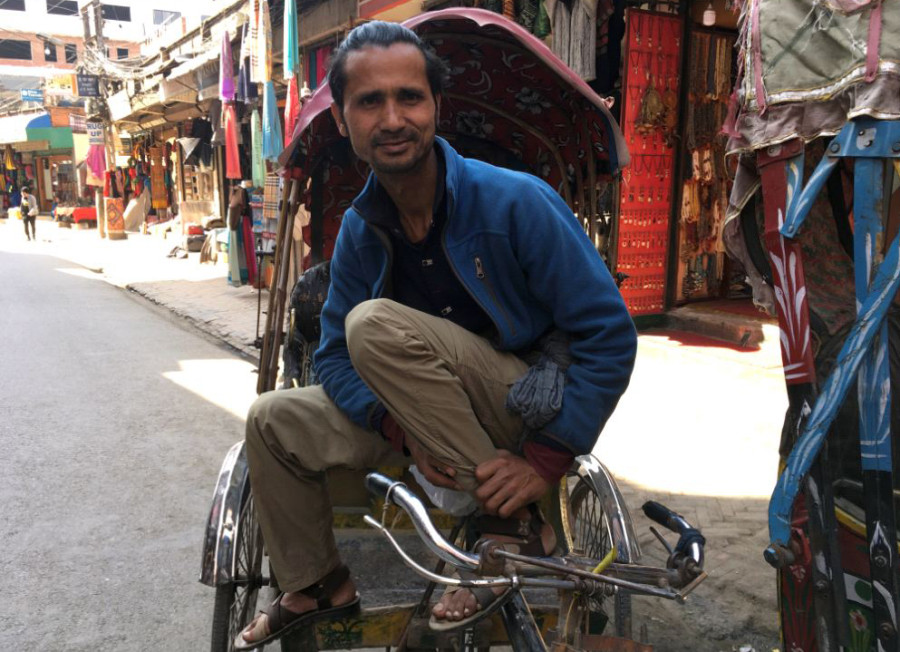 Gunje BK, a rickshaw driver, is worried about his livelihood. Srizu Bajracharya/TKP
bookmark
Published at : March 22, 2020
Updated at : March 30, 2020 12:29
Kathmandu
At Tripureshwor, on the big screen on the front of the United World Trade Centre building, slides of how to protect oneself from the novel coronavirus pop up every minute. Around town, people have their faces covered with blue, black, yellow and white masks. On the radio, television and phones, public service announcements are being made, reminding people to regularly wash their hands with soap, use sanitisers, avoid crowds and maintain distance.

Gunje BK, a rickshaw driver, however, is at his wit's end.
Late last week, BK, 42, was waiting for customers in Thamel. He has not had one for the past couple of weeks. He does not have a mask to cover his face.
"We [rickshaw pullers] have zero income right now. We need to work to sustain our families," said BK, who is originally from Sindhuli. Tourism is the hardest hit sector in the country since the Covid-19 outbreak, and with the government halting all on-arrival visas and suspending all flights and calling off spring expeditions including Mt Everest climbing, tourist numbers have dried up.
BK's is a representative case of the grim reality of today's time—economic inequality.
Researchers have suggested that those in the lower strata of the economy are more likely to catch the disease, and with no or minimal earnings in the times of crisis, they are doubly vulnerable.
Since the virus was first detected late last year in Wuhan of the Chinese province of Hubei, the disease has spread to more than 170 countries, killing 11,402 and infecting over 276,113.
Nepal, too, has been gripped by the fear of Covid-19, a disease caused by a new strain of coronavirus which has now been dubbed SARS-Cov-2.
The market is already scant of face masks and sanitisers and those from the lower rung of society are already worried about the shortages of daily essentials.
Late last week, pictures of people queuing in front of a pharmacy in Maharajgunj to buy face masks made rounds on social media. People like BK lack the wherewithal to buy the same minimal protective gear.
"It's evident that people from the lower economic strata are more vulnerable during any pandemic, as they are already living in a deprived surrounding, with no access to safe drinking water," said Sundar Mani Dixit, a senior physician. Dixit has a medical experience of 50 years, and he has worked at Bir Hospital and Model Hospital. "Sanitisers are becoming a privilege that even those from the middle class are finding hard to access, as these protective resources are becoming more expensive and scarce by the day."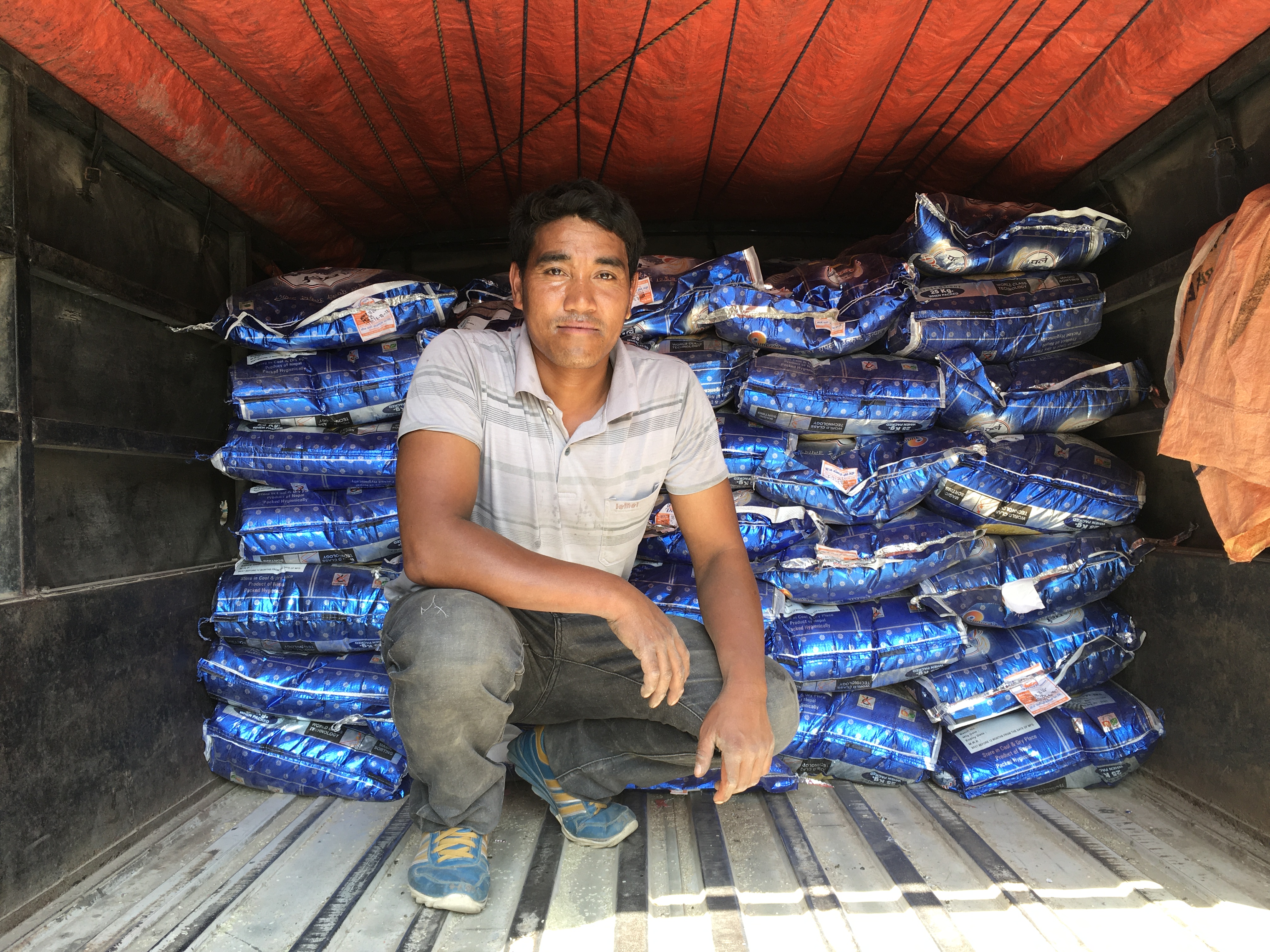 Kamal Lama, a worker, says he is more concerned about making ends meet than getting infected. Srizu Bajracharya/TKP
So far Nepal has recorded only one Covid-19 case and the patient has recovered and been sent home. In China, the virus has finally been contained; but on Friday, Italy became the first country to record more deaths from the disease than China. The disease has brought Europe and America to their knees. India, with its population of 1.4 billion people, has now jumped to taking drastic measures to control the spread of the virus. And with a roughly about 1,800-km-long porous border with India, concerns are growing in Nepal. India so far has recorded 283 positive cases and four deaths.
Health experts have warned that it's only a matter of time the virus hits Nepal. While every disease has its social implications, Covid-19 could have far bigger consequences and social scientists say the worst hit will be those from the poor economic background.
Kamal Lama, 34, is a daily wage earner. Last week, Lama was loading rice sacks onto a van. Sweat was trickling down his forehead. "It is uneasy to wear a mask. It gets drenched in sweat," he said as he dusted his hands. "I have heard people talking about corona [sic] but what can I do? I need to work."
Lama is from Dolakha and has five mouths to feed. He can't stop working. "I didn't have work yesterday because rice sacks didn't arrive, and they said it's because of the coronavirus," he said.
Lama earns between Rs500 and Rs1,200 a day. "But it depends. I am losing on my earnings. Before the disease [outbreak], I used to make around Rs2,000 to Rs2,500 a day," he said.
He is more concerned about making ends meet rather than getting infected. "But I do make sure that I wash my hands whenever I can. That is most essential, I have heard," he said. Without work, he does not know what will happen to his family.
Amid growing fears of the spread of the virus, Prime Minister KP Sharma Oli, in a televised address on Friday, announced suspension of all flights from March 22 to April 3, all long-haul transport and non-essential services. Oli also called on members of the public to change their lifestyles and daily routines. He urged all to avoid crowds and gatherings, what the West calls "social distancing".
According to Narayani Devkota, a professor of sociology at Saraswoti Multiple Campus, social distancing or self-quarantine is almost impossible for people from the lower economic strata to exercise.
"Families who are here in the city for work live together in small flats, and they are unable to practise self-quarantine, even if they are informed about the disease," Devkota told the Post. "Rather, they are challenged by where to live and how to get food or water for themselves and their family. So it's the government that needs to support these people in the times of crisis."
In a country like Nepal, where the poor struggle to access basic health care facilities, in a pandemic, they are also faced with the challenge of feeding their families.
Those with tight balance sheets cannot even manage to stock up on minimum requirements, exposing themselves to a more vulnerable situation.
Mahima Lama, who is in her late 20s, is from Kavre and operates a small food stall in Lagankhel near the local bus park. She said she has heard about the coronavirus. "But I don't think it has affected Nepalis yet," Lama, who sells aloo-chop, a fried delicacy, told the Post. "However, we have started facing shortages of resources that we require to run our business; there is a shortage of gas, rice and oil in the market already. We have to stay in line to get them."
She is worried that the shortages might put her out of business. "If we don't work for a day, we won't be able to pay our children's school fees or our rent or buy food," she said. "So, we can't imagine staying at home even for a day."
Fears of Covid-19 may not have created the disparities, but the disease does put a spotlight on the people from the lower economic strata.
BK, the rickshaw puller, said the ongoing crisis is but yet another obstacle in life. "Anyway, no one cares about people like us from the lower rung of society," he said. "We are helpless."
Frequently asked questions about the coronavirus outbreak
UPDATED as of September 22, 2020
What is Covid-19?
Covid-19, short for coronavirus disease, is an illness caused by the coronavirus SARS-CoV-2, short for severe acute respiratory syndrome coronavirus 2. Common symptoms of the disease include fever, dry cough, fatigue, shortness of breath and breathing difficulties. In severe cases, the infection can cause pneumonia, severe acute respiratory syndrome, kidney failure and even death.
How contagious is Covid-19?
Covid-19 can spread easily from person to person, especially in enclosed spaces. The virus can travel through the air in respiratory droplets produced when a sick person breathes, talks, coughs or sneezes. As the virus can also survive on plastic and steel surfaces for up to 72 hours and on cardboard for up to 24 hours, any contact with such surfaces can also spread the virus. Symptoms take between two to 14 days to appear, during which time the carrier is believed to be contagious.
Where did the virus come from?
The virus was first identified in Wuhan, China in late December. The coronavirus is a large family of viruses that is responsible for everything from the common cold to Middle East Respiratory Syndrome (MERS) and Severe Acute Respiratory Syndrome (SARS). After an initial outbreak in Wuhan that spread across Hubei province, eventually infecting over 80,000 and killing more than 3,000, new infection rates in mainland China have dropped. However, the disease has since spread across the world at an alarming rate.
What is the current status of Covid-19?
The World Health Organisation has called the ongoing outbreak a "pandemic" and urged countries across the world to take precautionary measures. Covid-19 has spread to 213 countries and territories around the world and infected more than 31,405,983 people with 967,505 deaths and 22,990,260 recoveries. In South Asia, India has reported the highest number of infections at 5,557,573 with 88,943 deaths. While Pakistan has reported 306,304 confirmed cases with 6,420 deaths. Nepal has so far reported 65,276 cases with 427 deaths.
How dangerous is the disease?
The mortality rate for Covid-19 is estimated to be 3.6 percent, but new studies have put the rate slightly higher at 5.7 percent. Although Covid-19 is not too dangerous to young healthy people, older individuals and those with immune-compromised systems are at greater risk of death. People with chronic medical conditions like heart disease, diabetes and lung disease, or those who've recently undergone serious medical procedures, are also at risk.
How do I keep myself safe?
The WHO advises that the most important thing you can do is wash your hands frequently with soap and water for at least 20 seconds or use hand sanitizers with at least 60 percent alcohol content. Avoid touching your eyes, nose and mouth with unclean hands. Clean and disinfect frequently used surfaces like your computers and phones. Avoid large crowds of people. Seek medical attention if symptoms persist for longer than a few days.
Is it time to panic?
No. The government has imposed a lockdown to limit the spread of the virus. There is no need to begin stockpiling food, cooking gas or hand sanitizers. However, it is always prudent to take sensible precautions like the ones identified above.
---
---