Oli announces suspension of all flights, all long-haul transport and all non-essential services
The prime minister, in a televised address, announced these measures to control the spread of Covid-19 into Nepal.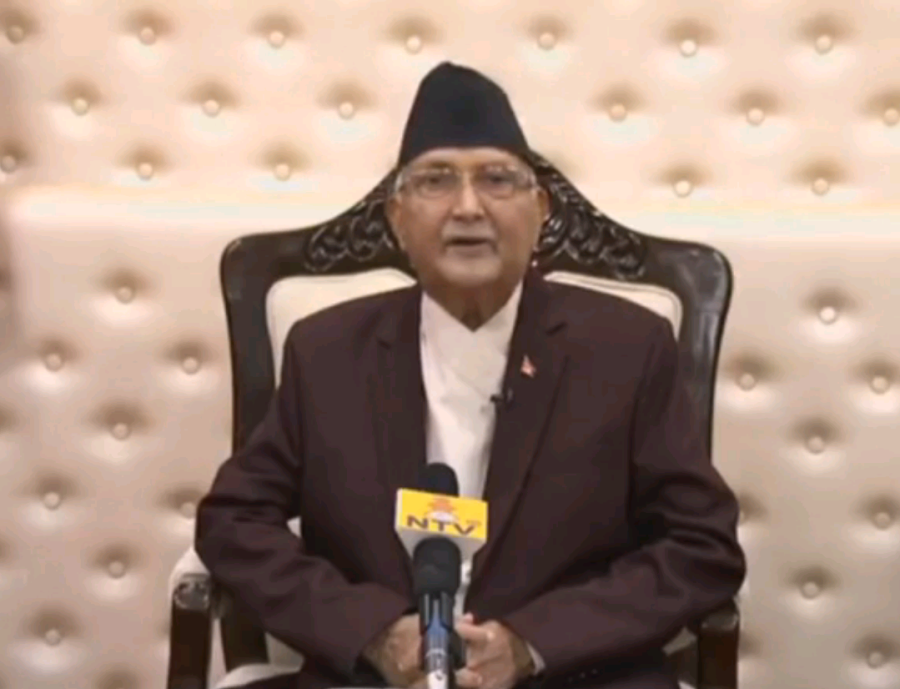 Prime Minister KP Sharma Oli announced these measures and more in his first address to the nation since he underwent a second kidney transplant. Screen grab via Facebook
bookmark
Published at : March 20, 2020
Updated at : March 21, 2020 08:48
Kathmandu
The government on Friday evening announced more measures aimed at keeping the global Covid-19 outbreak at bay, including temporary bans on all flights, all long haul transportation across the country, and all non-essential services.

Prime Minister KP Sharma Oli announced these measures and more in his first address to the nation since he underwent a second kidney transplant.
Oli announced a halt to all flights from March 22 to March 31, a decision that follows Wednesday's move by the High-Level Coordination Committee to halt all incoming passengers from 55 countries in Europe, the UK, the Gulf countries, West Asia, and Turkey. Flights from China, Bhutan, Thailand and Singapore, which were exempted from Wednesday's decision, have now also been proscribed.
The High-Level Coordination Committee, led by Deputy Prime Minister and Defence Minister Ishwar Pokhrel took a slew of decisions on Wednesday, including the ban on passengers, postponement of the nation-wide Secondary Education Examinations, and a ban on all gatherings of more than 25 people.
Wednesday's announcement regarding a halt to all international arrivals, including Nepalis, had created much confusion among Nepalis who are currently abroad on temporary visas. Many wanted to know how the government expected them to remain in foreign lands for extended periods without a visa extension or adequate funds.
Oli addressed this issue during his speech, urging Nepalis abroad to exercise patience and reach out to Nepali missions in the respective countries.
"It has come to my notice that many of you who are currently abroad are facing problems when it comes to returning home," said Oli. "Exercise patience and reach out to our embassies. Our missions will assist you."
Oli also announced a halt to all non-essential services from March 22 to April 3. As per the Nepal Gazette, published on October 14 last year, the government has enlisted 19 services as "essential". These essential services include telephone; transportation; civil aviation; airport; mint or governmental press; defence affairs relating to arms, ammunition or production of any military goods; communication; internal security; drinking water; residence of tourists; petroleum products; health; medicines; bank; insurance; and electricity. Besides these, all other services will need to remain closed until April 3.
According to Oli, these proscriptions will be continued or discontinued depending on how things evolve.
Oli's address did create confusion among some, especially regarding a specific provision concerning civil servants. Former chief secretary Bimal Koirala said that there were two conflicting sentences in the prime minister's address, which say that civil servants should continue their work but also that all non-essential services will be suspended.
Oli said the private sector will be encouraged to work digitally as far as possible.
"But all civil servants and those working for essential services in the private sector will continue their regular works by coming to their respective offices," he said.
According to General Administration Minister Hridayesh Tripathi, the government only wants to stop the spread of the virus; it does not want to halt all services.
"The aim is to ensure that the general public is not affected by the virus," General Administration Minister Hridayesh Tripathi told the Post. "Civil servants will be doing their duties."
At a time when many have bemoaned the lack of stringent plans and have questioned the government's half-measures to a global crisis, the measures announced by the prime minister are likely to go some way towards alleviating concerns.
"This might invite some difficulty in daily life and affect our regular routine," said Oli. "But to defeat potential infections, we don't have any other option."
The prime minister has urged everyone to avoid crowds, pay extra attention to personal hygiene, including washing hands with soap and water, stay at home as much as possible, not hoard daily essentials, steer clear of rumours, and only listen to doctors and experts.
"Exercise precautions but don't panic," said Oli.
The prime minister also said the Finance Ministry is closely studying the impact of the global pandemic on the country's economy, which has already begun to feel the heat. The travel and tourism industry, in particular, had already been hit hard by the government's decision to not give out on-arrival visas and postpone all spring season mountaineering expeditions. An estimated 20,000 jobs could be lost during tourism's most lucrative season.
"The government will soon come up with necessary plans to offset the impact that the pandemic has created or could create in the future on the country's economy," said Oli. "The government is sensitive about the pandemic's impact on industries and workers and it will address their concerns."
According to Oli, the government could institute more measures in the near future. With neighbouring India reporting a steady rise in the number of infections—as of Friday, there were 223 infections—there are concerns that the virus could quickly spread across the open border and overwhelm Nepal's fragile public health system.
"Going by the prime minister's address, we can say that the country has gone into a semi lockdown state," said Koirala.
Frequently asked questions about the coronavirus outbreak
UPDATED as of September 22, 2020
What is Covid-19?
Covid-19, short for coronavirus disease, is an illness caused by the coronavirus SARS-CoV-2, short for severe acute respiratory syndrome coronavirus 2. Common symptoms of the disease include fever, dry cough, fatigue, shortness of breath and breathing difficulties. In severe cases, the infection can cause pneumonia, severe acute respiratory syndrome, kidney failure and even death.
How contagious is Covid-19?
Covid-19 can spread easily from person to person, especially in enclosed spaces. The virus can travel through the air in respiratory droplets produced when a sick person breathes, talks, coughs or sneezes. As the virus can also survive on plastic and steel surfaces for up to 72 hours and on cardboard for up to 24 hours, any contact with such surfaces can also spread the virus. Symptoms take between two to 14 days to appear, during which time the carrier is believed to be contagious.
Where did the virus come from?
The virus was first identified in Wuhan, China in late December. The coronavirus is a large family of viruses that is responsible for everything from the common cold to Middle East Respiratory Syndrome (MERS) and Severe Acute Respiratory Syndrome (SARS). After an initial outbreak in Wuhan that spread across Hubei province, eventually infecting over 80,000 and killing more than 3,000, new infection rates in mainland China have dropped. However, the disease has since spread across the world at an alarming rate.
What is the current status of Covid-19?
The World Health Organisation has called the ongoing outbreak a "pandemic" and urged countries across the world to take precautionary measures. Covid-19 has spread to 213 countries and territories around the world and infected more than 31,405,983 people with 967,505 deaths and 22,990,260 recoveries. In South Asia, India has reported the highest number of infections at 5,557,573 with 88,943 deaths. While Pakistan has reported 306,304 confirmed cases with 6,420 deaths. Nepal has so far reported 65,276 cases with 427 deaths.
How dangerous is the disease?
The mortality rate for Covid-19 is estimated to be 3.6 percent, but new studies have put the rate slightly higher at 5.7 percent. Although Covid-19 is not too dangerous to young healthy people, older individuals and those with immune-compromised systems are at greater risk of death. People with chronic medical conditions like heart disease, diabetes and lung disease, or those who've recently undergone serious medical procedures, are also at risk.
How do I keep myself safe?
The WHO advises that the most important thing you can do is wash your hands frequently with soap and water for at least 20 seconds or use hand sanitizers with at least 60 percent alcohol content. Avoid touching your eyes, nose and mouth with unclean hands. Clean and disinfect frequently used surfaces like your computers and phones. Avoid large crowds of people. Seek medical attention if symptoms persist for longer than a few days.
Is it time to panic?
No. The government has imposed a lockdown to limit the spread of the virus. There is no need to begin stockpiling food, cooking gas or hand sanitizers. However, it is always prudent to take sensible precautions like the ones identified above.
---
---